The fevered obsession for farmhouse decor began in 2015 when Joanna Gaines and Fixer Upper brought the trend to the limelight. Most interior decorators and homemakers were enraptured by the chic, country-like, industrial and vintage charm of the design. Everyone wanted a piece of farmhouse decor and you wouldn't blame them!
About eight years later, the trend is still going on strong and evolving in many amazing ways. If like many others, you've caught the farmhouse design bug, then you must be 100% curious to know what the style has in store for 2022.  Find below all the information you need!
Upgrade Your Farmhouse Style
Here's the exclusive scoop on the trends that are set to take over the modern farmhouse decor stage in 2022. Note every detail and have fun executing these design elements. Your farmhouse is about to get "hotter" than it was last year!
1. From Simple to Sophisticated
Farmhouse designs are known to be glamorously simple and understated. However, we won't be seeing these "cliche" designs anymore in 2022, as decorators are taking it a step further. The new 2022 farmhouse design will combine eco-friendly solutions with a sophisticated ambiance that exudes rustic yet contemporary charm.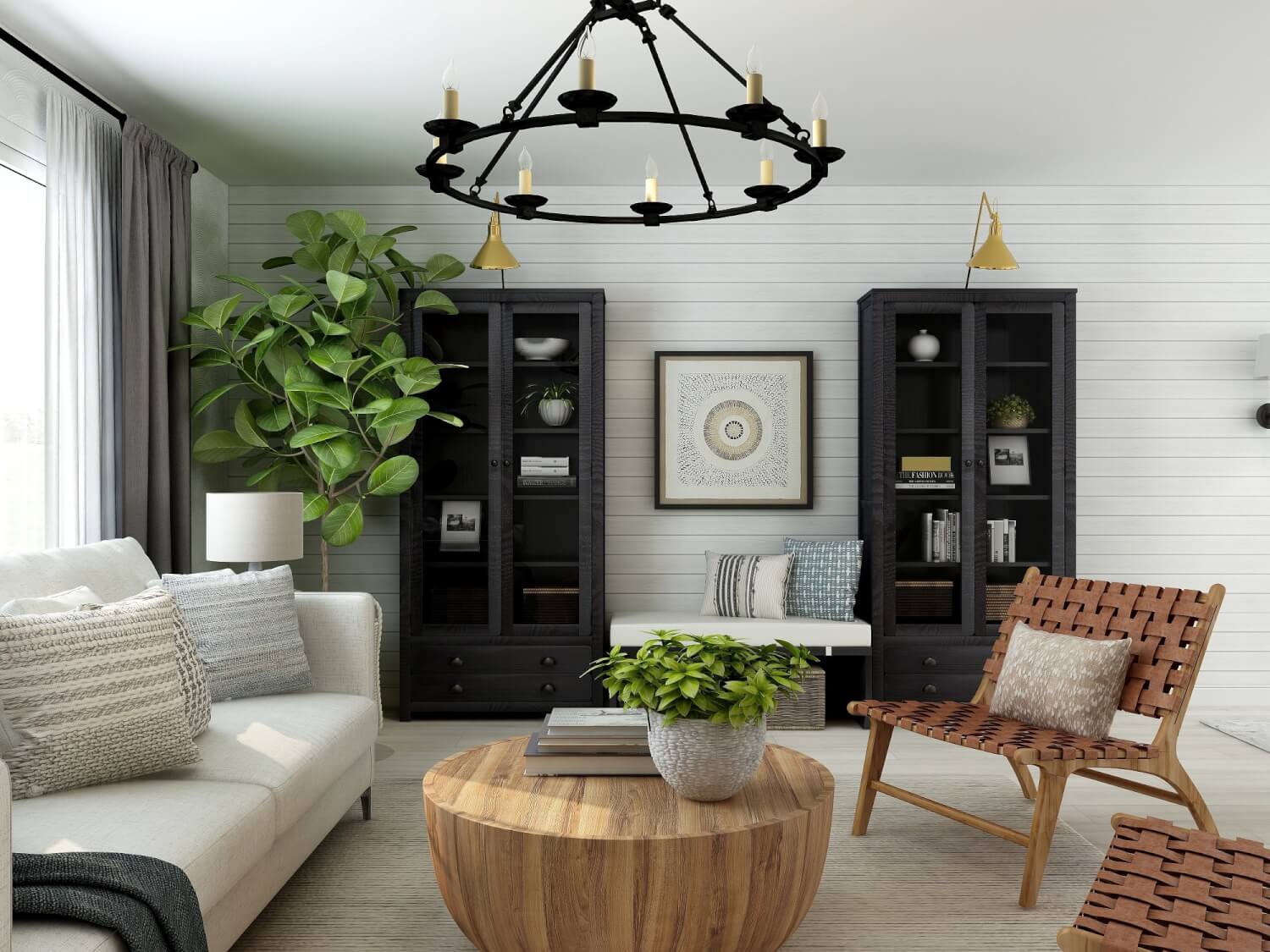 Polished metal and glass will lend elegance to the overall design. Prepare to adopt exquisite shapes such as minimalist barn lights and rattan furniture in your farmhouse interior. Replace "everyday" floor installations with in-the-moment floor decor. And douse your walls or space in monochrome colors! Voila, we have sophisticated decor that isn't overbearing.
2. Wood is still the Boss
Wood has been an important attribute of the modern farmhouse design, and in 2022, this indispensable design feature isn't going anywhere but making upgrades. While older farmhouse design trends utilized wood as a structural piece, the 2022 design plans to explore its decorative uses. Think elements like grooved boards, hand-crafted wooden furniture, and even wooden bowls, frames, and candlesticks.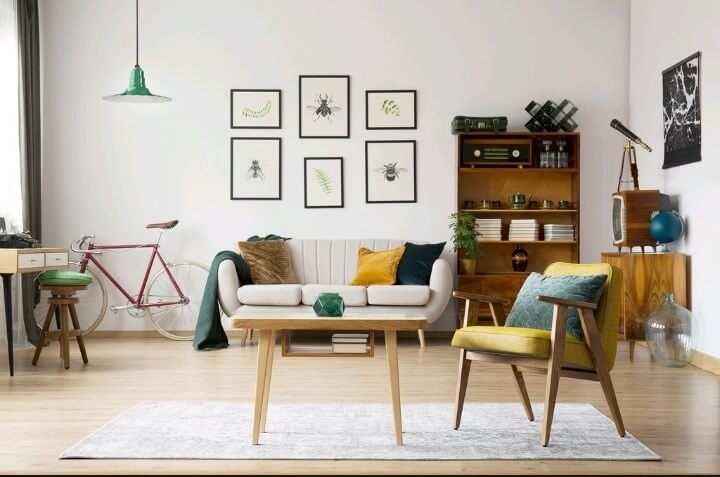 Grooved boards will redefine your space and bring intimate or romantic details to the atmosphere. Don't hesitate to bring in hand-made wooden furniture like tables, dressers, sideboards, benches, and stools. If you are the "handy" type that doesn't mind some "nailing" and "hammering," consider making wooden furniture from scratch. Finally, don't be afraid to play around with intricate wooden decor elements like frames, candlesticks, or a wooden bowl filled with fruits. One thing is for sure, the overall wooden effect will catch you by surprise.
3. Plants and Greens
There's no better way to invite rustic and organic charm into your farmhouse than with plants. While it is enough to sprinkle your walls with nature-based paintings and art, it isn't quite the same as placing potted plants and botanical greens in your farmhouse living room or kitchen. There are a plethora of household plants you can grab from botanical vendors or your garden.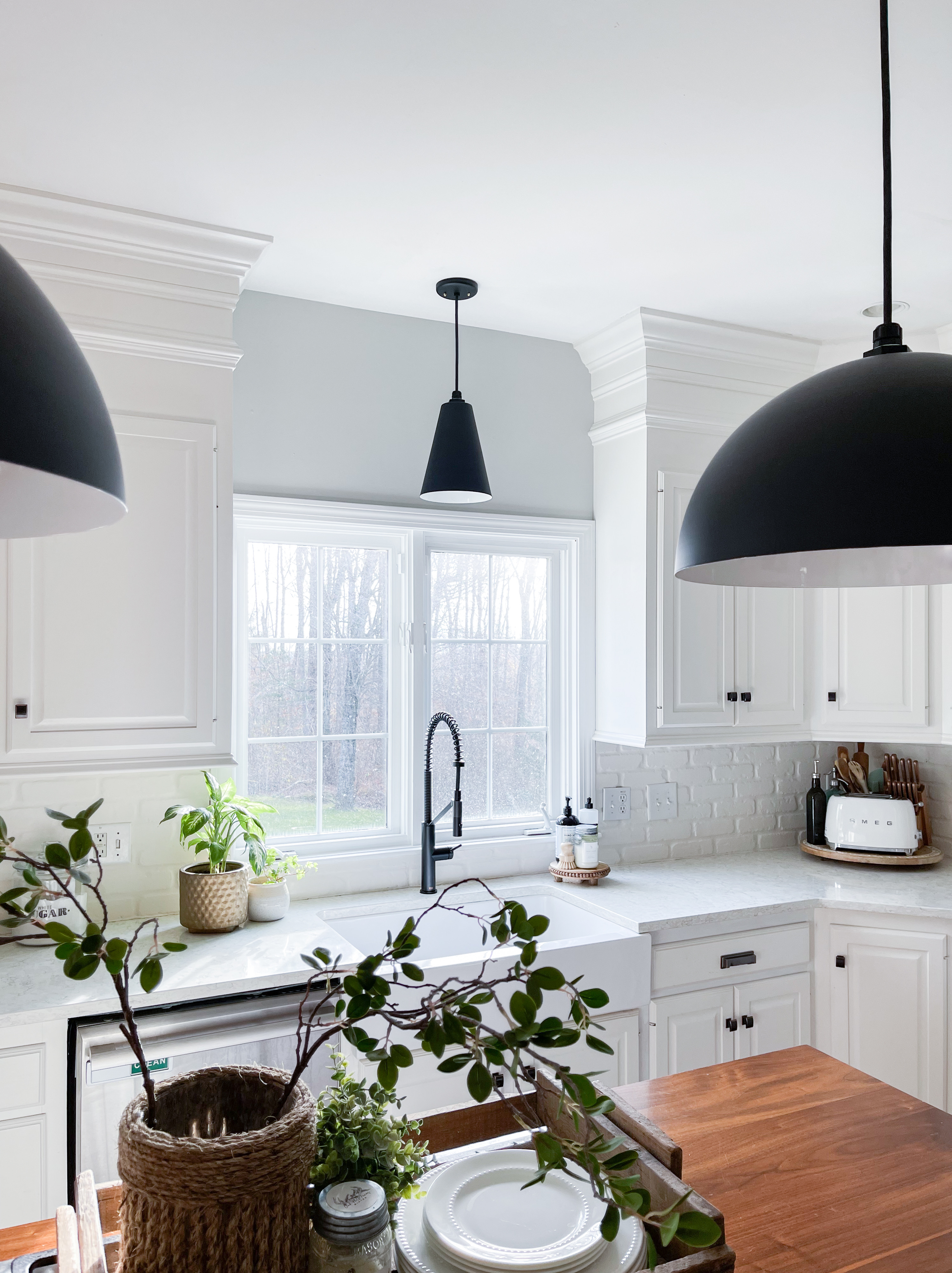 Climbing household plants will bring life to your bare living room. The sight and fragrance of freshly cut lavender or roses aren't just incredibly appealing but therapeutic. And oh, there's a new botany trend in town you might want to jump on; the combination of dried plants and flowers. However, there is a caveat; don't go overboard with the plants and greens. Keep it simple, clean, and refreshing.
4. Textures, Textures, and Textures
As far as the 2022 modern farmhouse decor trend is concerned, there's nothing like too much texture. Don't get us wrong — matte surfaces, cotton, linen, and planks are all adorable and quite irresistible. But textures and prints just take interior design to a whole other level! Landscape prints with antique touches have become a huge deal in both farmhouse decor and minimalist contemporary designs. They are especially more conspicuous in farmhouse decor and as predicted, 2022 will see an exploding wave of these prints.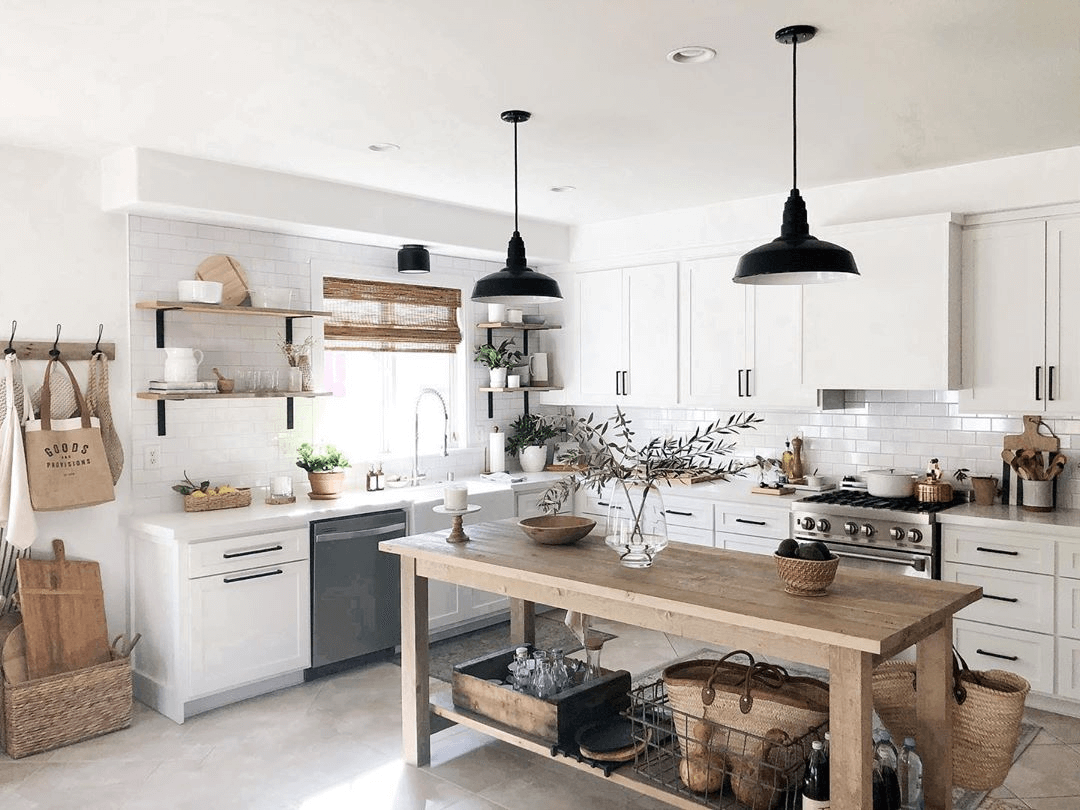 However, authentic wooden accents can get expensive. HOWEVER, you could find some really good and affordable deals on E-commerce stores like Etsy!  And the biggest texture upgrade of all has been proposed by American designers — they hope homemakers will polish and varnish their wooden ceilings in 2022! The logic behind this unconventional proposition is to promote increased light transmission in a farmhouse, make rooms appear larger than they are, and set the course for better and improved heat retention. Wouldn't that be interesting??
5. Modern Decor Meets Rustic Panache
Granted, this trend has consistently appeared over the years but this time there's an update! As opposed to infusing new decor elements in your space to stay true to the "modern and rustic" theme,  you'd be interpreting your existing theme differently but exceptionally. Think replacing your floral prints with embroidery or lace options.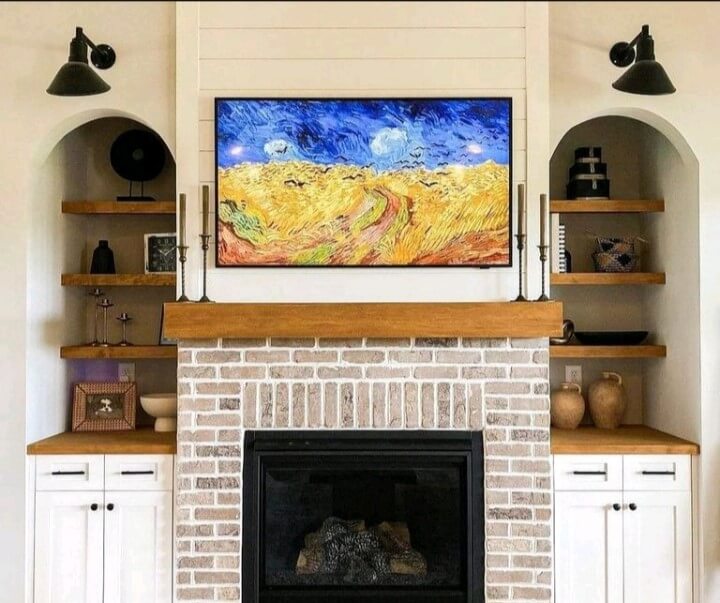 Use authentic paintings and posters on your walls. Embracing fireplaces in modern design and saying goodbye to those in brick designs. Ditching banal board floors for smooth ones and giving your existing furniture an "aged" or "distressed" look.
More Design Tips and Trends for 2022 Farmhouse Decor
Incorporate vintage lighting such as barn lights with gooseneck mounts
Vintage rugs are still a timeless farmhouse style, so consider Turkish, Oriental, and Persian vintage rugs
Purchase authentic farmhouse dining tables or have one custom-made for you
Spindle-back chairs are forever present and elegant in farmhouse design styles, so get that Windsor chair today!
Handmade or weathered pottery will be making a huge comeback in 2022 farmhouse design, so stock up ahead of the trend
Sketch or artistic drawings of botanical images like ferns and eucalyptus are going to be phenomenal. But don't forget to feature real botanical plants and flowers in your decor.
White-painted bricks and brass elements like brass barn lights will be the rave of the season. So don't be left behind!
Light, stripped and white or lime-washed woods are going to replace barnboards and distressed woods; prepare to make some adjustments and upgrades.
Proposed colors for the 2022 farmhouse design style include Barnwood gray, smoky white, maple gray, wishful green, Cellini gold, nocturne blue, and other cool shades of green, gray, white, blue, and beige!
Rustic-based dusk to dawn lighting and LED fixtures will become more prevalent in line with sustainability practices.
In a Nutshell
In 2022, the modern farmhouse design trend will be phenomenal, distinctive, and all-around charming. The decor will retain its simplistic elegance but more sophisticated charm will be introduced for a stylish yet vintage ambiance. So, here's to crafting a space that is cozy, delightful, soul-satisfying, and drop-dead-gorgeous. And if you ever need good-quality vintage light fixtures to tie your decor together, feel free to check out our website, Steel Lighting Co.