Timeless, rustic, cozy, and comforting, the farmhouse design attests to the beauty of the past while maintaining modern-day design upgrades. Though most farmhouses present everyday features like wooden fixtures and earthy tones, you can style yours a thousand times better by incorporating contemporary upgrades and finishing. So whether you just bought a farmhouse or want to revamp your existing living room décor, you will find this blog extremely resourceful and useful. Let's get started, shall we?
Farmhouse Design Ideas for Inspiration
1. Dare to Combine Modern and Rustic Materials
Today's farmhouse style features an appealing modern approach. The combination of these two distinct timeframes creates a somewhat ethereal yet enjoyable ambiance that soothes the mind and pleases the eye. The idea might appear outrageous at first, but once you set the wheel in motion, you'd realize how fitting and gratifying it is. Install a couple of wall-mounted rustic sconces, and go in with a modern statement chandelier or pendant light. Set up a wooden centerpiece or console and sprinkle your favorite antiques. And it wouldn't be a bad idea to have both traditionally woven and contemporary chairs in one space.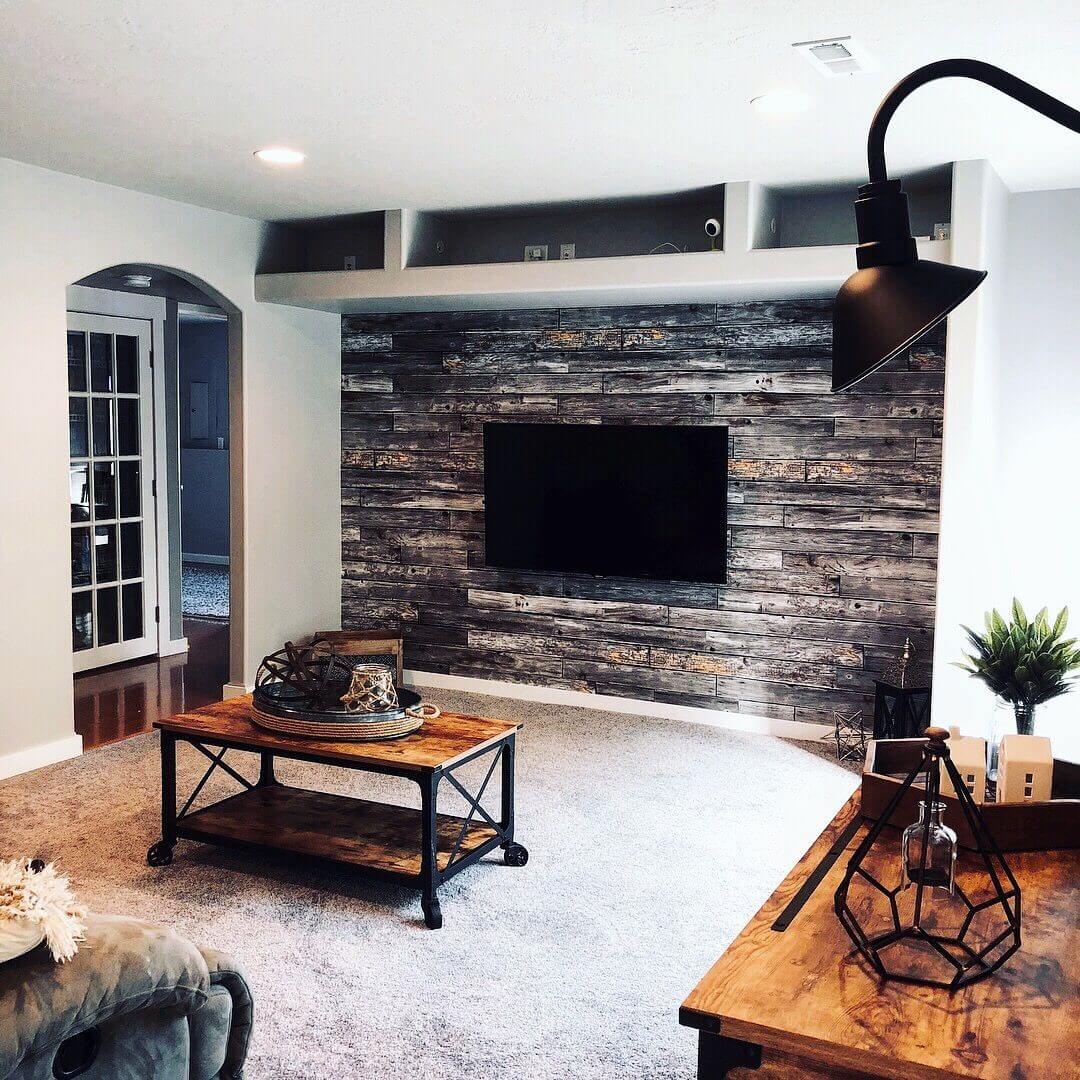 2. Simplicity Does it Best
One reason why homeowners and decorators love the farmhouse style is the simplicity it exudes. And given the recent fever for minimalist designs, there's no perfect style for your living room other than a farmhouse setting. However, don't blow things out of proportion just because you want your farmhouse living room to stand out from the norm. No, you don't need exaggerated ceilings or overly sleek materials to curate this look. Instead, opt for low ceilings which insulate your home against the chilly winter air. Keep your furnishing simple to enjoy a relaxed and comfortable atmosphere.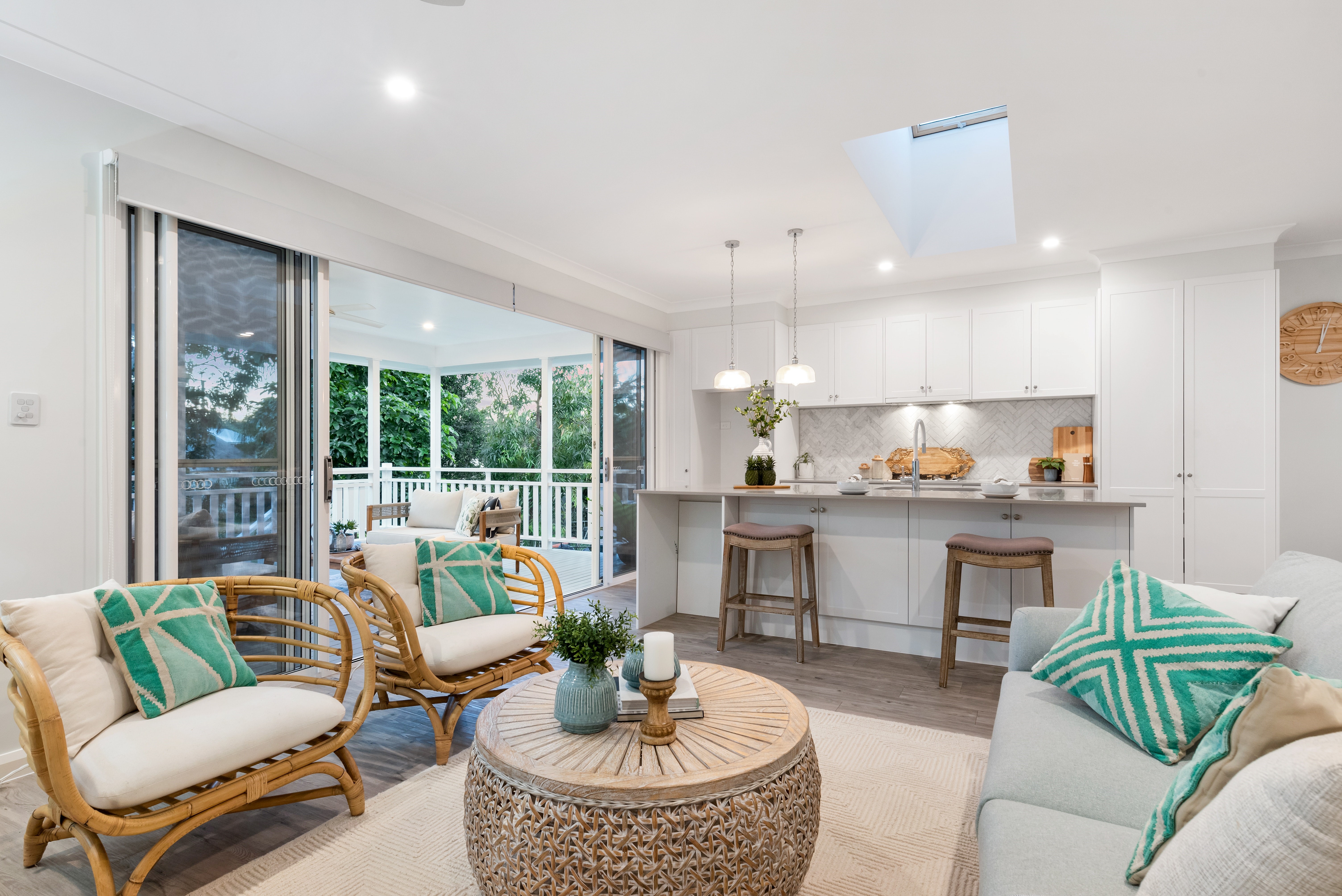 3. Let the Wood Speak for Itself
Wood is one material that has continually surfaced in farmhouse designs. It is as timeless as the trend itself, lending rustic and organic allure to a space in an understated yet classy fashion. One look at a room detailed with wood and a farmhouse comes to mind. Consider exposed wood beams, wooden ceilings, wooden floors, wooden stone walls, and wooden-everything to tie your space together and grant it the vintage look it so desires.
4. Consider Woven Décor
There's no better way to achieve a rustic look than to incorporate woven elements. Woven baskets are especially excellent in this regard. The featured geometric patterns and natural textures are on par with eclectic interiors, while the basket's craftsmanship aligns with the principles of vintage style. Handmade woven chairs are also a charming addition to any modern farmhouse design. Ultimately, woven objects and materials infuse warmth and character to a farmhouse living room draped in white and grey tones.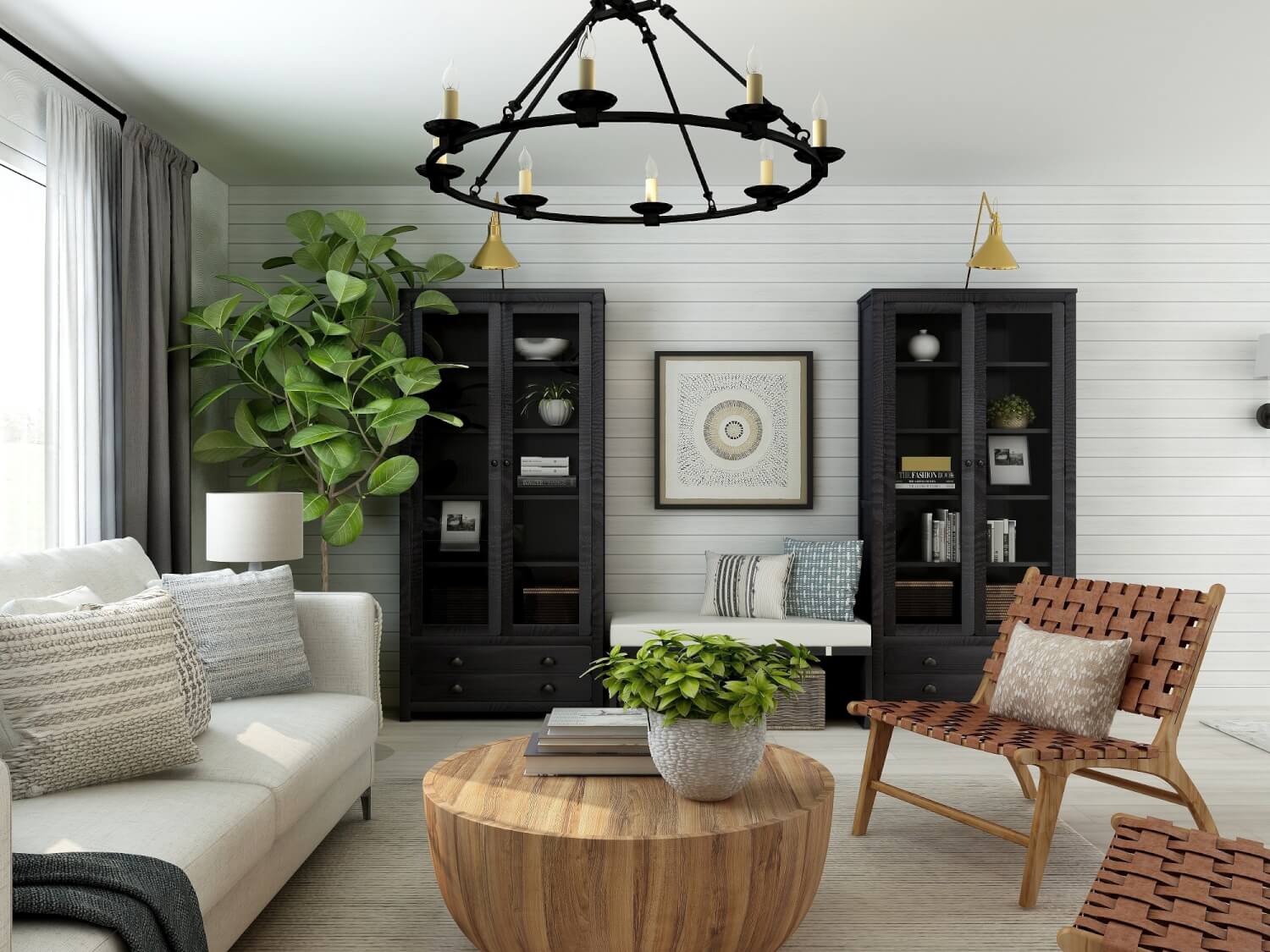 5. Keep the Colors Bright and Rustic
The brightness that comes with a farmhouse style is arguably one of the best parts of this theme. You can nail this advantage by using crisp-clear white coloring throughout the room (from the walls to your furniture). But if you are not such a fan of an all-white theme, you can throw in some bright or subtle colors to downplay the brightness. You can also add colorful patterns and textures to achieve a well-rounded and clean look. Alternatively, you can use off-white tones to give the room much-needed contrast.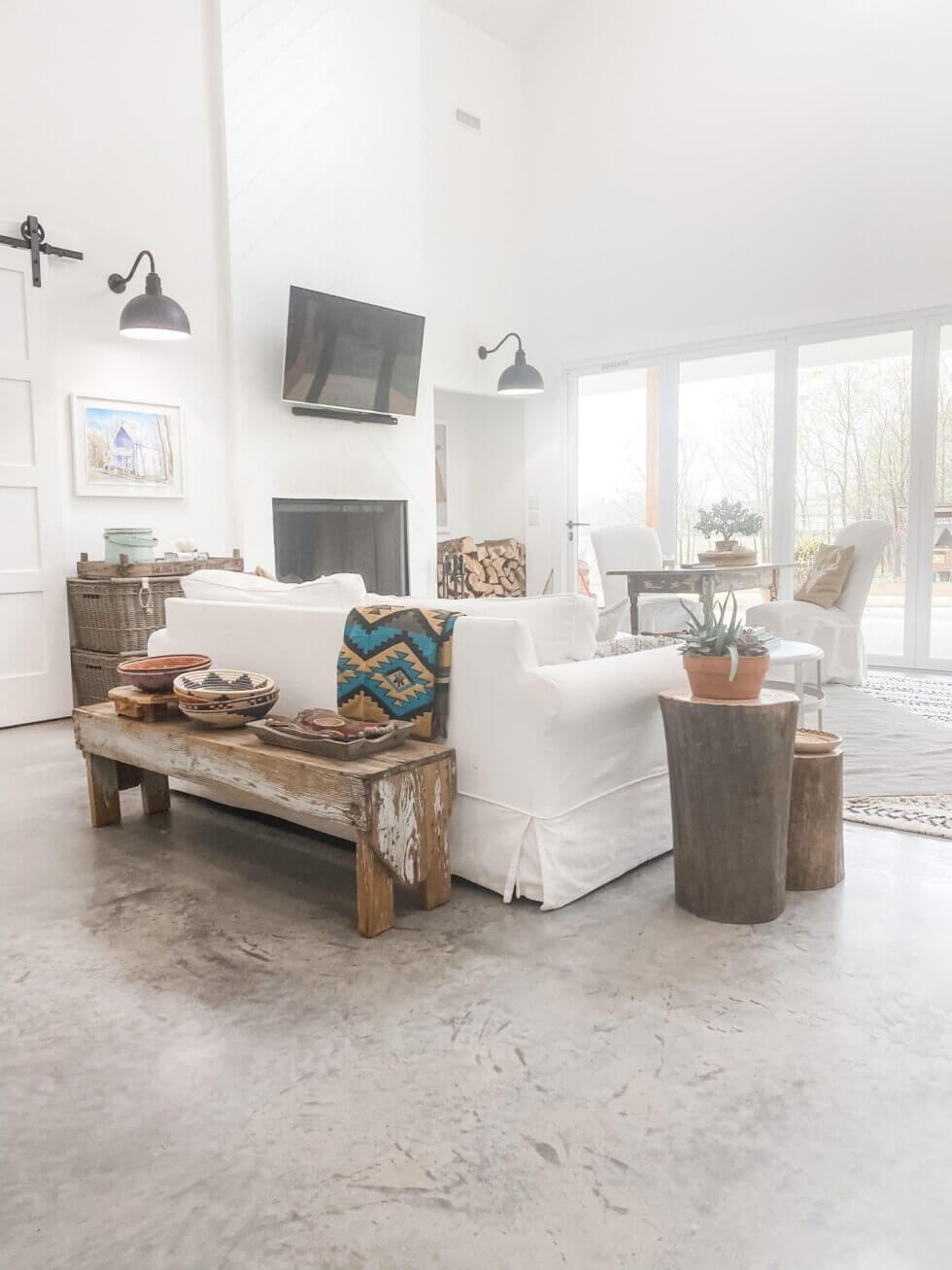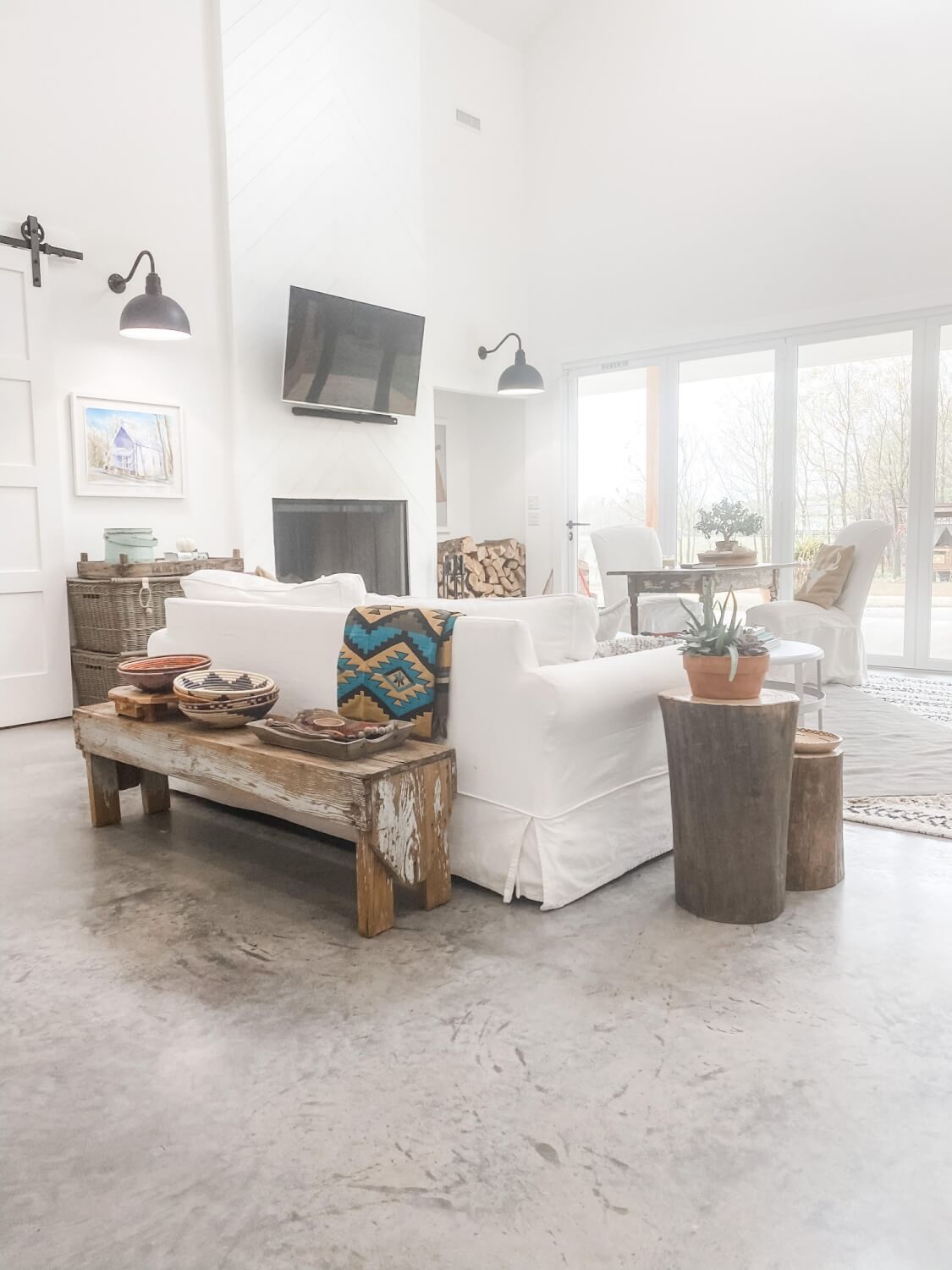 6. Opt for an Eclectic Look
Patterns, colors, and textures are some of the must-have attributes in a space that screams vibrant and animated. Considering that the basic design features in a farmhouse living room are simple and to the point, a dose of color, patterns, and textures can enliven your space. You can maintain neutral walls and neutral-colored furniture, but strive to fill this gap with some artsy and colorful objects or decorative pieces. Something as banal as a patterned throw (draped over your cushion) can redefine your farmhouse living room.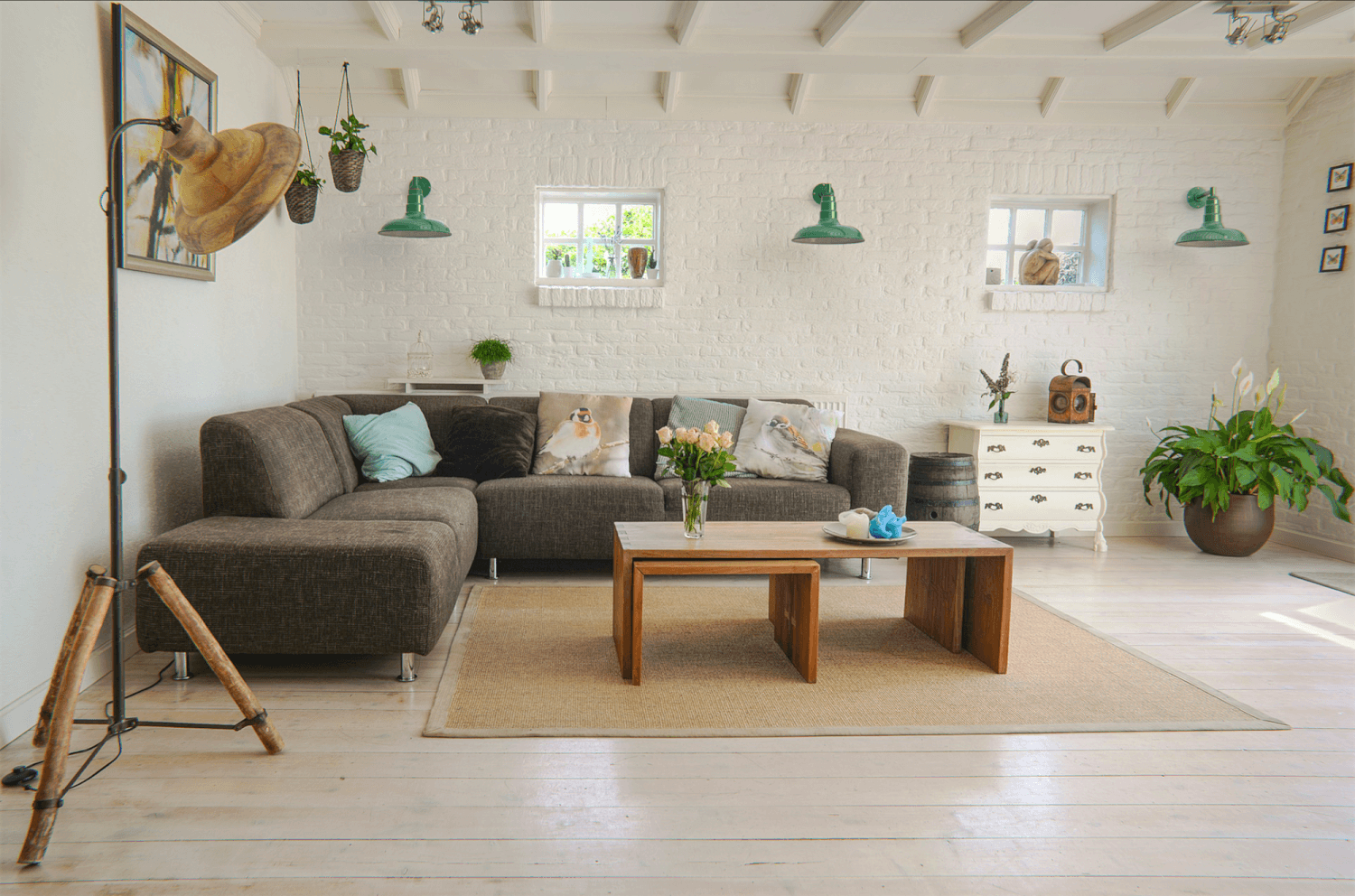 7. Give Your Walls Some Love
Bare walls are soothing, but there's nothing like a decorated wall! While you can choose to leave your walls untouched, it is much more fun to adorn them with decorative wall art and the like. And the good news is, there are thousands of wall décor available on the market for your styling pleasure. These include but are not limited to; hanging baskets, dot paintings, African art, Arabian calligraphy, portraits, doodles, framed photos, tapestries, mirrors, and a host of others.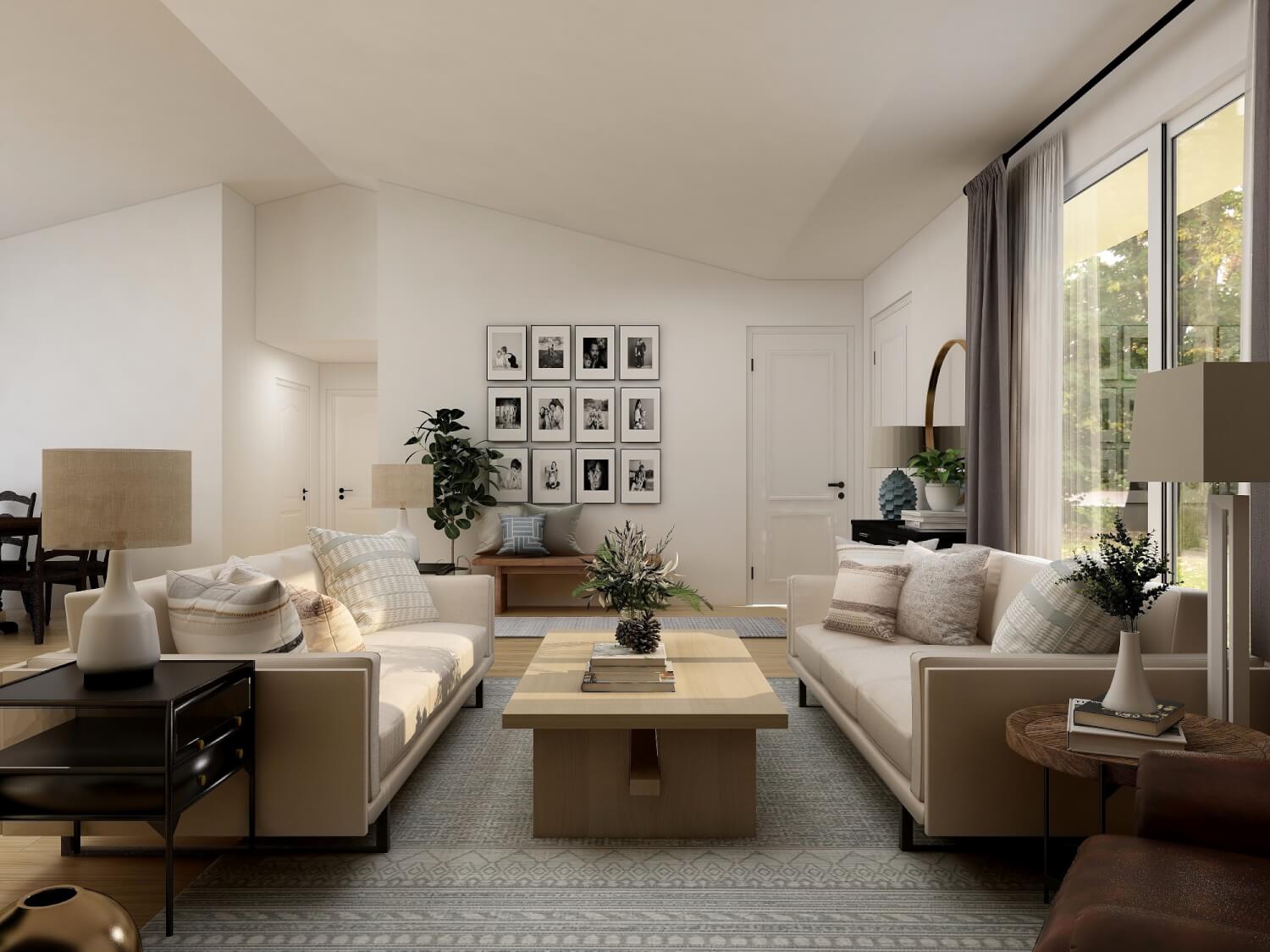 8. Bring the Outdoors, Indoors
The secret to creating a fresh and cozy vintage look that perfectly suits the characteristics of a farmhouse living room is to leverage outdoor design elements. Implement art and accessories inspired by the great outdoors. Set fresh flowers on the center table or the console and revel in their fragrance. Get planters of choice and enjoy the fulfillment of nurturing something from scratch. But if watering or nurturing plants isn't your thing, the artificial versions are equally great. Buy miniature animal statues or life-sized models (as you deem fit). But whatever you do, don't go kitsch!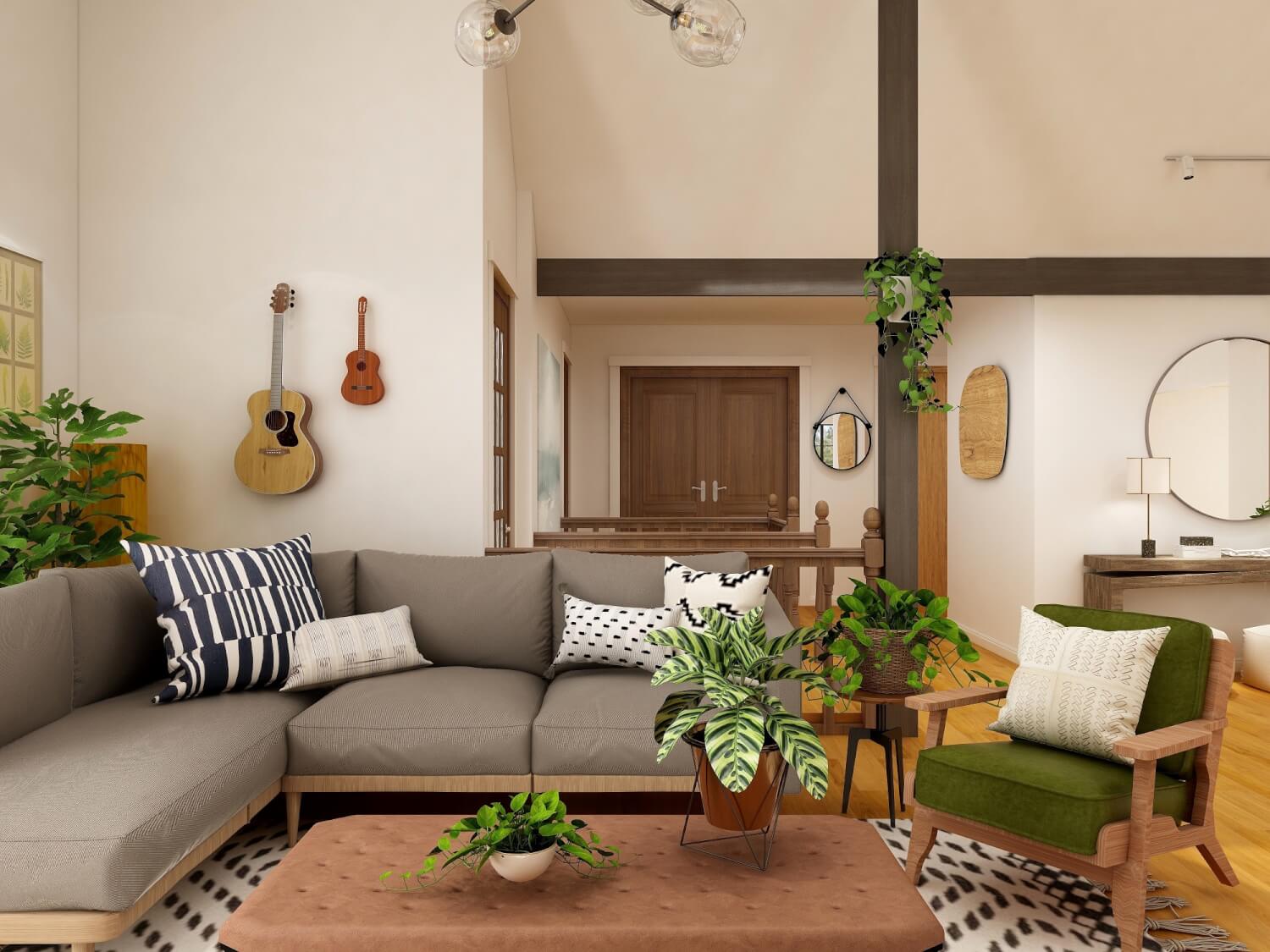 9. Include Scandinavian Design Features
Granted, the farmhouse style is 90 percent rustic, but who says it has to exclusively adhere to the vintage theme! Just like you can include modern design elements, you can also add Scandinavian décor to your farmhouse living room. The Scandinavian theme beautifully complements the rustic setting and gives the room an "unexpected" elevated look. The clean lines from the mid-century theme combined with the wooden elements of a vintage farmhouse are enthralling.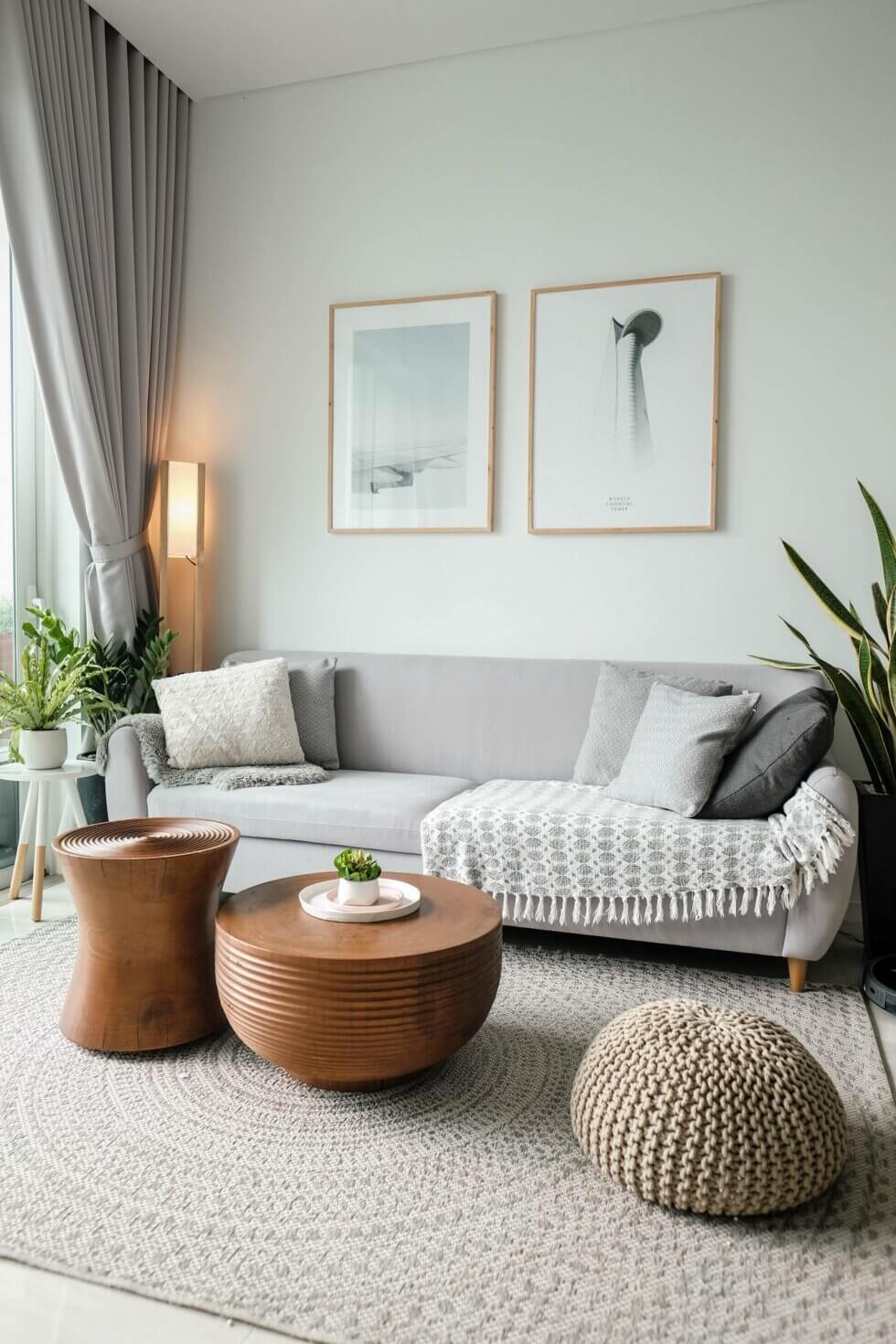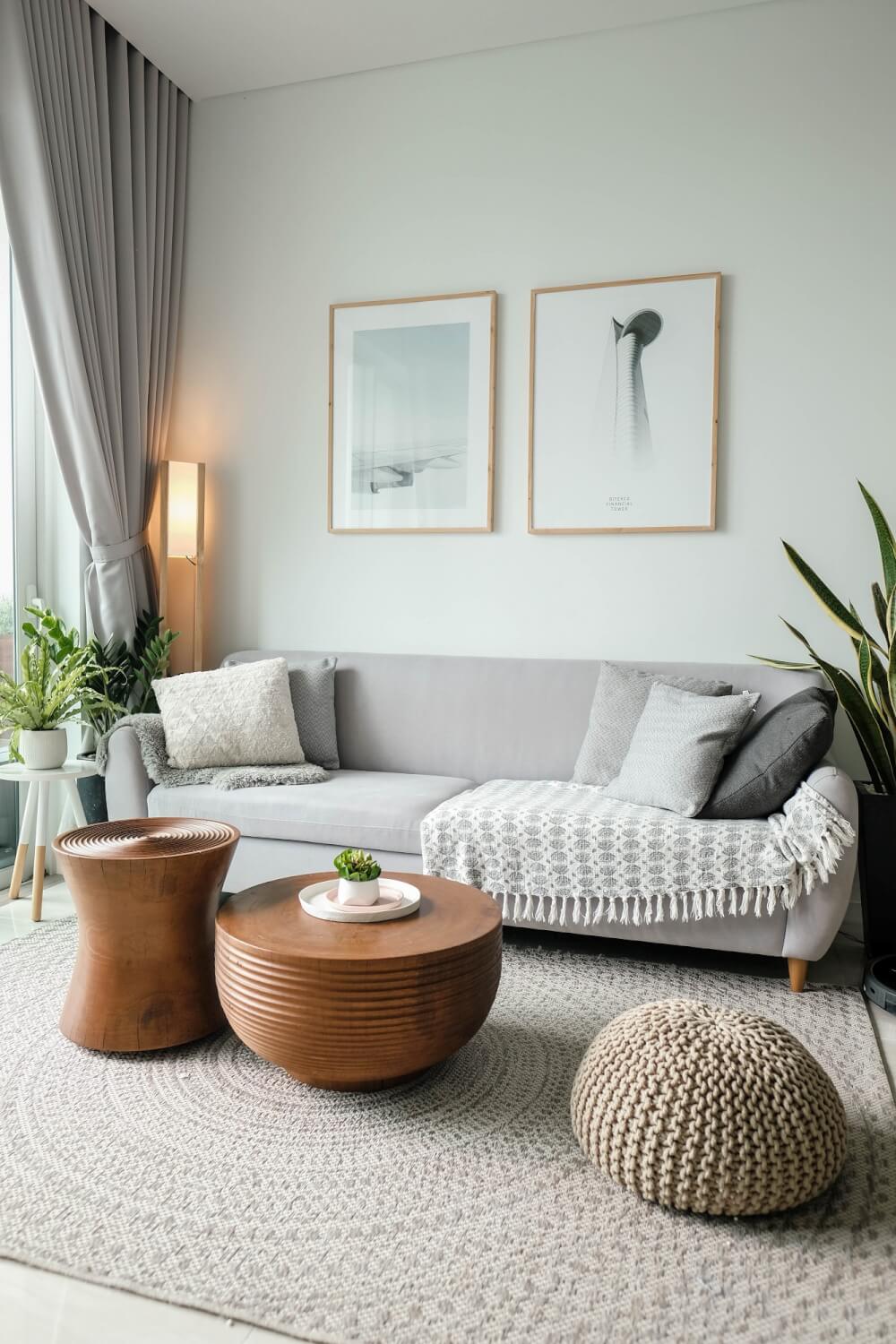 Don't Forget High-quality Lighting
Without an iota of doubt, lighting is one of the most important aspects of a farmhouse living room style. Try to get as much natural light as possible by drawing the curtains or blinds. And just as you need natural light, you equally need high-quality lighting fixtures. Industrial and barn lighting is the most fitting for a farmhouse living room. But because the modern farmhouse décor leans heavily on a mixture of vintage and contemporary design elements, you might also want to consider contemporary statement lighting.
Barn lights with gooseneck or straight arm mounts are highly recommended. Modern cage chandeliers, flush mount lights, mid-century light fixtures, and modernized Regency style lighting are some great examples of statement lighting. And if you are wondering where to buy high-quality vintage lighting, look no further than Steel Lighting Co. You are sure to find the most delectable assortment of rustic lighting from our carefully crafted library!