Modern barn lighting is undoubtedly the hottest lighting trend at the moment. Given its massive popularity, it doesn't appear to be taking the back seat anytime soon. And as with all lighting trends, the modern barn light is guided by standard practices and tips. This blog addresses common and not-so-common questions about modern barn lights and fixtures. The answers to these questions are an excellent guide for barn light advocates and patrons. Without much ado, let's get down to business!
How Many Lights Do I Need in my Barn?
This Is an all-important question that deserves the perfect answer. The amount of lighting in a space can determine the overall appeal and functionality of that space. Too little lighting and the room will lose its charm and invite avoidable accidents. Too much lighting could harm your vision and/or overwhelm your decorative accents or other elements in the room.
So yes, it is crucial to select the right amount of lighting for the perfect balance and outcome. But how do you gauge the amount of illumination needed in a particular room or space? It isn't rocket science; follow these steps, and you are covered!
STEP 1 — MEASURE
First off, you need to take accurate measurements of the width and length of the given room or space. Once you've taken the measures, multiply the parameters together (I.e. the width and length) to get the square footage. For instance, if the room's width is 10′ and the length is also 10′,  the square footage would be 100.
STEP 2 — CONVERT
Next, you will need to convert the square footage to lumens. Lumens refer to the measure of light required in a room or space. But to do this, you need to understand foot candles. A foot candle refers to the output of light from one foot away. Fortunately, there are standard foot candles per application, which serve as a stress-free guide. The standard foot candles per application are detailed below:
Kitchen — 30-40 foot candles
Dining Room —  30-40 foot candles
Living Room — 10-20 foot candles
Bedroom — 10-20 foot candles
Hallway — 5-10 foot candles
STEP 3 — CALCULATE
When you have determined the foot candles needed for your space, you can calculate the total amount of lumens needed for the space. You can use this simple formula to work out the calculation; square footage × foot candles. So for a 100 square feet living room, the number of lumens needed will be ;
100 square feet × 10-20 foot candles = 1000-2000 lumens
Once you've figured out the number of lumens needed, the next thing to do is figure out the number of fixtures needed for your space. Steellightingco.com sells three different light bulbs with varying lumen outputs.
Our 8W LED bulbs generate 800 lumens. So for a 100 square feet room, you'd need about 4-5 fixtures equipped with these bulbs.
Our 12W LED bulbs generate 1500 lumens. This means you'd need about 2-3 fixtures for a 100 square feet living room
Lastly, our 22W bulbs generate 2500 lumens, so a single fixture equipped with this bulb is sufficient for a 100 square feet room.
What Kind of Lights do you Use in a Pole Barn?
A pole barn demands specific lighting for proper illumination and aesthetic allure. Lighting types for a pole barn include :
Straight Tube: Straight tube lights emit little heat and have minimum effect on headroom. Standard fluorescent light is best used for ceiling heights below 15′.
HID High-Pressure Sodium: It emits an orange-tinted light and is typically sold as high or low bay
HID Metal Halide: Features delayed startup. They are generally available as high or low bay fixtures. However, as the bulb ages, the light output and color are affected.
Tungsten Halogen: The tungsten halogen light emits lots of heat. They are primarily used as spotlights or accent lights.
What Lights to put in a Barn?
A barn requires durable and practical illumination and lighting that is easy on the eye. Find below the best lights for a barn.
Barn Lights
As the name implies, barn lights are designed to serve the lighting requirements of a barn. Today's barn lights bear modern designs without neglecting past techniques. They are a mind-blowing combination of the past and the present. The most popular type of barn lights is Gooseneck lights. Gooseneck lights are barn lights with a goose-like mount.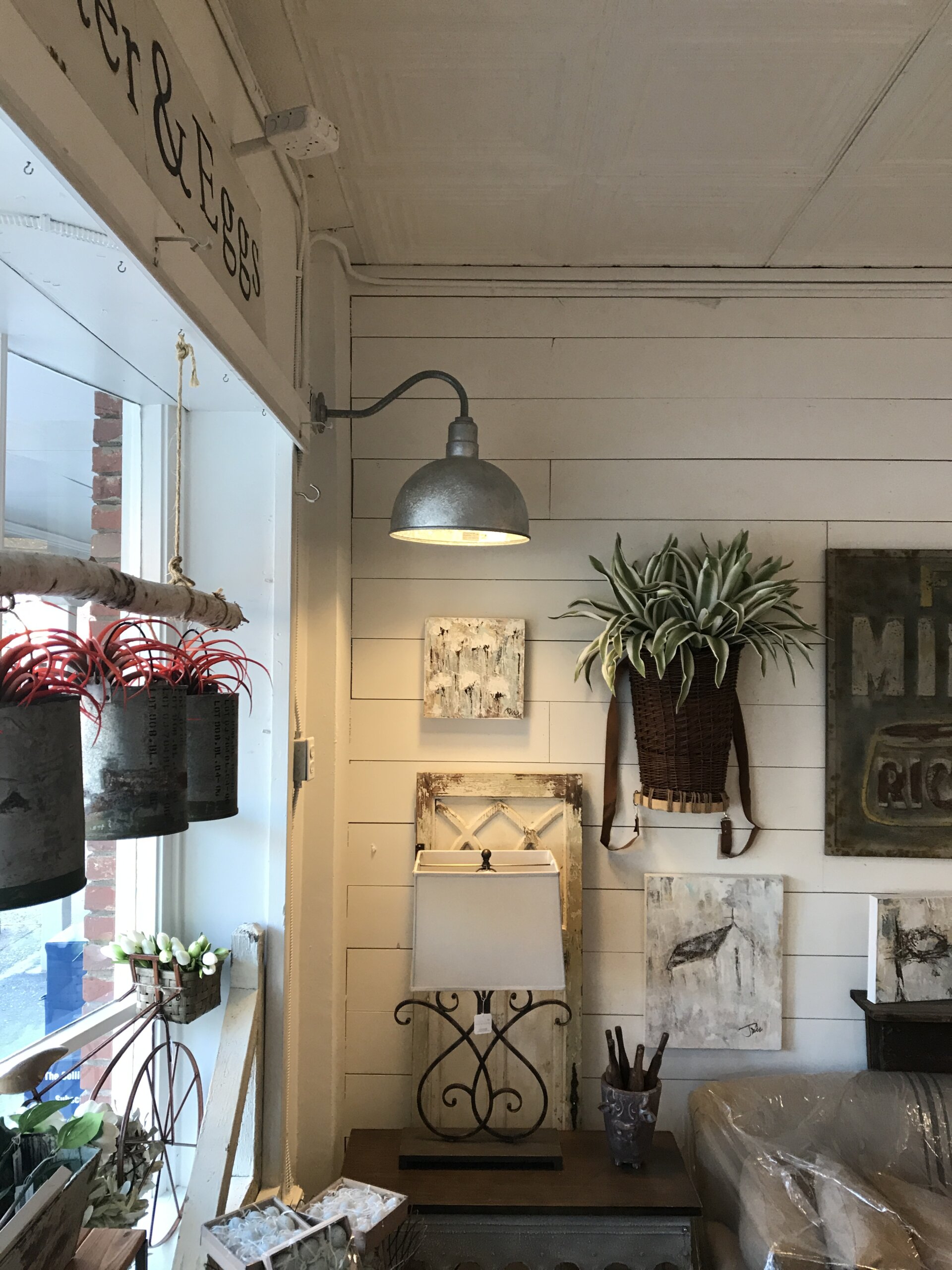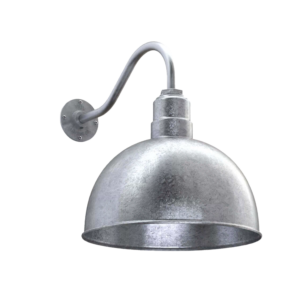 Hollywood Bowl
$189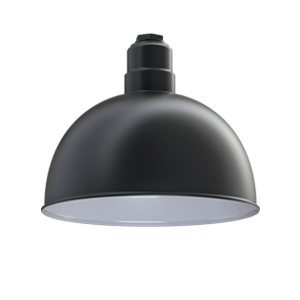 15" Dome
Canopy lights
The next best type of light for barns is canopy lights. They are best suited for wet, outdoor locations. The single most attractive feature of canopy lights is dust resistance. They are resistant to dust and moisture, making them the perfect light fixtures for dust and moisture-prone barns.
Wall Pack Lights
Though wall pack lights are generally deployed in commercial locations, they are ideal for barns. They are designed for outdoor areas and have a dust and moisture rating, like canopy lights. You can use wall pack lights to illuminate walkways or the stables.
How Big should a Barn Light be?
How big a barn light should depend on the application and the size of a room. The lamp base should be about 78 inches above the flooring for ceiling-mounted barn lights. You can choose oversized barn lights for living rooms, kitchen and porch. Keep the room size in mind when determining the size of a barn light.
How Big should Barn Light be Over Garage?
Tiny or miniature lights over garages are a no-no. The recommended size and height for barn lights over garages is 12 inches. However, if you own a one-door or one-stall garage, consider a 16″ barn light. As a general rule of thumb, your barn light should be one-third to one-quarter of the height of your garage door.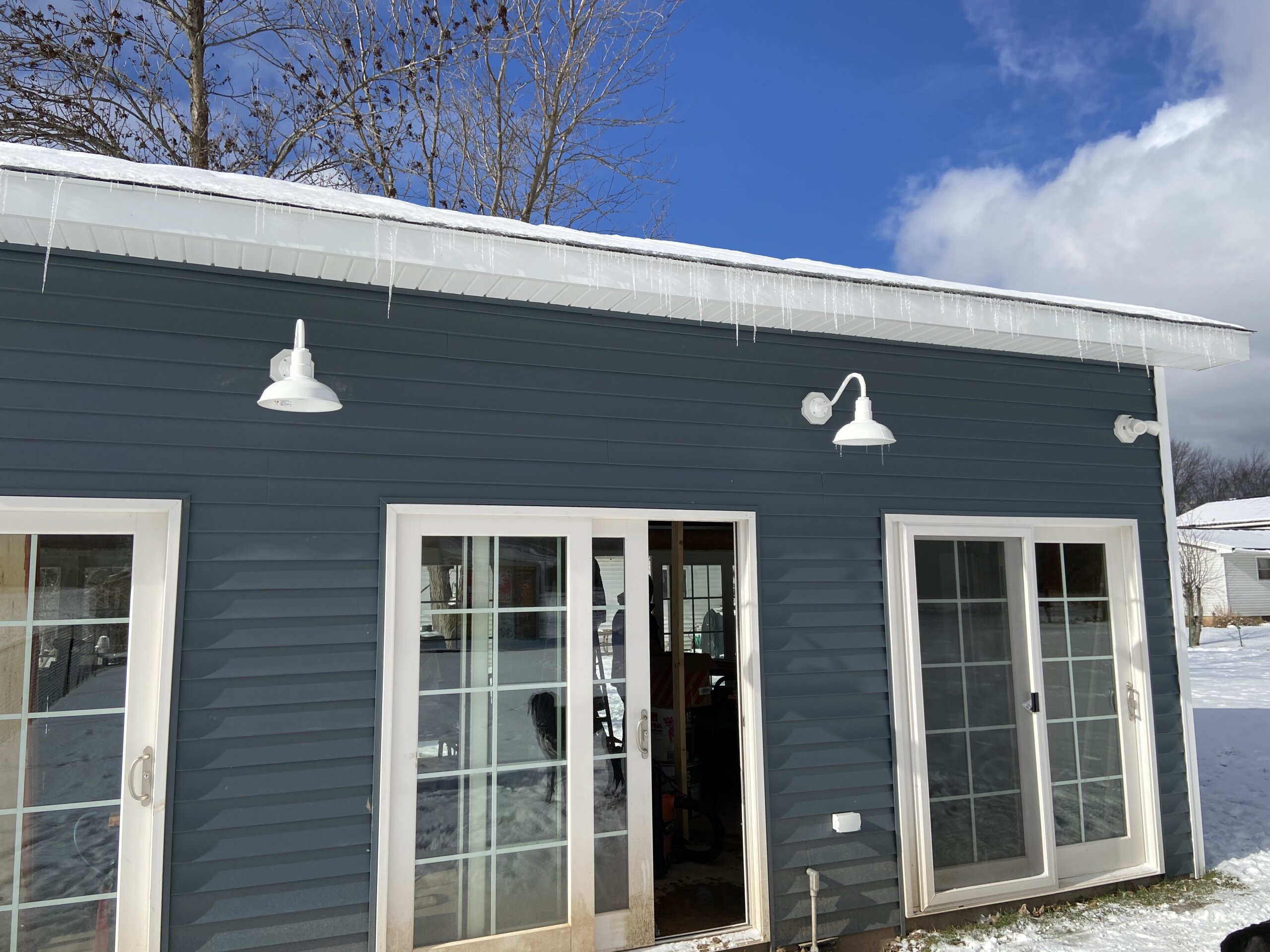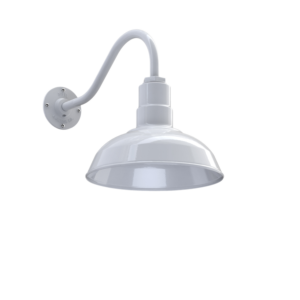 Westchester
$159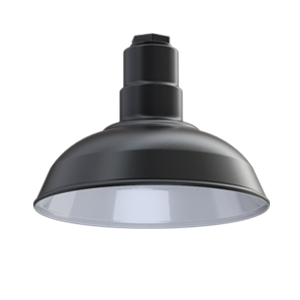 12" Dome
How High should an Outdoor Light be Mounted?
The mount size of an outdoor light depends on the type and size of the light. However, the standard remains;
Large lights like 20″ dome barn lights should be 15ft high from the floor. A good case in point is the Redondo and Manhattan lights
Medium lights (16″) dome barn lights like the Gardena and Carson lights should be 10ft+ high from the ground.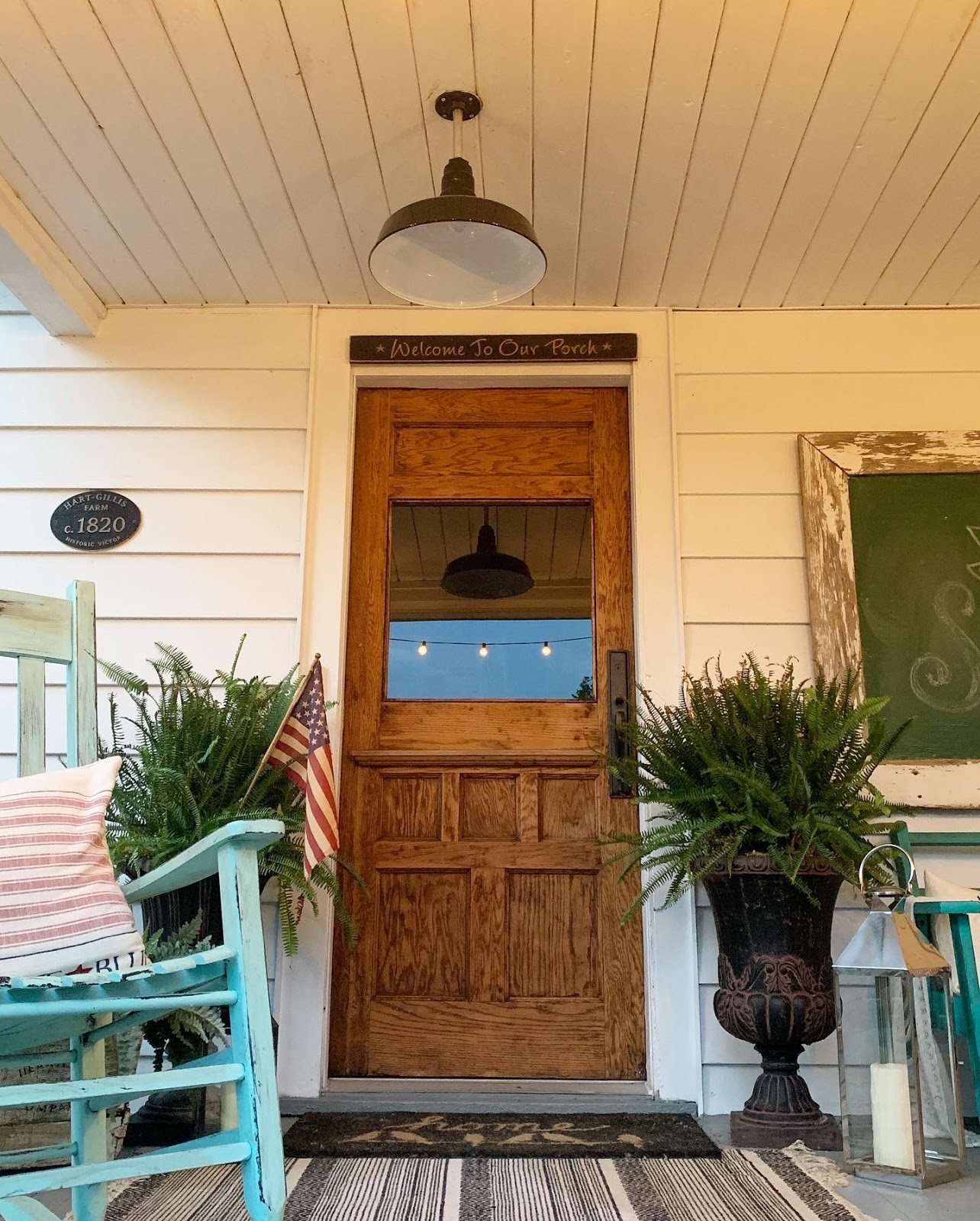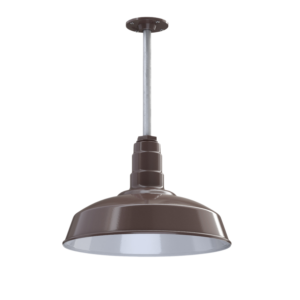 Carson
$129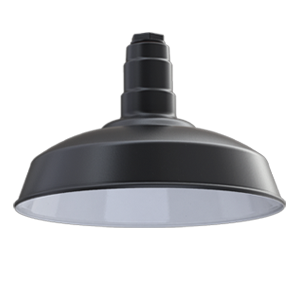 16" Dome
All other lights below 15″ should be installed under 10ft.