The laundry room is almost always an afterthought when it comes to interior lighting. But who says your laundry room shouldn't look its best? Here are some 2023 trends and trips for a well-illuminated laundry space!
Why Quality Laundry Room Lighting is Essential
The laundry room serves a practical function. Like the kitchen, it is an integral part of a home —we need to maintain clothing hygiene as well as we eat. Unfortunately, we treat the laundry room with little regard. This shouldn't be the case for a space where we get important work done. Incorporating superior lighting into your laundry room will elevate and enhance the space's functionality. You will be keener to do your laundry (typically a boring chore) and even find the process refreshing and therapeutic.
On the plus side, laundry room lighting is steadily gaining prominence as interior designers and homeowners have embraced the concept. Recently, laundry room light fixtures in all shapes and sizes were seen in various laundry rooms, eliciting applause and acclaim. Come 2023, laundry-centered lighting trends promise to be unlike any we've ever seen.
Laundry Room Lighting Ideas You Should Look Forward to
Some homeowners and designers use kitchen-centric lighting for the laundry room. Though this works in special cases, not all kitchen lights align with the structure of a laundry room. So, if you are considering adopting kitchen trends for your laundry, you should weigh your options carefully.
For one, the laundry room is purely practical, and you are least likely to dwell in there (like you would in a kitchen or living room). So, ambient or mood lighting isn't the first choice; rather, task lighting should be the priority. Regardless, you can combine both types of lighting for an Instagram-worthy look. These Tips and Trends will guide you:
1. Natural Light is Still On-brand
Natural light is one trend consistent with seasons and years, and 2023 isn't an exception for your next laundry room lighting setup, leverage natural lighting as best as possible. Laundry rooms are usually small and have teeny-tiny windows (or none), so natural lighting may be hard to come by.
That being said, if you are yet to build, make the windows larger to encourage the presence of natural light. If you already have small windows, consider enlarging the windows or introducing roof lights and sun tunnels!
2. Pendant Lighting is Forever Stylish
Laundry rooms with pendant lights are like a spread out of a glossy magazine! And in 2023, don't be surprised to see laundry rooms embellished with never-before-seen pendant fixtures. But bear in mind that pendant lighting may not work in a laundry room like in a kitchen (without high ceilings). Thus, if your space lacks the structure to accommodate a pendant fixture, kindly forego this option.
But if you have the right space, you should infuse some style and elegance into your laundry center to evoke positive feelings and make your task more enjoyable. The  Malibu light (as seen below) is a spectacular option. This light is very versatile, since it has multiple mounting options, including a flush-mount variation for those who have shorter ceilings.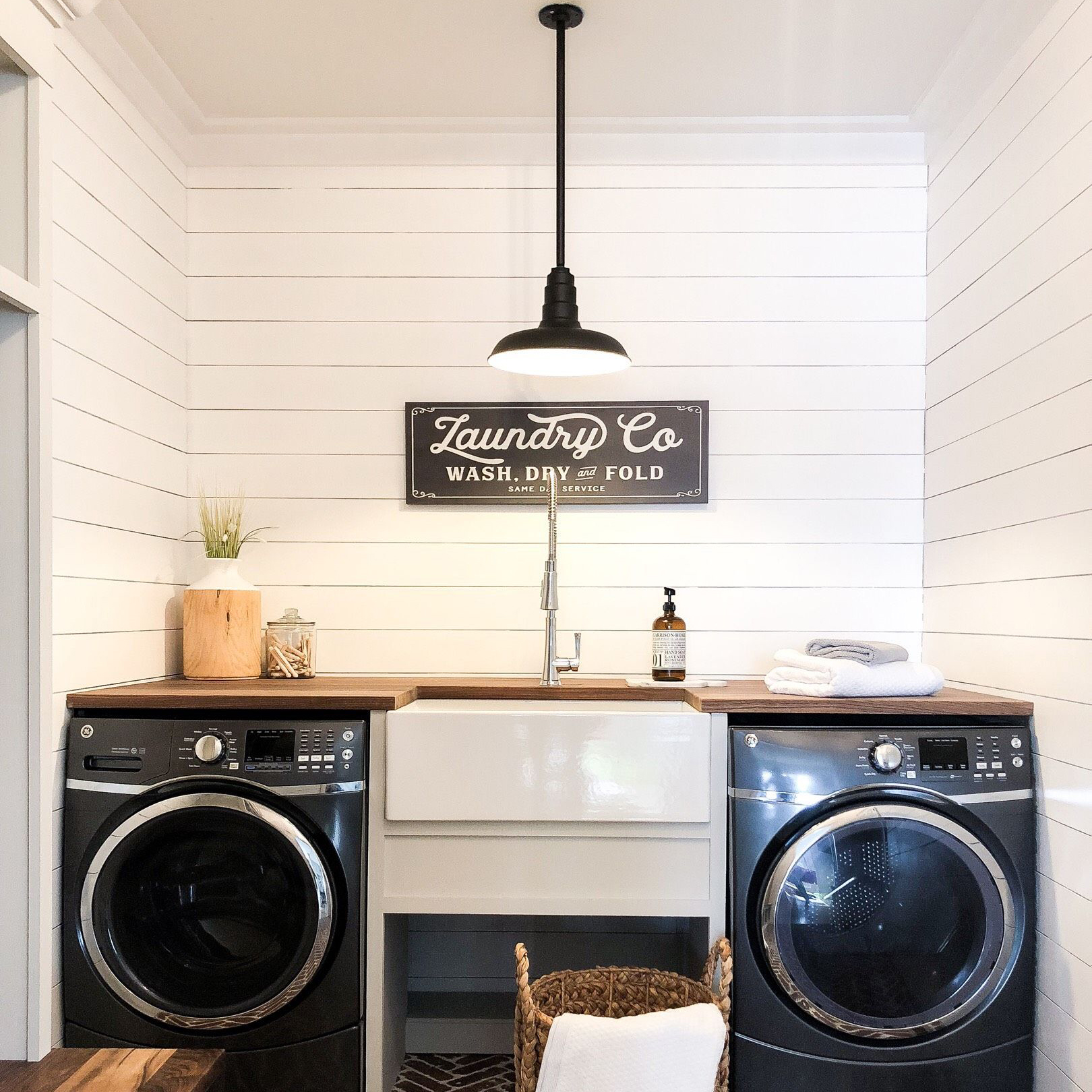 3. Integrated Shelve Lighting
It is not uncommon to have wall-mounted shelves in the laundry room these days, thanks to the surge in organized storage systems. These shelves may hold your adorable wicker baskets, detergent containers, and other supplies. Hence, it stands to reason that accent lighting will enhance the look and functionality of your laundry shelves and the overall room.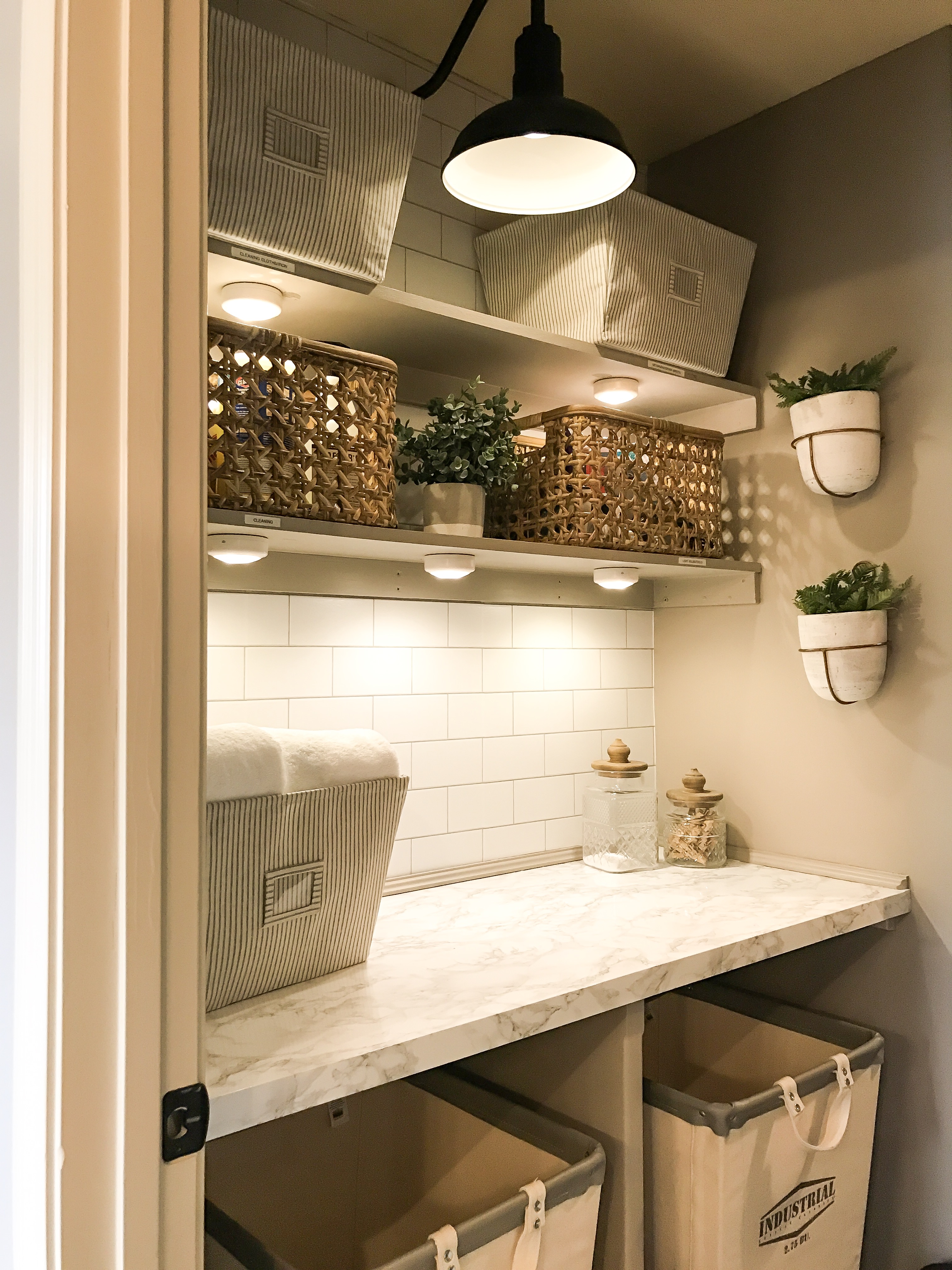 "
On that note, you want to find your supplies without groping for them and show off the intricate details of your charming organization skills. Wall-mounted sconces like the Westchester light, recessed LED strip lights, and spotlights are superb choices for this spot. And tell you what, you will see this trend come to "light" in the coming year, so why don't you stay ahead of the movement?
4. Sem-flush Mounts? It is a Yes
A fantastic alternative to pendant lighting, semi-flush lighting has come a long way! We've seen these fixtures in living rooms, dining areas, and etcetera, but they are rare in the laundry room. Semi-flush mounts are the lighting solution for laundry rooms with short ceilings. So, consider flush mounts if you want similar aesthetics as the stylish pendant in your laundry room. However, they are not as versatile as pendant lighting, which means there aren't many options to choose from.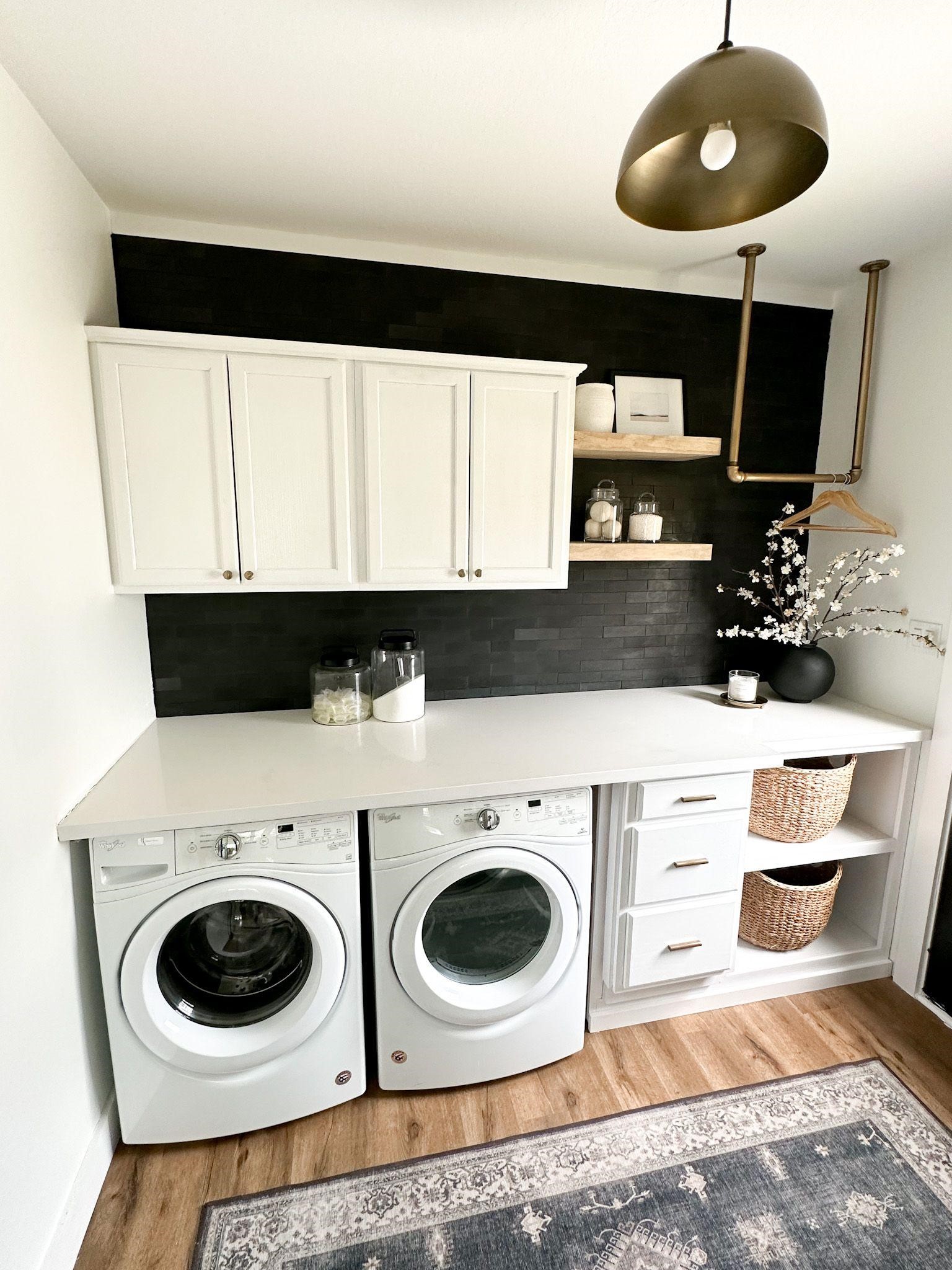 5. Laundry Room Island Lighting
 A novel design feature projected to explode; laundry room islands are a sight to behold. As such, adding an island to your laundry room wouldn't be a bad idea, provided you have the space.
And like kitchen islands, laundry room islands shine beautifully with compatible light fixtures. You will get an extra countertop space to ease your chores and, of course, the room to position a "statement ceiling-mounted fixture" like the Laurel light (this is one of the few instances where kitchen lighting works beautifully in a laundry room)
6. Adjustable Wall Lights for a Wow Effect
Good old' wall lights are a standard component of a laundry room. But for an elevated look and function, adaptable designs are set to take over the laundry space for obvious reasons. To begin with, laundry rooms generally have limited space, so flexible lighting is non-negotiable.
Fixtures that you can adjust to control light flow and direction are highly recommended. Adjustable spotlights or arm pendant lights are the holy grail you need in your laundry room. You can angle these fixtures to highlight the countertop or provide ambient lighting for the overall space.
In a Nutshell
Laundry room lighting is predicted to become a sought-after trend in the coming years. Soon, the laundry space will get all the attention it deserves and feature distinctive architectural elements and upgraded light fixtures. In the meantime, the trends mentioned above and tips should suffice. If well-incorporated, your laundry room will join the list of your favorite spaces!