Hanging farmhouse light fixtures are an interior designer's dream come true. These trailblazing fixtures can make your space look and feel like a 5-star decor plucked from the glossy pages of a high-end magazine.
As the name suggests, hanging farmhouse light fixtures add a touch of the widely popular farmhouse aesthetic to your space. Though they have astounding decorative appeal, their unparalleled functionality makes them the lighting fixture to beat. Read on and explore distinctive suspended farmhouse light fixtures to transform your space from zero to a hundred!
Rustic Cage Pendant Lights
If you are a stickler for industrial themes, consider rustic cage pendant lights. These are a one-in-a-million type of hanging farmhouse light fixtures that combine a quirky blend of "farmhouse" and "industrial". These fixtures are outfitted with a metal cage that surrounds the light bulb and creates interesting shadows and textures.
They are compatible with spaces with high or vaulted ceilings, drawing the eye upward. They are best loved for their versatility, making them an excellent choice for various design looks —  you can use them in entryways, living rooms, patios, and everywhere in between.
Barn Pendant Lights
Easily the most popular farmhouse light, barn pendant light fixtures are a staple of farmhouse decor. They are a classic choice for farmhouse-inspired designs, thanks to their rustic charm and retro vibe. When it comes to hanging farmhouse light fixtures, you can't go wrong with a barn light. From the porch to the living room to the kitchen to the bedroom, barn pendant lights will wow you and your guests.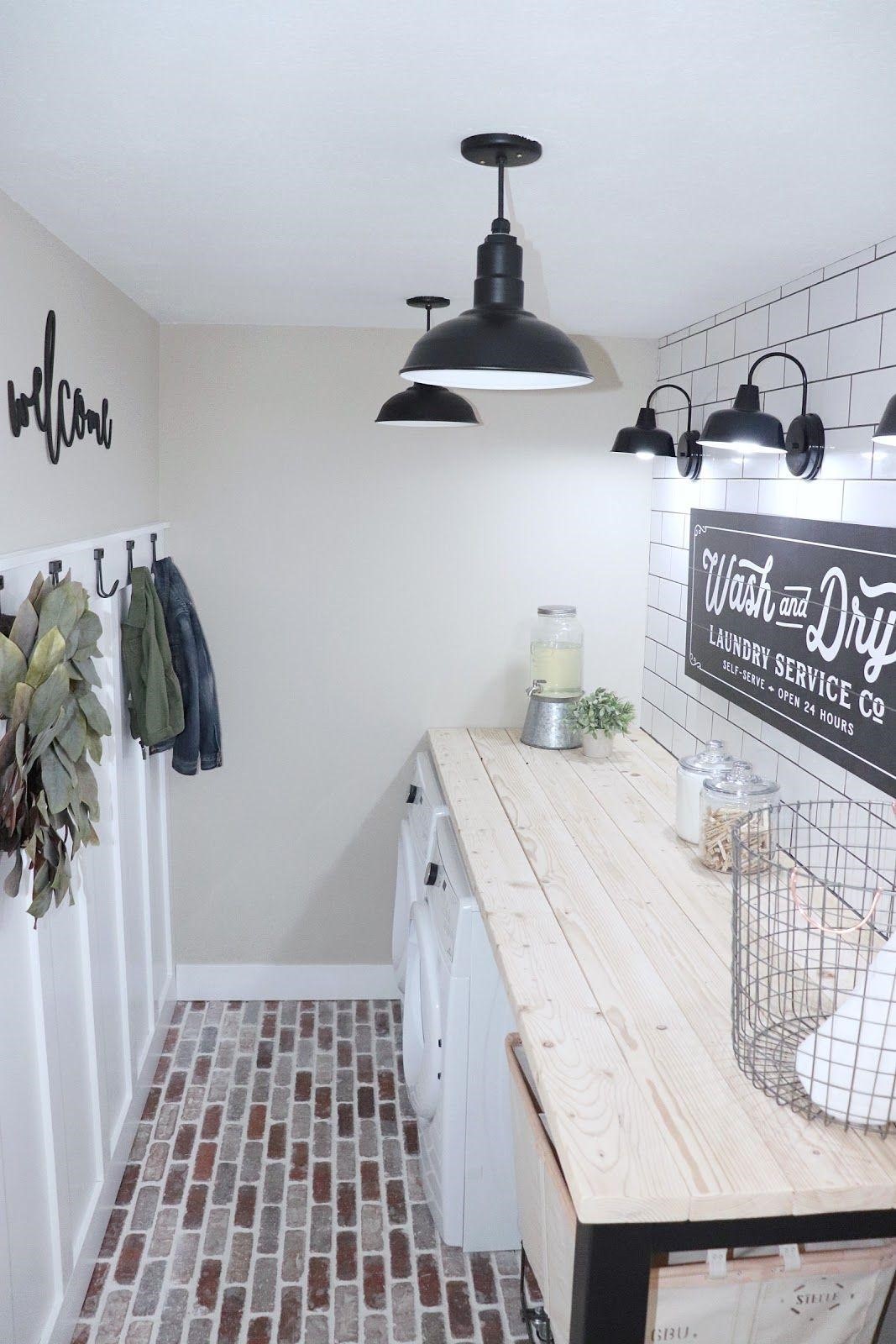 Steel Lighting Co's selection of barn lights prioritizes quality, value, aesthetics, and function. Your space will look like a million dollars when furnished with any of the barn lightings from our vast selection.
Mason Jar Pendant Lights
Think of gardens, parties, festivities, and glorious autumn nights, and mason jar pendant lights will come to mind! They are as charming as it gets and a fun-tas-tic DIY challenge. Yes, you can make mason jar pendant lights yourself (with the right tools and directions of course). You only need to attach a light socket to the underside of a mason jar and suspend it from the ceiling with a cord or a chain.
You can buy the supplies from any hardware store or lighting company. Clear jars will show off your artistic piece while tinted jars provide a more subtle glow. And you shouldn't limit the charm to your garden or patio, try installing a couple in your kitchen, bedroom, living room, or in any space of your choice.
Glass Globe Pendant Lights
Unique hanging farmhouse light fixtures also feature glass globe pendant lights. These are a stunning choice for a farmhouse-esque theme. They especially shine in sleek, modern settings with a touch of rustic elegance. The fixtures feature a clear glass shade that puts the light bulb on display.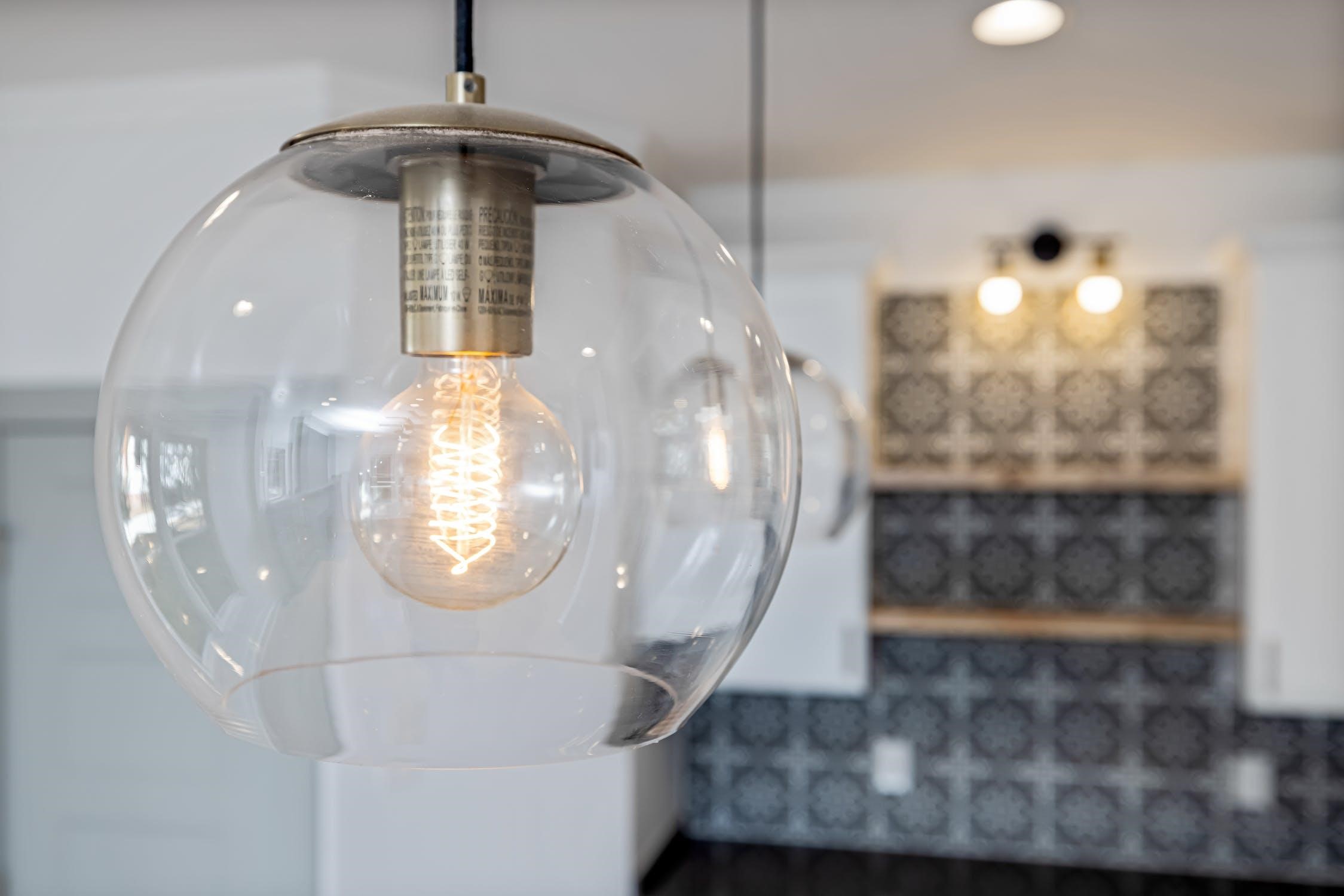 They are best suited for kitchens and dining rooms where functionality is of utmost importance. The best part is they provide functional and decorative illumination without overwhelming the other elements in a room. You can also use glass globe pendants in spaces with clear or reflective surfaces, such as metallic accents and mirrors.
Wooden Bead Chandeliers
Looking to combine bohemian vibes with farmhouse charm? Look no further than wooden bead chandeliers. These chandeliers are furnished with wooden beads that are strung together to create a cascading effect. They infuse a natural element into your space. Like rustic cage pendant lights, they work well with rooms with high or vaulted ceilings, serving to draw the eye in an upward direction.
Dining rooms and bedrooms are the top two room choices for wooden bead chandeliers. They create an intimate and cozy ambiance in these rooms. So if you need unique hanging farmhouse light fixtures in your bedroom or dining room, consider wooden bead chandeliers.
Galvanized Steel Pendant Lights
Farmhouse pendant lights crafted out of galvanized steel are another staple in the farmhouse design scene. The galvanized finish delivers a timeless industrial look that will make any space stand out —It adds texture and depth to your farmhouse-centered space.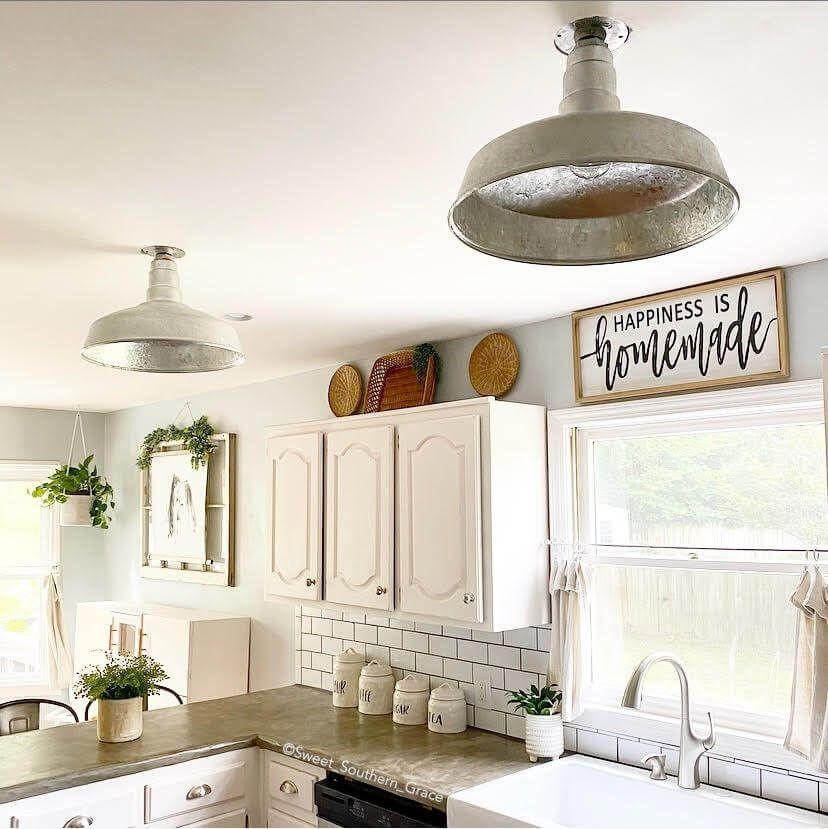 Whether it is a restaurant, warehouse, store aisle, living room, kitchen, or bathroom, galvanized steel lights guarantee a refined look that is second to none. Plus, superior-quality galvanized lights like the Carson Highland are highly durable and will last for a lifetime.
Wagon Wheel Chandeliers
When it comes to a rustic charm, wagon wheel chandeliers are second only to barn pendant lights. Featuring a wooden wagon wheel with light bulbs attached to the spokes, they add a vintage touch to just about any space. They are unique, timeless, functional, and sturdy.
A wagon wheel chandelier brings to mind a western yet rustic feel. They work well in rooms with high ceilings such as living rooms, workshops, garages and to name but a few. If you want something that is out of the norm but delivers excellently, these chandeliers should be on your checklist.
Woven Rattan Pendant Lights
Woven rattan pendant lights equal farmhouse meets tropical vibes! As far as unique hanging farmhouse light fixtures go, this is a top contender. These fixtures are furnished with a woven rattan shade that adds texture and warmth to a space.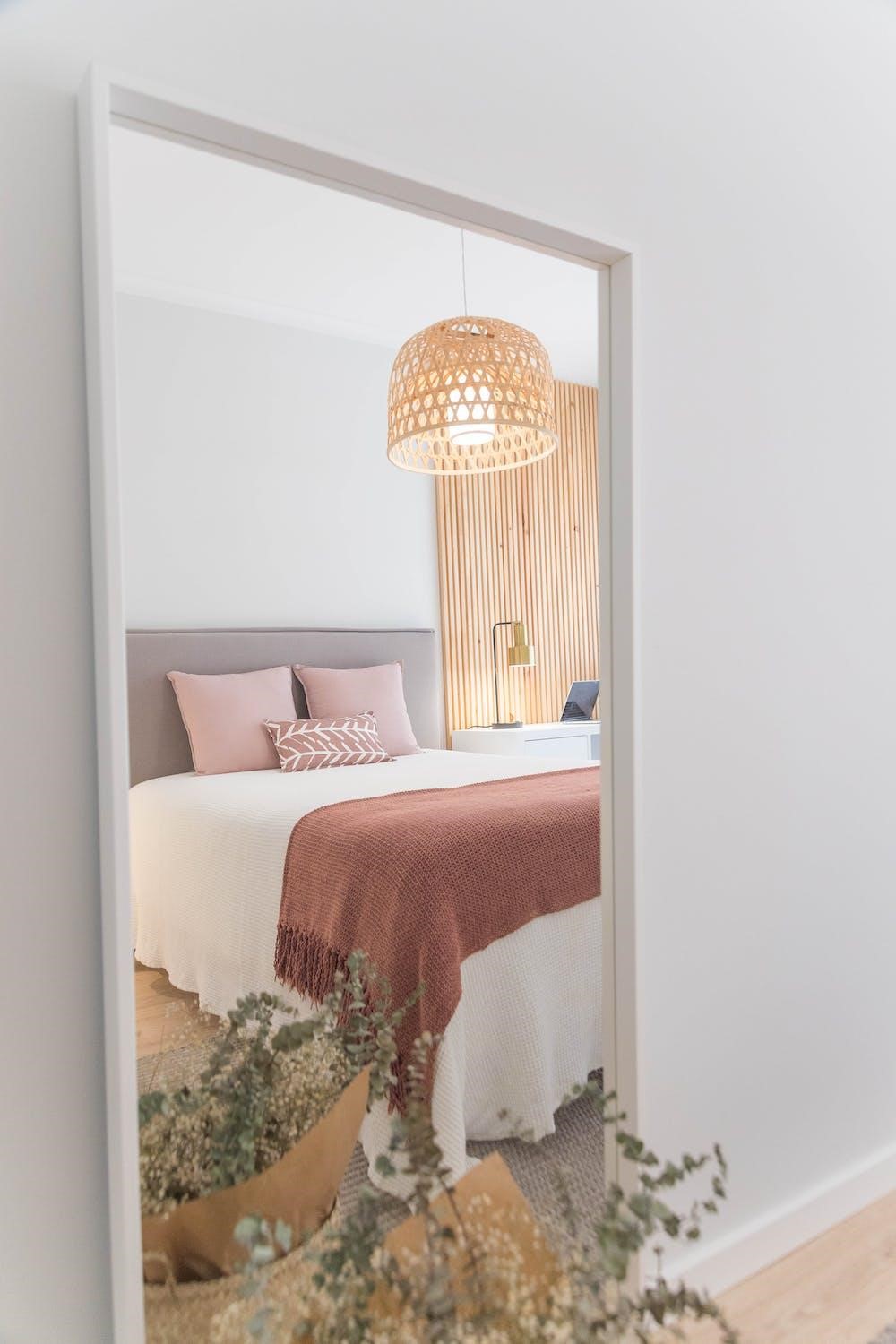 They are perfect for living rooms and bedrooms where they radiate an inviting and cozy appeal. You can pair them with other natural elements such as wood and plants for maximum effect.
Final Thoughts
Unique hanging farmhouse light fixtures deliver transformative effects to a room. They merge key attributes of good-quality lighting such as functionality, style, and versatility. If you want your space to stand out from the norm without sacrificing value, consider these lighting fixtures!