With the farmhouse design style on the rise, there is an increasing demand for farmhouse light fixtures! These antique yet contemporary fixtures are an indispensable part of the farmhouse decor, hence the explosive demand. If you are wondering what light fixtures will suit your farmhouse best or which will modify and enhance your existing decor, then you absolutely should read this blog!
What Makes Our Lights American-Made?
Without a doubt, this is a question begging for an answer! When we say our farmhouse light fixtures are 100% American-Made, we mean every detail that goes into the construction of our lights is American-based; from production to finish. As such, our lights bear uncontested originality and quality. And there's nothing that beats a farmhouse light built on love, authenticity, passion, and community development. It reflects "dignity in labor" and symbolizes value for the worker!
There's Nothing Quite like American-Made Steel Lighting
While we are itching to get right into the business of the day, we can't proceed without mentioning that Steellightingco's farmhouse-style lights and all other lights are handspun from 18-gauge steel.
And if there's any material that assures long-lasting freshness and serviceability, it is the steel we use! And the icing on the cake? We offer both powder-coated and galvanized finishing to reduce rust and all other light-damaging agents.
And no, we are not tooting our own horn; this is the reality of things. However, if you are still tethering on the edge of uncertainty, you are welcome to give our farmhouse light fixtures a try. But first, let's convince you some more!
Must-Have American-Made Light Fixtures for your Farmhouse
From minimalist to industrial to the classic farmhouse-style, our light fixtures fit into every category and need. We've got the galvanized fixtures for that distinct industrial touch. We've got the miniature wall sconces and the stylish ceiling-mounted fixtures for the ultimate minimalistic look. And we've got the ever-reliable and functional barn lights that infuse your home with enough vintage allure to last a lifetime!
Barn Lights
It will be an utter felony to plan a farmhouse around other lighting fixtures without including barn lights. Barn lights are the Ying to the Yang of every and any farmhouse. Our barn lights are versatile, timeless, unique, and simply stunning! Whatever theme you choose for your farmhouse (be it minimalist or industrial), we have the perfect barn light to match. Some must-see examples include :
The Gardena
The Gardena barn light is what we call "everybody's favorite barn light." This fixture is the ideal choice for your farmhouse garage, porch, or playroom. Ultimately, it is a great fit for both indoor and outdoor applications. The Gardena comes with a standard 16″ dome and several mount and size offerings, including; a 16″ gooseneck, 23″ gooseneck, upward sloping gooseneck, and an 11″ straight arm.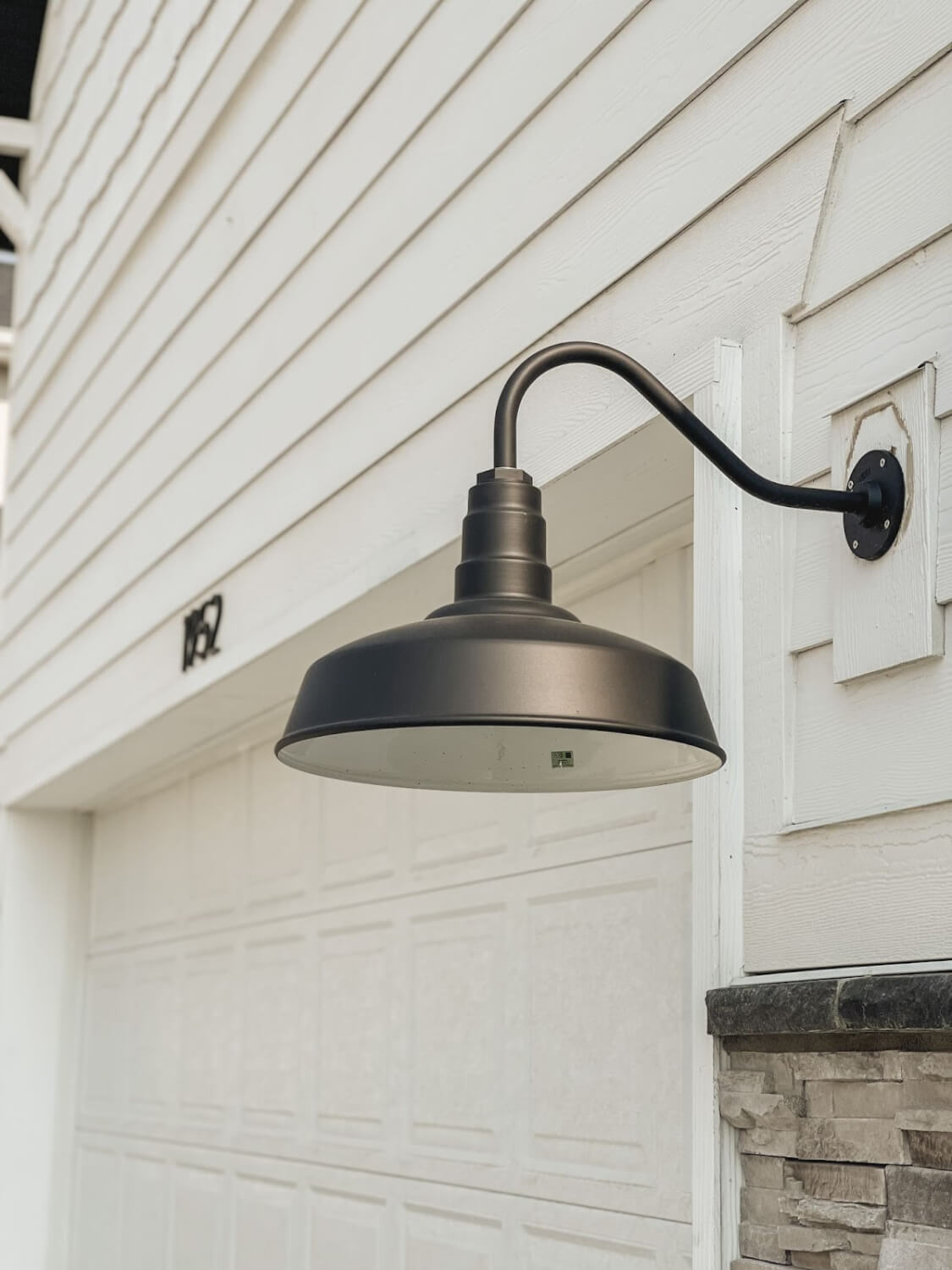 The Hollywood Bowl
An outdoor barn light in all its stately glory, the Hollywood Bowl will redefine the exterior of your farmhouse, leaving every eye in complete awe of the grandeur within. You can install this light fixture on the sides of your farmhouse, on exterior walls, or between the roof peaks of your fortress. Never mind its imposing build; you can use this gorgeous light fixture in your farmhouse living room as well (as shown in the picture below).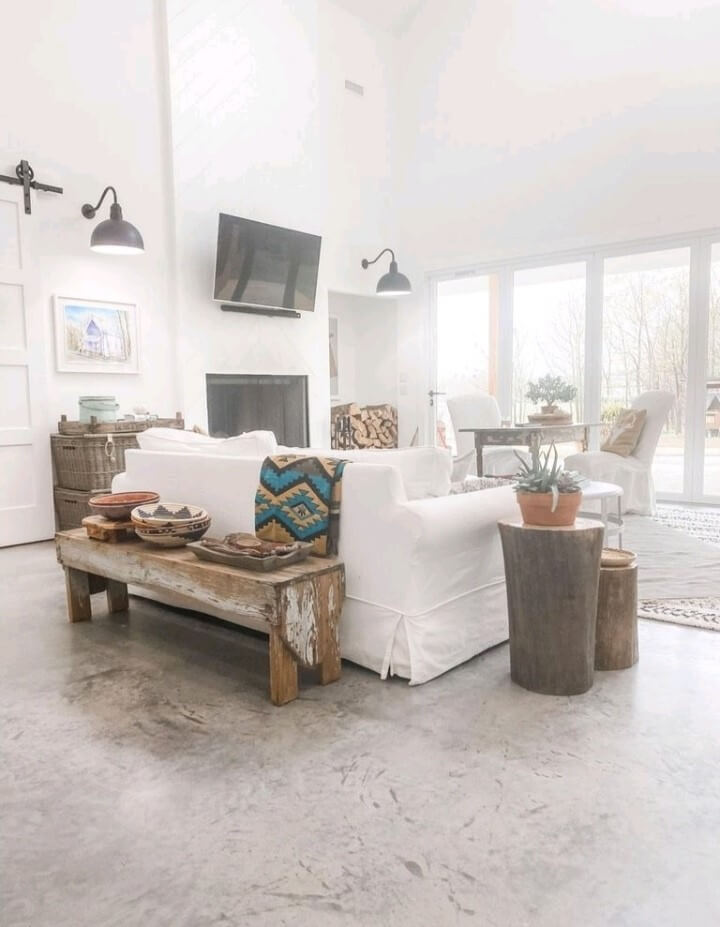 It offers two dome choices; a tall 12″ dome and a wide 15″ dome. You can choose between a 16″ gooseneck, a 23″ gooseneck, or a 23″ straight arm mount. Whatever your choice, the Hollywood Bowl will deliver to perfection!
Ceiling-mounted Pendant Fixtures
Our ceiling-mounted light fixtures for your farmhouse design are rustic at heart and contemporary at a glance. They are the center of vintage elegance and bring luminous charm to focal points in your home like the kitchen, porch, bedroom, and what-have-you! Let's start with the Melrose :
The Melrose
A modern farmhouse kitchen is as good as incomplete without a vintage fixture like the Melrose light. The 18″ dome is both minimalistic and industrial and all-around farmhouse-worthy! It is specially crafted for your kitchen island, and the matte black exterior is the cynosure of all eyes. You also get to pick between a white, matte black, or brass interior color.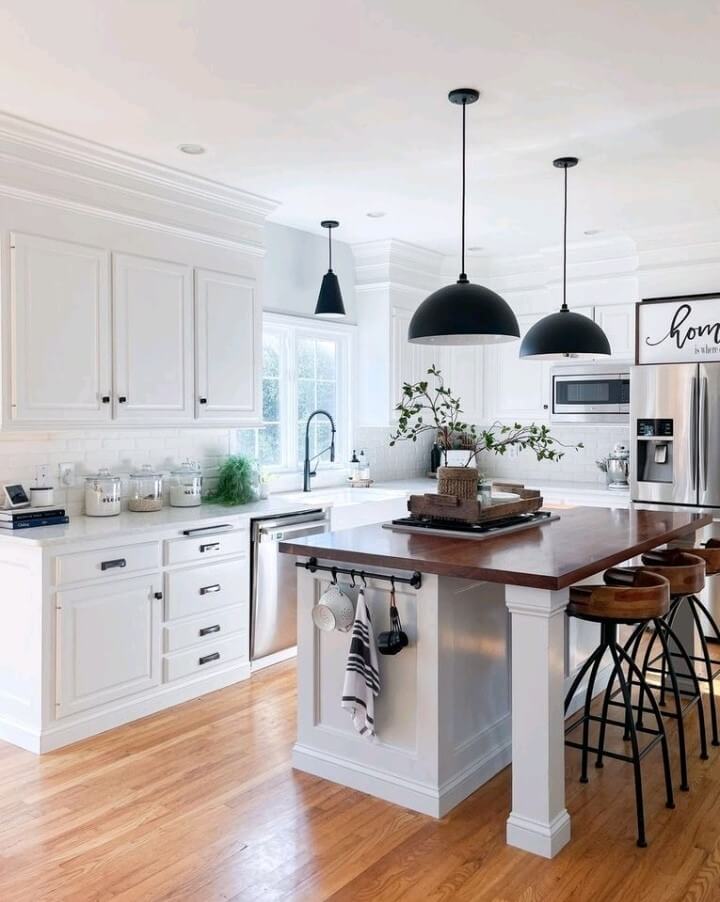 The Laurel
If your farmhouse layout bows to the rules of minimalist decor, then the laurel will find a perfect spot in your home. This light fixture Is a minimalist-style  8.5″ dome that is sure to bring light and style to a farmhouse entryway, kitchen island, laundry room, table, and coffee bar.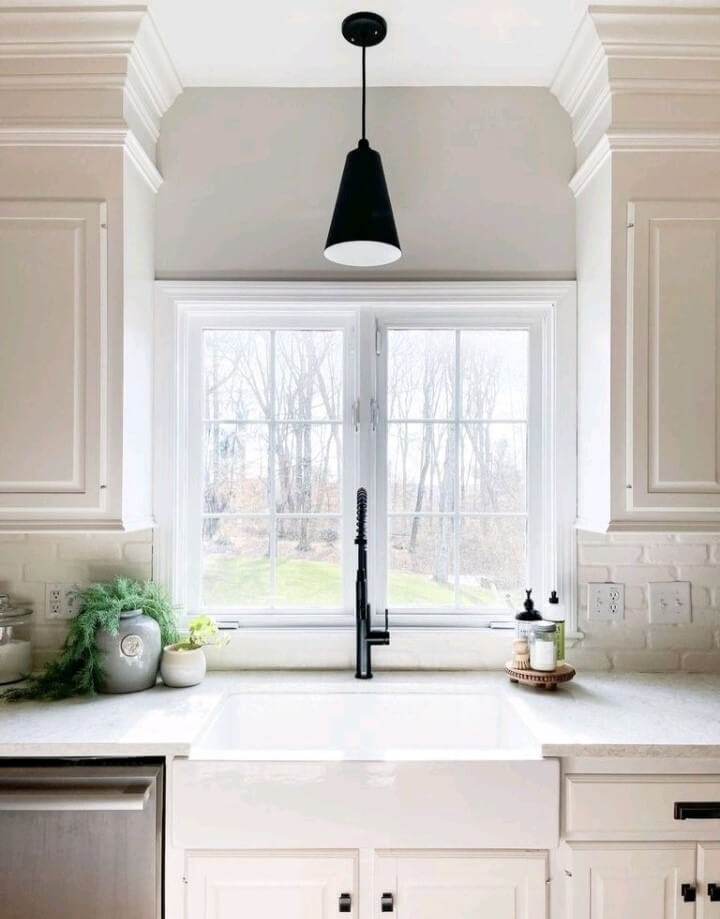 The Inglewood
You need task lighting in your farmhouse, and the Inglewood farmhouse pendant fits the role! With its 8″ dome and sturdy galvanized stem, it will illuminate your workbench, desk, or kitchen countertop with star-like brilliance. And, of course, you can have it customized to meet your preference.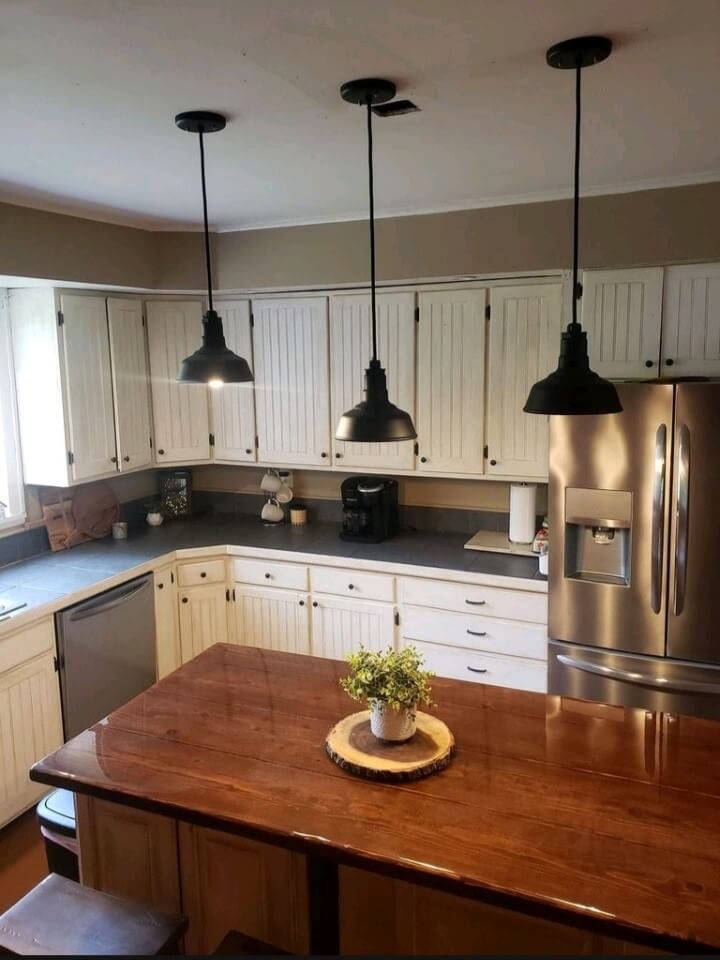 Brass Light Fixtures
Our brass light fixtures are equal parts industrial and rustic. So if you are looking to go industrial with your farmhouse design, consider our brass ceiling and wall lights. Our wall-mounted brass lights boast clean lines and a peculiar stripped-down metallic finish. They will do wonders to your porch, laundry room, and all spaces in between.
Our brass pendant lights, on the other hand, are the perfect addition to your farmhouse bathroom vanity, living room, and garage. They are an especially good fit for the farmhouse design style, leaving no room for errors and lots of room for perfection!
Galvanized Light Fixtures
Like the brass lights, our galvanized light fixtures bring a fresh industrial angle to your farmhouse layout. They are replete with character and are intentional about revamping your space.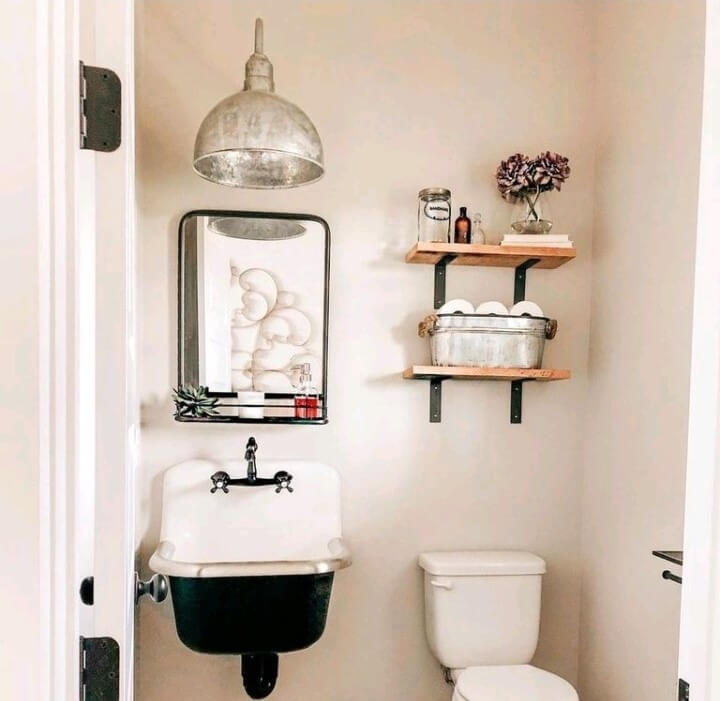 The wall-mounted options are a delight for sore eyes and offer sufficient illumination with premium longevity. The ceiling-mounted versions provide overhead glow with unbeatable durability. And do we have them in different styles and shapes? You bet we do!
The Bottom Line
There is no shortage of quality American-Made Farmhouse Light Fixtures at steellightingco.com. Whatever theme you have in mind, be it minimalist, industrial, or classic farmhouse design, you are certain to find a fixture that is tailored to your design requirements. Rest assured, we take pride in the "Americanness" of our products, so you will feel at home with any of our light fixtures. Our light fixtures are a true "blast from the past" that takes you back in time, illuminate a joyous present, and lights the path to a promising future!