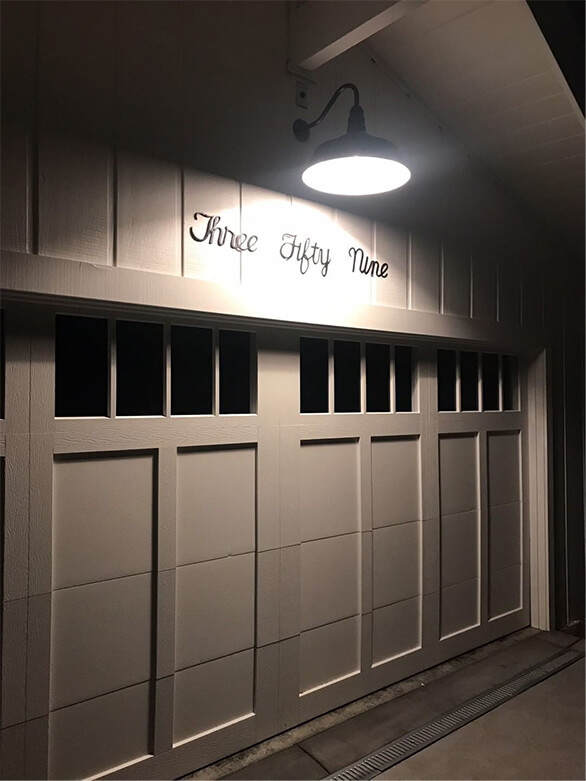 Barn lights have been in existence since the inception of barns. Dark and moonless nights called for lighting to lead the way when the need arises — and so entered barn lighting in all its vintage glory. What was once reserved for countryside barns and farmhouses has found its way into suburban and urban homes, modern farmhouses, offices, shops, and restaurants. Ultimately, barn lighting has made a glorious comeback and has become a staple in farmhouse-style lighting.
Today's barn fixtures are a refined version of vintage barn lighting. And these fixtures retain the rustic touch that makes barn lights oh-so-appealing. The upgraded lighting for modern farmhouses combines the best of both worlds to deliver lighting that illuminates, beautify, and impresses. While traditional barn lights prioritized functionality and practicality over aesthetics, contemporary barn lighting integrates all three elements for convenience and appeal.
Old Meets New in Realistic Barn Lighting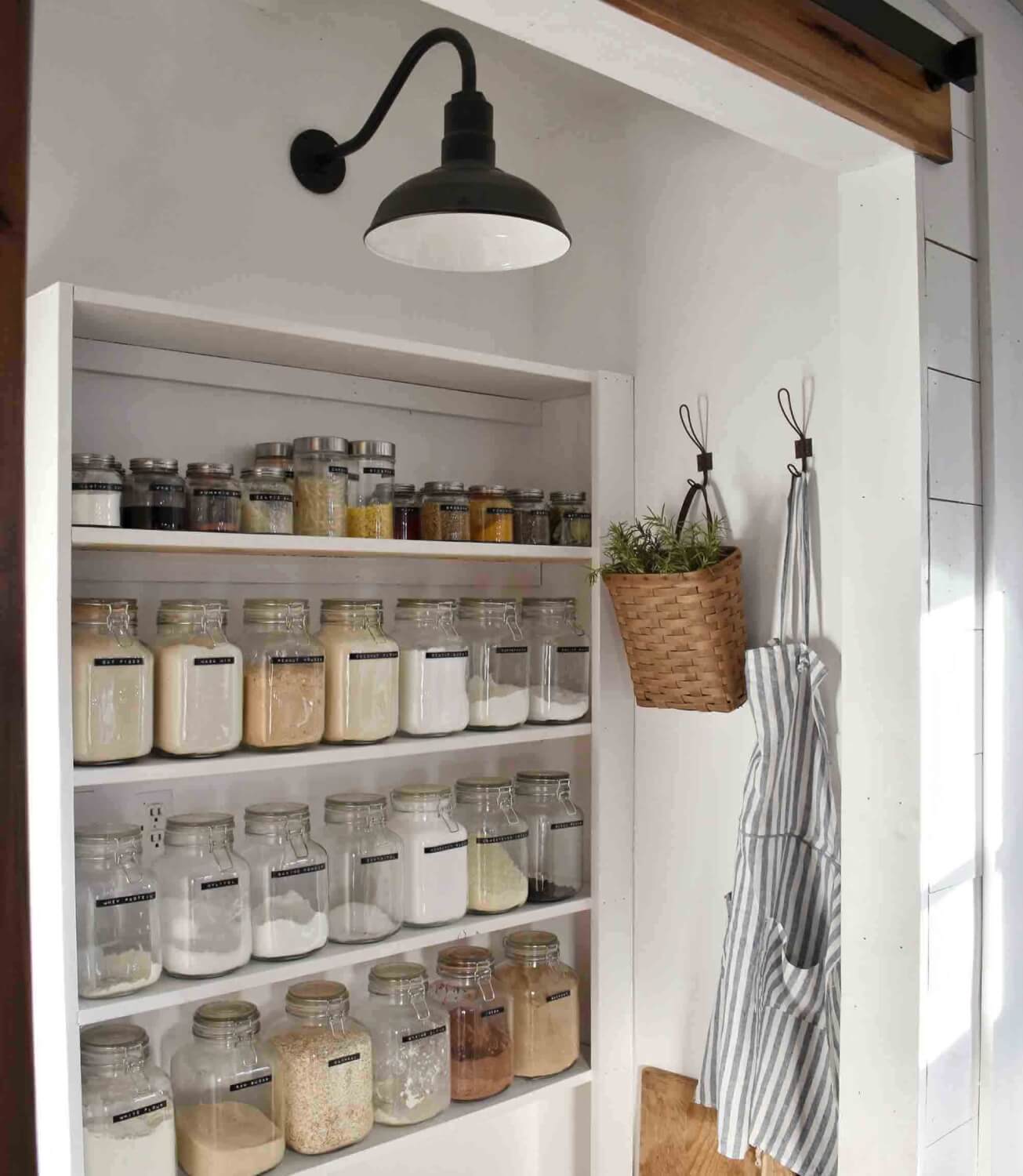 Given its rustic and functional charm, it is no wonder that classic barn lights are now sought-after in modern farmhouse décor.  Both traditional and contemporary barn lights feature a metal shade in an industrial style. In addition, most are designed with a gooseneck arm, which casts the light outward to reflect on the target area.
Modern rustic indoor and outdoor barn lights maintain a nostalgic connection to the past. They are elegantly designed, understated, and exude old-fashioned yet trendy allure.  In a world where 'virtuality' has become the order of the day, these lights are shockingly real. Unlike other forms of lighting, modern barn lights are more real than superficial. They take you down memory lane with a look and feel that is reminiscent of old barn life. So, if you crave the traditional feel of rustic lighting without losing touch with contemporary lighting and reality, you should consider barn lights!
 The Art of Modern Farmhouse Lighting
Modern farmhouse lighting has garnered widespread acceptance and popularity because of its effortless versatility. The light fixtures deployed in modern farmhouse design incorporate rustic, classic, and contemporary touches for a stunning creative showcase. Needless to say, barn lights make the best farmhouse lights. Choosing barn lights for your farmhouse décor is the best decision you will ever make.
And the best part is, they come in different forms, shapes, and styles for your lighting pleasure. That said, Steel Lighting Co. has a wide and impressive selection of barn lights that are both functional and aesthetically pleasing. Our timeless rustic yet modern collection is a sight for sore eyes and a treat for any farmhouse. So why don't we explore some of these options and how they make an excellent concept for indoor and outdoor barn lights placement for different parts of a farmhouse.
Kitchen Lighting
A farmhouse without a kitchen is next to impossible! The kitchen holds a special place in the home, birthing warm and hearty meals, laughter, and happiness. It is a place where bonds are created, and memories are preserved. And nothing brings more vitality and meaning to a rustic-style kitchen than vintage lighting with a contemporary twist! For functional and cozy farm-house style kitchen lighting, consider the Carson barn light.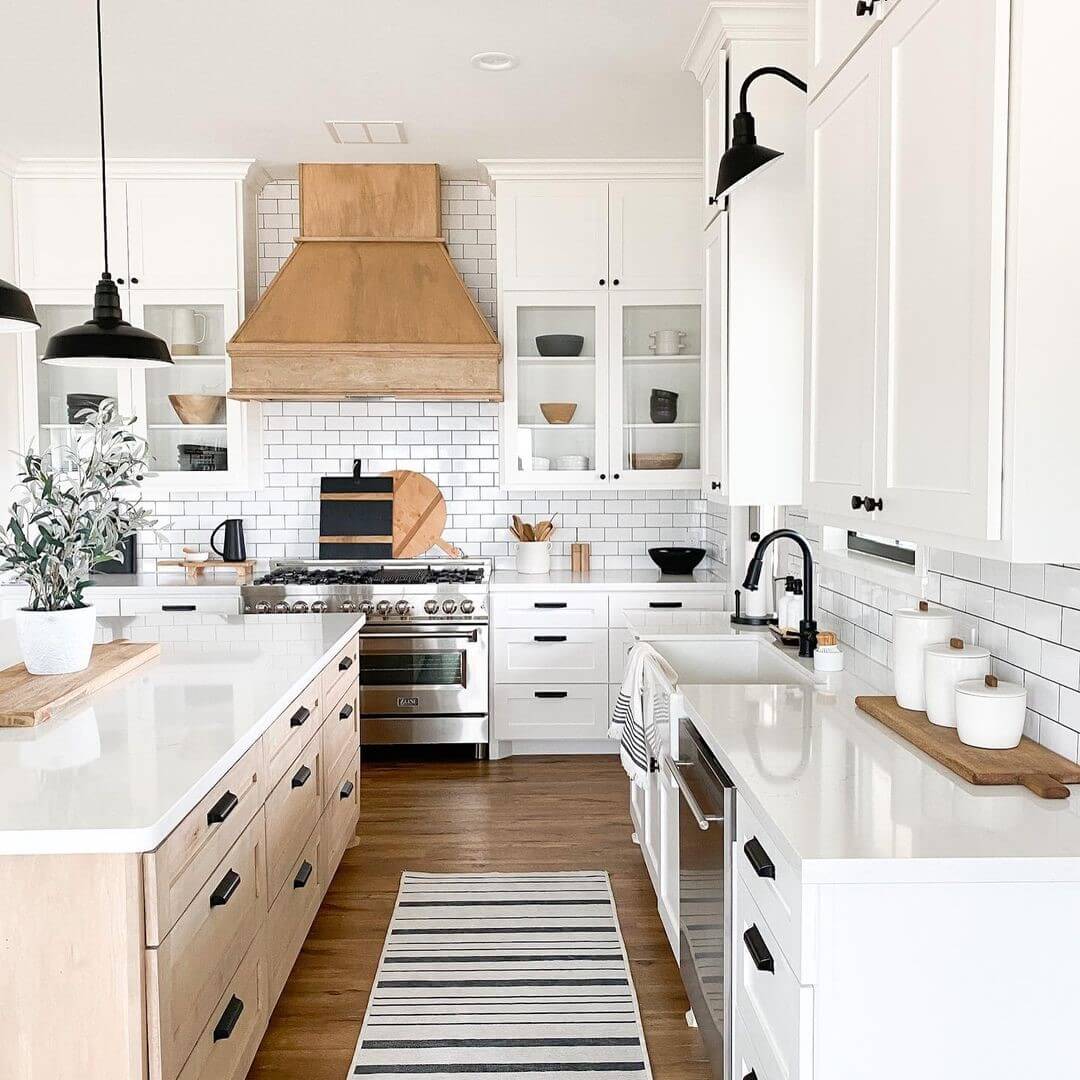 The Carson is a true and beautiful depiction of a pendant light structured like a large mixing bowl. It is sturdy, durable, practical, and captivating. It sports a rigid galvanized stem that complements the airy and roomy interior of a farmhouse kitchen. Additionally, it is constructed from heavy-duty steel and powder-coated for a long-lasting finish. This light fixture promises to outlast seasons!
Porch Lighting
As the point of contact between the interior and exterior of your farmhouse, porch lights can either make or mar your home. The best porch lights like the Hawthorne barn light are inviting and easy on the eyes. They infuse your farmhouse with a welcoming ambiance and friendly warmth. One look at your pouch, and everybody wants a part of the spectacular story blossoming inside your farmhouse.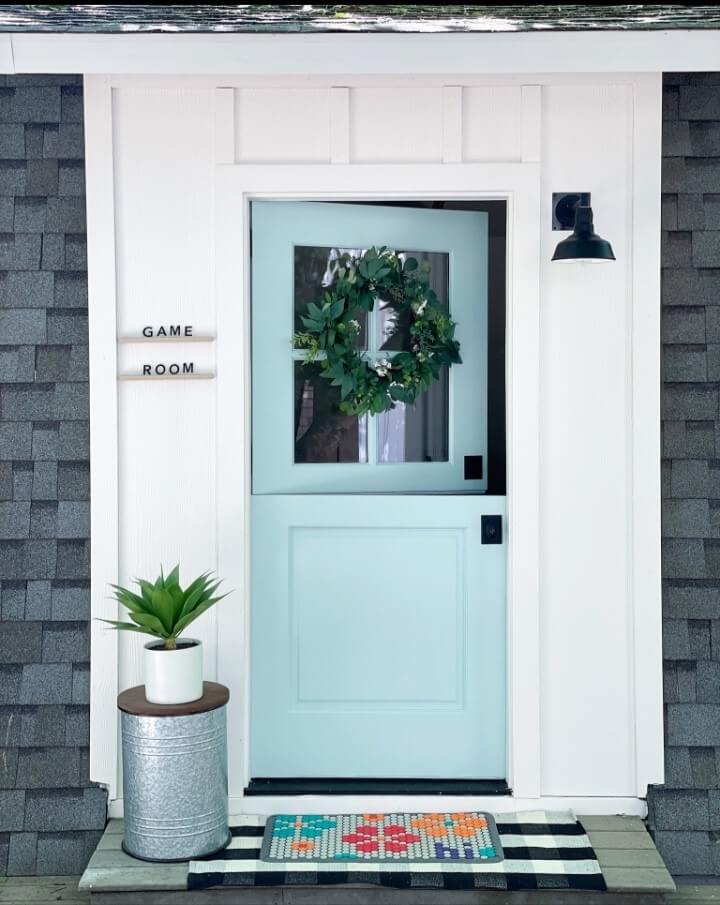 The Hawthorne, an elegant barn sconce with a straight arm or gooseneck mount, this miniature farmhouse light serves loads of character and functions. It spruces up your porch while providing illumination in the wake of darkness. It comes with a standard 8″ dome with several mount-sized options, including; a 6″ straight arm, 11″ straight arm, 11″ gooseneck, 16″ gooseneck, and 23″ gooseneck. Don't be fooled by its size, as this fixture can make a big difference to your porch.
Garage Lighting
It is no surprise that garage lighting is now in vogue and no longer relegated to the background. You want to drive home to a well-illuminated garage that looks nothing short of brilliant. As far as outdoor barn lights go, the garage is a top consideration. More and more farmhouse garages are paying homage to the rustic beauty of the past. Hence, garage-suitable lighting like the Gardena barn light is in high demand.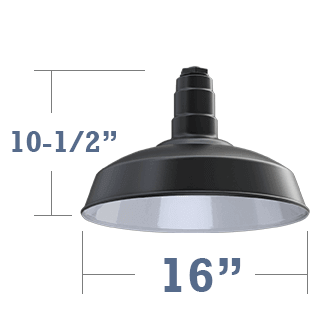 The Gardena is a popular barn light trend that is dear to farmhouses. It makes an impressionable statement beside or above garage doors while highlighting the rustic elements of your garage. It is perfectly sized and will hang beautifully in any designated spot. It comes in different sizes and mounts to suit your garage and preferences.
Bedroom Lighting
We all want to retire to an inviting room after a long day! And there's no better way to elevate the look and feel of your bedroom than by lighting it up. While there are several types of high-quality barn lights suitable for a modern farmhouse bedroom, we can't help but recommend the Redondo barn light.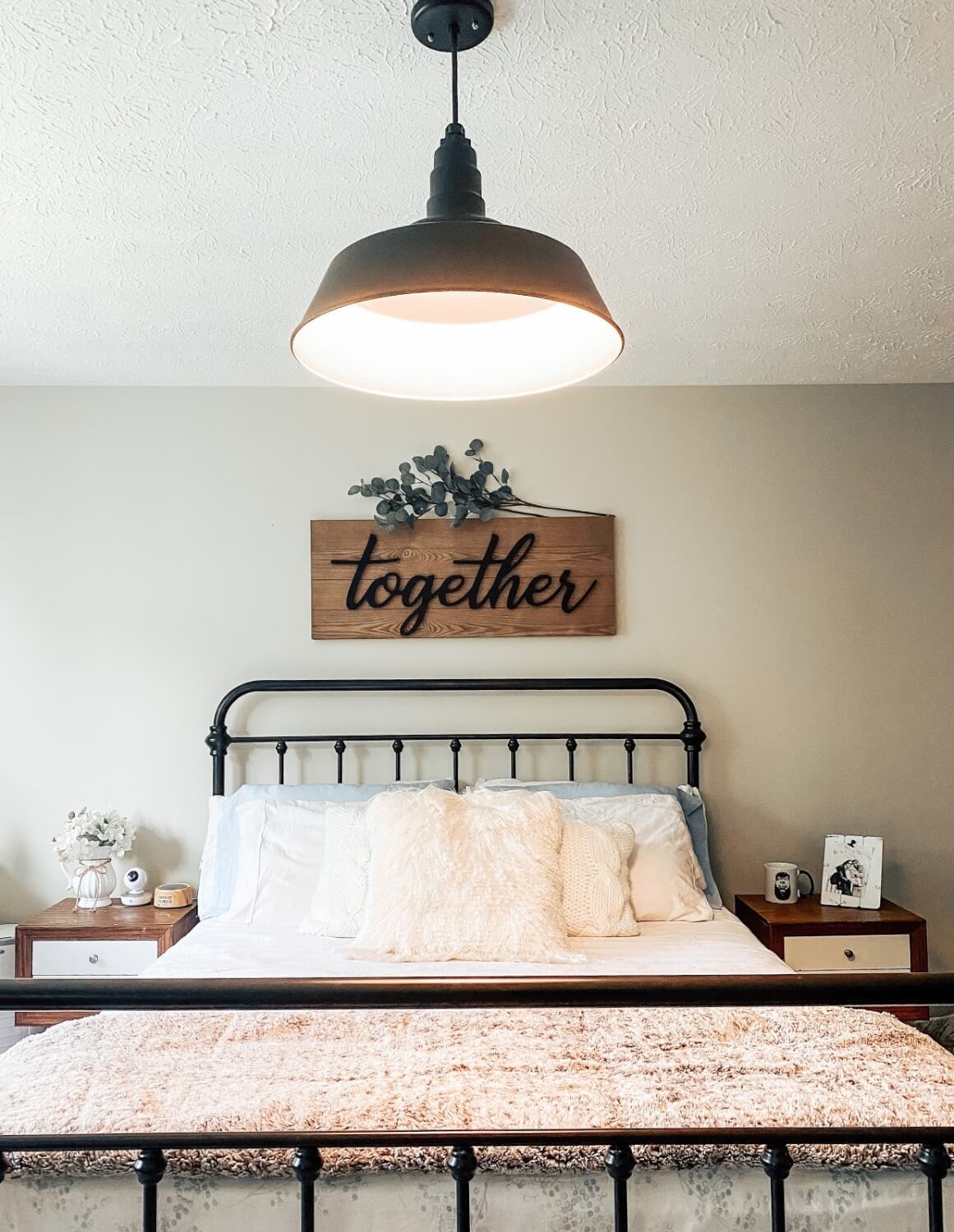 The Redondo is a sizeable industrial barn house light fixture; the Redondo has a grand presence fit for a farmhouse bedroom. It particularly stands out in large spaces such as the bedroom, where it illuminates without reservation. It is available in a 16″ gooseneck, a 23″ gooseneck, and a 20″ straight arm. And as with all other steel lighting co barn lights, you can customize the fixture to your taste.
The Takeaway
Barn lights have come a long way from the past. Today, they feature a redefined look without compromising their rustic roots, functionality, and purpose. They leave nothing to be desired and are a must-include feature in interior and exterior outdoor farmhouse décor. You can't go wrong or lose your way with any of our upgraded farmhouse-style lights!