Few fixtures can match the timeless appeal of high-quality farmhouse lights for kitchen. Farmhouse kitchens typically feature rustic elements and natural materials that ooze vintage charm. Discover the most fitting light fixtures for this enchanting space.
The Importance of Quality Lighting in Farmhouse Kitchens
The kitchen is the heart of the home and plays host to several daily activities such as cooking, dining, and socializing. Quality lighting is of utmost importance, considering the multifunctional nature of farmhouse kitchens.  It enhances functionality and safety and improves the kitchen's overall aesthetics and ambiance. Here is why your farmhouse kitchen deserves a luminous makeover:
1. Illuminate Work Areas
Farmhouse lights for kitchen help illuminate key areas where tasks are executed, such as kitchen islands and sinks. From chopping vegetables to washing dishes to crafting recipes, there's plenty to do. And all of these activities require optimal task lighting to guarantee efficiency and prevent accidents. Task lighting is characterized by bright, focused illumination that targets often overlooked work areas such as under the cabinet, above the sink, and countertop. Besides improving visibility and productivity, task illumination also reduces eye strain. With proper lighting, you can indulge in memorable culinary and dining experiences.
2. Set the Mood
While farmhouse kitchens are more functional than decorative, the right mood and ambiance will make every moment count. Consider ambient lighting if you want your kitchen to radiate a welcoming appeal that delivers a soft, warm glow that permeates the room. You can create ambient lighting by installing strategically positioned ceiling-mounted lights, recessed lighting, or even wall sconces. Plus, you can incorporate dimmers to adjust the intensity of the light and create an intimate ambiance fit for entertainment or relaxation.
3. Highlight Design Features
Farmhouse lights for kitchen can show off intricate architectural and design details in the best light. Most farmhouse kitchens are characterized by thoughtfully-crafted and artistically executed design schemes that draw the eye and the mind. However, low-quality or poorly-executed lighting can mask these details. If your kitchen isn't living up to its best aesthetic potential, you may need to install accent lighting. Accent lighting draws attention to these focal points while adding depth and character to the space. Small spotlights or track lighting will do the trick!
4. Bring it Together
Creating harmony in your farmhouse kitchen begins with quality lighting. Whether your farmhouse-inspired kitchen is contemporary or conventional, choosing the right fixtures that complement your design scheme can make all the difference. Consider sleek and minimalist pendant lights, rustic-inspired chandeliers, or industrial-style fixtures to bring your kitchen's design elements together. Ultimately, your light fixtures should blend with your existing decor for a stunning and well-rounded effect.
The Best Farmhouse Lights for Kitchen
Pendant Lights: A Timeless Choice
Ceiling-mounted lights are a staple in farmhouse kitchens for all the right reasons. These classic fixtures are as versatile as can be ━ they come in various shapes and sizes, permitting personalization. Check out our top three recommendations:
1. Westwood:
The Westwood pendant is a large and stunning industrial-style fixture with a dramatic flair. It is specially designed for kitchen islands and delivers both style and functionality. You can use this iconic fixture as a standalone light or in combination with other pairs per lighting requirements or personal preference. It is handmade from 18-gauge steel and powder coated for enhanced durability. Enjoy hearty dinners, animated conversations, and delightful chores under the gleaming shade of the Westwood Pendant.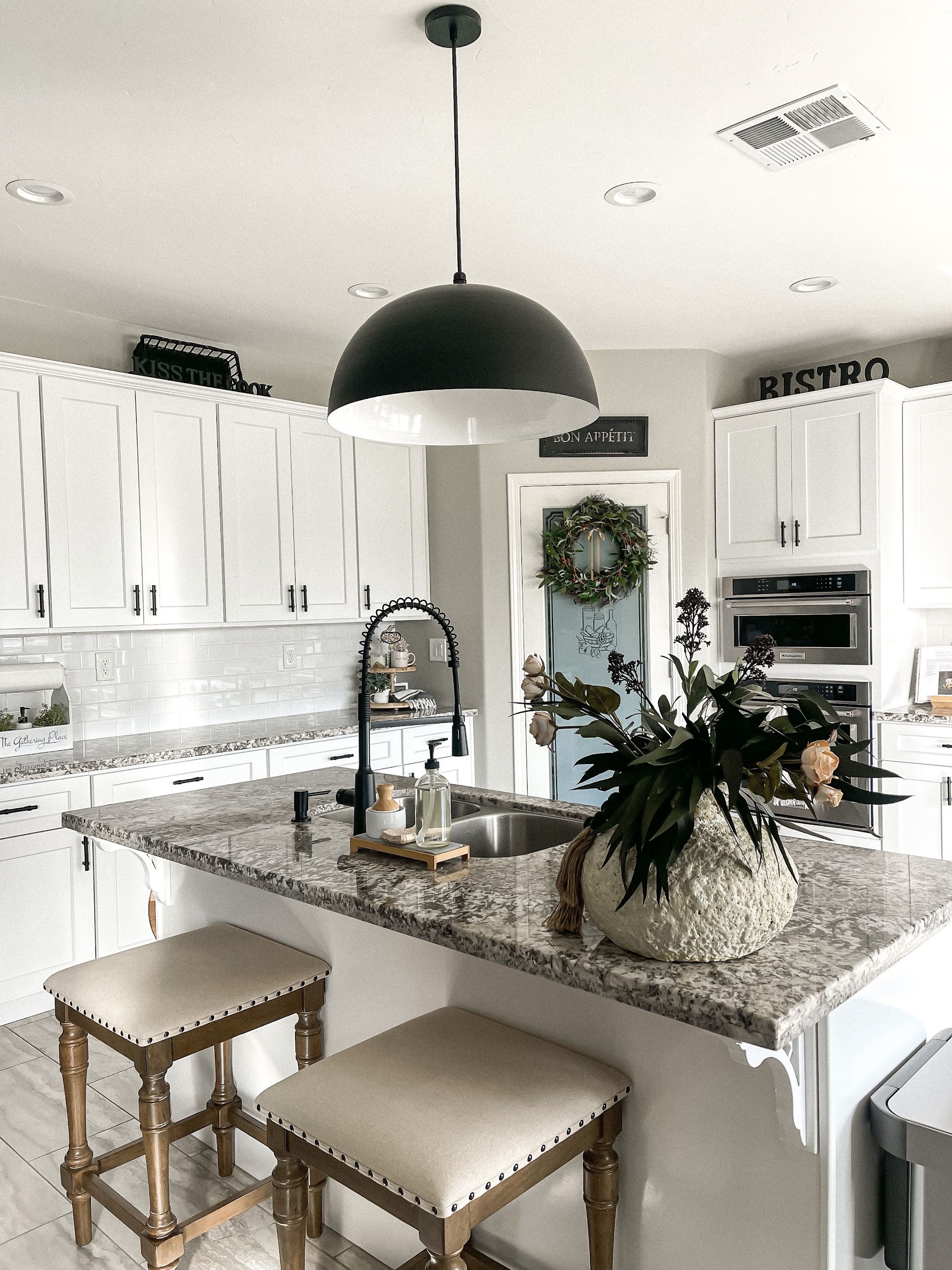 2. Rose Bowl:
As the name implies, this pendant fixture has a bowl's shape and practicality and a rose's beauty. When it comes to illuminating spacious rooms, the Rose Bowl is king. Don't be fooled by its delicate exterior; this fixture is built like a boulder ━ it comes with a standard 15" wide and 12" tall dome and a rigid, galvanized stem that can be customized to your taste. The Rose Bowl is perfect for ambient lighting and well-structured illumination.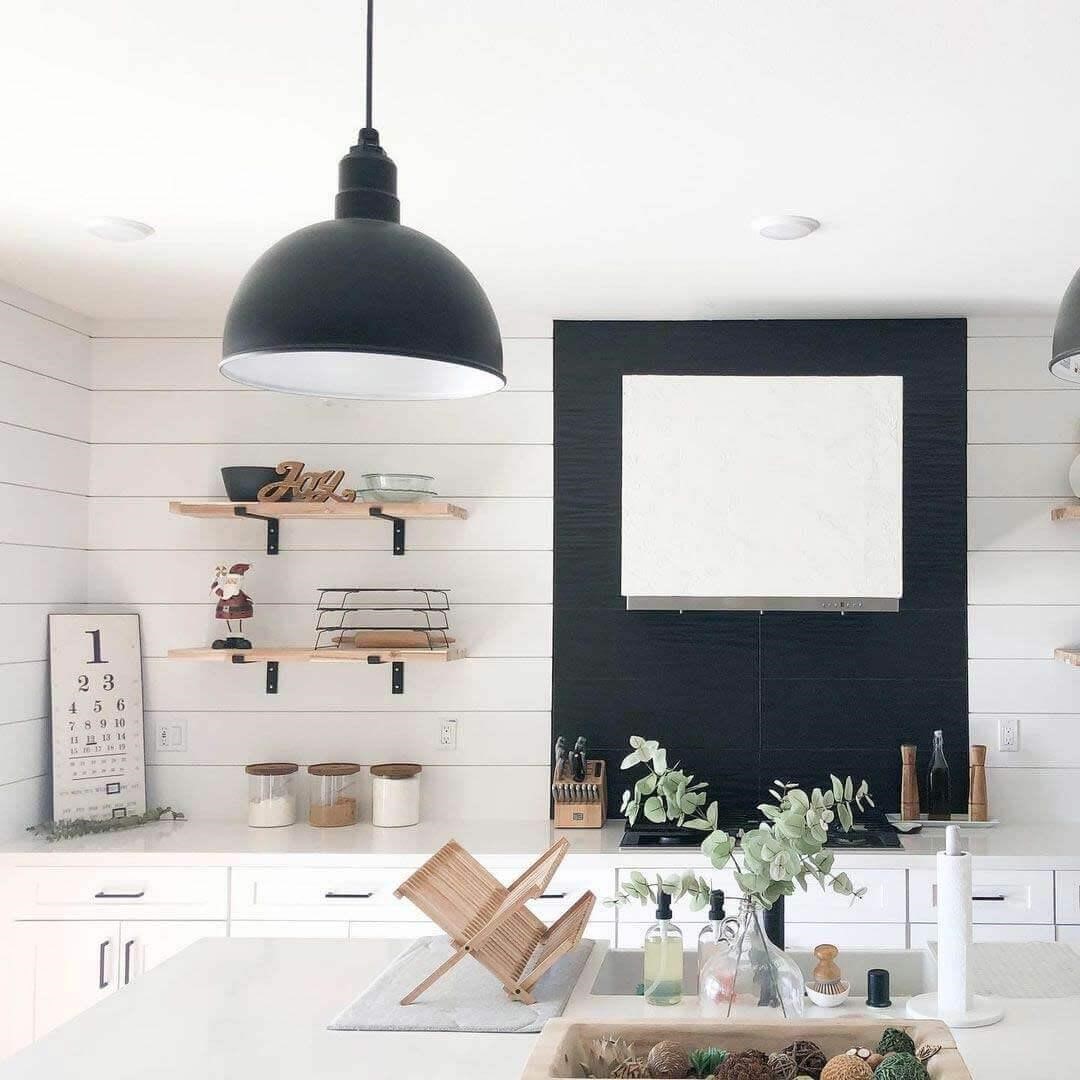 3. Laurel:
Overlooked but essential, over-the-sink kitchen lighting is a growing trend that has yet to take root.  Get ahead of the trend and embrace functional farmhouse kitchen lighting with the Laurel fixture. Stunning at first glance and minimalist to the tee, the laurel is a miniature 8.5" pendant with the confidence of a chandelier. Its modern design is the perfect contrast for a rustic farmhouse kitchen ━ it won't look out of place and will tie your design scheme together.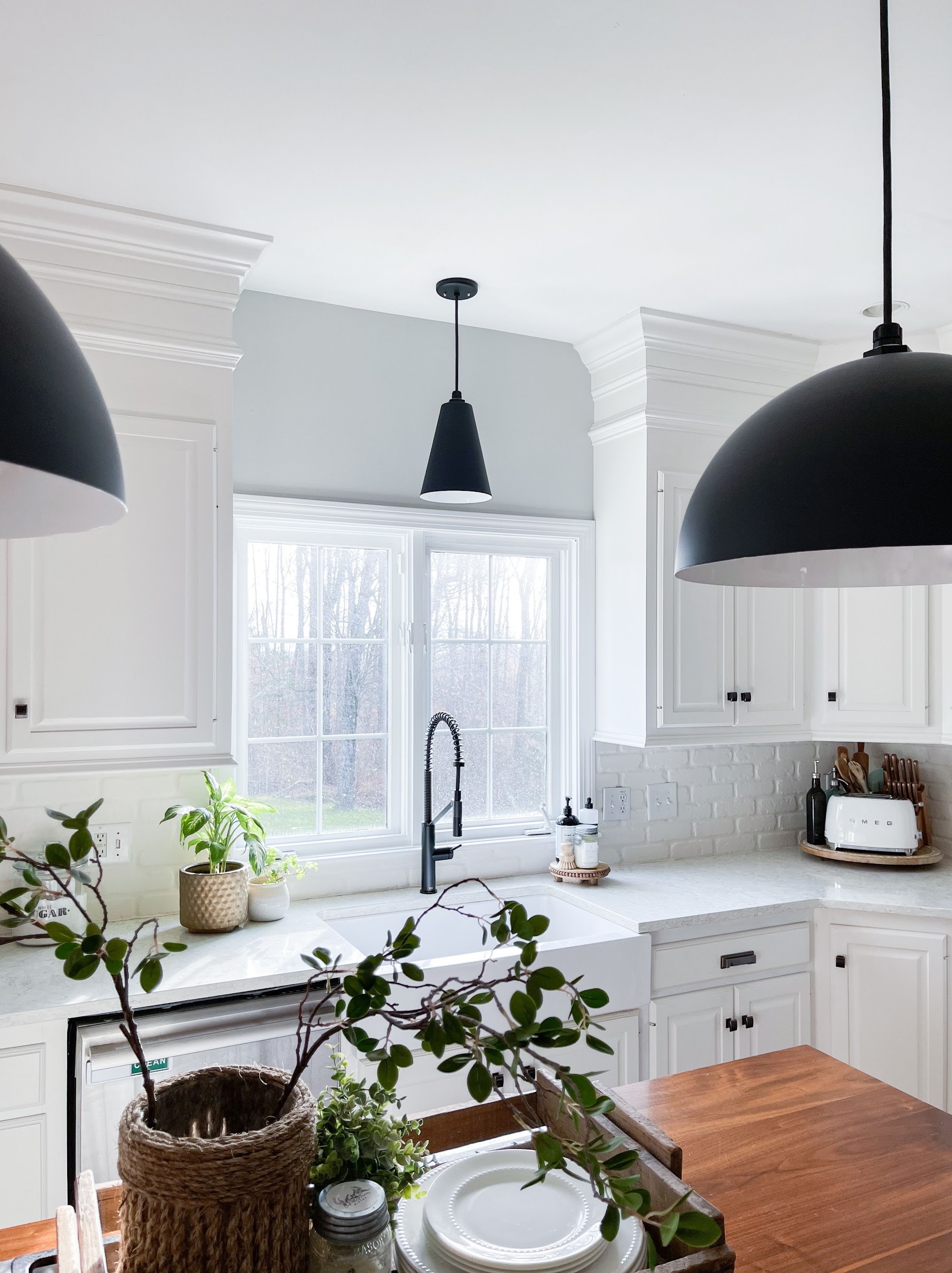 Barn-style Wall Sconces:  A Nostalgic Appeal
Consider incorporating barn-style wall sconces in your farmhouse kitchen for a touch of nostalgia and old-world charm. These fixtures are typically characterized by a sleek gooseneck or straight arms and shades that mirror traditional barn lights. When it comes to the best farmhouse lights for the kitchen, barn-inspired wall sconces are top of the league:
1. Hawthorne:
A barn-lighting sconce in all its glory, the Hawthorne belongs to the best farmhouse kitchens. Its small size belies its incredible functionality; it provides accent lighting at its brightest. Opt for this compact but powerful lighting source to show off your kitchen wall art, cookware, or cutlery. It is small but sturdy and will make a bold statement in your kitchen.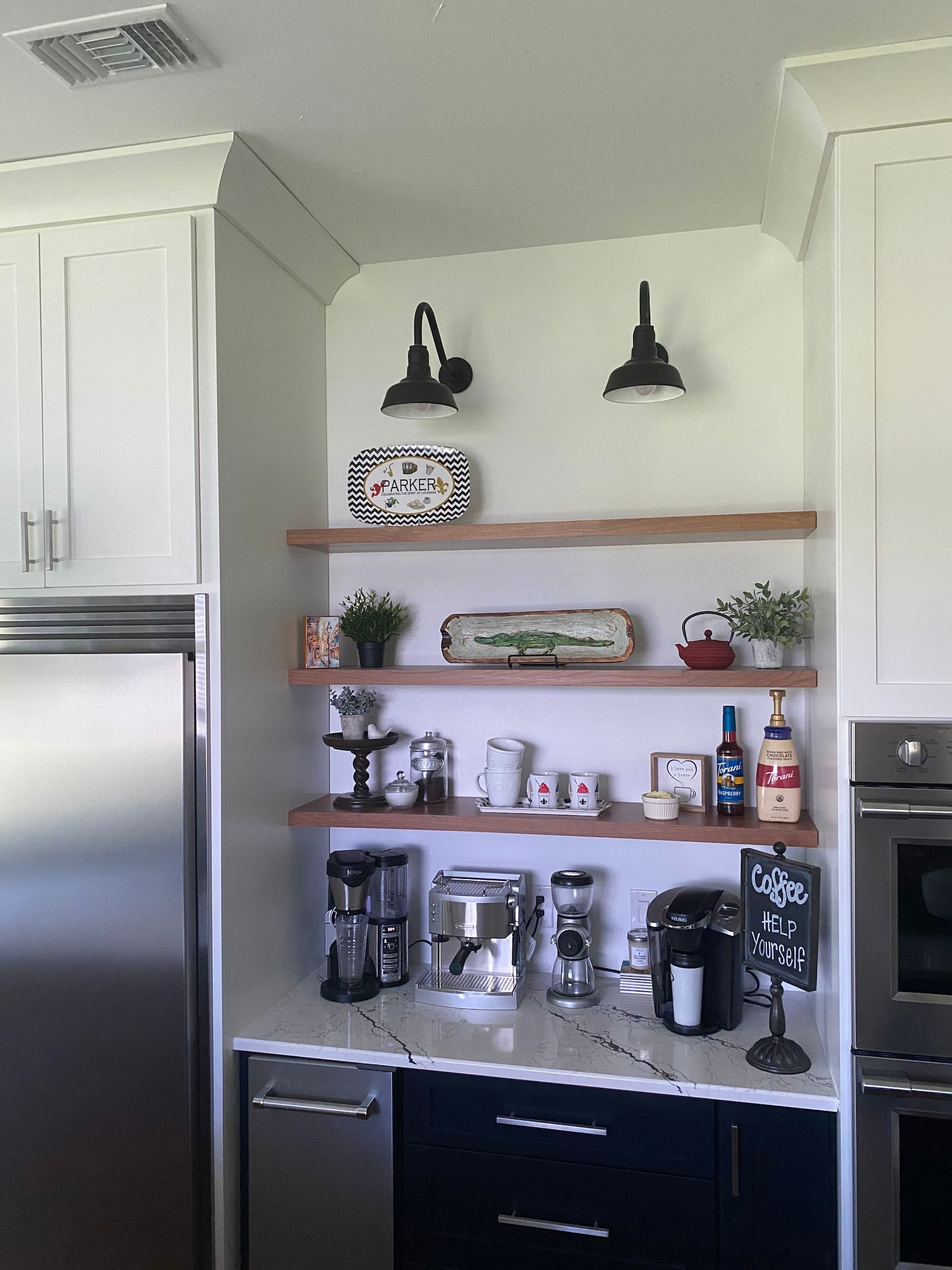 2. Westchester:
A medium-sized industrial wall light with a difference, the Westchester is a well-engineered fixture that offers brilliant illumination and spectacular style. It can work in small and large farmhouse kitchens without feeling overwhelming or underwhelming. It comes standard with a 12" dome and can be used in a thousand creative ways. With this fixture, your farmhouse kitchen will never feel or look the same again.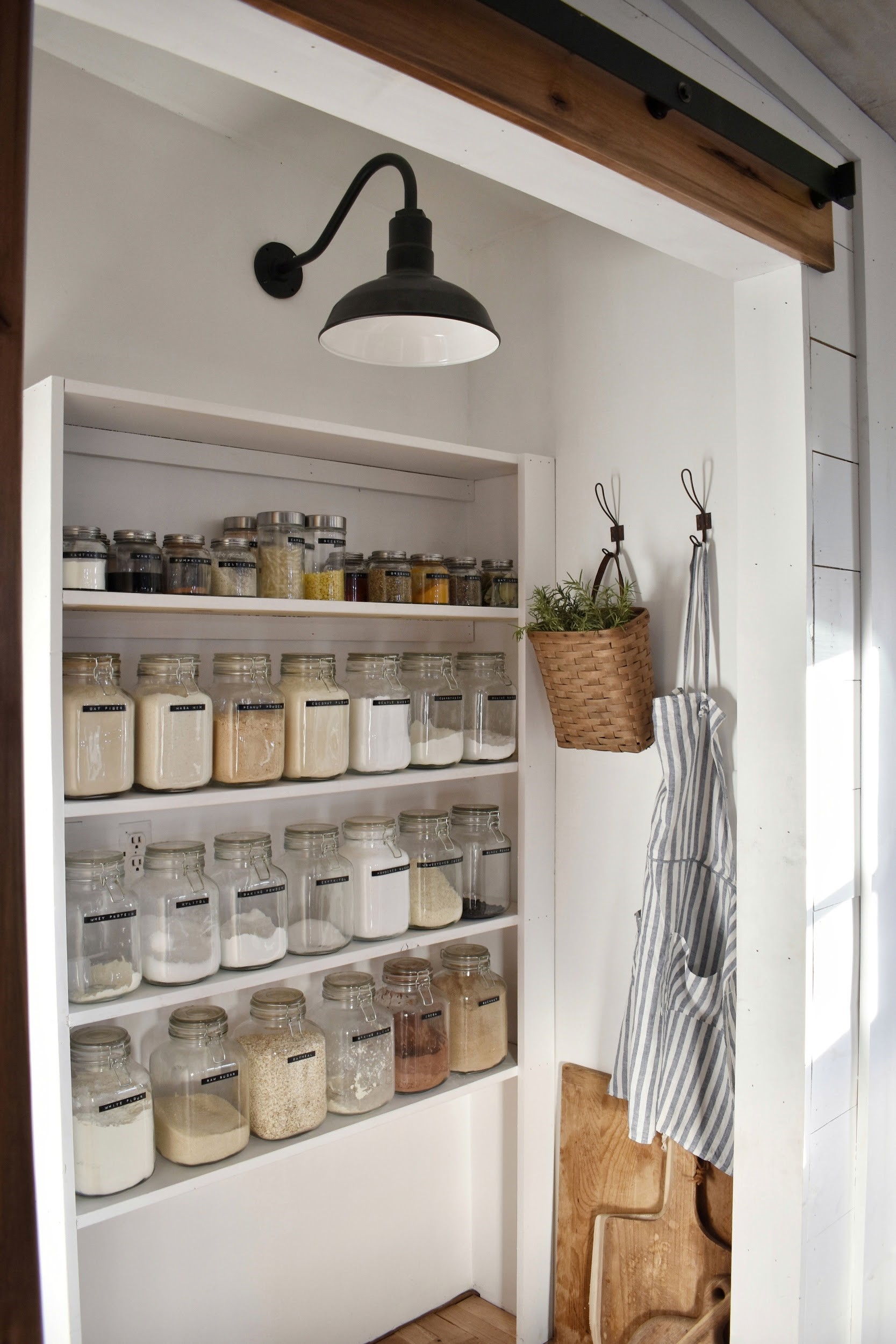 3. Topanga:
This vintage gas station light might look great outdoors, but it can also turn on the charm in your farmhouse kitchen. Featuring a 14" dome and a sturdy stem, the Topanga is a distinctive fixture unlike any you've ever seen before. Its rugged elegance is the perfect match for a traditional farmhouse kitchen. Combining form and function, you will love this fixture at first sight!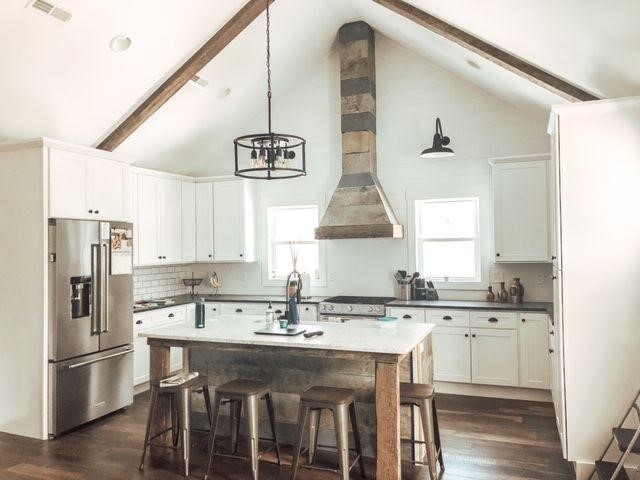 The Bottomline
The best farmhouse lights for kitchen are functional, stylish, durable, and versatile. From classic, nostalgic fixtures to cutting-edge contemporary fixtures, farmhouse kitchen lights have a lot to offer. Superior-quality light fixtures illuminate work areas, set the mood, accentuate focal points and tie the overall design theme together. Whether building your farmhouse kitchen from scratch or revamping, good quality lighting plays a significant role in bringing your dream kitchen to life and light!