Often overlooked but essential, your garage exterior deserves love and light like all the spaces you consider aesthetics and illumination worthy. You can transform the overall ambiance of your outdoor space by installing high-quality garage exterior lights. Let's delve into the "how" and the "why"!
Outdoor Brilliance Like Never Before
You probably want a home that screams "warm and welcoming" at first contact! Your house should envelop you in a warm hug from the driveway to the porch. Most homeowners focus on everywhere but the garage and end up with incomplete pieces. If you've done everything you can and your house is still missing a warm touch, you may have overlooked your garage.
More than just a parking space, a well-illuminated garage can refashion your home's sight and sensation, elevating its curb appeal and creating a welcoming haven for guests and occupants. Whether you are hosting friends or coming home to relax after a long day, your choice of garage exterior lights can provide a sense of comfort, strengthen security, and accent the structural beauty of your property.
Why Consider Garage Exterior Lights?
Outdoor garage lights offer a plethora of benefits that are beyond aesthetics. These fixtures play a vital role in improving your property's overall functionality and safety. Here are some significant advantages of installing high-quality garage exterior lights :
1. Enhances Safety and Security
Thoughtful lighting solutions like exterior garage lights improve the safety of your home or property. We live in an era where intruders are getting more audacious by the minute, and garages have become easy targets for car thefts. In light of this, it makes sense to pull all the stops to ensure that you, your assets, and everyone in your building are duly protected. A well-illuminated garage and driveway serve as a deterrent to potential intruders, burglars and other criminal agents. You can take it further by installing motion sensors or dusk to dawn lights for added security.
2. Elevates Curb Appeal and Aesthetics
Well-designed and strategically-positioned light fixtures can take your curb to the next level. Even the most seasoned designer or decorator understands that lighting plays a vital role in the grand scheme. So opt for visually-appealing light fixtures with robust construction to make your curb a sight for sore eyes. Don't focus on flowers and accents while neglecting illumination. Curb appeal isn't curb appeal without good-quality lighting, which extends to exterior garage lights. Yes, your curb needs a dedicated light fixture, but the illumination from your garage can be a game-changer!
3. Extends Outdoor Living Space
Whether you are short on space or not, having a place to relax outside the home is paramount. Evenings spent on the porch, patio or garden are unmatched, and adequate illumination ensures you can spend time beneath the stars. However, the light on your porch or patio may not suffice for such indulgences, and rather than investing in more fixtures, consider installing garage exterior lights. And if you have space constraints, you can set up a makeshift patio outside your garage and enjoy the melody of singing night birds while blanketed by the protective and comforting radiance of your garage lights.
4. Convenience at its Best
The advent of smart lighting technology has birthed practical and convenient lighting solutions. And garage exterior lights are not an exception. You can control your light settings through smart devices using voice-activated assistants and other configurations. You can adjust the intensity of the light, switch it off or on or activate automated settings from within or outside your home. For instance, if you forgot to switch off your garage lights, you can switch them off from your desk at the office. How convenient!
The Best Garage Exterior Lights
Having explained the significance of garage exterior lights, here are some recommendations that are worth your consideration:
1. Gardena:
Top of the list for a reason, the Gardena is an all-time favorite farmhouse-inspired barn light that is engineered to adorn and secure your garage exterior. Furnished with a 16" dome and a rigid stem, it delivers unquestioned functionality. It is ideal for both indoor and outdoor applications but especially shines in the "great outdoors". Plus, you can choose between a choice of an 11" straight arm, 11" gooseneck, 16" gooseneck, 23" gooseneck or an upward sloping gooseneck. There are also galvanized, powder-coated, matte black, and colored options for your styling and lighting convenience.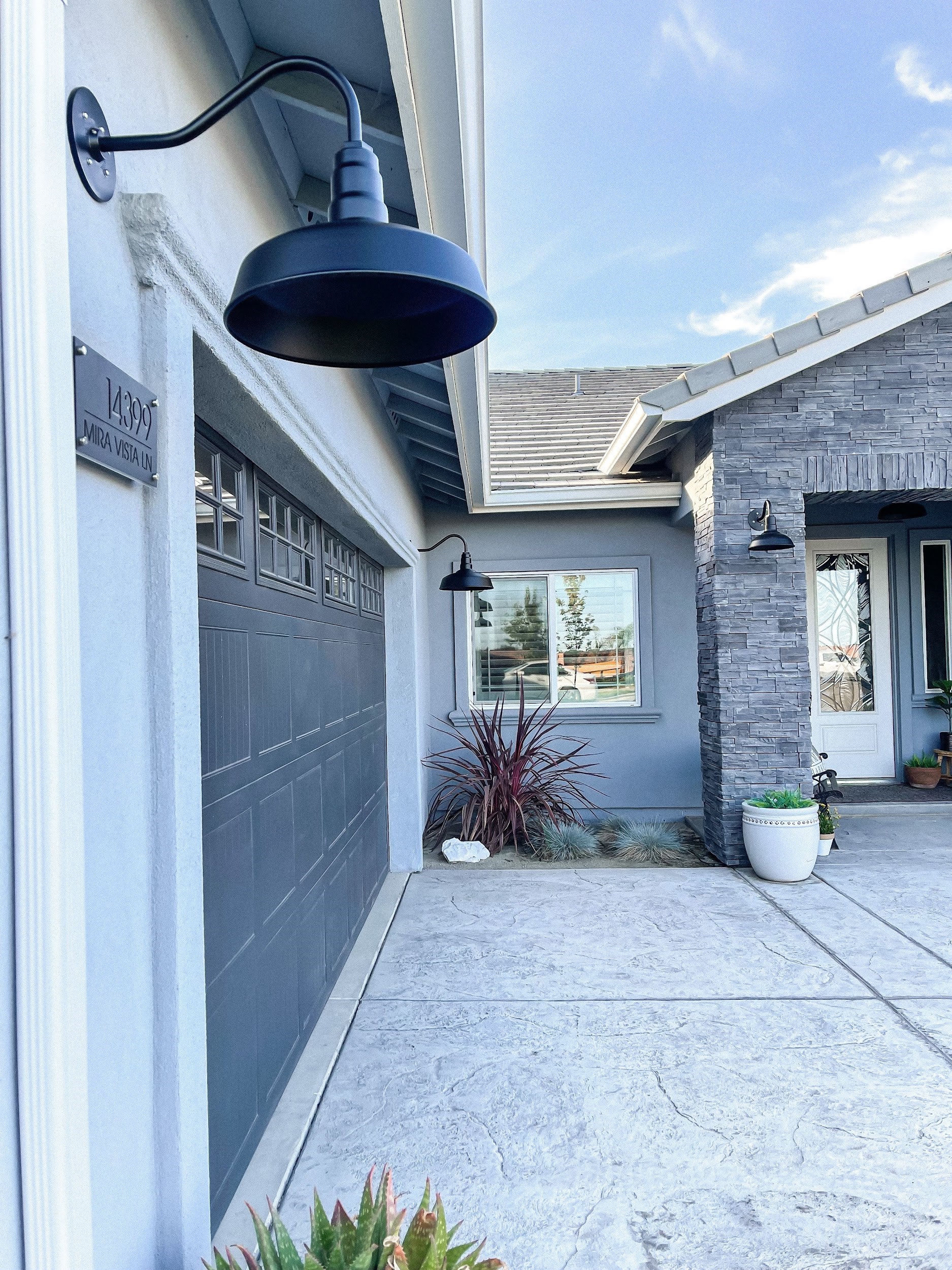 2. Redondo:
Outdoor brilliance begins and ends with a larger-than-life exterior garage light, and the Redondo fits the description! Crafted from heavy-duty steel and handspun with love, this light fixture is everything a garage light should be and more. When installed 15 feet off the ground, it emits intense luminosity, enshrouding everything within its perimeters with brilliant and cozy illumination. If you want to strengthen your porch or patio lighting, install this fixture outside your garage and watch the magic manifest!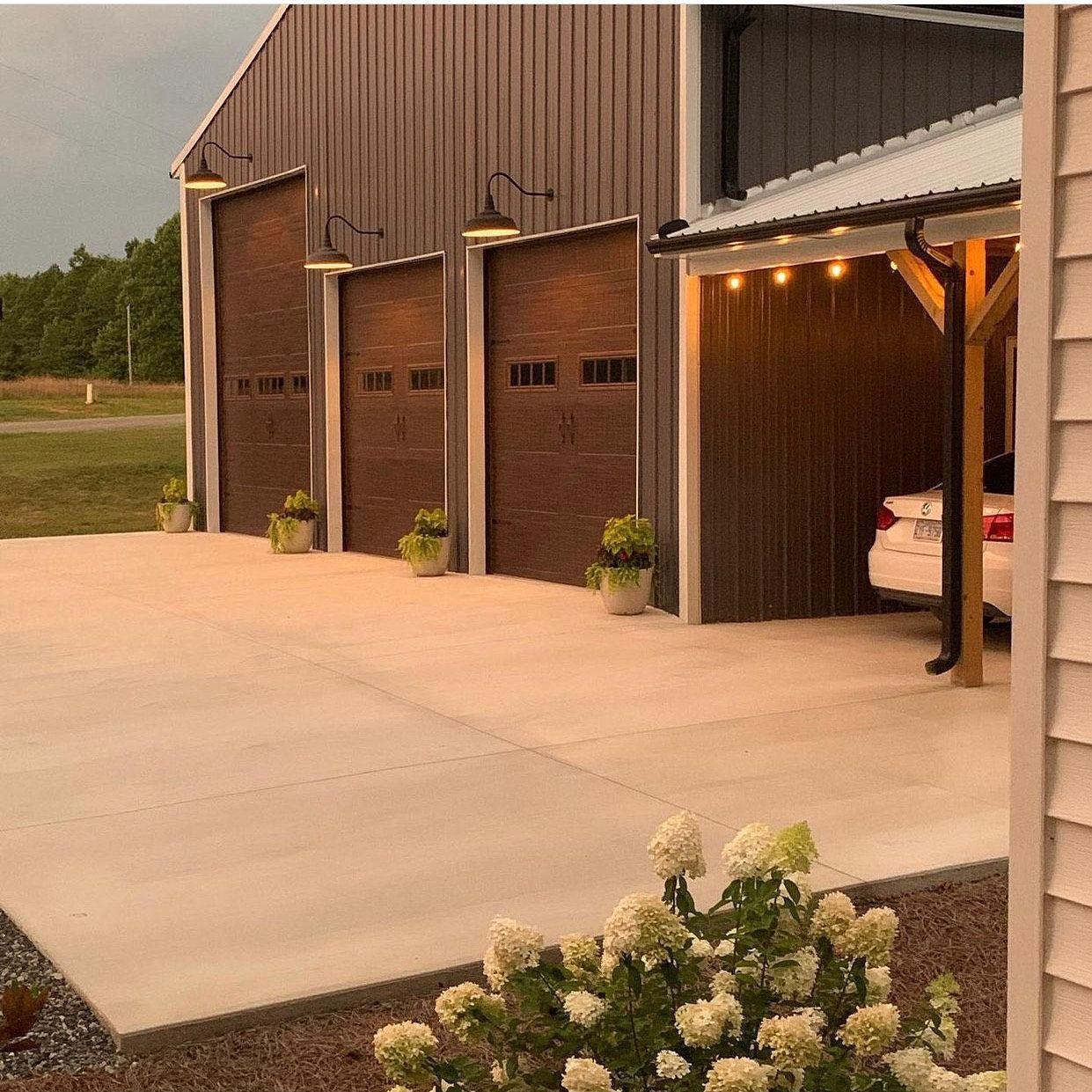 3. Topanga:
A vision to behold in a 14" dome, this vintage gas station light will wow you, your guests and everyone that walks through your property. The beauty of the Topanga is that it can work perfectly as a standalone fixture or complement other light fixtures without overwhelming or underwhelming the scheme. It is typically used outdoors and looks fantastic on garage exteriors. You should add this fixture to your list if you want a fixture that delivers on all counts.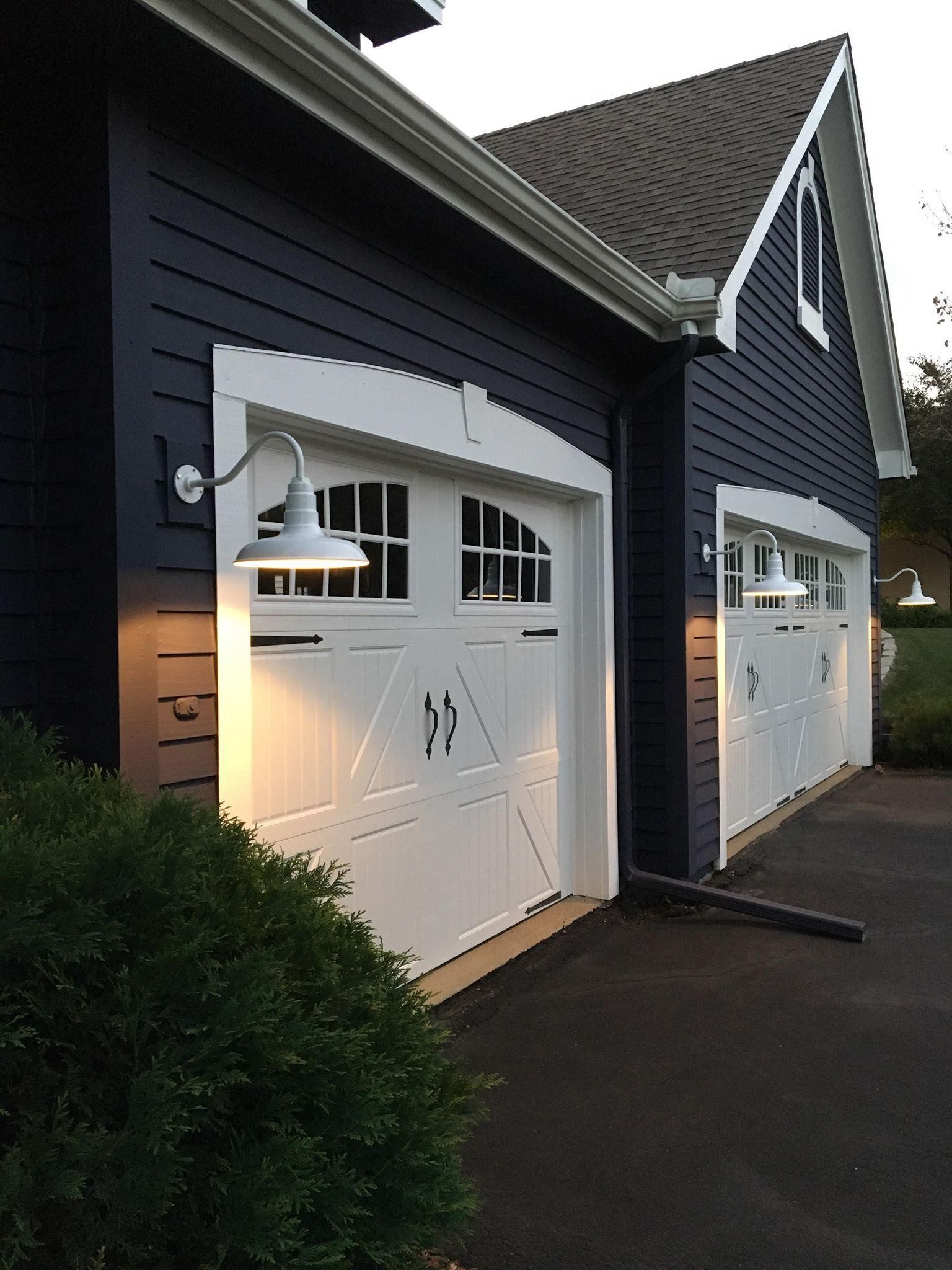 4. The Hawthorne:
Small but striking, the Hawthorne is a miniature fixture that excels at illuminating large and small spaces, including garage exteriors. It is outfitted with an 8" dome and is reminiscent of a barn lighting sconce. Consider this fixture if you plan to include accent lights in your lighting design.  And you can install it in pairs for maximum functionality.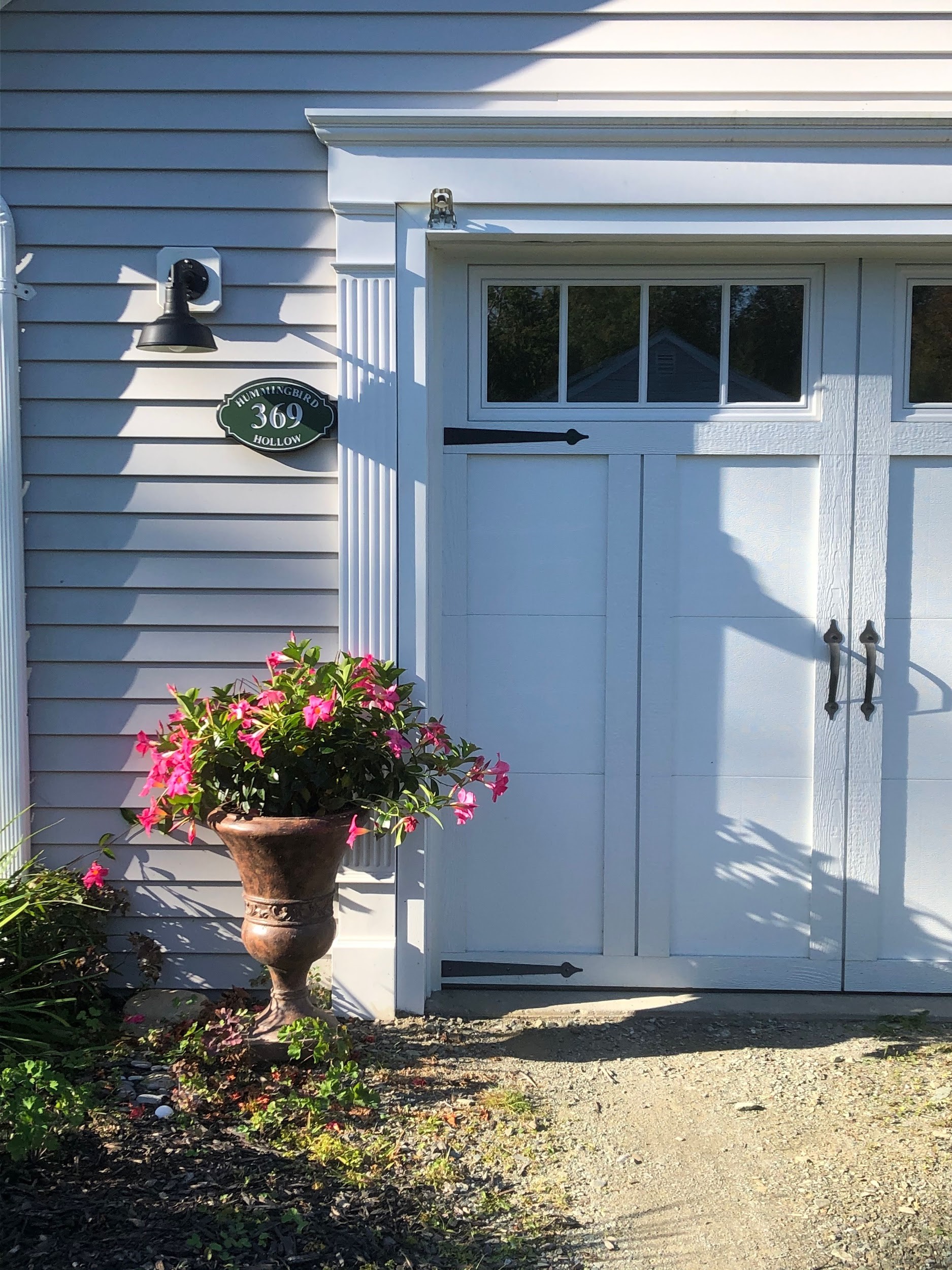 In Summary
Quality lighting outside your garage has several perks that transcend mere aesthetics. Garage exterior lights elevate curb appeal and aesthetics, strengthen security and provide a sense of safety by keeping intruders at bay; extend your outdoor space so you can spend quality time beneath the moon, and is super convenient ━ It forms a central part of outdoor lighting and can make a massive difference to the overall functionality and magnetism of your property's exterior. Ultimately, interior and exterior garage lighting shouldn't be an afterthought or an oversight but a pride of place!