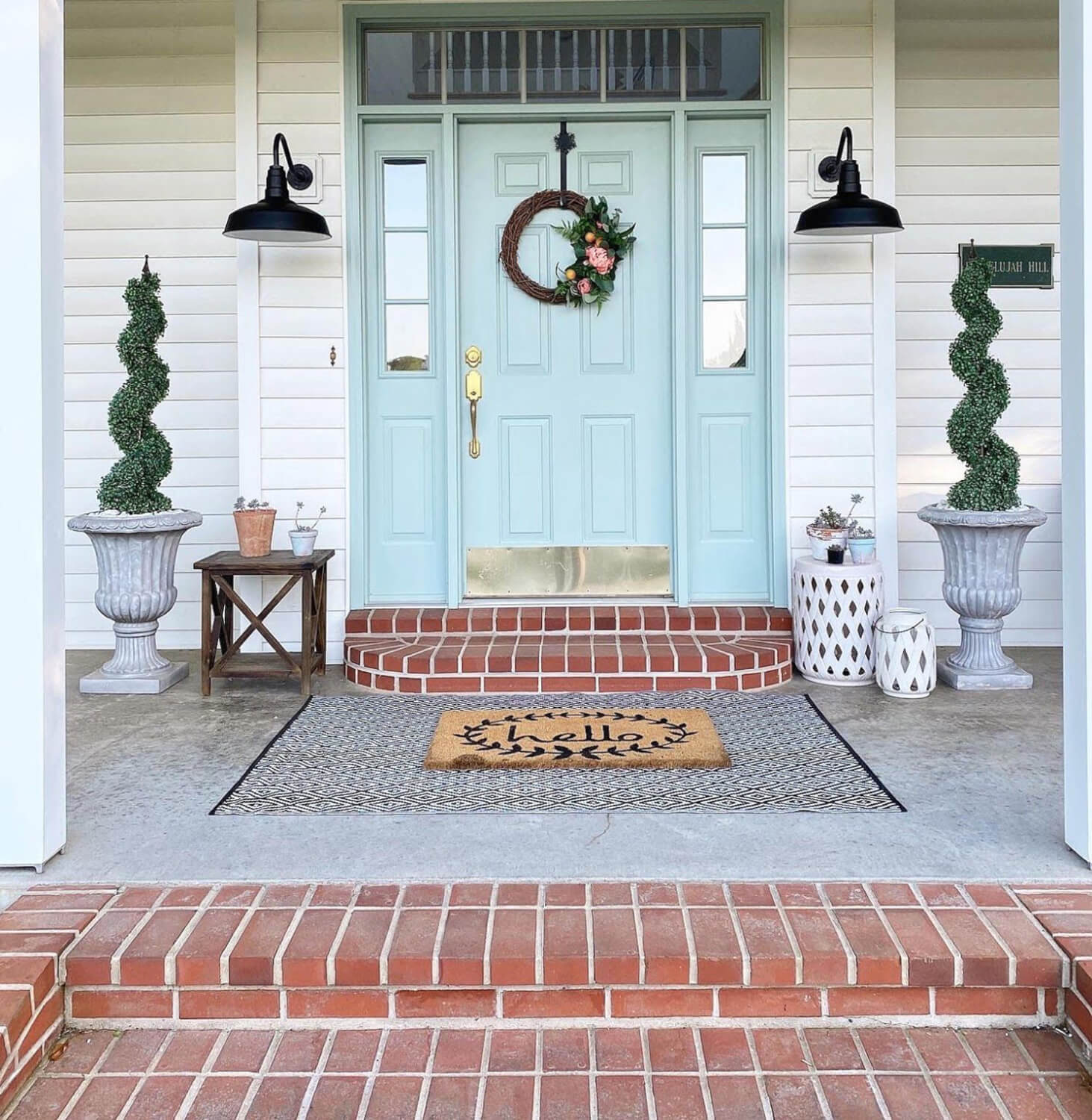 Barn lights have gained significant popularity since their advent in the 1920s. They are loved and used for more reasons than one. If you are a huge fan of barn lighting or are considering jumping on the bandwagon, you will probably need to choose between a gooseneck and a pendant barn light fixture. These two barn lights are the most favored choice for homeowners because of their unique details, functionality and versatility. However, choosing one over the other is no easy task because each has features unique to its function.
What is the Best Barn Lighting?
Generally, the best barn light depends on individual preferences and lighting requirements. No two barn lights are exactly the same, and neither serve the same purpose. Before delving into the topic on the ground, a little background information about barn lights can better put things in perspective.
As the name suggests, barn lights are light fixtures that are or were traditionally used to illuminate old barns and farmhouses. They came into being for practical reasons when barn and farm owners recognized the need for practical barn lighting when the day transforms into night.
'Gooseneck Barn Lights' is not a Blanket Term for Barn Lights.
Because they were invented for purely practical reasons, aesthetics wasn't prioritized. The fixtures were designed to meet durability standards, and the bulbs were ensconced in a shield (a shade) to protect against Barnhouse-associated damages. Also, they were exclusively reserved for outdoor use, and the end product was a metallic, industrial light fixture with simple details. They sported a unique gooseneck-like arm attached to a wide shade. The gooseneck element gave rise to the name " gooseneck lights" or "gooseneck barn lights."  As a result, people often refer to all barn lights as gooseneck barn lights, which is a misconception. Not all barn lights are gooseneck barn lights.
Technology and modern evolution have reinvented these understated lighting fixtures. Today's barn lights are not limited to gooseneck design or the outdoors, and neither are they as simple. They are more aesthetically oriented and functional than the barn lights of old. At present, we have them in different colors, coating, finishing, and cord designs; straight arm, pendant, and the like. While this versatility is a welcome change, it has birthed confusion for homeowners looking to buy fabulous yet functional barn lighting. But fret not. You are about to get the low down on how gooseneck barn lights differ from pendant ones and should be used for what purpose!
Gooseneck Barn Lighting For Your Space
As earlier mentioned, gooseneck lights or barn lights are so-called because their design mimics a goose's long, curved neck. Gooseneck barn lights are typically wall-mounted. In other words, they are attached to the wall utilizing a long, curved cord (or stem) that supports the shade. These barn lights are categorized as wall sconces because they are affixed and practically immovable once installed. They are generally constructed out of metal and are polished to matte, brushed or galvanized finishing. Additionally, they feature a peculiar shade that works to direct the light downwards.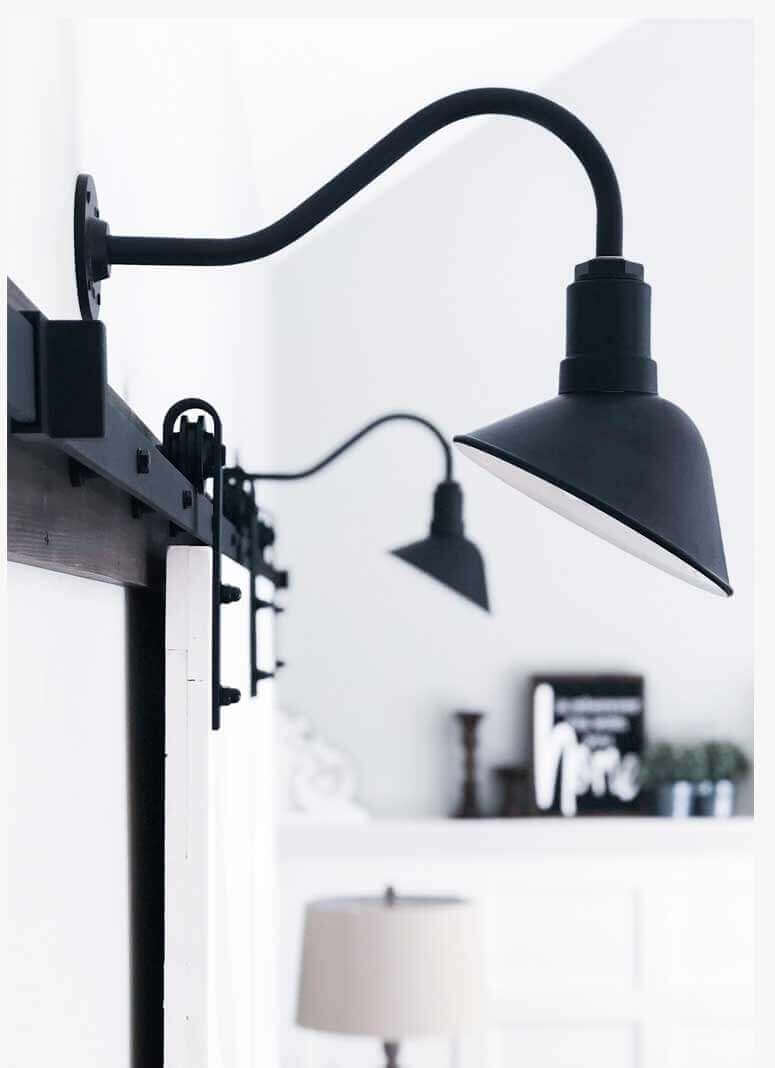 Steellightingco's gooseneck barn lights are made of unique stainless steel and offer several finishing, including matte and galvanized. You can also customize to taste, think of a favorite color or finish.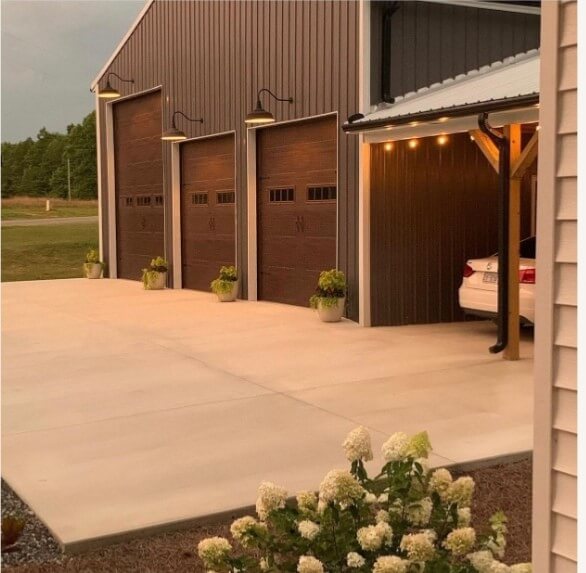 Where are they installed?
While gooseneck barn lights are especially great for outdoor use, you can also use them indoors. Given their sturdy mounting, you can install them just about anywhere. Be it farmhouses, restaurants, signages, patio, porch, garage, laundry room, bathroom — you name it!
However, you should note that gooseneck barn lights tend to extend from the wall, which can cause "head bumping" accidents. So, it would help to allocate ample space for its installation. Because of this downside, it is best to install them in wider spaces, especially for indoor use. Gooseneck barn lights aren't ideal for narrow indoor spaces like hallways and etcetera.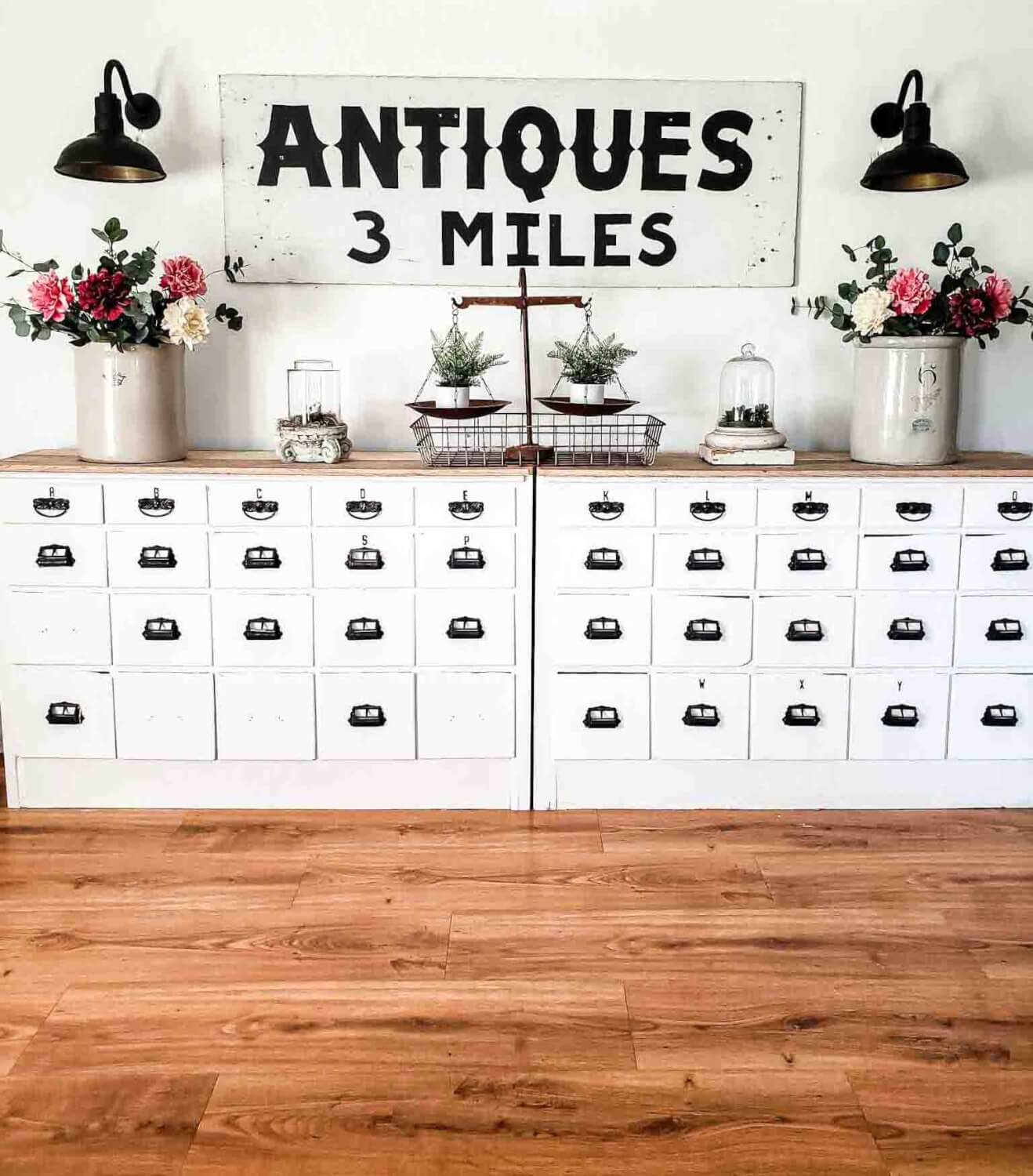 Pendant Barn Lighting for Your Space
Just as gooseneck barn lights get their name from their stem, so do pendant barn lights. Pendant barn lights are so-called because of their flexible cord or chain stem. They are characteristically attached to the ceiling, causing them to swing like a pendant when met with a strong wind (however, not all pendant lights actually swing).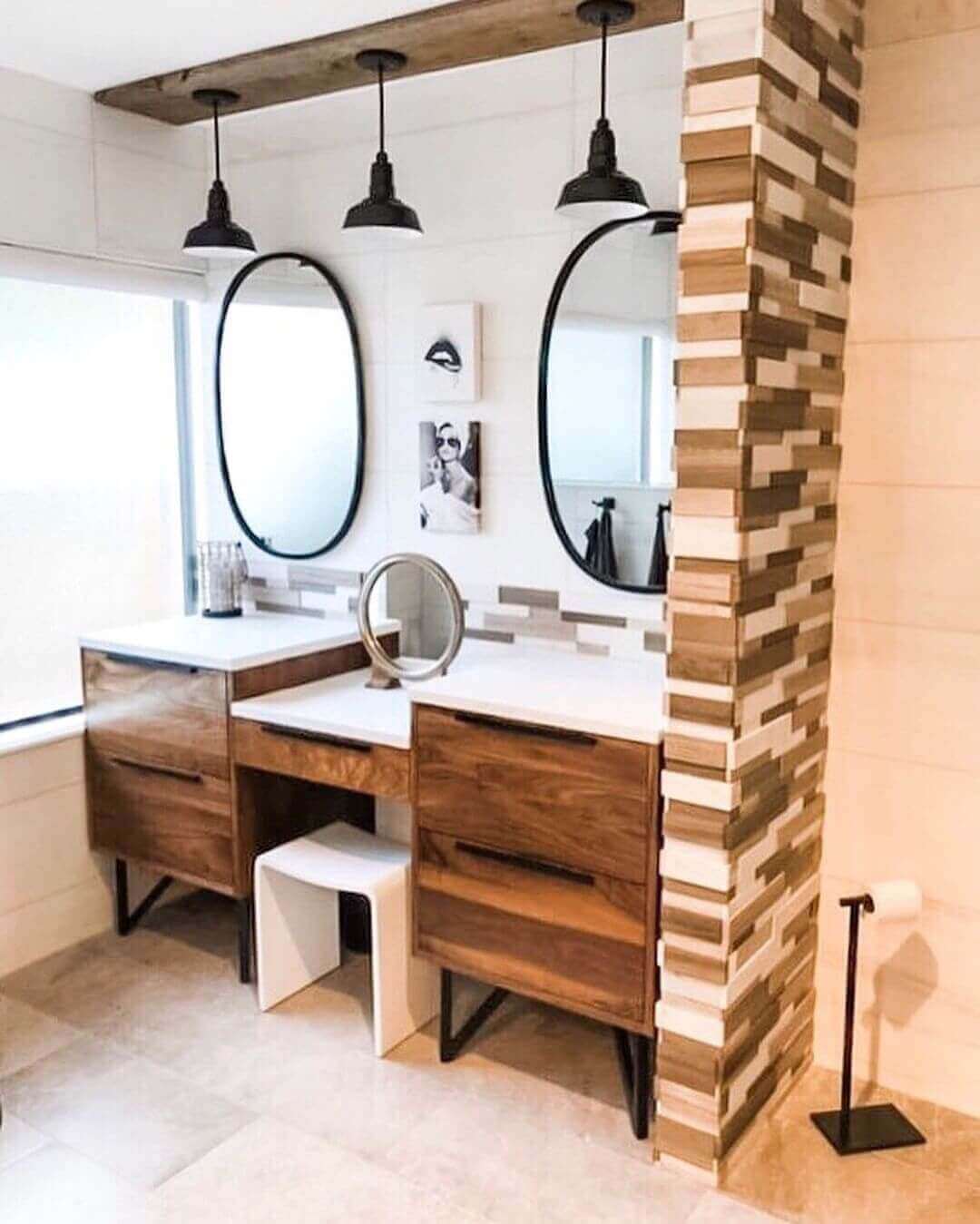 Pendant lights are also known as ceiling-mounted lights. Like their gooseneck counterparts, they are also shrouded in metal industrial aesthetics. Another similarity between the two types of barn lights is the shade, which directs light downwards. Again, Steellightingco's ceiling-mounted lights are crafted out of fine American steel with several aesthetically exciting offerings to boot.
Where are they installed?
Owing to their ceiling mount, pendant lighting is typically reserved for interior use or on outdoor spaces with overhead ceilings, like the porch. However, a gooseneck light will most likely look better on your porch than a pendant fixture, so pendants are most commonly used in indoor areas. Pendant lights like our Melrose light are a beauty in the kitchen. You can also use them in lofts and in restaurants. Understated yet elegant, these fixtures can be used in various interior applications, from minimalist to modern to industrial. They are oh-so-charming in a vintage Barnhouse, blending contemporary and ancient vibes.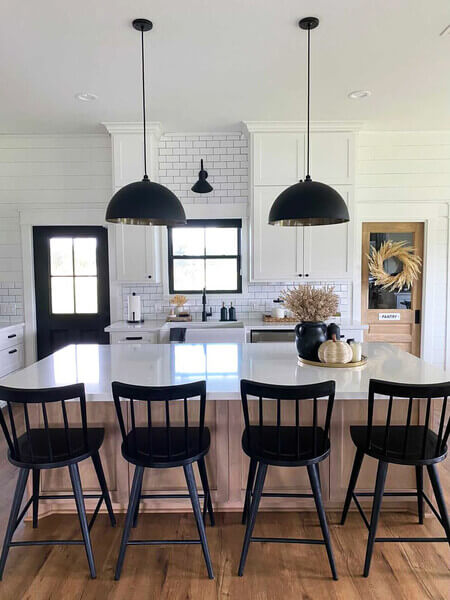 Which is the Best Barn Light for Your Space?
Here comes the question of the century! Between pendant and gooseneck barn lights, it is hard to choose one and overlook the other. Except, of course, if you can afford or need both types of barn lights. Otherwise, you have to make a decision. Here is the truth, the better of the two depends on the size of your space. If you want to bring light to your exterior space or a smaller space like the entryway or above the kitchen sink, a gooseneck barn light will more than suffice. But if you are considering lighting a large room with vaulted ceilings and lots of natural light, then a pendant light should be your go-to.
In some cases, some spaces can accommodate both types of light without over-powering or under-whelming each other. Spaces like man caves and workshops fit the bill. Here, the gooseneck barn light provides task lighting, while the pendant lighting enlivens the room's overall ambience.
All features considered, gooseneck barn lighting are the masters of antique charm, while a string of pendant lights offer an elegant, timeless look and feel that is unmatched. They both exude rustic vibes while offering functionality at its finest. On the whole, your needs and preferences will determine the best lighting for you! And if you need a convincing guide, check out our vast range of gooseneck and pendant lighting here.