Most restaurant customers say they patronize restaurants because of the ambiance and appeal before anything else. And guess what? Restaurant lighting plays a significant role in this decision.
Why Quality Restaurant Lighting is Important
Successful restaurant owners capitalize on an aesthetically pleasing and inviting interior and exterior space. They understand that their target market is first driven by their sight before their taste buds. Customers don't just want delicious and appetizing cuisines; they want a gastronomic experience that is visually arresting and Instagram-worthy. While other elements impact the visual appeal and ambiance of a restaurant, good-quality lighting stands out.  And here's why.
It appeals to Mood
Most people patronize fine dining establishments and casual eateries not just to satisfy their hunger or cravings but to enjoy a different experience other than their dining tables. Your customers most likely want an ambiance that is welcoming, exciting, soothing, and delightful.
They want a place that amplifies the richness of the cuisine and a comfortable space to socialize. Whether you offer fine dining services or run a quaint cafe, the right interior and exterior lighting can redefine the mood of your restaurant and provide the ambiance that appeals to your target market.
Generates Sales and Traffic
Every restaurant owner wants their establishment to thrive and generate financial benefits. And the easiest way to fulfill this wish is to integrate modern light fixtures into your restaurant to elevate its decor and ambiance. The right lighting can encourage your customers to stay longer and return for more. And the longer they stay or return, the more the orders.
It isn't rocket science, but a well-designed lighting system can even make the food taste better!  Also, strategically positioned lighting fixtures can highlight and elevate the look of the food. And this is what your customers want to see — artistically appealing food, food that looks too good to eat! So, taking advantage of lighting to maximize sales and publicity is imperative, especially if you are struggling in this department.
The Four Major Types of Restaurant Lighting
To curate a lighting-influenced ambiance for your restaurant, you must know the lighting types that complement restaurant decor and the function of each. Let's take a brief look at these lighting types so you can be in the know!
Ambient Lighting
This is the most common lighting system used in most restaurants. Its primary function is to offer illumination. You can incorporate ambient lighting with natural light (through the windows) or with modern overhead light fixtures such as the Manhattan light.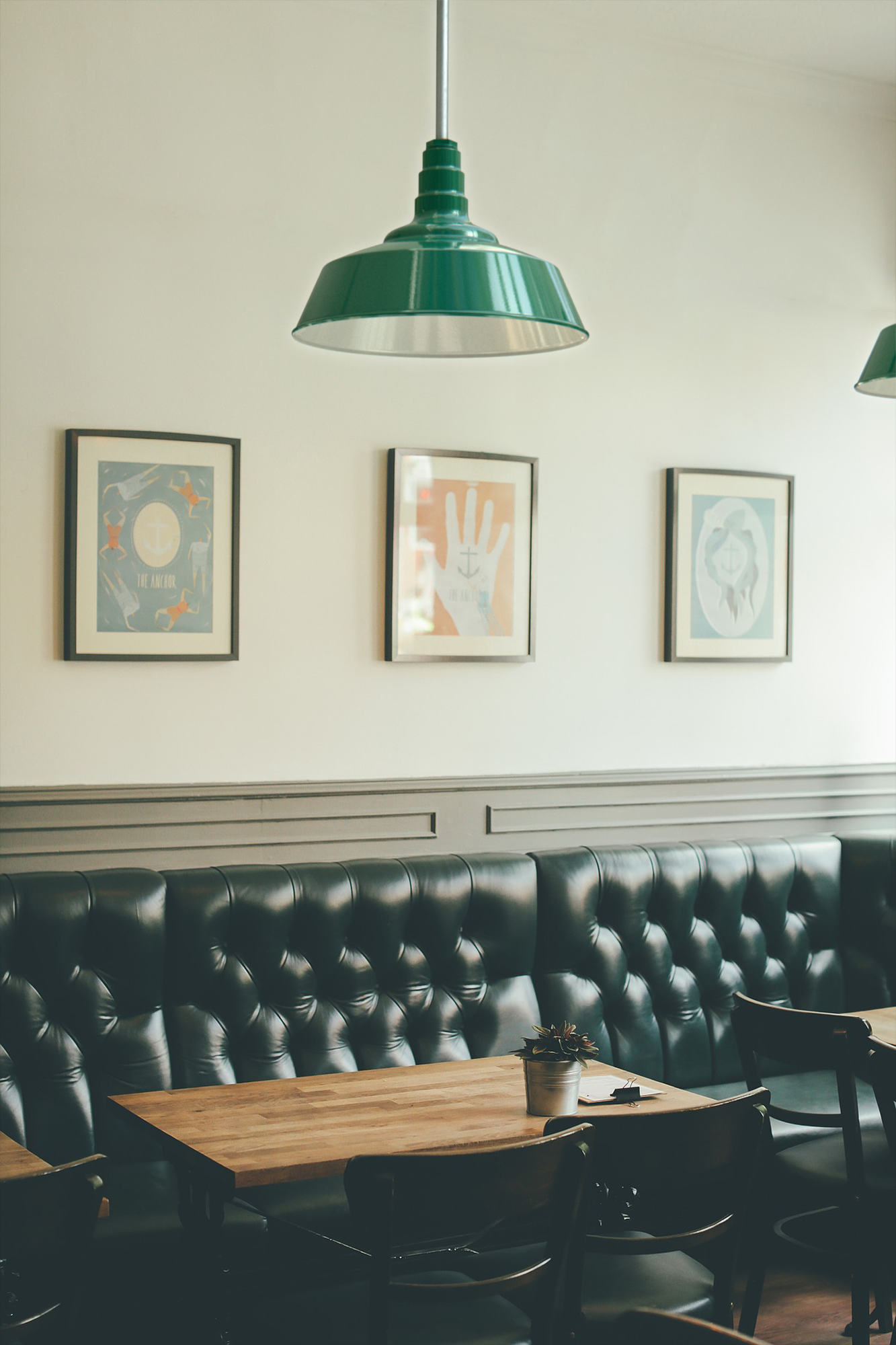 Accent Lighting
Accent light fixtures show off the most exquisite details of your restaurant. They are specially designed to draw attention to focal points of interest such as art pieces, food displays, etcetera. It is more decorative than functional.
Task Lighting
As the name suggests, task lighting provides illumination that supports task execution. It helps your staff accomplish tasks and gives your customers room to read the menu without hassle. Versatility is the hallmark of task lighting as there are many fixtures you can use to supply task lighting such as the Hawthorne.
Must-use Modern Light Fixtures for Restaurant Decor
From fine dining to casual eateries, these modern light fixtures are the star of the show.
Sleek Pendants
Sleek pendant lights have an understated look that screams elegance and graceful. It is soothing, and refreshing and will make your customers return for more. A fantastic example is the Westwood pendant light. You can use this over tables to provide both ambient and task lighting.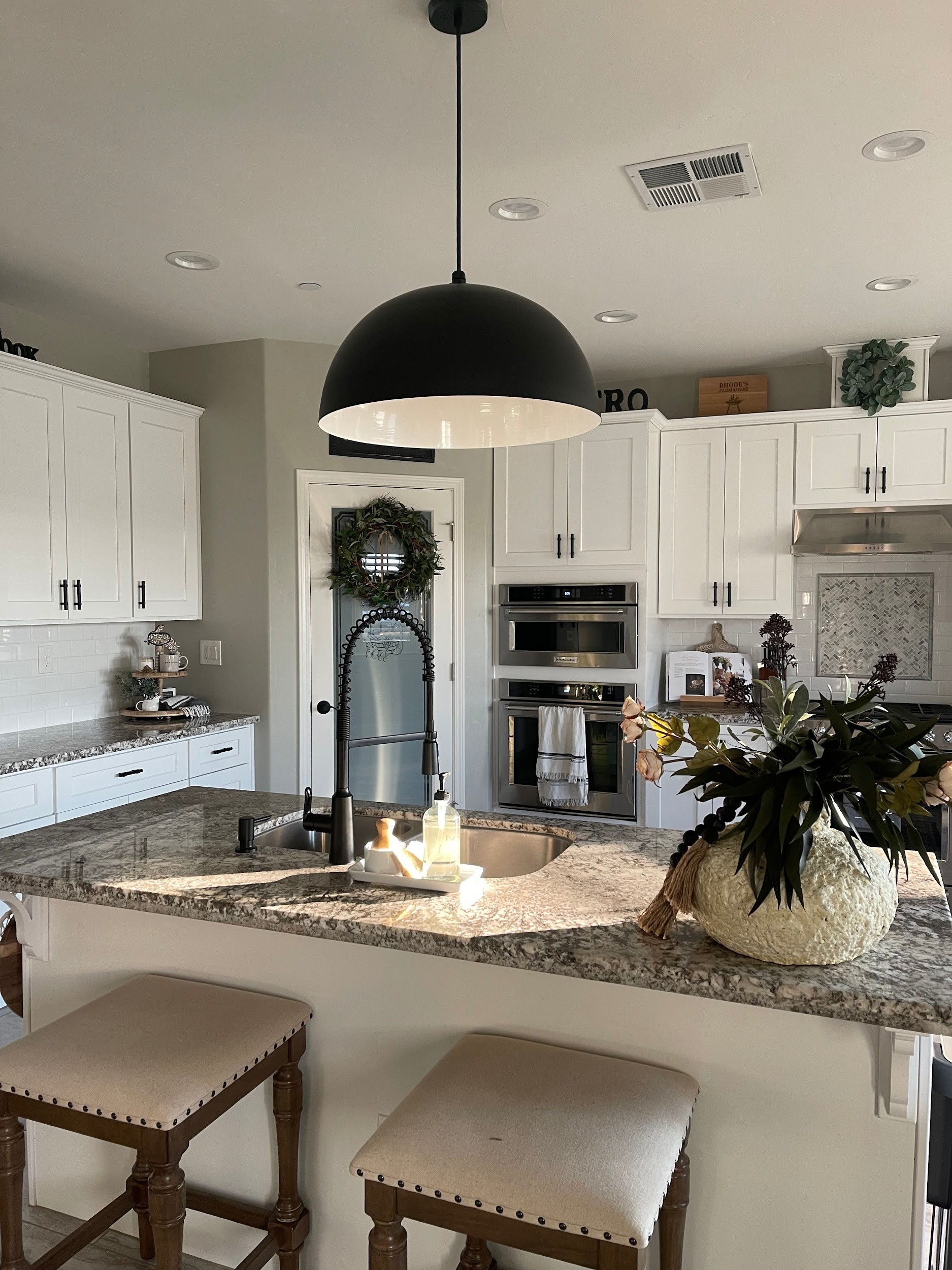 It is reminiscent of a large bowl pendant that supports the general theme of a restaurant. You can get this in your preferred choice of the matte black or white exterior with white, matte black, or brass interior color. The Westwood pendant is one light fixture that will grace your restaurant and bring in customers!
Wall Sconces
Wall-mounted lights are quite similar to pendants, but they are affixed to the wall rather than the ceiling. They are incredibly versatile and will add depth and character to any space. You can install wall sconces anywhere in your restaurant and for whatever purpose.
You can use it as an accent to show off a fabulous plant, as a task light installed in a brick wall or as a "porch light" to graciously welcome your customers from the door. Whatever the purpose of function, wall sconces are a delight and will deliver satisfaction.
Sign Light
Every restaurant or culinary establishment needs a sign light. Sign light not only illuminates important information but also maximizes visual appeal. From the name of your restaurant to the address, you need a quality sign light that lets people know what your restaurant entails. Nobody wants to patronize an establishment whose name isn't visible in low-light conditions. As such, it is ultra important to install high-quality sign lights for the benefit of your restaurant and customers.
The Venice is one such sign light that delivers 100 percent style and function. Its miniature size belies the illumination it provides. While it looks small, it brightens your signs and displays and instantly draws the eye. It comes standard with a 9" dome with several mount options including an 11" straight arm, 11" gooseneck, 16" gooseneck, and a 23" gooseneck.
Smart Lights
Dusk to dawn lights and LED bulbs are prime examples of smart lighting. Both lighting types are cost-effective and environmentally conscious, thanks to their energy-efficient configuration. LED lighting for example consumes minimal energy than fluorescent and halogen lights, which means fewer energy bills to settle. Running a restaurant can take a toll on your finances and you must employ means to minimize your expenses. Thus, LED-compatible fixtures are a great choice in this regard.
Dusk to Dawn lights on the other hand is not only economical but convenient. They have sensors that automatically switch on and off in low and medium-to-high light conditions. You can incur higher energy bills from forgetting to turn off your restaurant lights at the close of work, but this smart light fixture ensures that you don't! In a nutshell, modern light fixtures are as important as the menu and dishes being served in a restaurant!