7 Tips To Decorate Your Porch And Make Your Guests Feel Instantly Welcome
Your front porch is the perfect space to entertain or just unwind after a long and stressful day. It also sets the tone from the very first moment someone pays you a visit. You want the first reaction to be "WOW, I love this house" and the easiest way to make that happen is to turn your front porch into an open invitation to join the story unfolding inside!
There are a few must-have elements that transform your porch into a cozy little corner, such as a comfy bench, plants, or charming barn lights. Read on to find out how to decorate your porch like a pro!
1. Benches
A porch without a bench is like a living room without a sofa! There's nothing quite like taking a breather on your patio with a good book and – why not – a cheeky drink.
And when a friend or a neighbor visits, you can sip your coffee or tea outside in this cozy space. To make it as comfy as possible, be sure to "sprinkle" it with cushions – the more, the better!
If you're wondering what kind of bench to choose, you might not like the answer: it depends. The rule of thumb is that the bench should match the style of your house. So if it's ultra-modern, maybe don't choose a vintage bench!
2. Chairs
Sometimes you might not have enough space for a bench and that's totally fine. There's always a solution when it comes to making a space more inviting.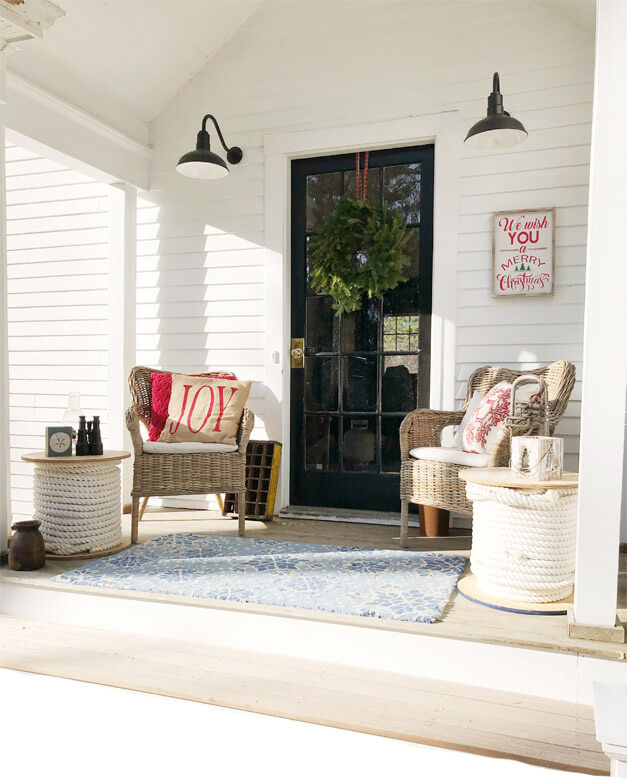 No matter how small your porch is, you can probably fit a chair or two. If you really want to impress, make sure they add character. Don't just choose a couple of kitchen chairs, go for gold with a more eye-catching design (like vintage, if it goes well with the style of your home). To really kick it out of the park, invest in gorgeous and comfy outdoor armchairs – you'll find yourself spending so much more time outside!
3. Swing Chairs
Benches and chairs are the bare minimum you need to make your porch look more welcoming. But if you want to step it up a notch and have enough space, we recommend you install a swing chair. Everyone ADORES swings and for a good reason – they are incredibly relaxing.
The only "issue" we see with having a swing chair on your front porch is that your guests might outstay their welcome every single time! But if you sit next to them on the swing…you probably won't mind!
4. Plants
This is a no-brainer. Whether you add 1 or 2 pots or turn your front porch into a mini garden, plants are always a great addition. Who doesn't love greenery and flowers?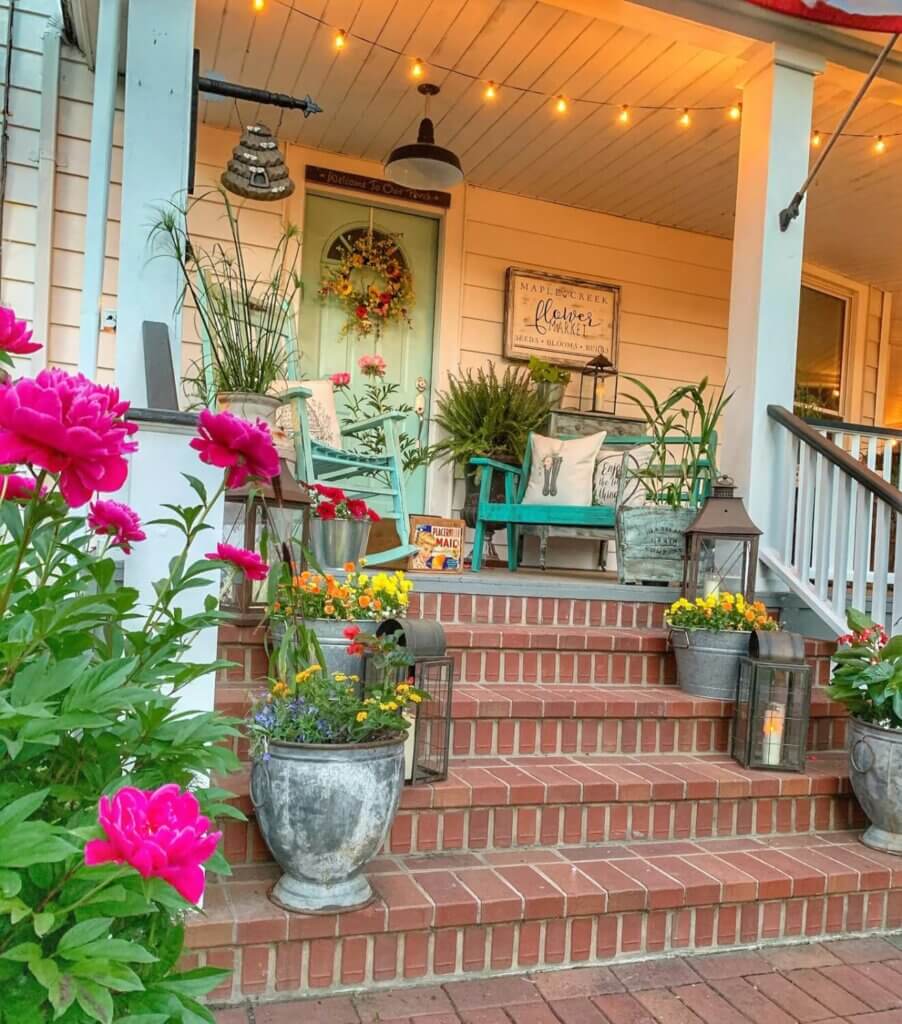 Just don't forget about the pots – they are just as important as the plants from a design point of view. Since fancier pots can be more on the expensive side, you can just commit to buying a new one each month. In time you'll have a porch that would make interior designers nod their head in approval.
Now we're delving into our area of expertise. We're fascinated by how lights can make or break the design of a space, porches included. In fact, if you had to choose ONE object to make your porch more inviting, it would be a well-placed barn light.
Here's why:
It's easily customizable (choose different styles, sizes, colors, and finishes)
It doesn't take up space (so you can add it to ANY porch)
It creates a warm, home-sweet-home feel
It's very useful for when you come home at night.
Our barn lights are all designed to withstand heavy rain, wind, and rusting. We handcraft them using the best American steel and focus on quality, so you can be sure they'll be lighting up your home for generations.
Choose the right colors
Choosing a paint color for your front porch might seem like a piece of cake, but make no mistake – it can be tricky if you don't have a designer's eye! The first thing you need to take into consideration is landscaping. If you have a lot of greenery in your front yard, make sure the porch color scheme complements it. For example, you could go with white or pale yellow to create a wholesome contrast with the trees and grass.
Another thing to consider is the amount of light your porch receives. If you have a south-facing porch, go for lighter colors. Use darker colors and cooler tones if your porch is north-facing.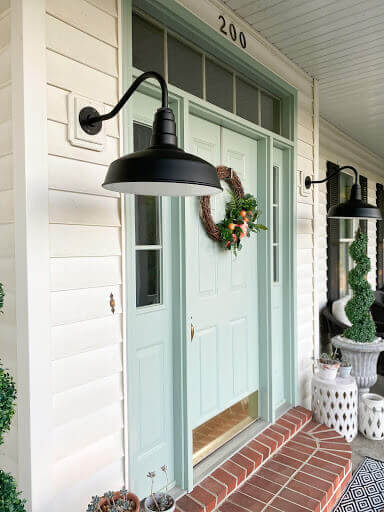 6. Wreaths
Wreaths are one of the easiest ways to add instant charm to your front porch, no matter how small it is. They are very versatile too: you can easily change them according to each season, which makes your front porch look festive throughout the year.
If you're a DIY enthusiast, you'll love creating your own wreaths – this is the kind of project the whole family can participate in!
Pro tip: place a barn light above the door to highlight the entire ensemble.
7. House Number
A house-number is a must-have for every home, so why not turn it into a design element and kill two birds with one stone?
Whether you go for a minimalist style or prefer a more intricate design, it will only add to your home's charm, especially when combined with a gorgeous wreath and a barn light.
Gorgeous welcome mats
Last but not least, your front door mat can also become an accent piece if you choose one that ties the entire design together.
While picking a nice mat isn't rocket science, we recommend you pay attention to its size if you want to maintain the balance of the design. The golden rule is that the mat should be no smaller than 80% of the front door's width.
Are you ready to redecorate your front porch and turn it into your fave spot for a chillaxed evening? You can start small with something affordable: a charming barn light that will totally change the vibe! We're here to help. Each of our lights is available in all standard colors, a galvanized finish (with the exception of the straight arm), and they come in a variety of sizes, so you can choose the perfect one for your entryway.