If you're going to renovate your home, a great place to start is in the kitchen. This room is often called the heart of a home, and it's easy to see why. Kitchens are where family and friends gather to cook meals, share food, and chat about their days.
With each year, it's typical to see some trends rise, while others fall. We're going to share the trends we expect to see in 2022 when it comes to kitchen lighting:
Pendant Lights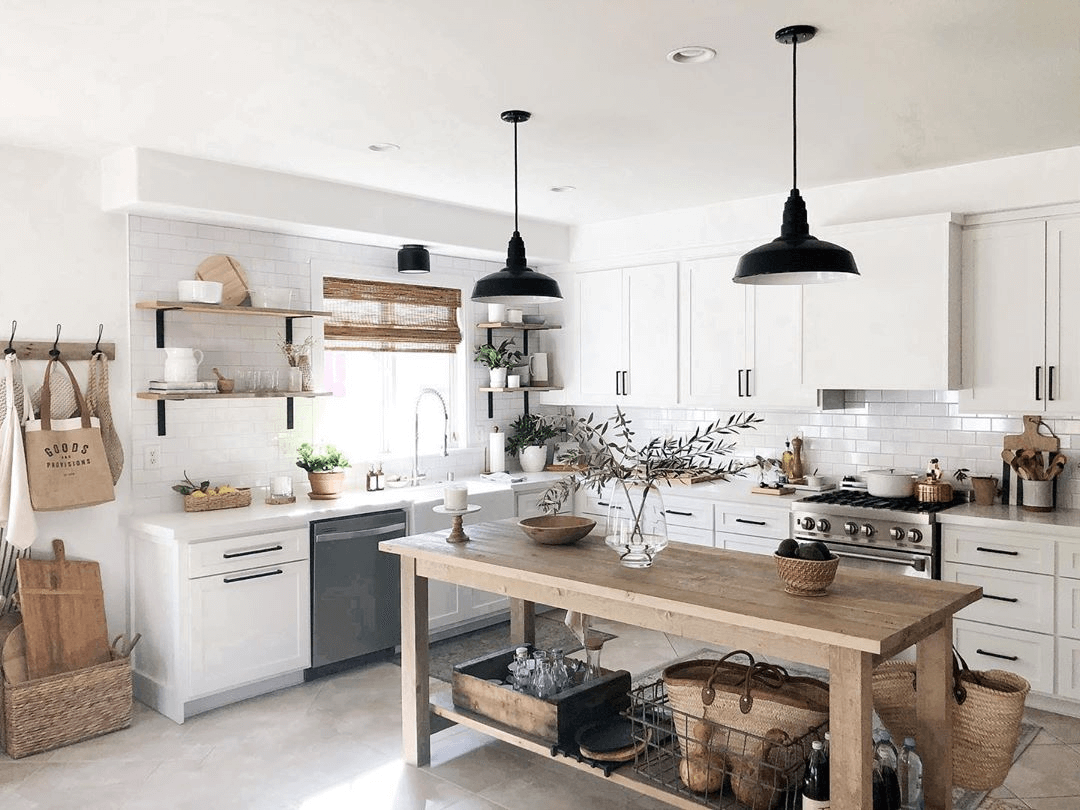 For years, it's been popular to have lights that are flush with the ceiling or wall. But now, we're noticing the rise of hanging pendant lights. These fixtures extend further down from the ceiling; not only do they create a unique aesthetic, but they help you see what you're doing more clearly.
If you have a high ceiling, a pendant light will make the perfect addition. Our Melrose bowl pendant light will make your kitchen look modern and sleek. Made of 18-gauge American steel, it's a sturdy light that's still cost-effective. With the E26 Medium base socket, you can use multiple different styles of bulbs. Choose one bright pendant light, or string multiple fixtures together above your kitchen island.
Alternatively, you can try a gooseneck light. It's similar to a pendant light, but with a curved neck. These fixtures are mounted to the wall rather than the ceiling.
Layered Lighting
Gone are the days when every room in a home had the same type of light fixture. Now, you might find two or three different lighting styles in a single room.
Along with the fashionable aesthetic they create, layered lights also serve a practical purpose. With layered lights, you can brighten dark corners, and use high-intensity lights in areas where you need to see more distinctly, like over the stovetop.
Bright lights are also known as "task lights". These fixtures are designed to help you see more clearly while you prepare meals. To create layered lighting effect, you can use a dimmer ceiling light over the dining area for a more relaxed atmosphere.
Smart Bulbs
It's important to choose the right bulbs for your home. Cool-toned bulbs create a calm, refreshed look, while warm-toned bulbs add an element of coziness to your space. But which will look best in your kitchen?
Using an LED smart bulb, you don't have to pick between the two. You can adjust the color and intensity of the light using an app on your smartphone. Make the lights bright and white while you're cooking, and dim them to a soft yellow while you eat. If you're hosting a party, you can choose a fun color like blue or red! You can even schedule the lights to turn on and off at certain times of the day.
Metallic Lights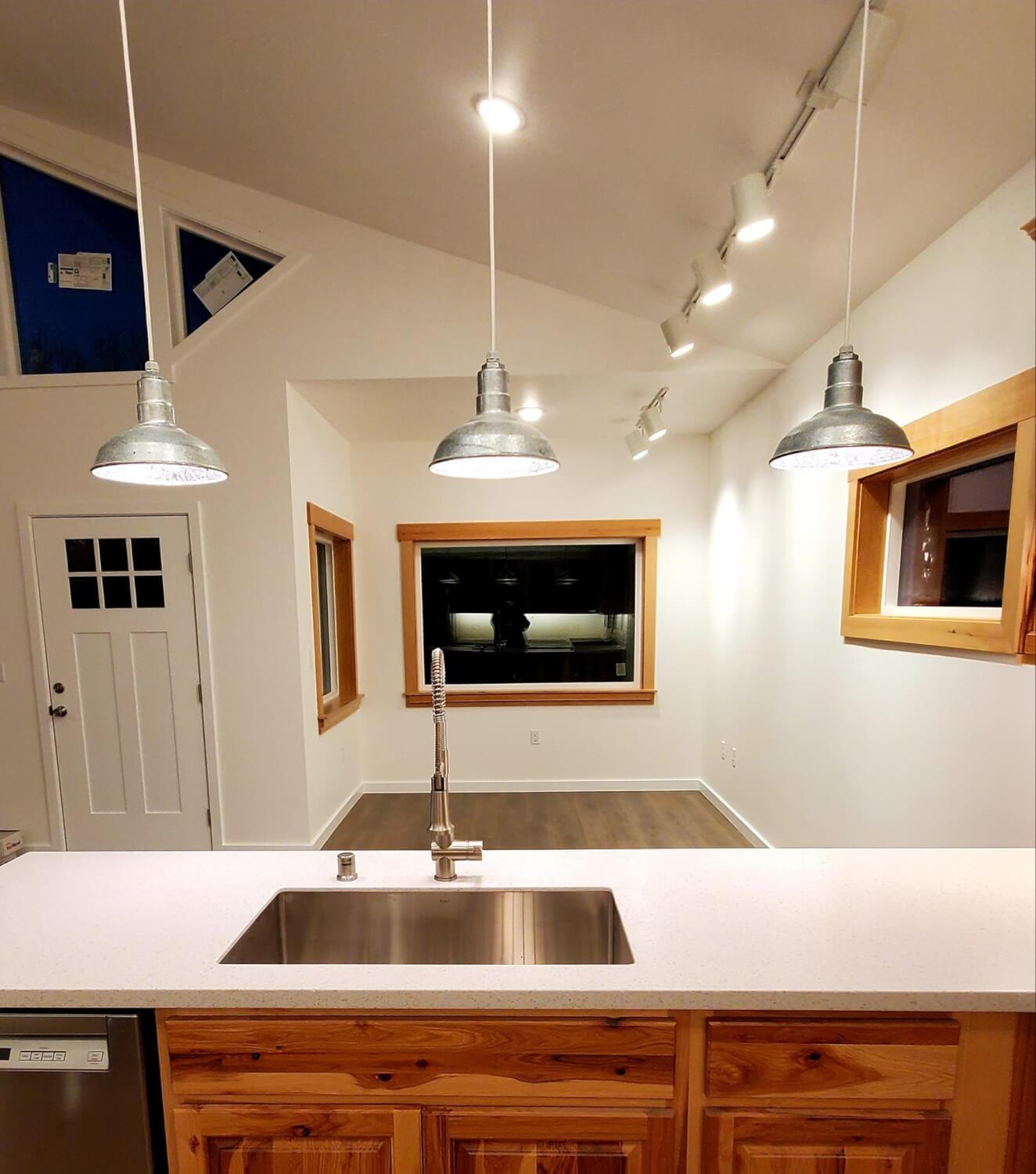 Pops of brass, flashes of gold, and slivers of silver – in 2022, we expect to see more metallic lighting fixtures. Metal looks stunning when paired with wood cabinets or matching metal sinks.
Lights have a substantial impact on the atmosphere of a room. Steel lights add a cool and clean look to any kitchen. Pair them with a warm-toned bulb to create an interesting contrast.
Smaller Sink Pendant Lights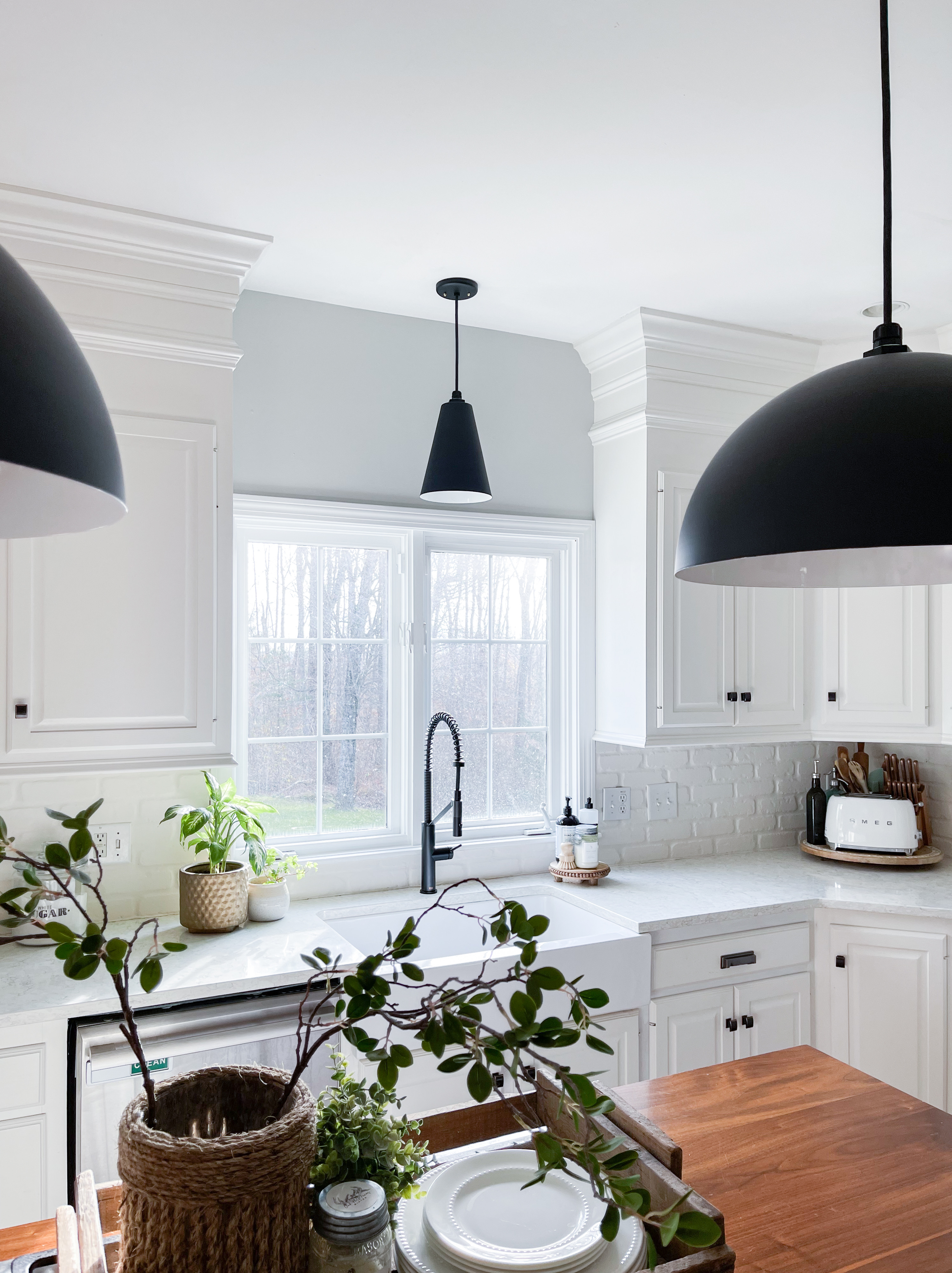 The kitchen island isn't the only thing that's been growing in attention. Designers are starting to draw focus above their sink with various different kinds of small pendants, generally attached with a cord. Gone are the days of using a recessed LED light when you can have a minimalist pendant to highlight your sink of choice! We personally designed the Laurel around this idea to provide rugged lighting to fit with the minimalist design trends that are heavy in 2022.
Triple Pendant Lights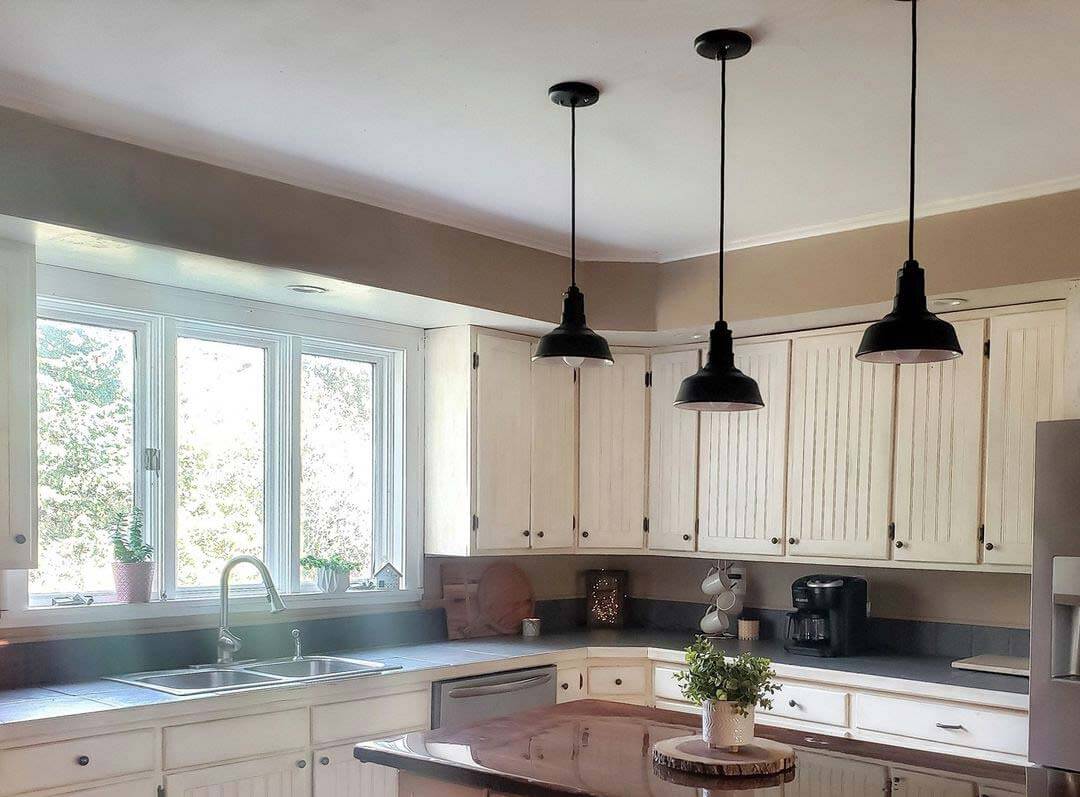 Why feature one light when you can feature three?? Another trend that's taking flight is to add multiple smaller pendants over a kitchen island instead of using one or two bigger ones. This adds a stylish dynamic and lighting contrast to the rest of the kitchen, especially if you mount them at different lengths to create a more full and creative lighting experience. You can also pair this technique with a little bit of brass to have a very modern farmhouse kitchen design!
Installing New Lights
With any home improvement project, one thing stays the same: safety comes first. If you want to change the lighting in your kitchen, you might be asking yourself: do you need an electrician to add a new light?
In most cases, it's best to have an electrician do the work for you. If you perform electrical work without the help of a certified electrician, it may cause problems with your home insurance policy. There could be an issue with the wiring that can cost even more to fix. We recommend calling your local electrician when you want to change your kitchen lighting.
Kitchens are communal spaces that bring everyone together. The light fixtures you choose can completely change the atmosphere of the room. With the above lighting trends, you can make your kitchen an efficient, well-lit, and comfortable space for all.