Choosing the Right Light for Your Next Garage Project
The garage is one of the most divisive parts of the home. No, really, we're telling the truth. 
Maybe it's the utilitarian nature of it or the flexibility of the space. Regardless, the humble garage is used for just about everything, from parking your car to storing your bikes, setting up a workshop, or even creating a whole spare room. The possibilities are kind of endless when you think about it. 
The obvious problem of course when setting up your garage for your preferred activity is that, more often than not, your garage space is filled to the ceiling with random junk you've picked up over the year.
It's true – for many, the garage is essentially a glorified dumping ground of boxes, furniture, and pretty much whatever else you can think of that's not really worth keeping in the house, but you can't really bother to throw away. 
So what does this have to do with lighting fixtures? 
Well, more often than not, when installing lighting fixtures for garages, we often lack the foresight to really get a good idea of what our garage is inevitably going to be used for. 
This blog though is going to change that and help you figure out exactly the right kind of fixture you'll need for your garage – no matter what your garage's ultimate fate ends up being. 
Park it, Mister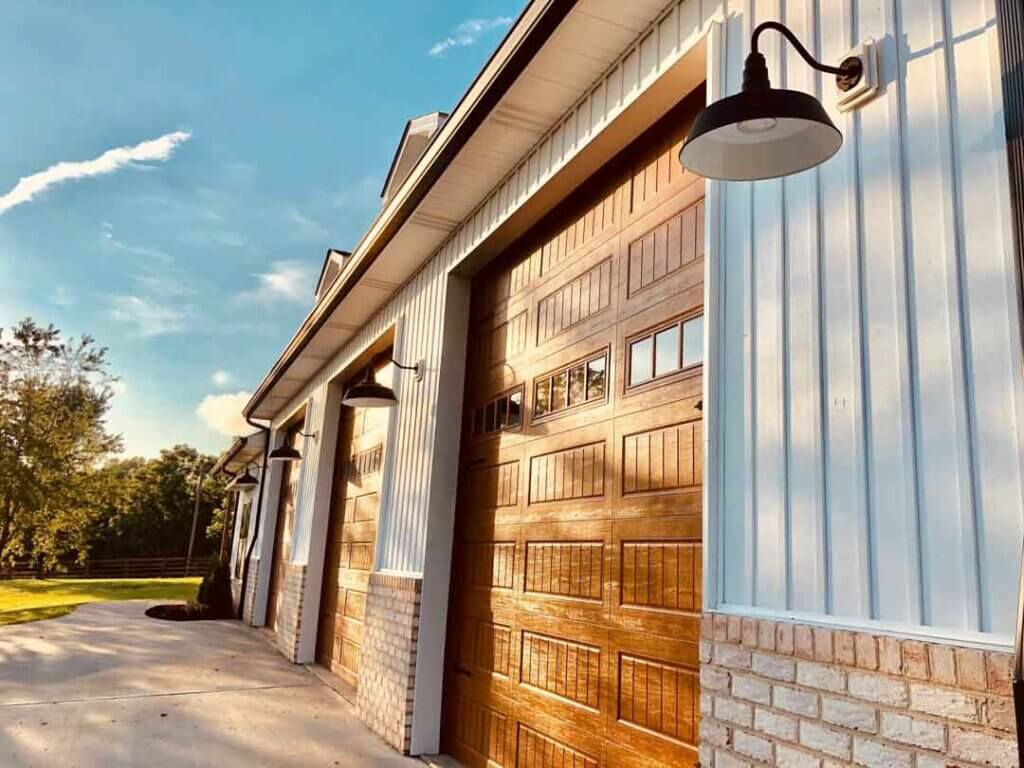 Ok, so let's start with the basics. If your intention for your garage is to have a nice place to park your car, then we've got some good choices. 
For your car, lighting can come in a variety of forms depending on how eager you are to show off your ride. 
Barn-style wall lights are a great option, giving you plenty of room to work and producing a solid amount of light from the source to make even the most cave-like garage brighten up immediately. 
If you're looking for size, then our Redondo light can be a real asset, casting a wide beam of light, owing to its design origins as a warehouse and loft fixture. 
Similarly, if you're looking for something more overhead, the Carson light might be more up your alley, with its narrower design creating a light source that is rightfully popular amongst garage owners. 
If you're looking to light up the interior of your garage, then either of these can be treated with our powder coating in a variety of colors, making your room pop with a colorful style that can bring out the best in your daily driver. 
Workshop It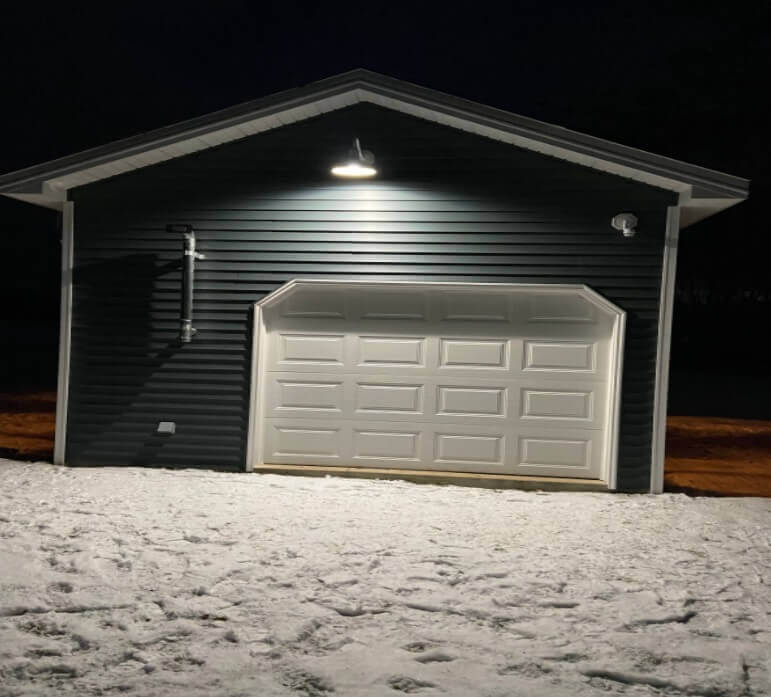 If you planning on making your own garage into something of a functioning workshop then we really shouldn't have to tell you that your lighting needs are going to be wholly different. 
For most workshops, lighting becomes a massive priority as there's so much more going on in the space. A good or bad light can often mean the difference between a safe working environment and the perfect place to lose a finger or two while working on a new project. 
As a result, recommended lighting fixtures for this type of space are often closer, more focused, and less about spreading light to as many corners as possible. 
As a result, wall-mounted lights are the obvious choice. 
The Westchester light would be something that we can highly recommend. As a wall-mounted, barn-style light, these units bring a style of lighting that compliments the wall-mounted system comfortably while providing a happy compromise between widespread lighting that doesn't lose focus of effect. 
These units can be mounted on a variety of arm styles depending on preference and, much like all of our other lights, can be given a color powder coating that'll bring both a sense of style to your workshop but also ensure a level of hardiness that means these lights will never let you down. 
To bring a more industrial finish to your lighting experience (which let's face it, any workshop worth its salt will want to look at least a little industrial), then giving your light fixtures a galvanized finish can also be the right move. 
Go Big or Go Home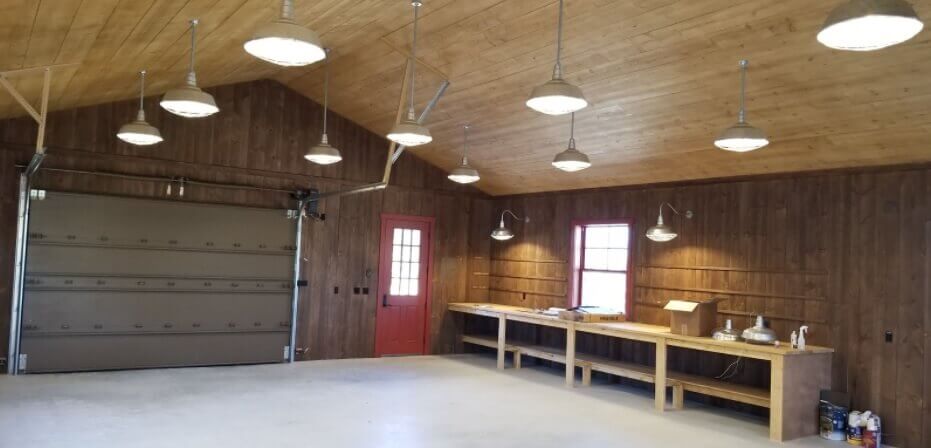 Ok, so you've heard all the details on how to light up your garage for arguably its intended purpose. But let's get real here for a second. 
The odds are pretty high that, at some point, your garage is probably going to fill up with a whole lot of stuff that, for whatever reason, you're just not going to know where else to put it. 
And that's fine! There's no shame in that, it happens to the best of us. But it's also why we're going to make this handy recommendation for some lights that might end up being fit for purpose. 
For us, being able to see the full scale of what you've managed to gather over time means getting a light that's going to make sure that everything is lit up brightly, making finding that one item in the pile all the more simple to finally locate. 
To that end, the light that'll change your life, and your happiness with your garage, has got to be the mighty Manhattan. Our largest industrial barn house style light will bring the brightness back into your garage and make it look easy doing it too. With a massive 20" diameter, this light is going to cast a huge beam of light that's illuminate everything in your garage cleanly and evenly. 
Again, much like all of our other lighting options, the Manhattan can be treated with a powerful powder coating that'll keep it safe from the elements while also making it into a stylish addition to your garage, rather than simply a fixture. 
Of course, not everyone has the ability to mount a giant light like the Manhattan, given that we often recommend you have at least 15ft of space between the ceiling and the floor to really bring out the best in the design. 
If you're looking for something similar, but without the hassle, then our resident chameleon-like option, the Carson, is equally capable and more suited to those without high ceilings.