Kitchen islands have been getting all the love and light, and we believe kitchen sinks deserve all the good stuff too! Come along, and let's show you how to brighten up this often-overlooked amenity!
Over the Sink Lighting
You've probably bedazzled your kitchen with different lighting elements, from the island to the countertops. But what about your sink? Have you considered designating a light fixture for your sink? While natural and ambient lighting do their jobs pretty well, you need an effective light fixture over the sink. For starters, the sink bears the brunt of all culinary tasks that occur in the kitchen — from dirty dishes to food bowls to cooking spatulas and what have you? The kitchen sink is home to most kitchen items.
On top of that, you spend a good amount of time doing dishes by the sink. Plus, an elegant lighting piece fitted over the sink will make a gorgeous statement and enhance the overall appeal of your kitchen. Here is your cue to set things right and make the most of your kitchen sink.
The Rule of Thumb
As with all lighting applications, over-the-sink lighting has its own set of rules:
Prioritize Water-safe and Rust-resistant Light Fixtures — Light fixtures fitted over the sink are exposed to water, so it isn't wise to install regular lights in this spot. Luckily, there are lights designed to withstand water exposure. For instance, steel lighting's light fixtures are powder-coated to minimize the damaging effects of moisture and keep rust at bay. Whereas everyday lights will rust as soon as they are exposed to water, these fixtures will maintain their quality for the longest time. So, keep this in mind when purchasing lights for your sink.
Sizing is Paramount — Ensure that the light hangs 30 to 40 inches above the counter when installing fixtures over your sink. It doesn't matter how big or small your kitchen sink is; you should apply this rule. You must also take stock of the height and style compared to the dimensions of your sink area. Otherwise, you won't get the ideal fit which might compromise the initial purpose of the overhead fixture. As such, ask the right questions or hire a professional to do the heavy lifting.
The Best Light Fixtures for Over the Sink
The Laurel
Detailed with modern elements and crafted to serve, the Laurel light has everything it takes to make your sink sparkle and shine. This spectacular work of art features a distinct design honed from 18-gauge solid steel and promises to outlast seasons. The Laurel was curated with the farmhouse in mind, but it is versatile enough to complement any style or choice of design. It is a statement-maker and an all-rounder. Besides the kitchen sink, you can install the fixture in the laundry room, hallway, or over kitchen islands and tables. And, of course, it is powder-coated to a rust-resistant and moisture-resisting finish!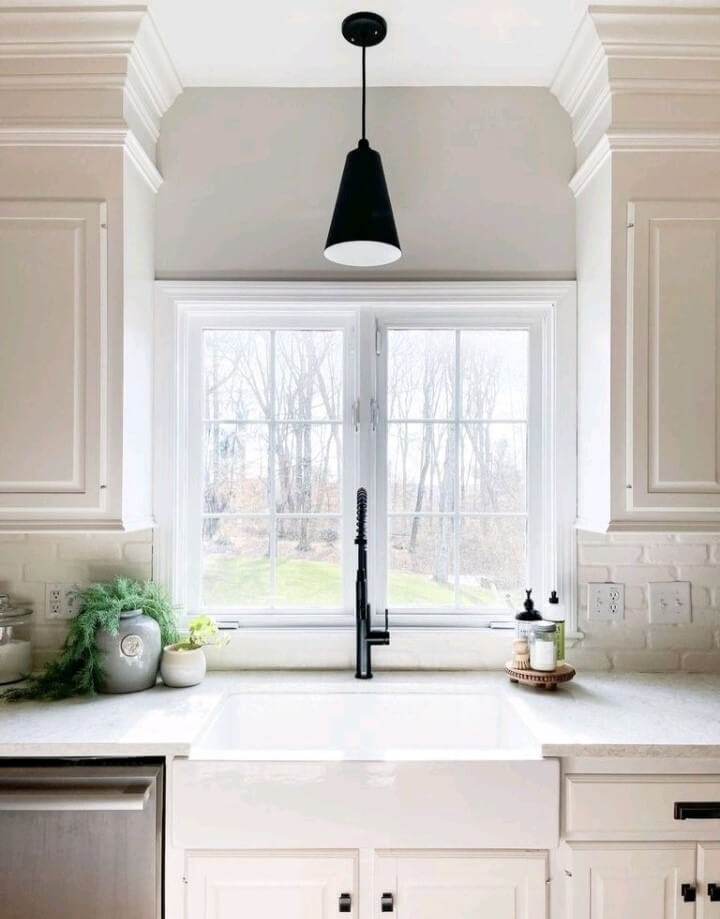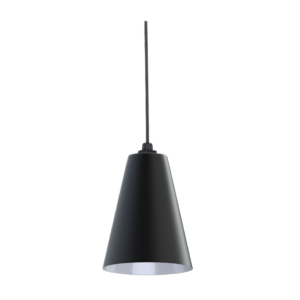 Laurel
$129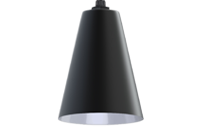 8.5" Dome
The Hawthorne
Comparable to a barn lighting sconce or hallway light, the Hawthorne is not your typical over-the-sink light. The hallmark of this fixture is its ability to highlight spaces and spots that matter, making it a fantastic choice for the sink department.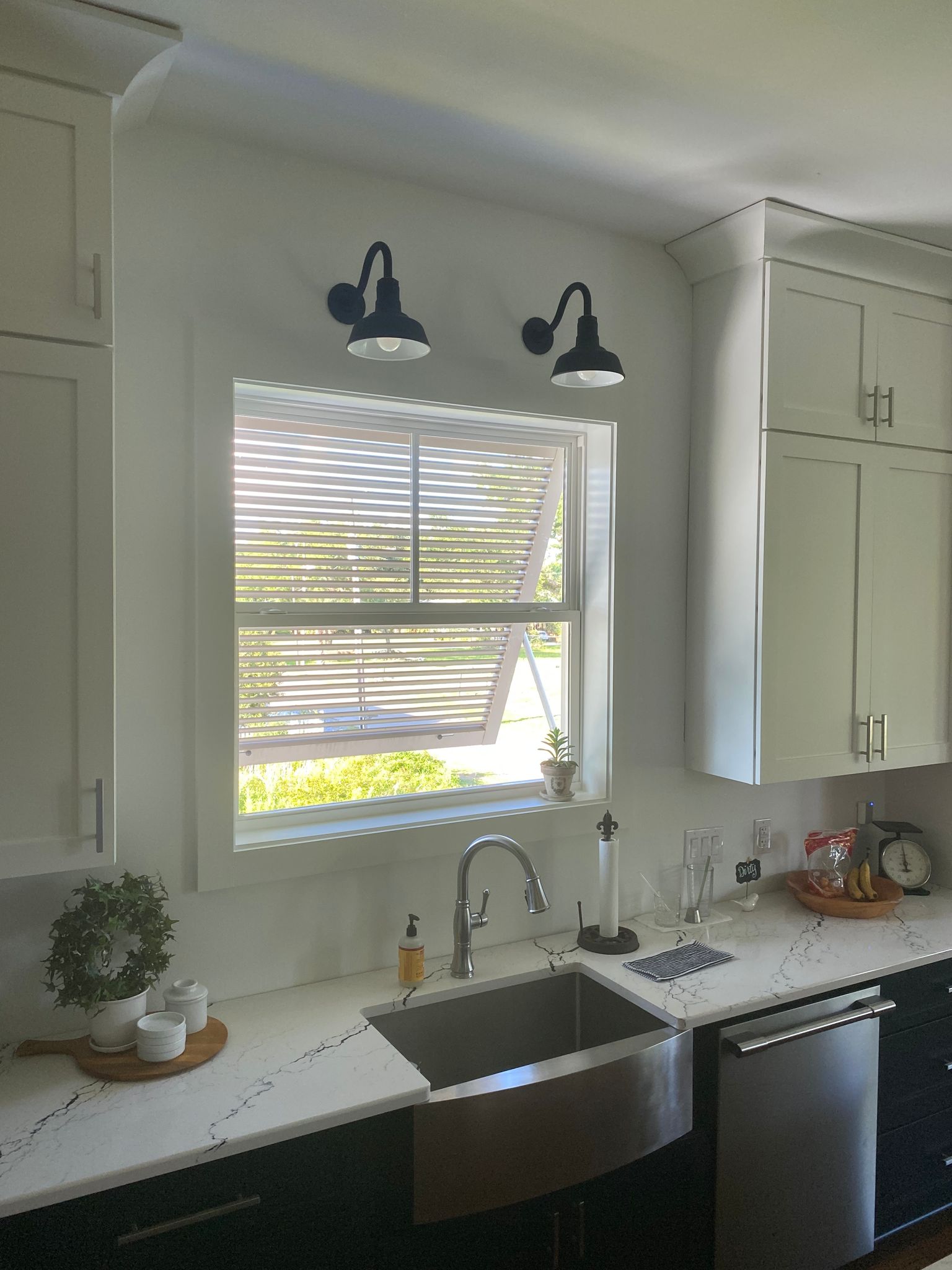 Though small, the 8" dome packs a punch in terms of beauty, character and function and will leave a lasting impression. Your sink area is sure to become the cynosure of all eyes. Plus, you will be happy doing the dishes while enjoying the glow of this truly valuable fixture.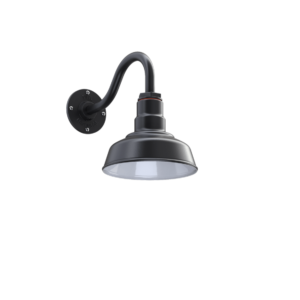 Hawthorne
$139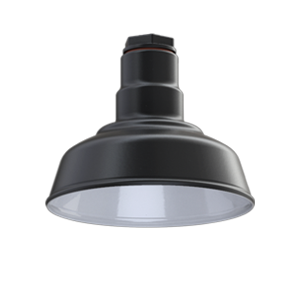 8" Dome
The Venice         
A wall-mounted light with a difference, the Venice is as charming and delectable as it sounds. The light from this fixture takes a backward direction to illuminate the surface it is attached to; hence, it is ideal for over-the-sink application. The small size belies its incredible strength; it is equipped with an angled 9" dome crafted from heavy-duty American steel and powder-coated to perfection. You can install more than one to harness its functional and decorative attributes.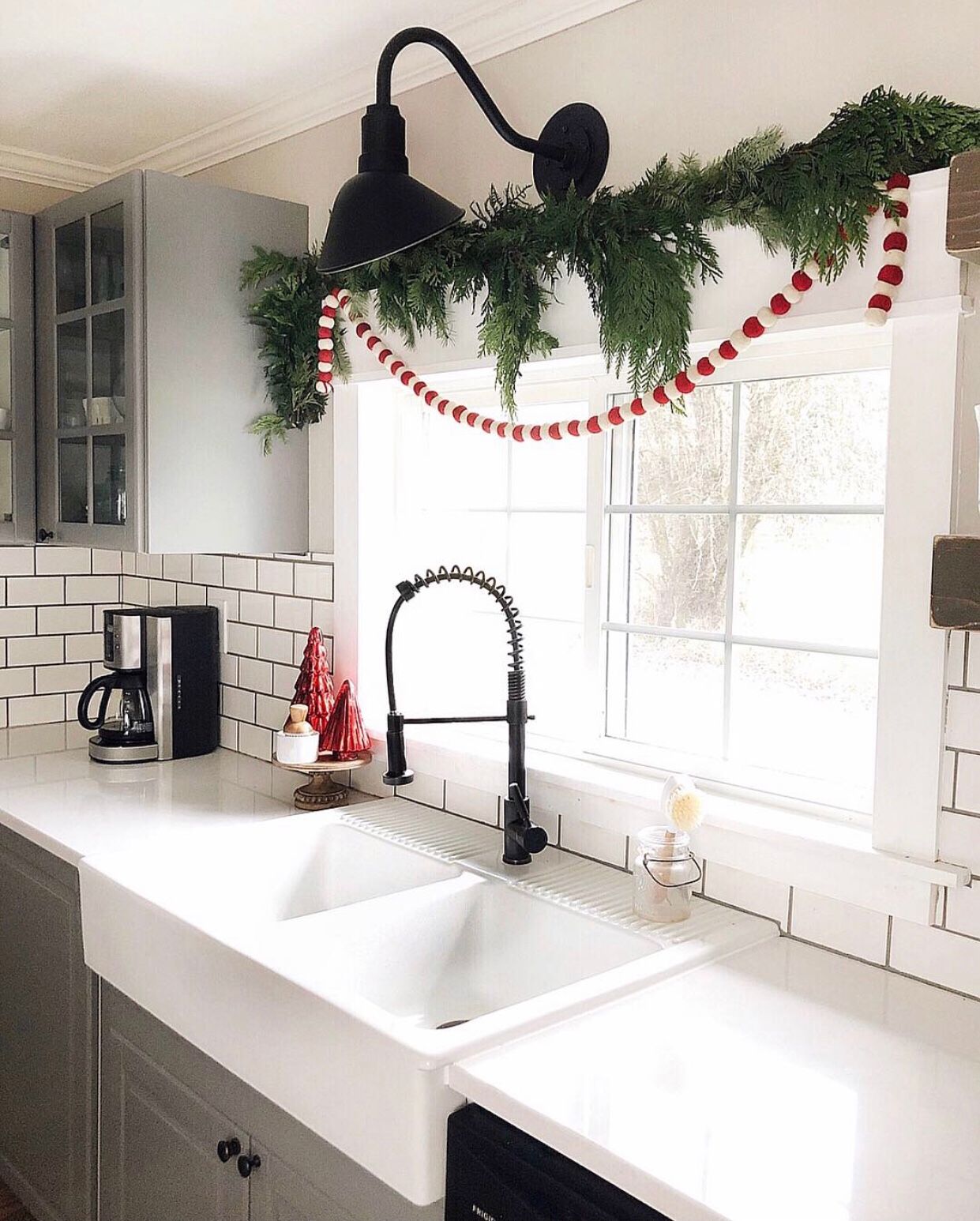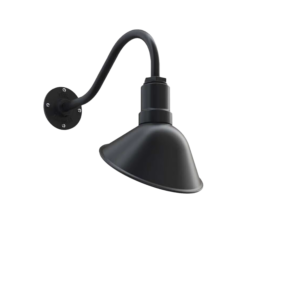 Venice
$149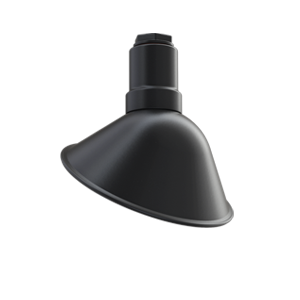 9" Dome
Other Fixtures and Elements to Consider
Recessed Lights
A contemporary fixture, recessed lights are a viable option for over-the-sink kitchen lighting. They are typically installed into the ceiling or wall to provide functional and visually-arresting illumination. The wiring and other electrical components are concealed within the wall or ceiling while the bulb glows from the opening. It is a good option for kitchens that lean toward minimalist designs.
Bronze, Brass, and Matte Finishes
If you want to incorporate a luxurious touch, consider fixtures featuring bronze, brass, or matte black finishes. These features are typically polished to a high shine and will blend in with or accentuate your already existing kitchen décor. The Laurel, Venice, and Hawthorne lights mentioned above come in matte black colors with a deluxe brass in-lay per request.
Flushed Mounts
Pendant and wall lights may not work well in some kitchens or appeal to your taste. In this case, flushed-mount ceiling lights are an excellent alternative. They are ideal for kitchens with shorter ceilings where pendants cannot be installed. These fixtures leave zero space between the ceiling and the light, which helps keep dust and debris away. They serve multiple purposes, including tasks and overall lighting. You can also use flush mounts to fill lighting gaps that uplights do not cover.
LED Bulbs
LED bulbs are renowned for energy conservation and longevity, and it is the perfect finish to a beautiful over-the-sink light fixture. Considering that over-the-sink lighting will regularly be used, it is a no-brainer to elect bulbs that save energy costs without compromising quality or function. You can choose warmer or cooler colors as you deem fit. The 8W LED bulb emits 2700k, the 12W LED supplies 6500k, and the 22W generates 6500k. The first generates a warm color, while the last two are cooler colors.
The Bottom Line
Over-the-sink lighting is an essential part of kitchen lighting, and it lends pizzazz to the overall space and makes your chores easier. The lighting market is replete with all shades and sizes of lights ideal for your sink area; thus, you have no excuse! Purchase one or two today and give your sink a facelift!