The farmhouse style is timeless, fresh, laidback, and inviting. It is an appealing fusion of the old and new with the most stunning lighting elements. Farmhouse ceiling lights are especially impressive, and in this article, we share some must-use ceiling light ideas for each and every room in your farmhouse.
Living Room: A Pop of Color
The living room is where all the action is! Living room lighting is like statement jewelry — It ties together the design elements in the room whilst highlighting major details. While farmhouse ceiling lights in traditional black and white colors are a timeless classic, consider a splash of color to brighten an otherwise bland space.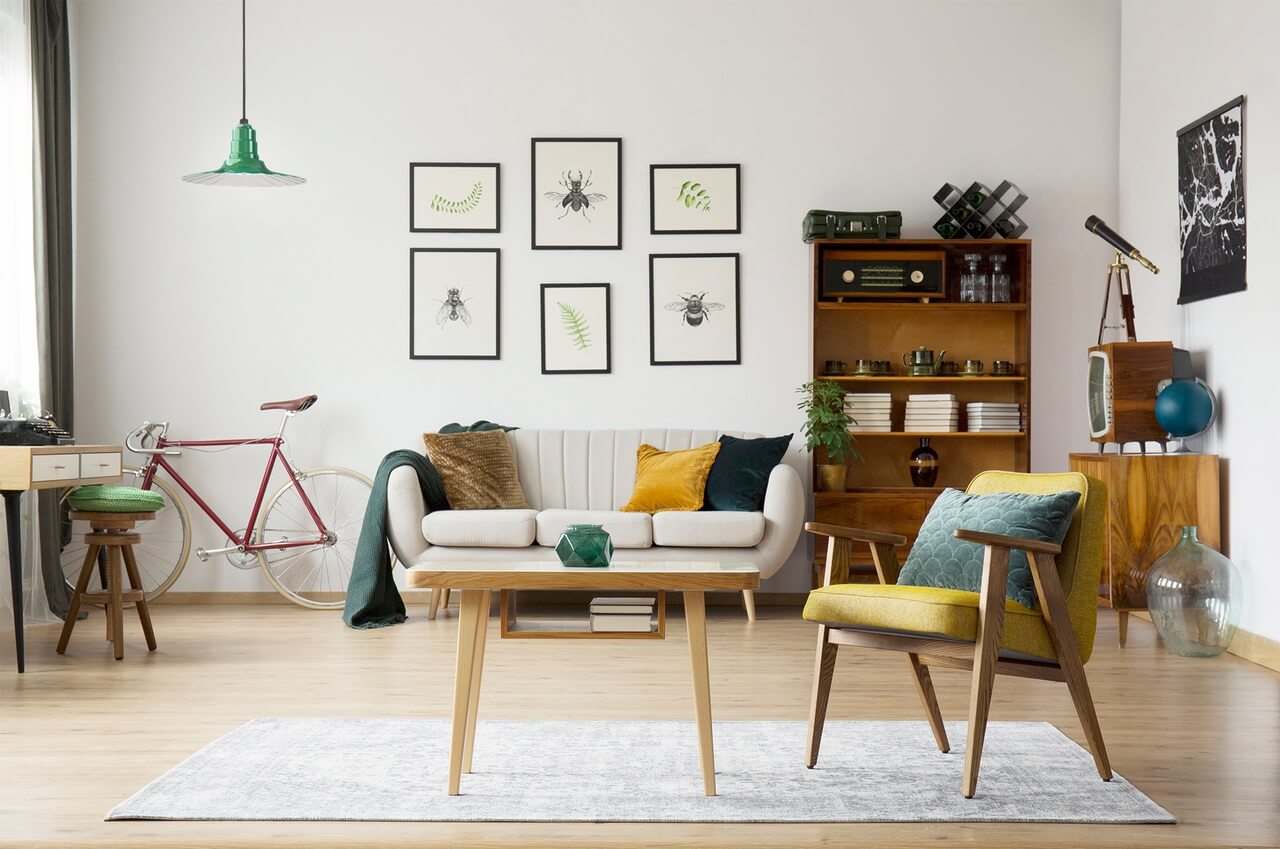 Our Eagle Rock farmhouse ceiling light in a refreshing shade of green promises to reinvent your family room. Enjoy conversations, movie nights, games, and what-have-you with this distinct look.
Kitchen/Kitchen Island:  Shades and Pairs
The importance of functional lighting in the kitchen cannot be overemphasized. While this may sound cliche, it is factual. The kitchen is a beehive of activity — lots of cooking, cleaning, washing, and even eating (The modern farmhouse kitchen has metamorphosed from an activity hub to a dining room). Considering everything in the farmhouse kitchen, quality lighting isn't up for debate.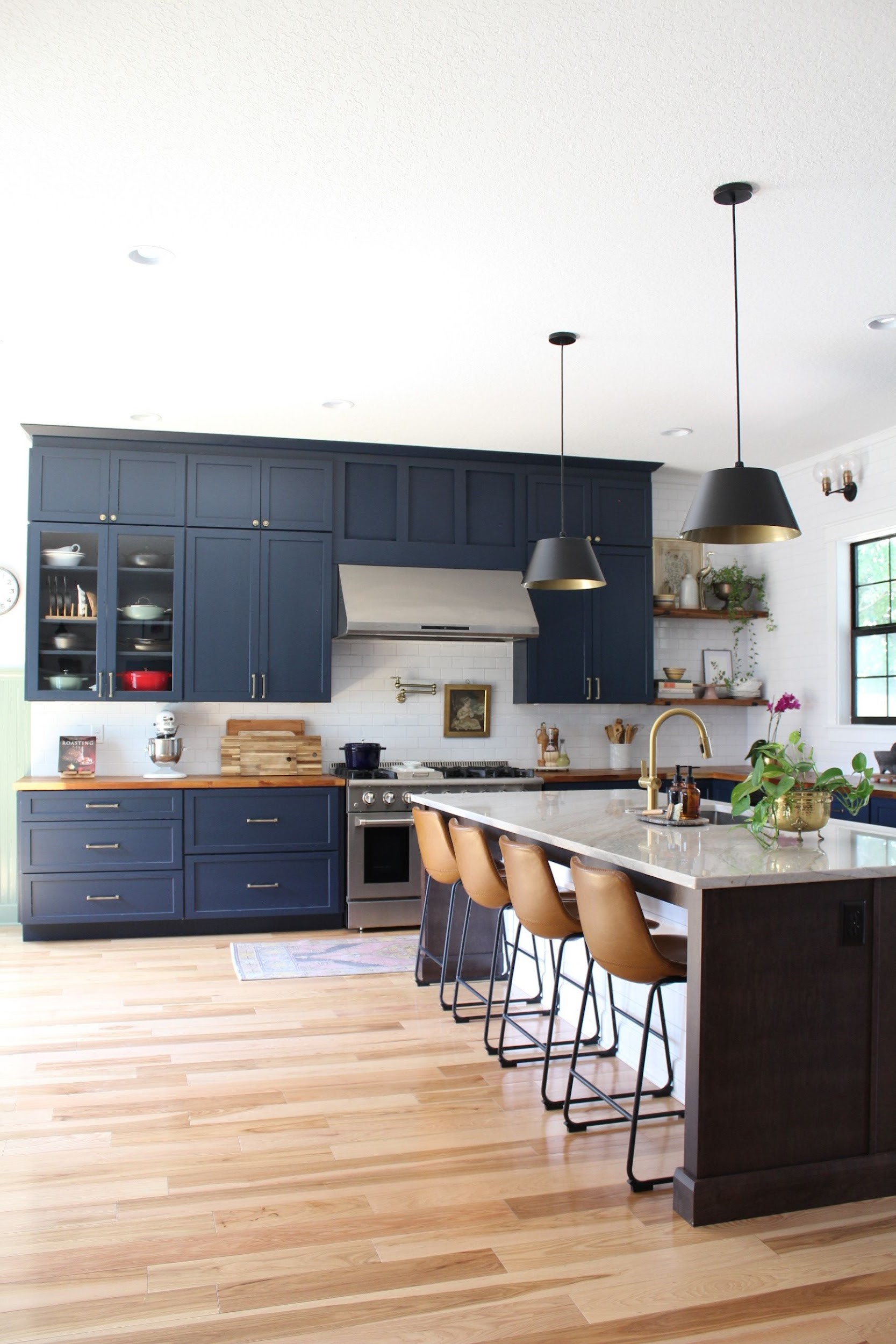 Our Magnolia light has a distinct empire shade with a brass inlay that weaves a tale of elegance, style and serviceability. If you are tired of the regular bowl-like farmhouse ceiling lights and want something different, here is your pick. And what's better than one? A pair! Furnish your kitchen island with a pair and watch the dazzling details enshroud your kitchen.
Dining Room: White Pendants are Flawless
Speaking of kitchens, we cannot help but peek into the dining room. Meals, drinks and beverages prepared in the kitchen end up in the dining room. And if your farmhouse kitchen isn't outfitted with a dining room in tow, chances are you have a separate room that serves this purpose. If this is the case, you need superior-quality lighting to share hearty meals and soul foods with your friends, family and loved ones.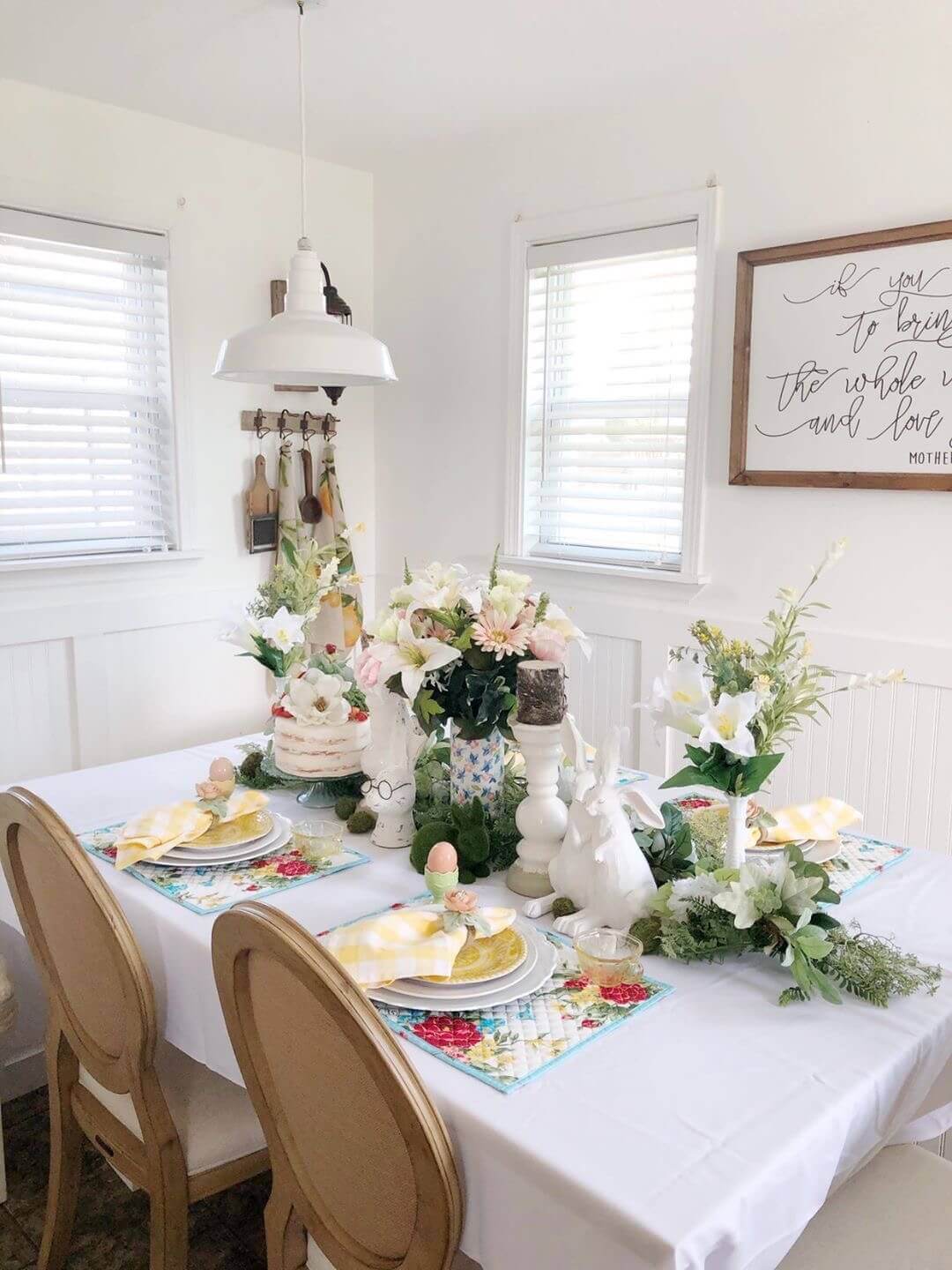 It is a shame that most interior designers and homeowners scarcely pay attention to dining room lighting, but you can be an exception to the rule. And, of course, we have the perfect lighting idea to set the mood for your meals. The Carson farmhouse ceiling light in pristine white is the light in question. It doesn't matter if you have white or neutral walls; this pendant will work magic in your dining room.
Bedroom: Flush and Shine
At the end of a long day, you want to retire to a welcoming bedroom that cushions your fatigue in a soft glow of light. Elements like the bed, sheets, and walls come together to create a sanctuary for the night and a warm haven for the day. But without proper lighting, these elements are simply round pegs in a square hole.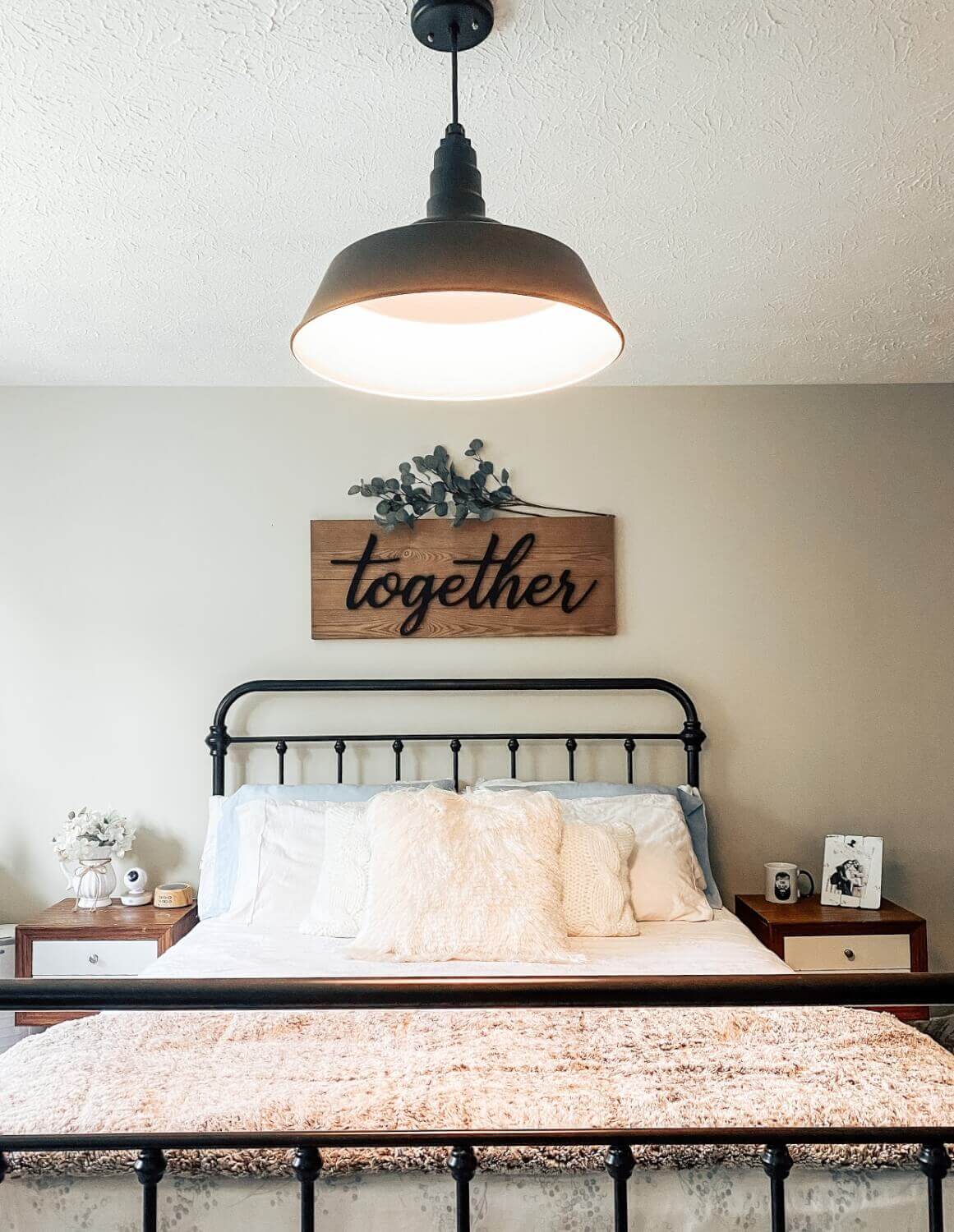 For the farmhouse bedroom, a flush mount like the Manhattan light creates a rustic permanence that fuels the farmhouse aesthetic. Bathe your room in a soft, warm, glow that will instantly lull you to sleep or heighten your reading experience. As far as farmhouse ceiling lights for bedrooms go, this one is a trusted pick.
Laundry Room: Beauty and Brass
The laundry room will probably be the least of your concerns when considering lighting ideas for your farmhouse. But NEWSFLASH; the laundry room is as important as any other room in your farmhouse. It is a utility room, which means you need functional elements like lighting to enhance its function. We have just the right lighting idea for your farmhouse laundry room.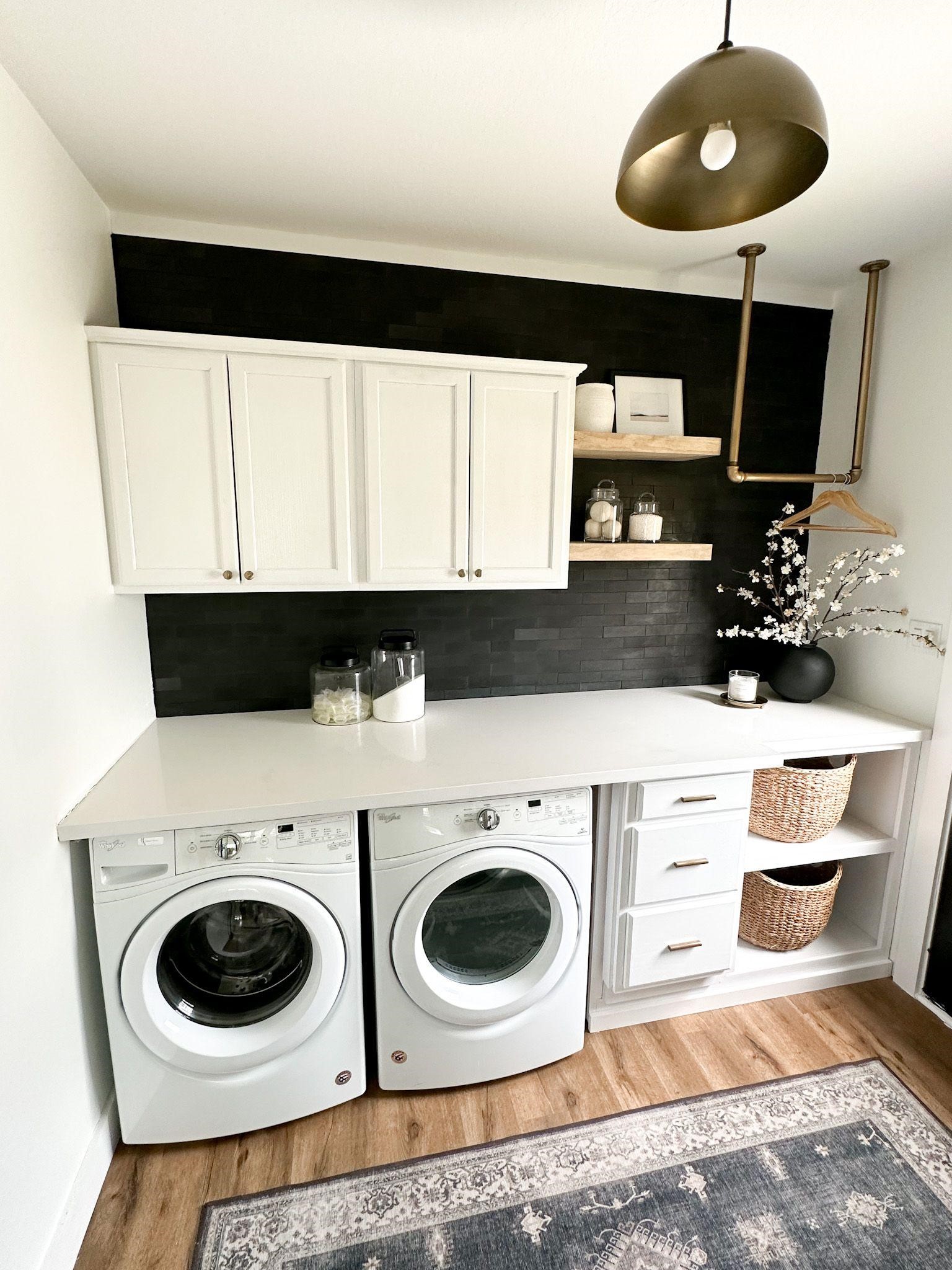 Not to undermine the value and quality of popular farmhouse ceiling lights outfitted in matte black or polished finishes, but have you seen the beauty of a brass-finished ceiling light? Take a look at our Brentwood ceiling light in brass and you will understand why your laundry room deserves something out of the norm.
Bathroom: Matte Black for the Vanity
Farmhouse ceiling lights for farmhouse-centric bathrooms are driven by function. But who says you can't have a little fun with your bathroom lighting? A wall-mounted fixture can deliver ambient lighting to aid utility. But your vanity where makeup, shaving and other personal care get done, screams for a pendant.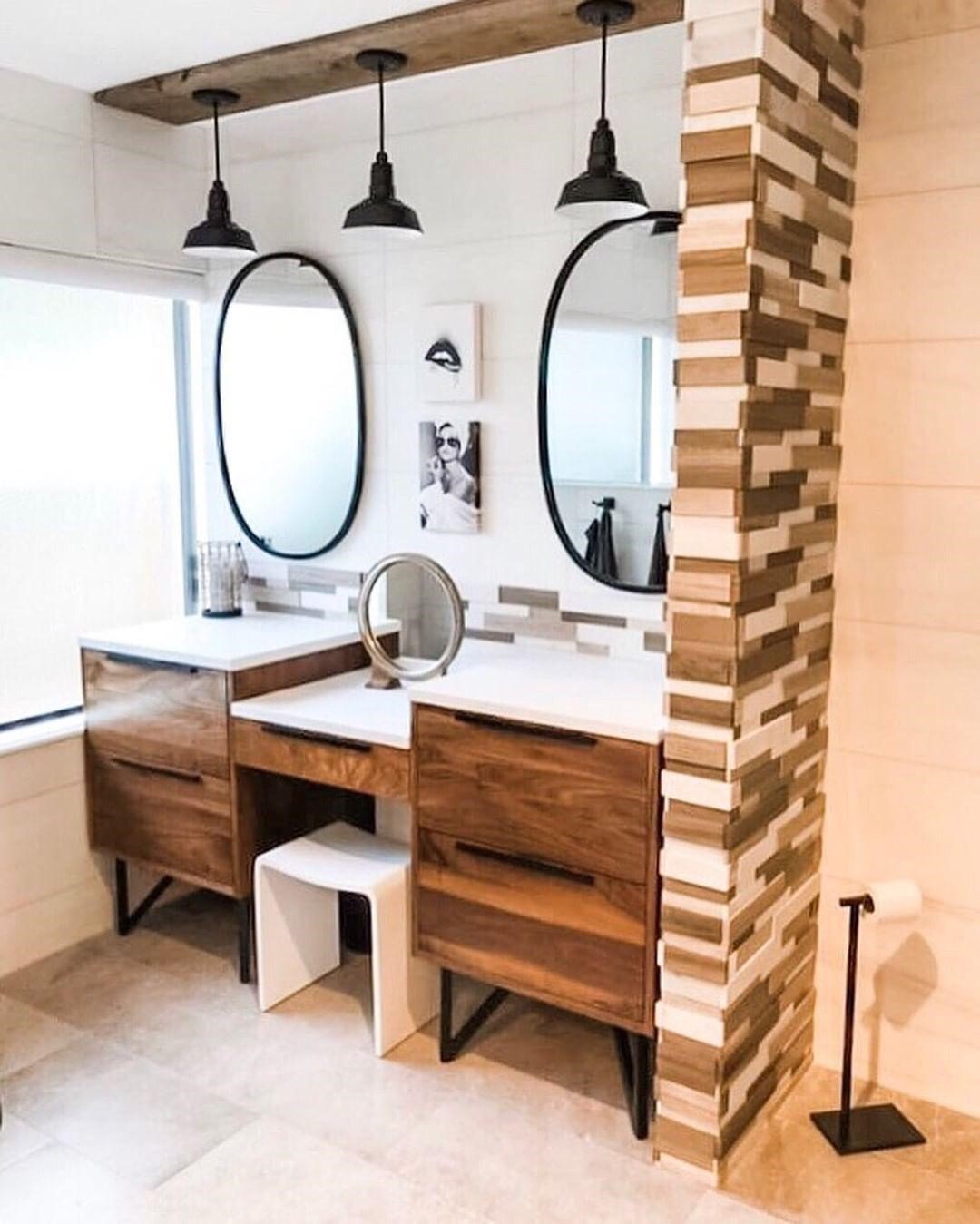 And not just any pendant but the Inglewood matte black fixture. Whether your vanity features woodwork or is sleek and posh, you can't go wrong with a matte black pendant polished to a gleam. Take a cue from the bathroom vanity below and opt for three shades!
Final Thoughts
Each room in a farmhouse has rights to quality and functional ceiling lights. We've put together an impressive list of farmhouse ceiling lights that blend beautifully with the design elements of your carefully-curated farmhouse space. Your living room can do with a splash of color; your kitchen will appreciate a pair of empire shades with brass inlay. White pendants bring refreshing purity to your (dining table).
A well-positioned flush mount in your bedroom raises a toast to the rustic roots of your farmhouse-inspired bedroom. Matte black shades for your bathroom vanity is something you will never regret. And finally, brass looks incredibly beautiful in any farmhouse laundry room. The bottom line is there is no shortage of farmhouse ceiling lights to bring your farmhouse design to light!