Explore the enthralling elegance of farmhouse vanity lights and redefine the aesthetics and ambiance of your home. We've put together a well-detailed guide to lighting up your vanity with light fixtures that shine and serve.
The Need for Farmhouse Vanity Lights
In today's era, modern and rustic design elements are combined to create a dazzling but practical effect. This characteristic encompasses all parts of the modern farmhouse design, including the bathroom and bedroom vanity.
Farmhouse vanity lights offer the best blend of functionality and style. They can transform, re-invent, and reimagine your vanity space. So whether you want to add a touch of warmth to your bathroom or create a relaxed atmosphere in your bedroom, you can start by installing superior-quality farmhouse vanity lights. Let's delve into the fascinating world of these distinct light fixtures and discover delightful ways to use them.
The Beauty of Farmhouse Vanity Lights
1. Creates an Inviting Atmosphere
One of the biggest benefits of farmhouse vanity lights is the stunning effect they create. They emit a soft, diffused glow that lends a warm and welcoming ambiance to your space. Whether you are dressing up in the morning or winding down in the evening, the gentle illumination delivered by these fixtures creates a soothing and relaxing effect that promotes self-care and aids productivity.
2. As Versatile as Can Be
Farmhouse vanity lights have a wide range of placement options and purposes. Though they are traditionally used in bathrooms to flank mirrors and vanities, these fixtures have evolved — they are no longer limited to the bathroom and have made their mark in other areas of the farmhouse. Homeowners and interior designers have creatively incorporated these fixtures into bedrooms, living rooms, entryways, hallways, dining areas, and everywhere in between. Thanks to their versatility, you can try out different ways to use the fixtures to craft a cohesive and harmonious lighting scheme across your home.
3. Offers Practical Functionality
If you are looking for functional lighting to support your everyday rituals, look no further than farmhouse vanity lights. They enhance the aesthetic effect of your home and provide practical functionality for your daily use, from applying makeup to grooming to performing skincare routines. In addition, because they are positioned around mirrors, you'd have well-distributed and optimal illumination to execute and complete your tasks.
4. Adjustable and Customizable Lighting
There are times when you want your light to complement your mood or interests — and this is where adjustable lighting plays a significant role. Farmhouse vanity lights are compatible with various adjustable fixtures such as dusk to dawn sensors, dimmable bulbs, and LED bulbs. Thus, you can customize the light according to your unique interests. For example, you can customize the intensity of the light to suit your mood (whether you want a bright or relaxed atmosphere), use dawn to dusk sensors for convenient operations,  and use LED bulbs to reduce your energy consumption and save costs on utility bills.
Our Top Picks
1. The Lawndale
The Lawndale vanity light is your quintessential mirror light that does justice to the aesthetics of your bathroom or bedroom. You get five color combination options and three mounting styles to set your creativity ablaze. It is a unique vanity light unlike any you've ever seen. And it is not just about its stunning beauty; you can use this for years without issues.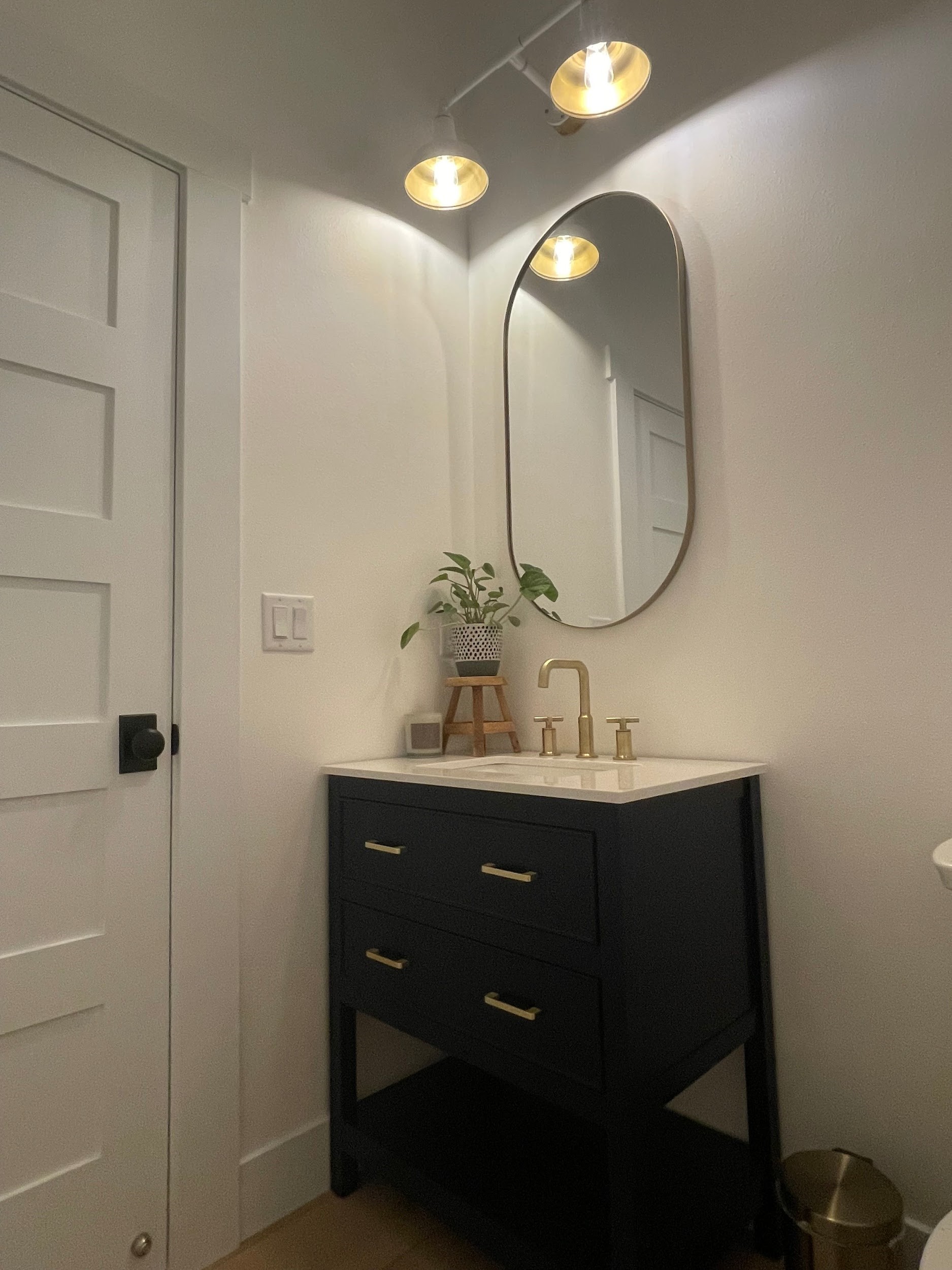 2. The Hawthorne
Whether galvanized or in matte black, the Hawthorne is one light fixture that promises to reinvent your vanity. It is a cute little sconce that is full of character and function. It comes standard with an 8" dome and can be adapted to suit different purposes. Though small in size, it makes a bold statement.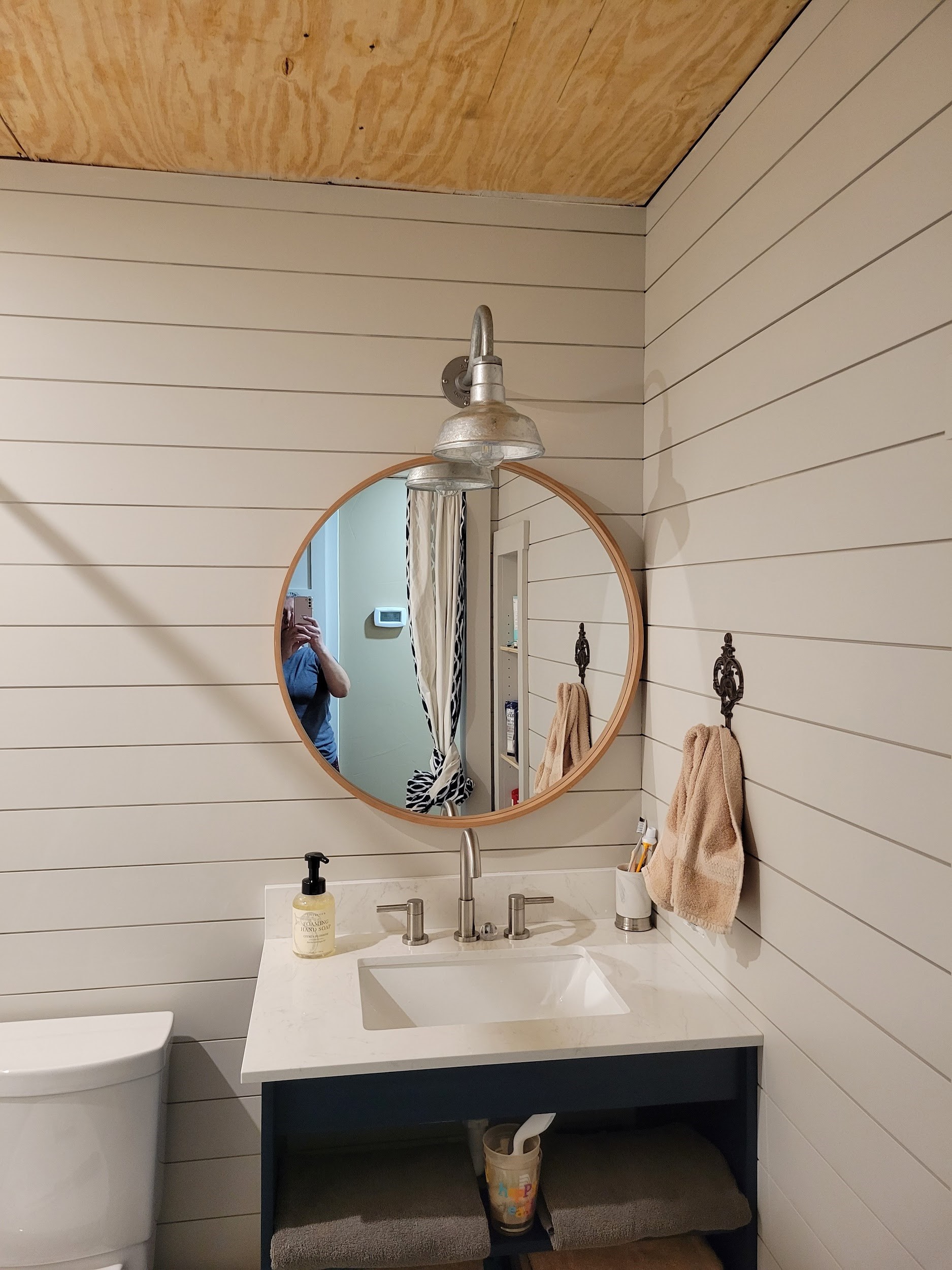 3. The Hollywood Bowl
The Hollywood Bowl is just like it sounds; a statement light fixture fashioned in the shape of a bowl. It is a sturdy fixture with a 15" wide and 12" tall dome. You may have your reservations about using such a large-sized fixture for your vanity, but this one is full of surprises. So get creative and craft a vanity look that is far from the ordinary.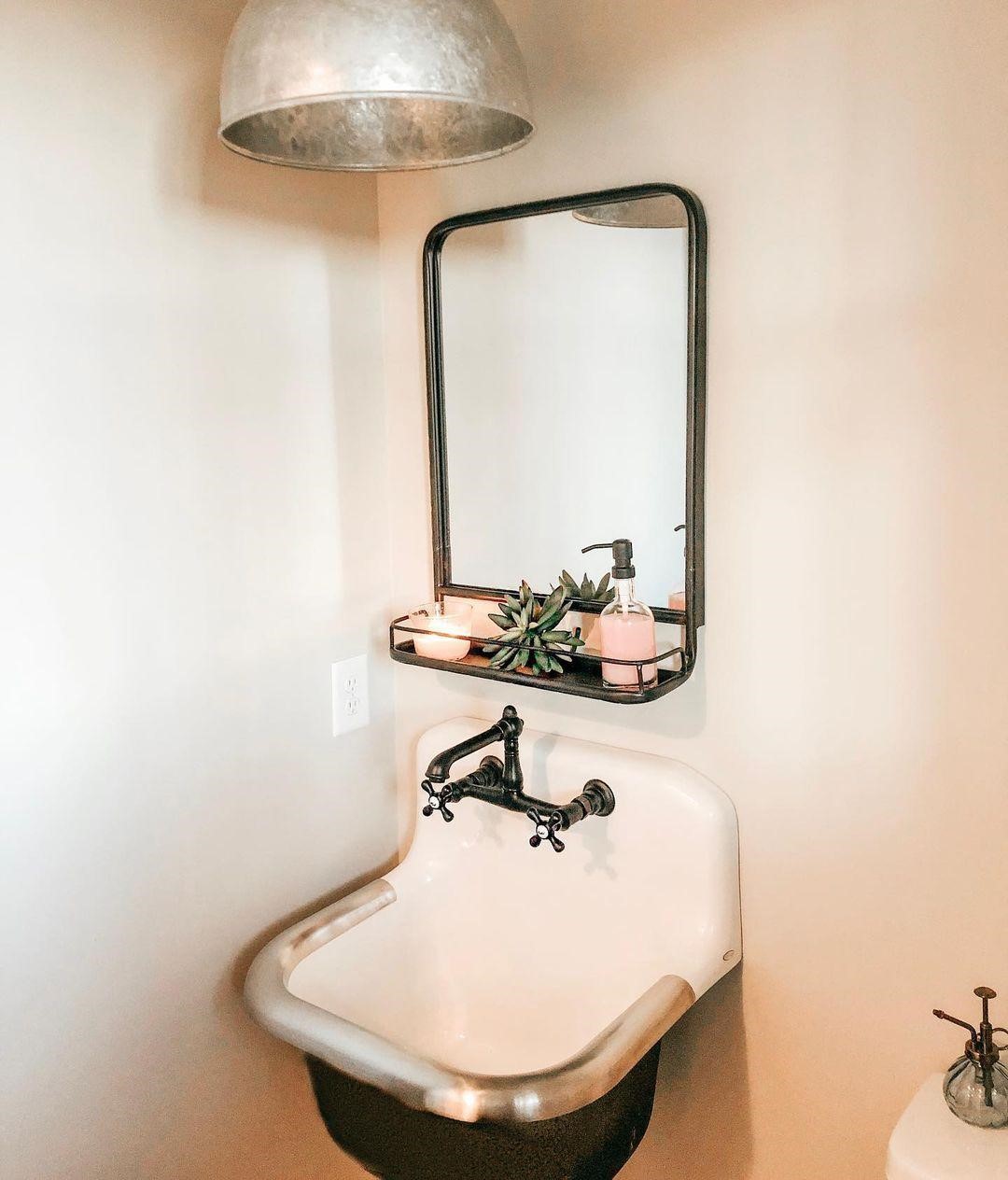 4. The Westchester
As far as farmhouse vanity lights go, Westchester is a popular choice. It is a flexible, medium-sized, industrial wall light ideal for all vanity types. It is available in a standard 12" dome with different mount options. One thing is for sure; this light fixture will add value to your daily routine.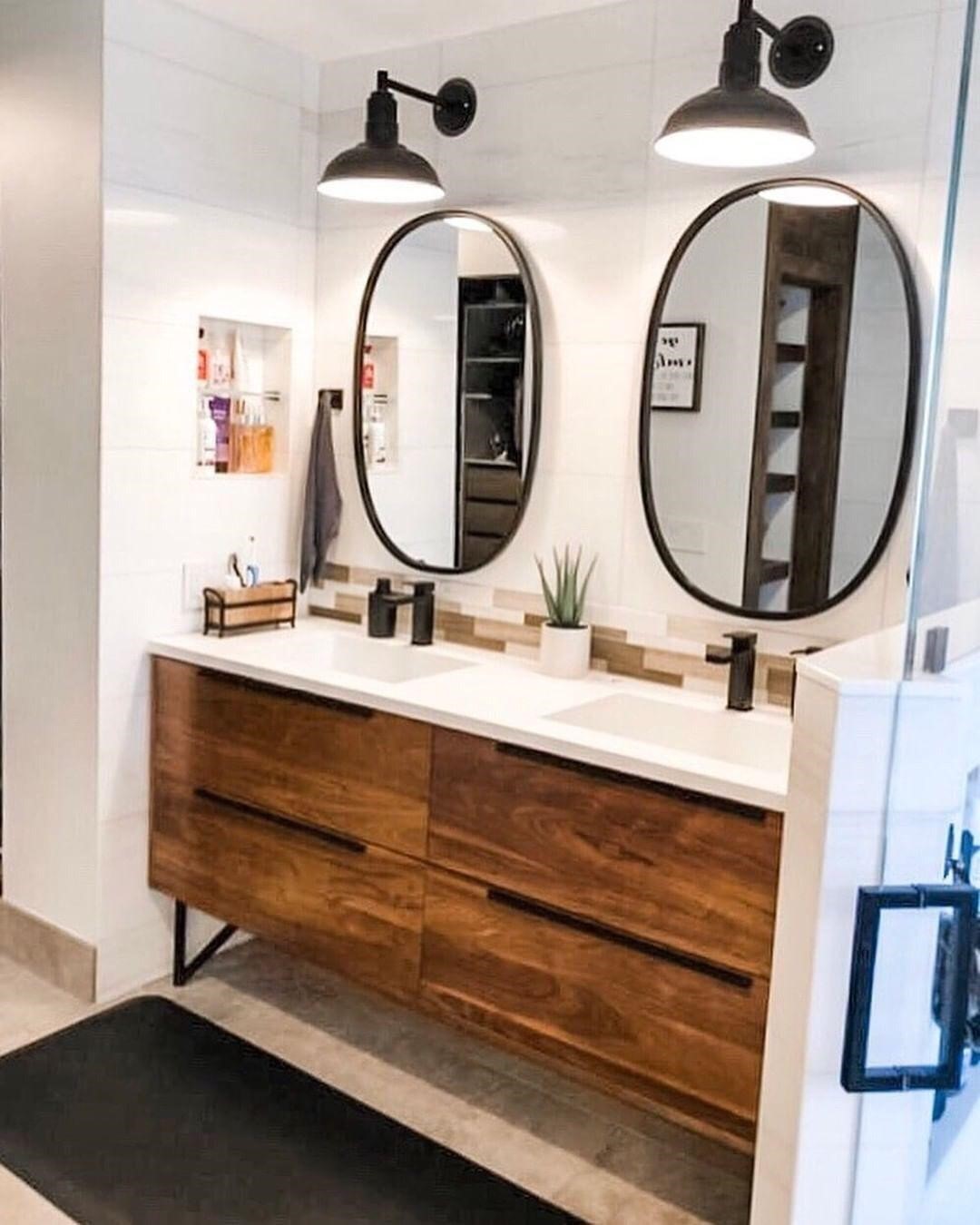 5. The Topanga
Consider the Topanga light if you want a vintage-style vanity light to tie your farmhouse decor together. As with all our lights, it is handspun from heavy-duty steel and powder-coated to enhance its durability. Accentuate your vanity with this charming rustic light and embrace aesthetic functionality.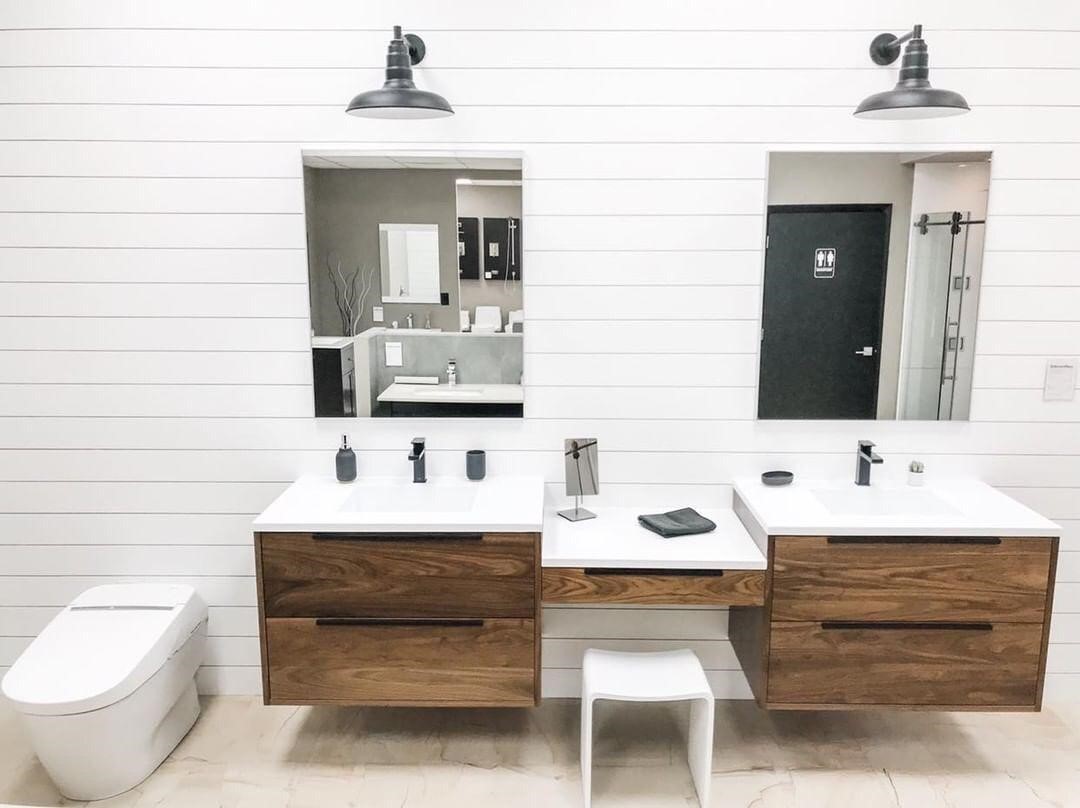 Choosing the Perfect Farmhouse Vanity Lights
1. Take note of your Existing Decor.
When selecting farmhouse vanity lights for your space, consider your existing decor. Note the overall design scheme of your space, such as textures, materials, color palette, and other design elements. If your home is modern and sleek, consider vanity light with minimalistic or contemporary details.
On the other hand, if your space screams rustic, opt for vanity lights with distressed finishes, galvanized lighting, gooseneck mounts, and other vintage-inspired lighting. By blending your vanity light with your decor, you can create a cohesive and visually-arresting ambiance.
2. Evaluate the Space and Lighting Requirements
Before choosing a farmhouse vanity light, assess your vanity and the space to determine its lighting needs. Consider the area's size, the ceiling's height, and the wall dimensions. By doing this, you can accurately determine the placement and appropriate size of the fixtures that will fit into the space.
3. Explore and Explore and Explore
Farmhouse vanity lights come in different shapes, sizes, and configurations. Thus, you have a broad selection of fixtures to choose from. However, don't limit your options — check out the different offerings to find the best fit for your space and vanity. There's no shortage of options, from wall sconces to pendant light fixtures to multi-light vanity fixtures. Take all the time you can muster to explore catalogs and discover the multifaceted beauty of farmhouse-centric vanity lights.