Looking to upgrade your outdoor farmhouse space? Discover the latest hacks and fashions in outdoor wall lighting. Then, keep reading and gain expert advice on crafting a welcoming and aesthetic exterior with trendy outdoor lighting pieces!
Lighting that Serves and Shines
Lighting is a critical component involved in outdoor architecture. While there are different shades and grades of outdoor lighting, few choices are as versatile and trendy as outdoor wall lighting. These light fixtures range from sconces to statement pieces that deliver functional illumination and aesthetic advantage.
Outdoor wall lighting is at the heart of the farmhouse design's blooming popularity. There's something to be said about these eye-catching and memorable fixtures that light up exterior spaces and leave a lasting impression on the minds of all and sundry. What's more, these fixtures are ever-evolving, with new trends surfacing by the season along with timeless classics.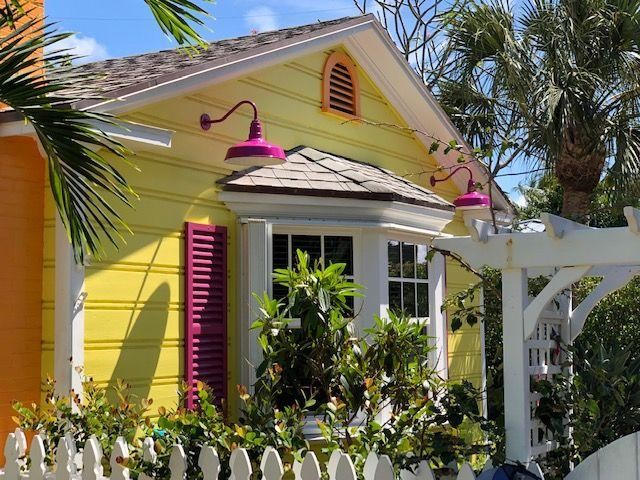 Homeowners and lighting enthusiasts must stay on top of the trends and learn all the tips they can to furnish their farmhouse architecture with functional, sustainable, and picturesque lighting. That said, let's turn on the lights and see what we find.
Choosing the Right Style of Outdoor Wall Lighting
The first rule of thumb is to select the finest fixtures the market offers — that complement your outdoor framework. If you don't do your homework, you may end up with round pegs in a square hole. But not to worry, here are fail-proof tips you can rely on to choose the perfect style of outdoor wall lighting for your farmhouse :
Evaluate the Architectural Style of your Farmhouse
First, take a good look at the structural design of your farmhouse. If your farmhouse is more modern than vintage, you should opt for outdoor wall lighting with minimalistic details and clean lines. But if it leans towards rustic, consider rustic fixtures like barn or brass barn lights.
Consider the Purpose
What do you intend to use your outdoor space for? Or what are you using it for? These questions should be at the forefront of your mind when selecting fixtures for your farmhouse exterior. If you have a small patio and want to create a cozy ambiance, consider understated pieces with great character. But if you want to furnish your large backyard with practical lighting, invest in large fixtures that provide plenteous illumination such as the Redondo.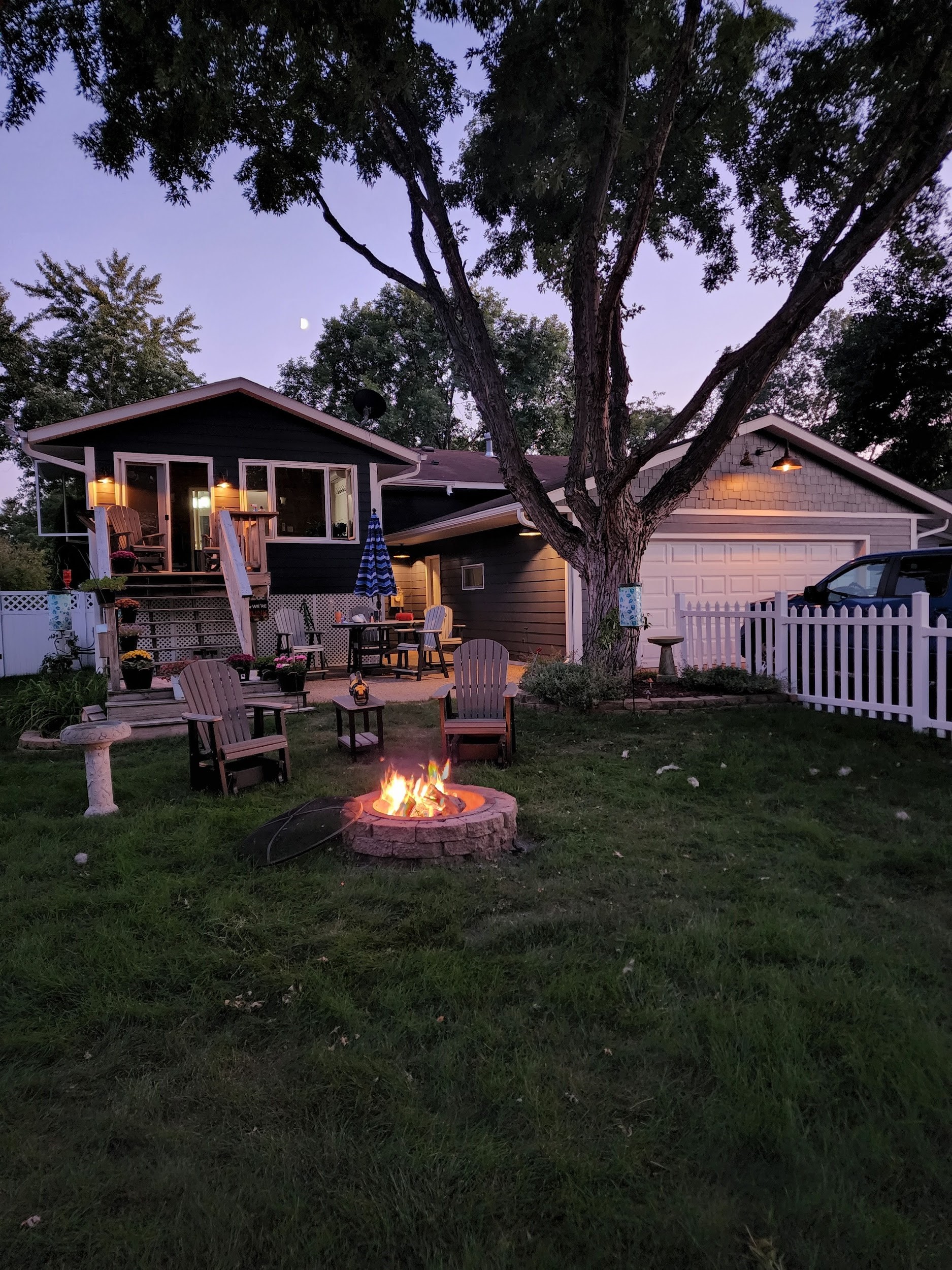 Overall, your choice and style of outdoor lighting should be more subjective than objective. Don't just pick what is in vogue; choose what appeals to your tastes and makes you happy. Plus, always combine form and function — do not downplay aesthetics for practicality and vice-versa.
Placement Tips for Outdoor Wall Lighting
Here's the thing; where and how you position your outdoor wall lighting significantly affects the outcome. The proper placement is crucial to achieving the right blend of form and function. So, whether your goal is to highlight structural details or create a sensational ambiance, keep these placement tips in mind:
Firstly, consider the height of the fixture compared to the space. Here is a proven formula used by designers; install at a height of 66 to 72 inches from the ground. This ensures an even distribution of light across all surfaces and angles.
Secondly, consider the distance between one fixture and another if installing multiple outdoor wall lights. Give considerable space between each fixture to achieve a cohesive look. The formula is 6 to 8 feet apart.
Lastly, consider the intended use of the space. For instance, if there's a dining or seating area on your patio or balcony, install a fixture or two above these areas for functional illumination. But if you'd like to accentuate artistic details, install accent wall lights for this purpose.
Outdoor Wall Lighting Trends
Now that you've learned some helpful tips, let's delve into the trends!
Oversized Fixtures
This timeless trend has resurfaced repeatedly and for all the right reasons. Larger-than-life fixtures like the Westchester and the Gardena make a bold statement and are ideal for larger outdoor areas.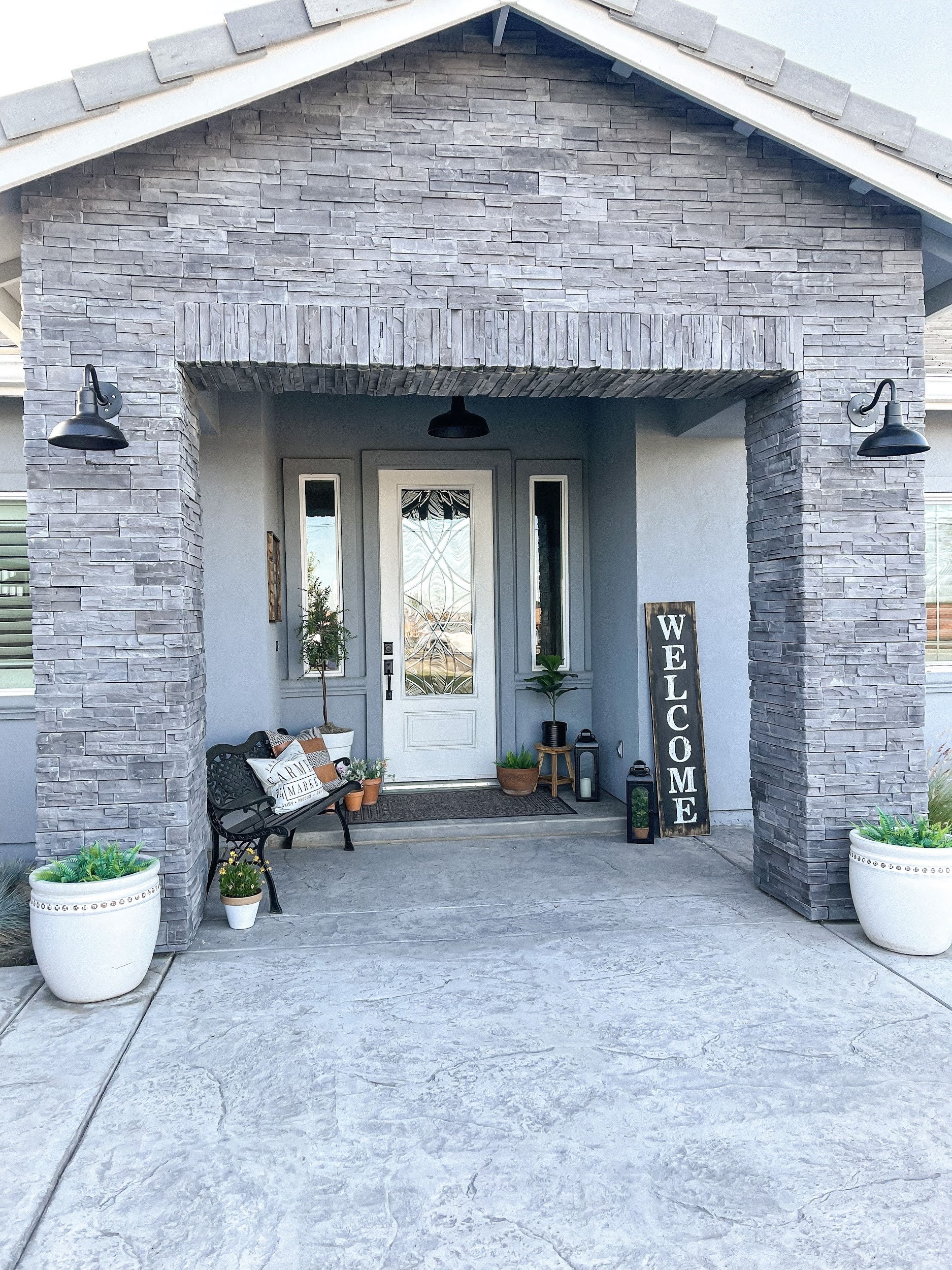 They come in different fits, shapes and aesthetics to satisfy various farmhouse architectural designs. These fixtures can make your room look and feel bigger than it actually is!
Sustainable Options
Sustainable lighting choices such as LED bulbs and low-voltage fixtures are steadily replacing outdoor wall lights crafted from organic materials. In addition, these lighting options are energy-efficient and high performing.
LED bulbs deliver the right balance of illumination without harsh glare and shadows, while low-voltage lights convert standard 120-volt household current to lower voltages, such as 12 volts. Thus, it uses less energy to produce the same amount of light by operating at a lower voltage.
Smart Technology
Innovative technology has been getting lots of press in the lighting industry lately, and outdoor wall lighting is one of the top beneficiaries. Technology-driven lighting systems such as dusk to dawn lights and dimmers, smart switches and bulbs — prioritize convenience without sacrificing functionality. These lighting systems allow consumers to schedule their lights, automatically turn on and off lights, adjust brightness and change light color from the comfort of their phones and smart screens.
Smart lighting is especially beneficial for outdoor lighting in terms of security and accessibility. For example, some fixtures may be mounted high up on a wall and may not be easily accessible — however, you can control these fixtures by tapping your phone screen or allowing sensors to do the heavy lifting for you (in the case of dusk to dawn lights).
Brass, Black and Warm Finishes
Lighting experts have lauded the appeal of brass, black and warm finishes in outdoor lighting applications. And it's not hard to understand why! Brass finishes lend an exquisite yet vintage touch to wall lights.
Black finishes, such as our matte black applications, are a stunning beauty to behold. A practical example is the Topanga gooseneck barn light in matte black (pictured below). At the same time, whites and warm grays deliver a subtle yet arresting effect.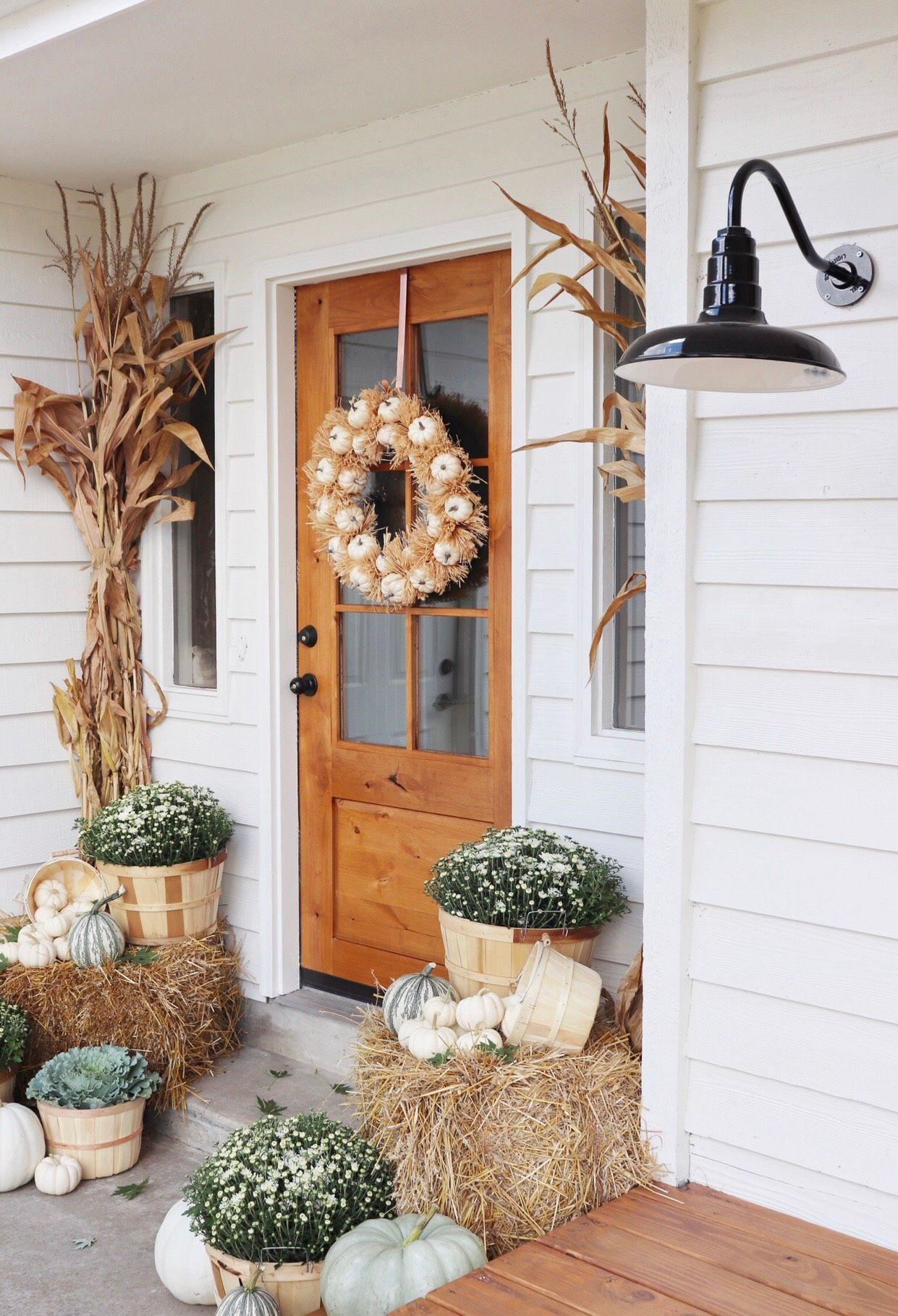 And there goes the best outdoor wall lighting tips and trends for the design-conscious farmhouse owner and decorator. Hopefully, you find this helpful for your next lighting design project. So don't hold back; apply these tips and trends for the ultimate outdoor look and feel!