There are several factors at play when it comes to selecting the best dining room light fixtures. One misstep can lead to less-than-expected results; hence, it is important to play your cards right and secure the best light fixtures for your dining room. Here's a detailed and reliable guide to show you the ropes!
Factors to Consider When Buying Dining Room Light Fixtures
Size, layout, style, color scheme, and overall ambiance/aesthetics are the influential primary factors that you should take stock of when shopping for dining room light fixtures.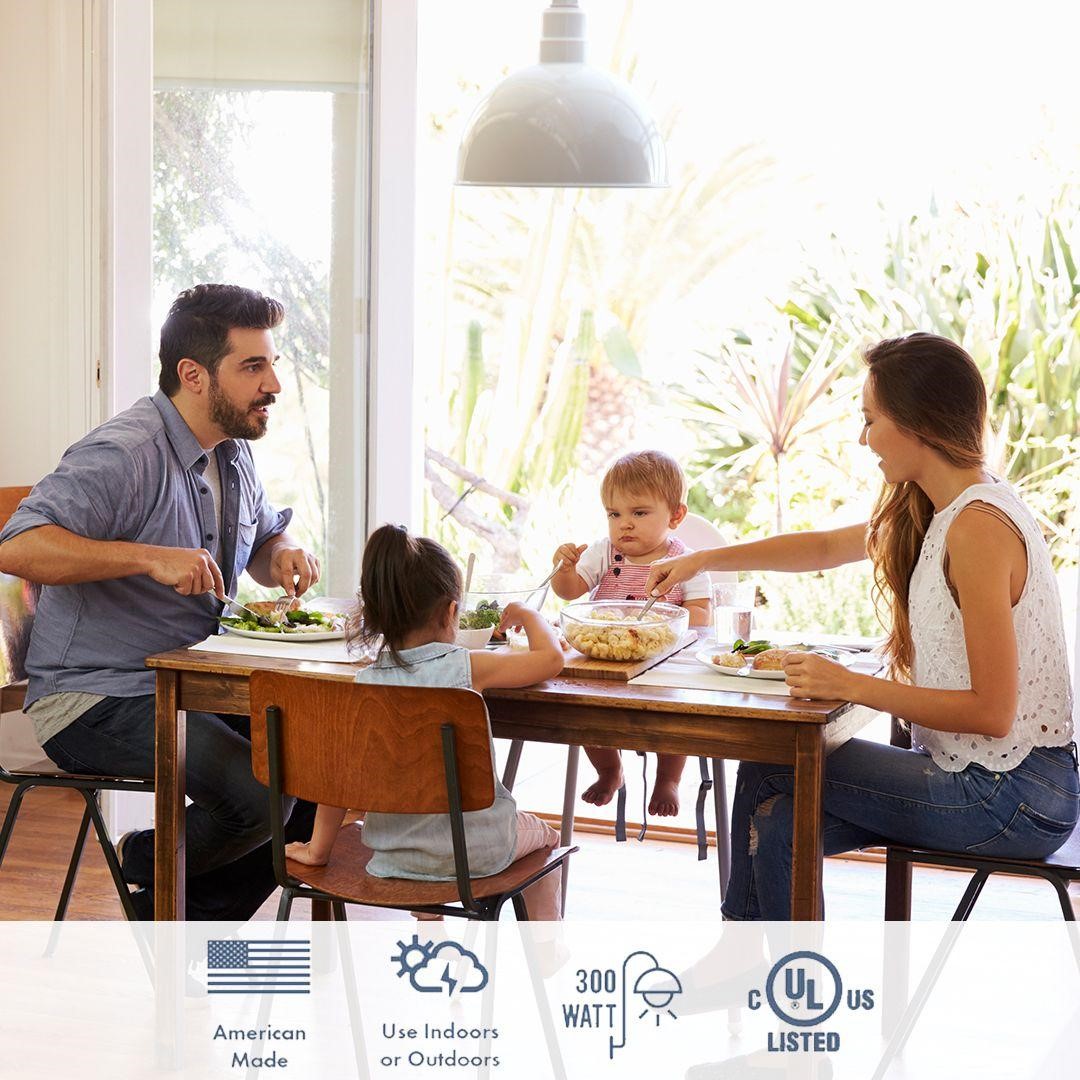 1. Size
The size of your dining room is a crucial component that determines the functionality and style of your intended dining room light fixture. A fixture that is too small for comfort will provide inadequate illumination, whereas an overly large fixture will overwhelm the area. Pendants and chandeliers are the perfect fit for larger dining rooms, while flush or semi-flush mounts are better suited to smaller dining rooms.
As a rule of thumb, you should measure the length and width of your dining table and select fixtures that are approximately one-half to two-thirds of the table's width. As such, the fixture will be proportional to the size of the dining room — providing well-balanced illumination and aesthetics. You should also take stock of ceiling height, especially in dining areas with high or vaulted ceilings. If the ceiling is quite high, consider taller light fixtures to complement the height.
2. The Layout
Once you've determined the size of your dining room, consider the layout. Some dining rooms are attached to other living spaces, like the living room and kitchen (open-plan structures), while others exist separately. If you have an open-plan dining room, choose a light fixture like the that sets off the overall style of the space — do not stray from the original design; rather, choose the same design elements for your light fixtures as your dining area and its shared space.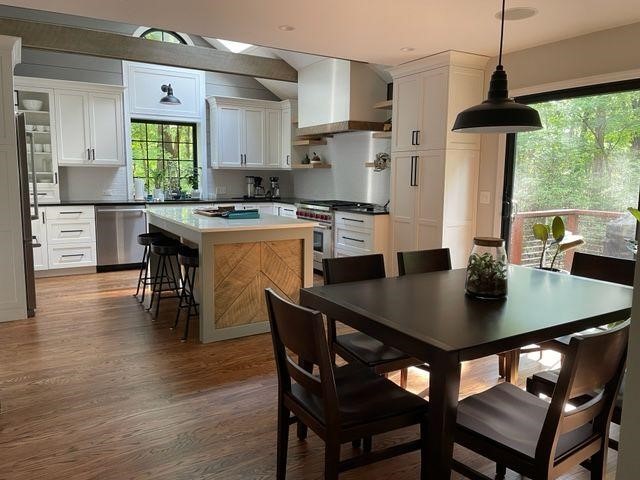 For instance, If the overall theme is minimalistic or contemporary, choose pendant light fixtures like the Carson or other variations that resonate with contemporary or minimalist schemes. But if the dining room is separate from other areas, you can explore various design options.
3. Style
The style of your dining room is another important factor that influences the choice of dining room light fixtures. For farmhouse-style or rustic-inspired dining rooms, you should gravitate towards vintage-focused light fixtures like barn lights and goosenecks such as the Westchester light. These fixtures are reminiscent of the rustic vibe that suits the space.
You can also consider fixtures with wooden elements or metal touches. For modern dining rooms, consider sleek pendant lighting with clean lines and polished finishes for a fresh and elegant look. For traditional dining rooms, classic chandeliers are a good fit— crystal chandeliers in particular radiate timeless charm and opulence.
4. Color Scheme
Lighting and color go hand in hand. Design professionals typically consider the color of a room or space when selecting light fixtures. A light fixture that is grossly mismatched with the color of a room will look and feel misplaced. In contrast, dining room light fixtures that complement the color of the space create a well-aligned look and feel. For neutral themes, choose colored light fixtures to brighten the space.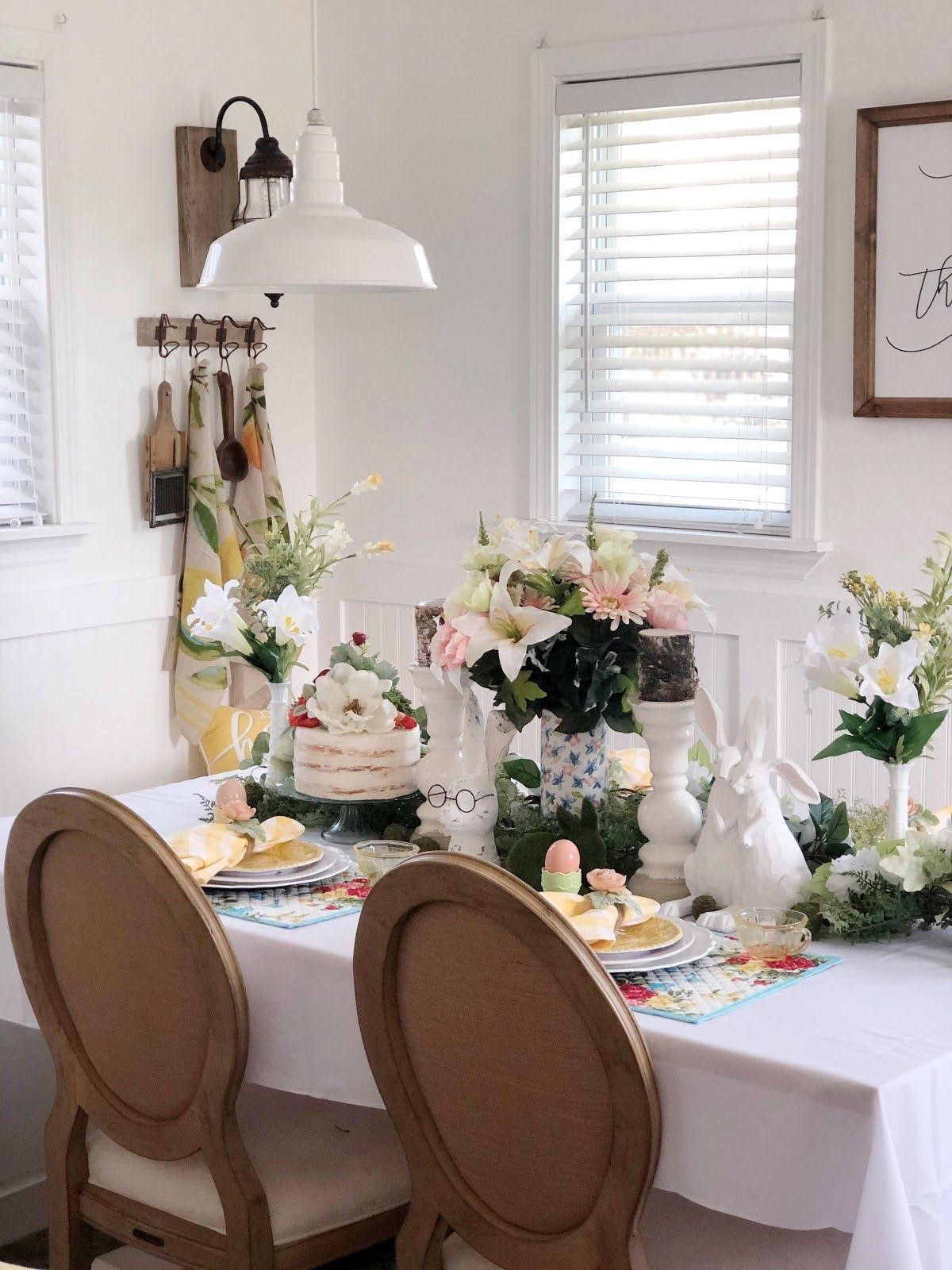 But if, on the other hand, your dining area or overall space has lots of color going on, choose neutral-toned or monochrome fixtures to downplay the burst of color. If you are feeling adventurous, you can play around with the colors or create a contrast — for instance, white walls to black-colored dining room fixtures.
5. Overall Ambience
There's no lighting without a mood! You should consider the ambiance or mood you want to accomplish before buying dining room light fixtures. If you fancy a cozy and welcoming ambiance, choose light fixtures that emit soft and warm lights. Incandescent and halogen bulbs serve well in this category. But they are energy-consuming.
But if you want an energetic vibe that screams bright and cheerful, choose dining room light fixtures that emit a bright white light. LED bulbs are the perfect choice for this "mood" and are energy-efficient. You can also combine warm and bright lighting for a more intricate look or feel. And if you want to adjust the mood at will, opt for dimmer switches that take your lights from bright to warm and vice versa.
Other Considerations to Help You Pick the Right Dining room light fixtures
Choose the Right Shape
When you are taking your dining room dimensions, you should also spare a thought for the size and shape of the fixture. Dining room light fixtures should be 30 cm or 12" smaller than the table across all directions.
Consider Bulb Wattage
In addition to bulb type , bulb wattage also affects the mood and ambiance of a room. Generally, bulbs around 200 watts and 400 watts provide sufficient illumination. You can increase or decrease wattage per your preference. Also, you can diffuse the brightness by getting light fixtures with oversized shades.
The Chain or Chord Matters
Installing ceiling-mounted dining room light fixtures is easier on a flat ceiling than on a sloped one. If your ceiling is the latter, make sure to purchase a fixture with a flexible cord or stem like the Brentwood fixture to simplify the installation process.
Keep the View Unobstructed
Most dining rooms feature decorative wall art or pieces for visual interest. Too-large dining room light fixtures can obstruct these accents, which defeats their purpose. So if you have decorative pieces in your dining area or a large window with a captivating view, ensure to buy a fixture that won't obstruct the view. Or you can install the fixture above eye level.
Explore Different Lighting Types
There are several types of dining room lighting, including:
Pendant/ Ceiling-mounted Lights — these are singular fixtures that hang from the ceiling via a chord or stem. You can hang them in multiples to create an impressive effect. A good example is the Melrose light.
Wall-mounted Lights and Sconces — As the name suggests, these fixtures are affixed to the wall and direct light upwards. Steel Lighting has a an impressive selection of wall-mounted lights.
Recessed Lights — these are installed within the ceiling to deliver a seamless minimalistic look. They augment the primary light source for added illumination and aesthetic appeal.
Chandeliers — these are embellished and typically ornamented light fixtures that are suspended from the ceiling. They are a perfect fit for the dining room.