There's nothing like a creative porch light to improve your farmhouse exterior's visibility, aesthetics, and security. Here are some stunning and irresistible porch lighting ideas to inject personality into your farmhouse porch and make it reign supreme.
Personality Meets Creativity
Farmhouse owners are constantly seeking personalized design elements for interior and exterior spaces. In recent years, porch lights have taken center stage in farmhouse-centric homes, and for all the right reasons.
The porch light is more than a functionally essential, as it also incorporates character and charm into the overall design aesthetic of a farmhouse. Therefore, farmhouse owners must prioritize creative and innovative porch light ideas in 2023 and beyond to refine their outdoor spaces.
The possibilities for creating a one-of-a-kind porch lighting scheme are endless, from industrial fixtures to rustic offerings. Explore our expert recommendations of some of the most electrifying farmhouse porch light ideas to help you craft an unforgettable passage into your home.
Opt for a Bold Pendant
Pendants are a classic delight when it comes to lighting up the porch. You can never go wrong with this enduring and endearing fixture. Look no further than the Carson light when shopping for a bold pendant to make a statement on your porch that matches your energetic personality.
If you want to welcome everyone that steps through your porch with an enthusiastic yet warm vibe, Carson is a great fit. It is lovingly curated to mimic a large mixing bowl and serves enough character to last a lifetime. This fixture is the quintessential farmhouse porch light that promises to stun your guests and keep intruders away.
You can customize it to match your personality — opt for a galvanized finish, a powder-coated stem or a black or white cord. Whatever your preference, rest assured this fixture will redefine your porch.
Turn up the Rustic Charm and Color
Like pendants, rustic farmhouse fixtures are a timeless appendage for farmhouse spaces. But beyond the classic vintage selection are colored rustic lights that dare to stand out:
White Rustic Lights — Bring a clean and fresh look to your porch with our white, streamlined, rustic lighting. Whether you want to keep things soft and subtle or need a fitting background for a dark design theme, these white rustic lights are twice the charm.
Red Rustic Lights —  Sometimes, you should deviate from the norm and craft a stunning look for your porch light. Our red rustic lights are vibrant, catchy, dauntless and super-duper unique. You won't find them on every farmhouse porch, only on a select few— make a difference and flaunt your creativity!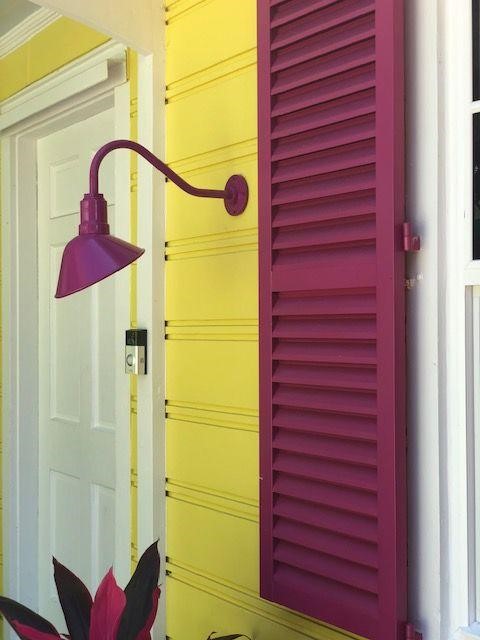 Green Rustic Lights — if you want a splash of color to bring your farmhouse porch to light, consider our green rustic lights. While they are not as soft as the white version or as daring as their red counterparts, these green variants are a breath of fresh air. Discover the many options available and make your farmhouse porch a symbol of creativity and personality.
Gooseneck Lights are Forever
When it comes to the farmhouse porch light, gooseneck lights are a staple. A relic from the past, these fixtures are the masters of function and pleasure. Our gooseneck lights are peculiar, prioritizing function and art to curate an unforgettable space.
They are enshrouded in a powder coat to safeguard against rust and are carved out of superior-quality steel to guarantee everlasting efficacy. Install a gooseneck fixture on your farmhouse porch to remind yourself and everyone else about the eternal beauty of the past and the evolutionary beauty of the present.
Combine Function and Decorative Power
Think of your farmhouse porch lighting as a combination of elements. Start with the door as the focal point; install an overhead fixture like the Carson or a wall-mounted fixture like the Hawthorne to provide functional illumination — you need this to see the lock, search for your keys and generally move around the porch. Next, position LED candles, string lights or moveable lanterns around sitting areas ( benches or swings ).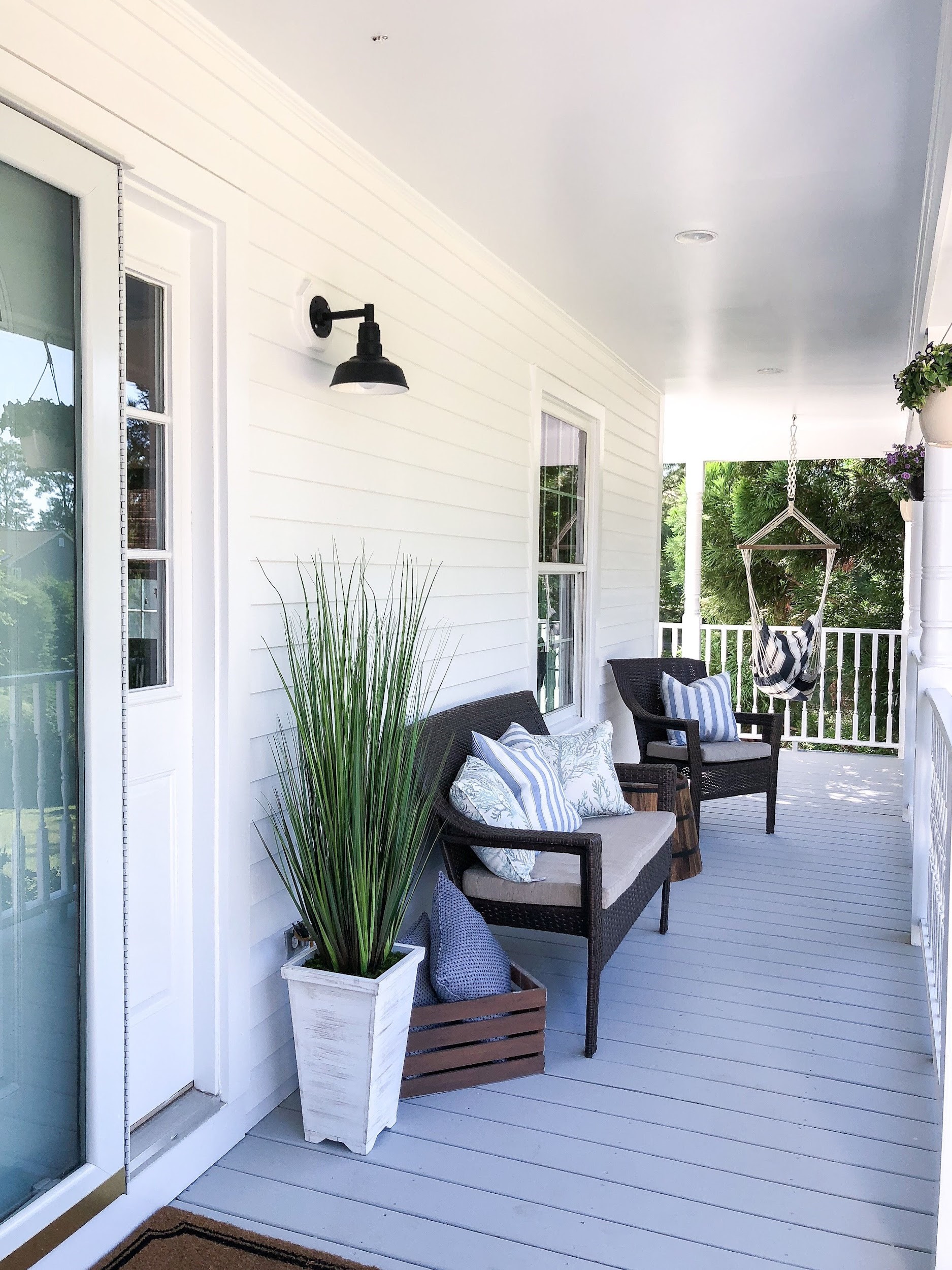 This lighting can be temporary or permanent, depending on your use of the sitting area. For example, if the overhead or wall fixtures generate enough illumination to cover the sitting area, you might opt for temporary accent lights. Otherwise, you might need more primary light sources to supplement the decorative accents. Lastly, light up access points that lead up to your porch, such as pathways and steps, to improve visibility and prevent accidents when it is dark.
FAQs
What Light Bulbs Should You Choose for Your Porch?
LED bulbs are generally the best bet for farmhouse porch lighting. They are energy-efficient and will save costs on utility bills. They are suitable for the environment. Buy at least 40 watts for every fixture on your porch.
Is Dusk to Dawn Lights Good for Porch Lighting?
Yes and yes and yes! It is not advisable to leave your porch lights on throughout the day. Doing so isn't energy efficient and may hike your energy expenditure. However, leave your porch lights on overnight to ensure maximum security. But manually switching on and off your porch light when due may be challenging. As such, you should consider dusk to dawn lights to do the heavy lifting for you.
Do you need IP and weather rating for Porch Lighting?
IP rating protects your porch light (s) against solid and liquid particulates, while weather rating guards against destructive weather elements such as heavy wind and rain. Since porch lights are susceptible to outdoor elements, purchasing fixtures with IP and weather ratings is wise.
What Color Temperature is the Best for Porch Light?
A light fixture's color temperature symbolizes the light's warmth and coolness. The standard rating is per Kelvin; the higher the Kelvin rating, the cooler the light, and vice-versa. Generally, warm white lighting of about 3000k is the best choice for porch lighting. This temperature is easy on the eyes and provides a soft and warm glow. However, you can opt for 6000k for light fixtures that serve security purposes only.