Gone are the days when farmhouse bathroom light fixtures were given minimal attention! Today farmhouse lighting features delectable bathroom light fixtures with the right dose of function and visual appeal. The trend has gotten better from one year to the next, and 2023 isn't different. Get ahead of the trend and learn the latest farmhouse bathroom light fixtures for 2023 and beyond!
A Glamorous But Practical Affair
Bathroom lighting is an intricate part of bathroom designs, projects, and renovations. A bathroom light fixture offers functional benefits that aid grooming and self-care tasks while setting the mood for a refreshing and decorative aura. Farmhouse bathroom lighting ideas for 2023 and beyond are nothing short of glamorous and practical. Read to the end for all the scoop and deets!
1. Functional Lighting is at the Heart of the Trend
The farmhouse bathroom is a utility-centered area. It is specifically designed for grooming and self-care. Bathrooms might have been solely dedicated to showering or bathing in the past, but that is no longer the case. From shaving to hair care to skincare to makeup application, there is no shortage of tasks in the bathroom.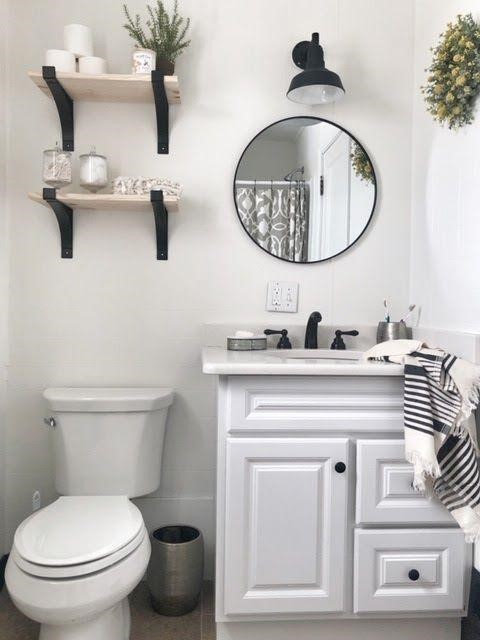 Given this development, it is imperative to integrate task lighting in your farmhouse bathroom to promote efficiency. That said, you should install light fixtures like the Hawthorne light, above the vanity or in the shower to promote visibility.
2. LED Lighting is still in Vogue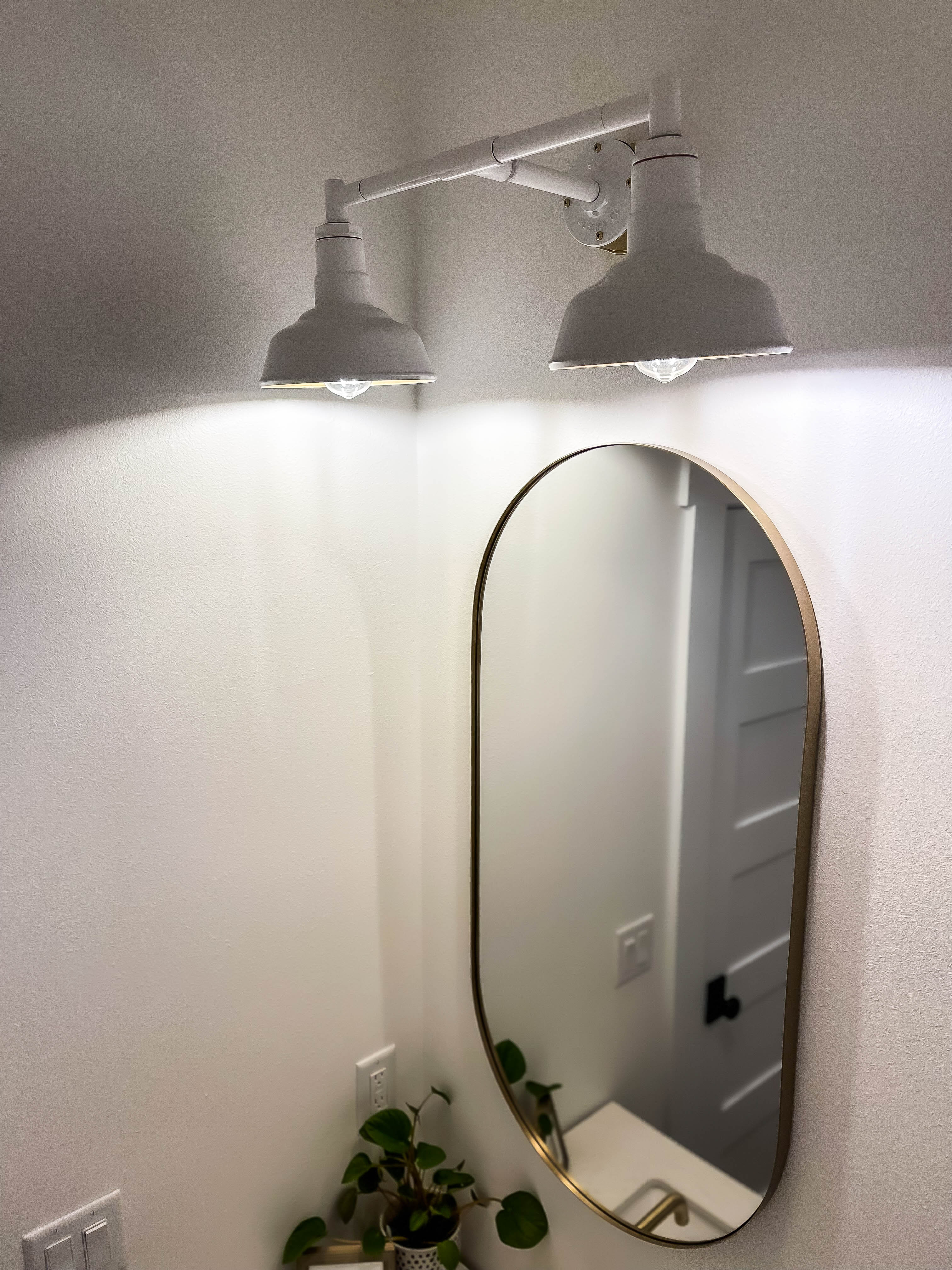 LED lighting is at the core of farmhouse interior decor which includes the bathroom. They are most beloved for their minimal energy consumption, durability, and high performance. LED lights offer better serviceability compared to traditional bulbs like fluorescent and halogen bulbs. They come in a variety of styles, colors, and specifications, so you can use them in a million different ways. Plus, they are compatible with most farmhouse bathroom light fixtures, such as our Lawndale Vanity Light.
3. Layered Lighting is À la Mode
Nothing compares to a combination of light fixtures in a bathroom! While you can stick to a single farmhouse bathroom light fixture to provide illumination, incorporating other lighting types can change the game. This is called layered lighting — it entails combining task, accent, and ambient lighting to provide well-rounded illumination and aesthetic charm.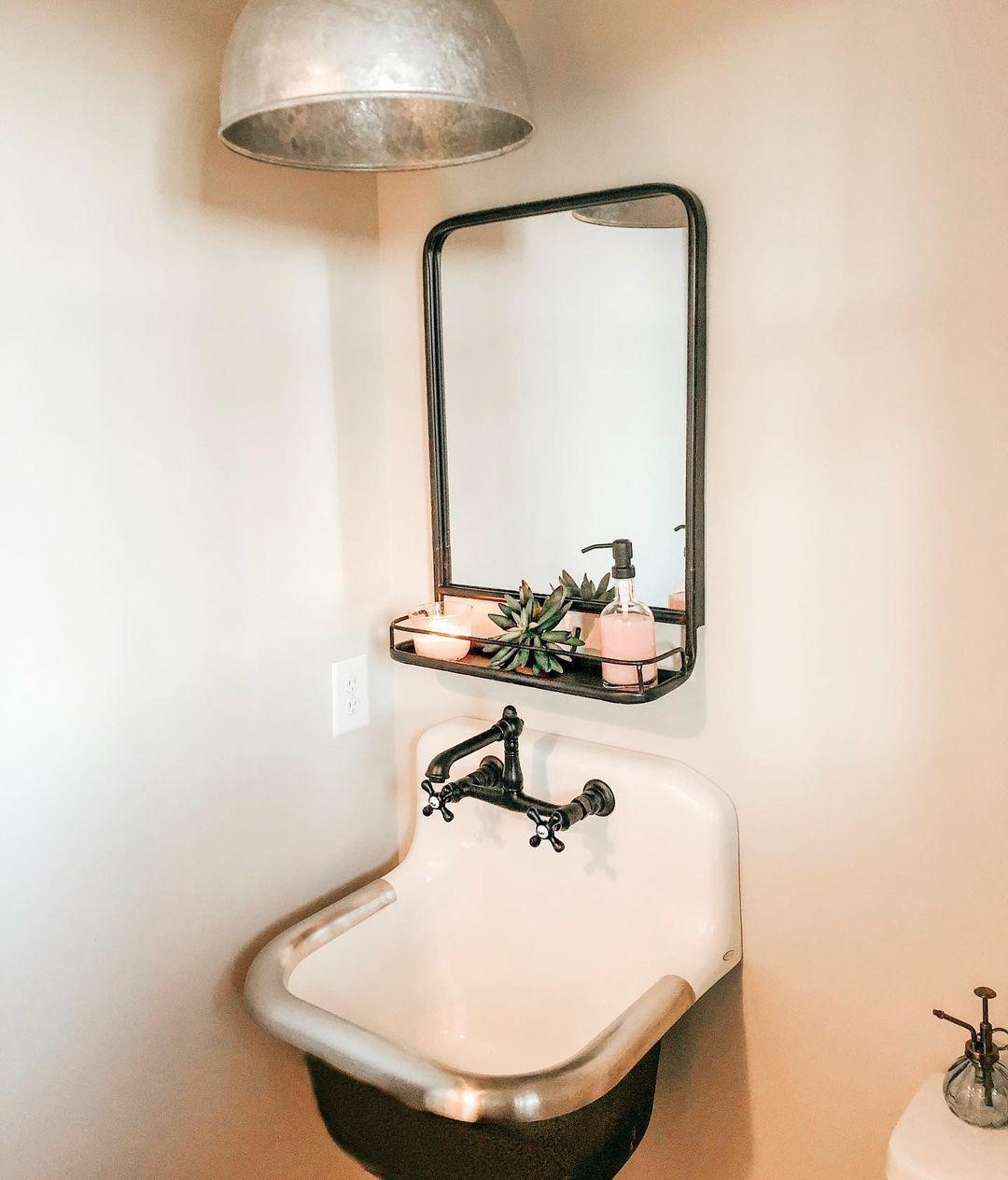 For instance, you can install a pendant farmhouse bathroom light fixture above the vanity for task lighting, use recessed lights for ambient lighting, and dainty wall sconces to highlight artwork, decorative tiles, and other elements of interest.
4. You Can't Go Wrong with Dimmable Lighting
Dimmable lights are a recent trend that has revolutionized the interior lighting industry. As the name implies, it allows users to adjust the brightness of the light to suit their convenience. Dimmable lighting for bathrooms is predicted to boom in 2023 and beyond.
Trendy or not, you can never go wrong with a dimmable farmhouse bathroom light fixture. With this remarkable light fixture, you can set brighter tones in the morning when you are getting ready for the day and softer tones at night when you need a refreshing bubble bath!
5. Pendants, Chandeliers, and Sconces
Pendants, chandeliers, and sconces are the go-to fixtures for farmhouse bathroom lighting. Pendant lighting is especially charming in bathrooms. They incorporate a sense of luxury in the bathroom without detracting from usability. A good case in point is the Inglewood light fixture.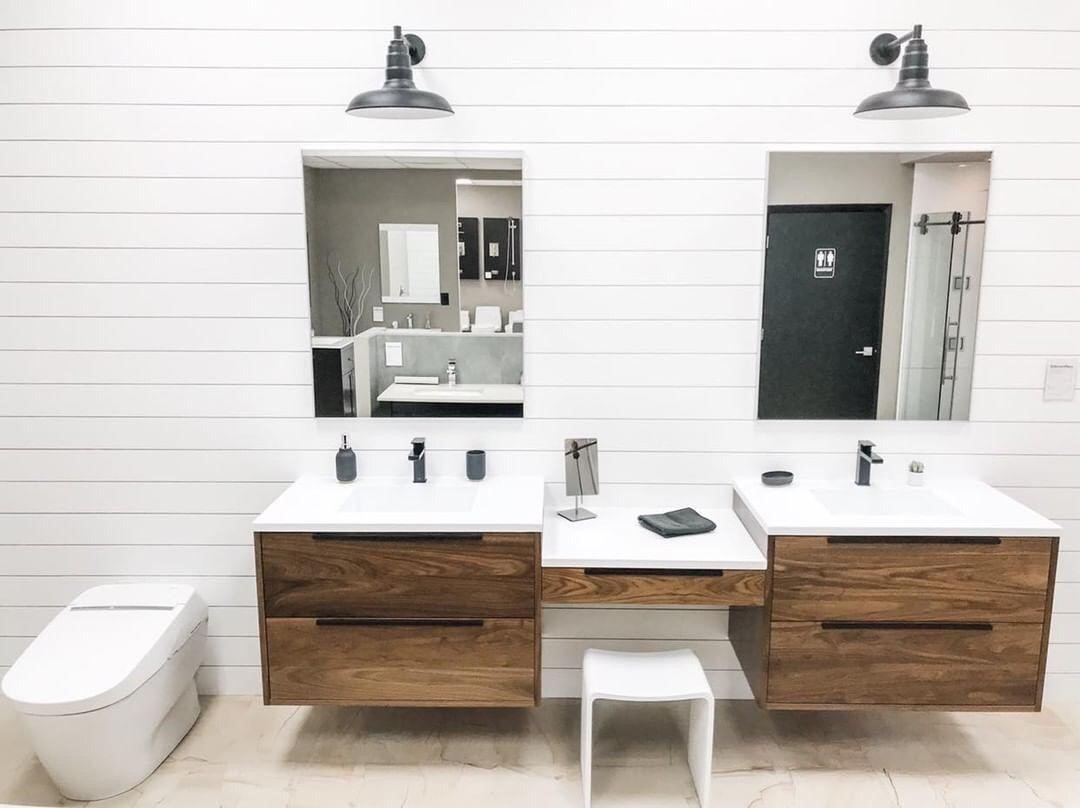 Chandeliers add a feel and touch of glamor, elegance, and panache to your farmhouse bathroom. Sconces on the other hand are the best choice for task lighting. While they've been around for centuries and may come off as clichè, there are many stylish upgrades like the Venice sconce that will make your bathroom pop.
6. Natural Lighting isn't up for Debate
While farmhouse bathroom light fixtures are the center of attraction, natural lighting has a stunning and refreshing effect in bathrooms. Ensure to factor in natural light when designing or renovating your farmhouse bathroom. Integrate large windows or skylights for unrestricted access to sunlight and the great outdoors. In the absence of natural light, consider using mirrors or other reflective mediums to reflect light and simulate natural light.
Take-home Tips for Farmhouse Bathroom Lighting in 2023 and Beyond
Incorporate vintage-inspired fixtures: Vintage-inspired fixtures such as galvanized lights, gooseneck lights, and exposed filament bulbs can add a farmhouse vibe to your bathroom. A vintage farmhouse bathroom light fixture is the perfect complement to your rustic decor.
Use natural wood elements: Reclaimed wood beams or a wooden vanity is a surefire way to replicate a farmhouse feel in your bathroom.
Utilize wall sconces: As mentioned earlier, wall sconces are a great source of task lighting. They also add an aesthetic touch to your bathroom.
Consider Barn Lighting: If you are looking to incorporate a rustic and farmhouse feel to your bathroom, barn lights will more than suffice. They are a type of farmhouse bathroom light fixture that is practical, easy on the eye, and delightful.
Add lantern-style Lighting: Lanterns are great rustic lighting alternatives. Your bathroom will feel and look antiquated with a couple of lanterns. You can pair lanterns with goosenecks, barn lights, and other vintage lighting for the full experience.
Infuse warm tones: Soft and warm tones such as yellow, amber, and orange will make your bathroom feel warm, inviting, and cozy. You will feel relaxed and rejuvenated each time you visit your farmhouse bathroom.
Final Thoughts
A farmhouse bathroom light fixture can take your rustic bathroom to a whole "other" level. These fixtures are poised to reinvent farmhouse bathroom trends in 2023 and beyond. Take hold of the listed ideas and tips and give your bathroom the makeover it deserves. Remember, there's nothing like farmhouse lighting to make your bathroom a rustic haven!