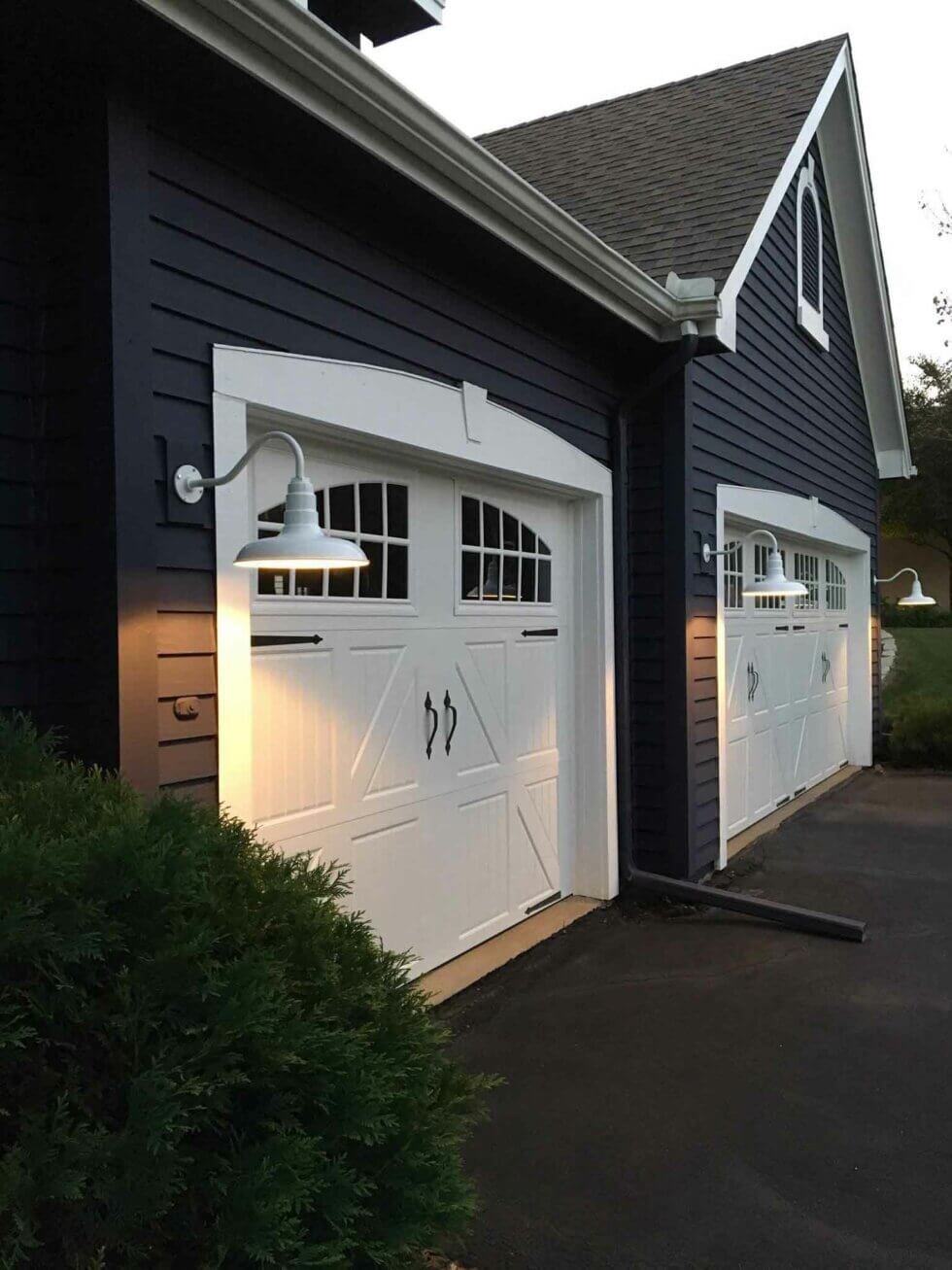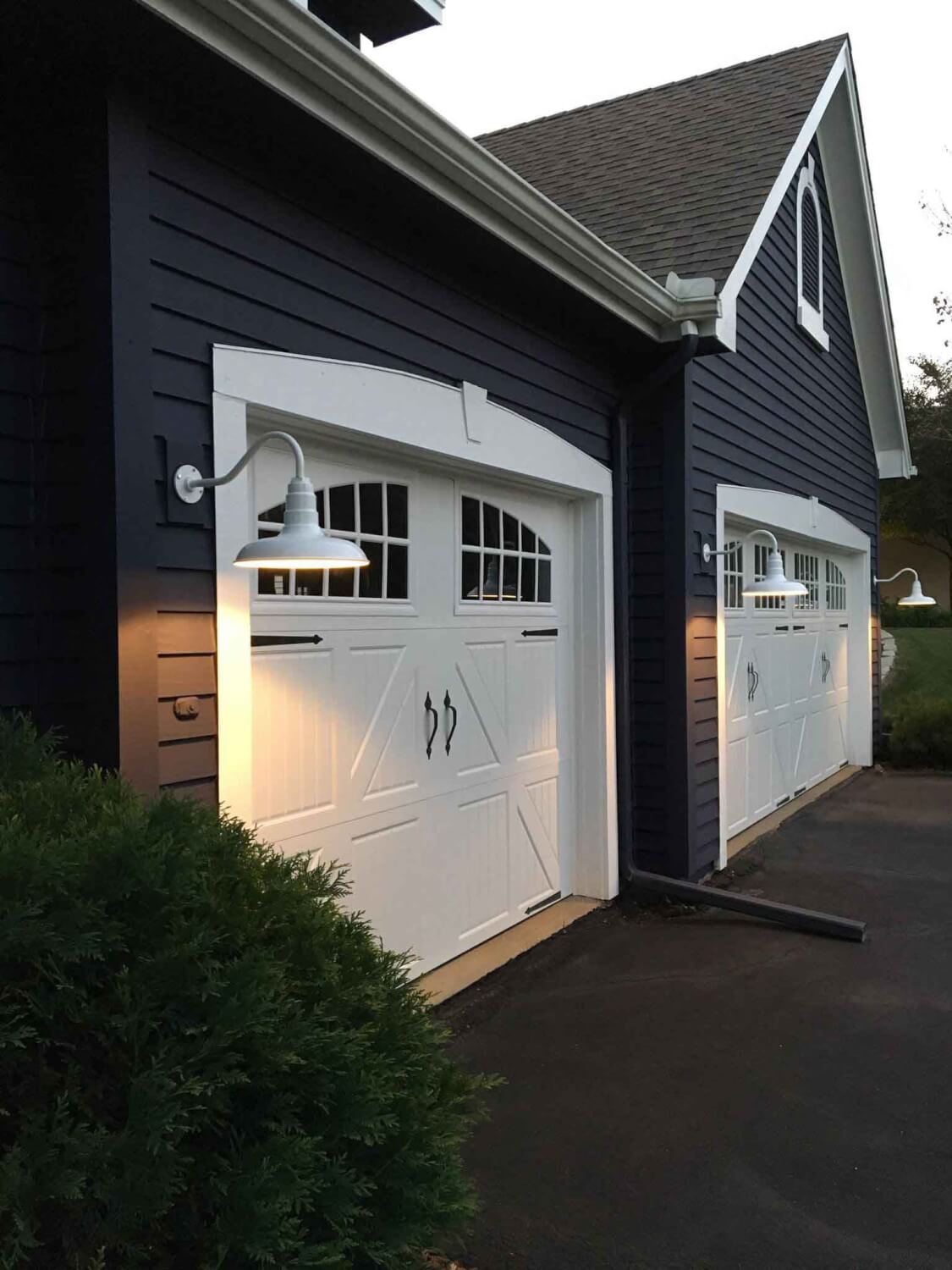 Barn lights bring your farmhouse, Barnhouse, and home to beautiful light. They exude exceptional aesthetic appeal and define the best elements of a space. There is a plethora of options available on the market and choosing the best one to complement your space can be a chore. But don't worry, we are here to help!  Read on and learn how to choose the best barn lights for your farmhouse or barn house ideas. We even included examples so you can make a stress-free and reasonable decision.
Factors to Consider When Buying  Barn lights
While it is easy to shop a barn light at first glance, as they tend to be eye-catching and inviting, it is not the best move. There are several things you need to consider before buying barn light fixtures for your home. If you pay attention to these considerations below, you won't have any issues buying the most fitting barn lights.
Size
You don't want to buy a farmhouse light fixture that is ill-equipped for your space. Hence, you need to ensure that the size of the barn light complements that of your space, physically and aesthetically. This is especially important when purchasing gooseneck barn lights and barn sconces — you need to gauge the light's width from where it angles out from the wall. You should also note the shade's radius as these tend to consume space and can make a room look awkward if chosen wrong. Generally, smaller shades fit nicely in smaller spaces or in rooms where there is a lot going on. Larger shades on the other hand are more suited for roomy areas or outdoors.
If you are opting for barn pendants, you should pay attention to the height (as it extends from the ceiling). If it is hanging over a table, say in a kitchen, the fixture should feature a longer cord than it normally would (so you don't accidentally ram your head into the shade). If you don't know how to gauge the length from the ceiling, you can try hanging a strip to get a feel of the light's length. For the shade's radius, larger rooms like bedrooms and dining rooms could use modern farmhouse lighting with wider shades. A smaller or understated room could use lighting with narrower shades.
Style
When it comes to illuminating and beautifying your farmhouse or barn house, the style of the fixture is of utmost importance. Barn lights come in different varieties and styles. Style goes hand in hand with the designated location for the light — Some have recessed or angled radiance which determines where the illumination reflects; could be the floor, on an object, or just above the ceiling. Here are some styles to consider:
 Gooseneck Lights
Although barn lights are also referred to as gooseneck lights, not all barn lights are constructed in the gooseneck style. Gooseneck lights are barn lights with a curved pipe that resemble a goose's neck. Take, for instance, the Redondo gooseneck barn light pictured below. The fixture promises to make your bedroom a welcome haven. You can also use this as an outdoor barn light.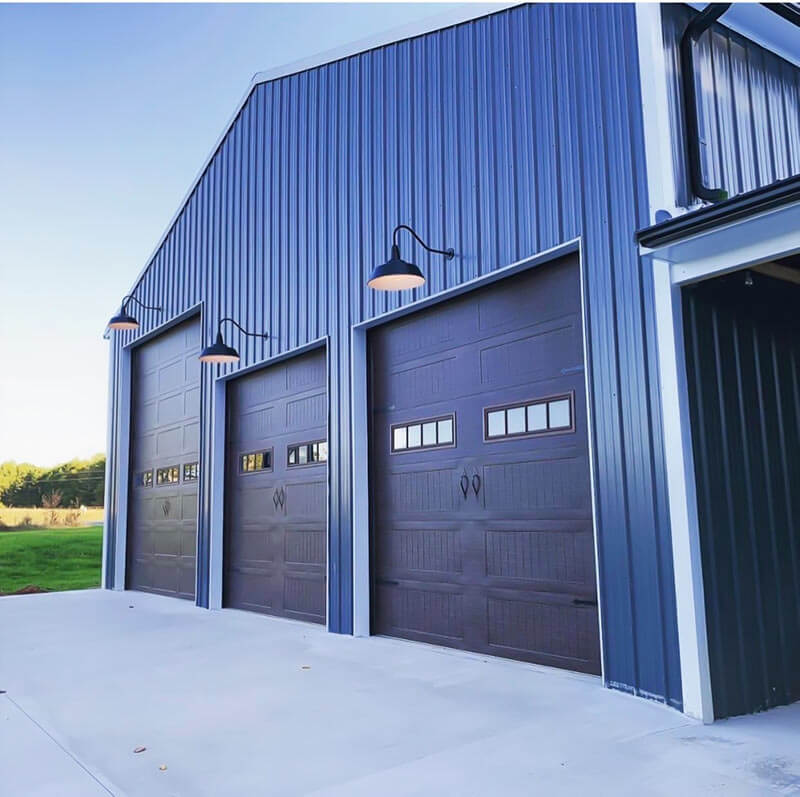 Pendant/ Ceiling-Mounted  Lights
These are overhead barn light fixtures that are affixed to the ceiling. The sight of these lights instinctively calls to mind a "barn house" or a "farmhouse." A good example is the Carson, a large-sized, warehouse, pendant light. It takes the shape and size of a large mixing bowl with a galvanized stem. It adds character and elegance to interiors with vaulted ceilings, such as kitchens, garages, and barns.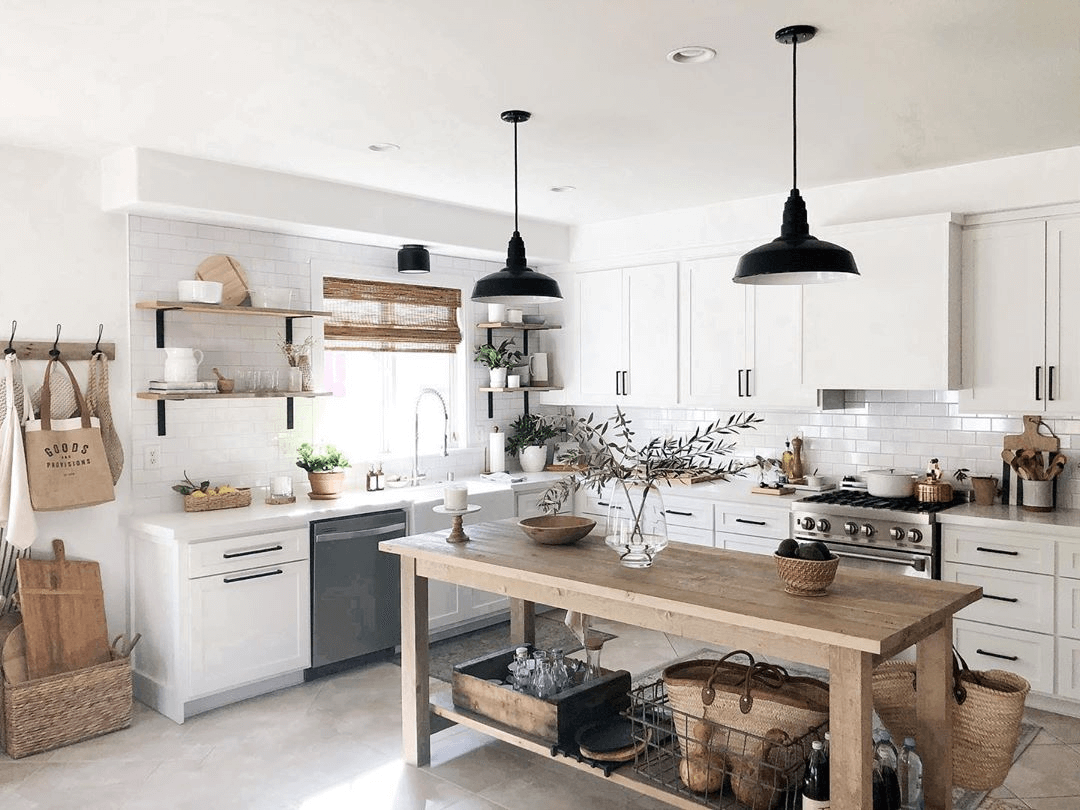 Straight Arm Lights
As the name implies, these are barn lights with mounts that look exactly like a "straight arm." They are a pleasantly charming addition to laundry rooms, barns, and porches. A real-life depiction of a straight arm light is the Hollywood bowl. There is a reason why this exquisite barn-style fixture is so named — it is structured like a bowl and is a premium space entertainer. You can't help but be drawn to its exotic appeal. This barn light can single-handedly bring a space to life and light without other decorative or architectural elements. It can also enhance the look and feel of an otherwise boring space.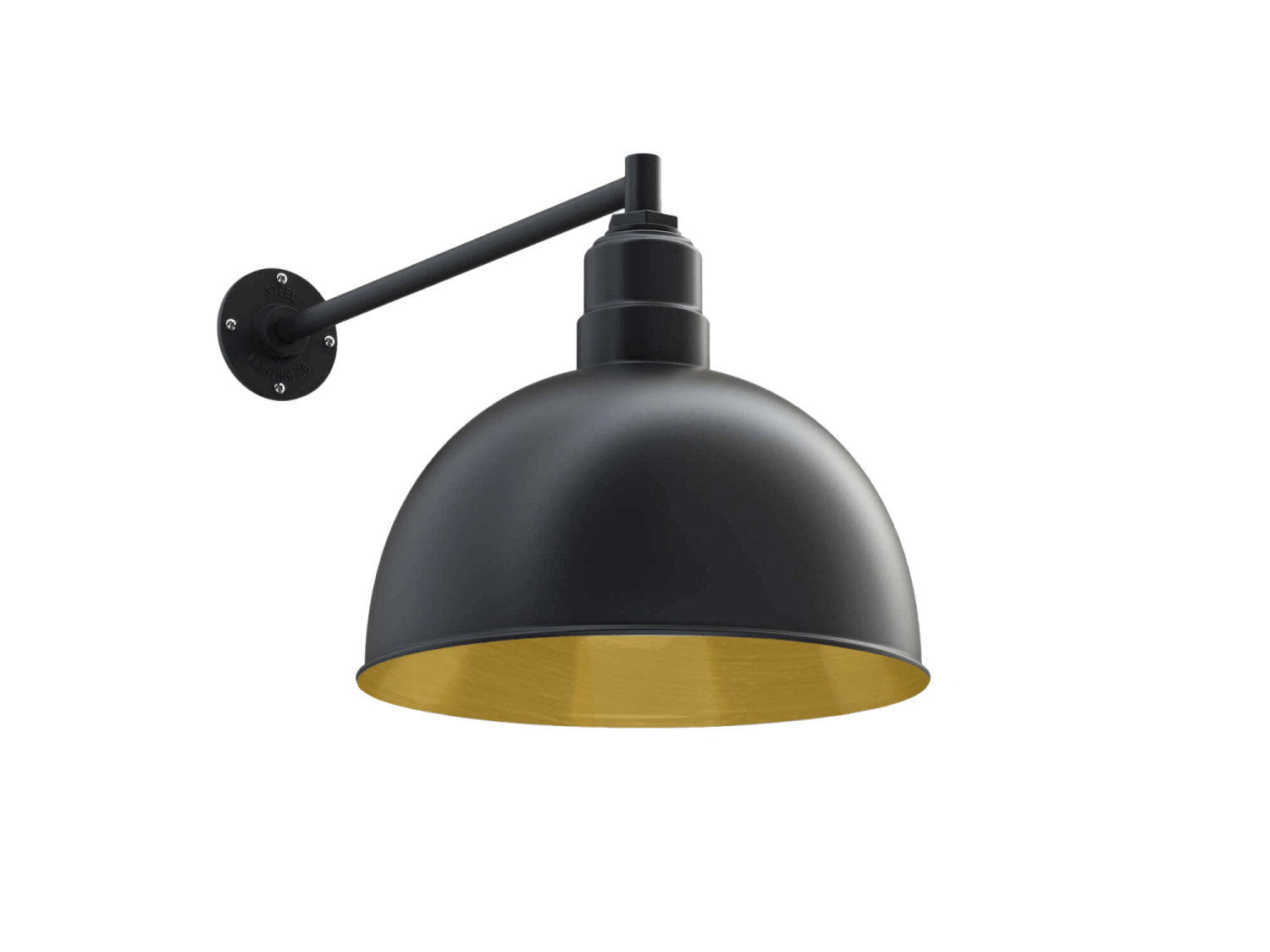 Material, Texture, and Color
The material, texture, and color of a barn light speak volumes about a space. A crisp, metallic finish typically gives off modern vibes while a matte metallic finish is synonymous with rustic ambiance. Naturally, a metallic finish is often deployed in exterior barn lighting but it can equally look great indoors (provided you have a good eye for detail). And if you thought barn lights are only designed in traditional colors like black and white, then you thought wrong!
These luminous works of art offer a variety of colors for color-oriented spaces and individuals without negating their rustic effect. Colored barn lights can make a difference in both indoor and outdoor settings. You can choose to go for cool hues like blue, purple, and green or warm shades like red, orange, or yellow. Conversely, you can opt for neutral shades to downplay overly bright or colored spaces.
Budget / Price
Purchasing a barn light that leaves you strapped for cash is a no-no. So, you want to consider your budget before clicking the order tab. Barn lights have different price points. There are affordable options as low as $30 and high-end ones that cost as high as $600. However, one thing that separates a good quality and reasonably-priced barn light is the material it's made out of. A lot of companies make their lights out of aluminum, or a low-grade alloy, which doesn't carry the same weight and durability. We craft ours from 18-gauge American steel to make sure they have the durability to withstand pretty much anything your world can throw at them!
Final Thoughts
The selection process for an ideal barn light for your farmhouse or Barnhouse demands meticulous attention to detail. You have to factor in the size, style, and material of the intended barn light and of course the weight of your wallet! You can elevate the ambiance of a room by adding a pop of color or texture borne by a barn light. While the decision can be overwhelming, because there are so many options, you can narrow down your choices and subsequently make a perfect choice, by following our suggestions, your heart, and the light!