With all of the current lighting design trends, it can get difficult to decide what style to choose! With that in mind, we wanted to share a guide on how to choose the best option between different goosenecks and sizes. So, whether you're remodeling your porch, garage, barn or bedroom, we hope this helps you choose the best option for your design style.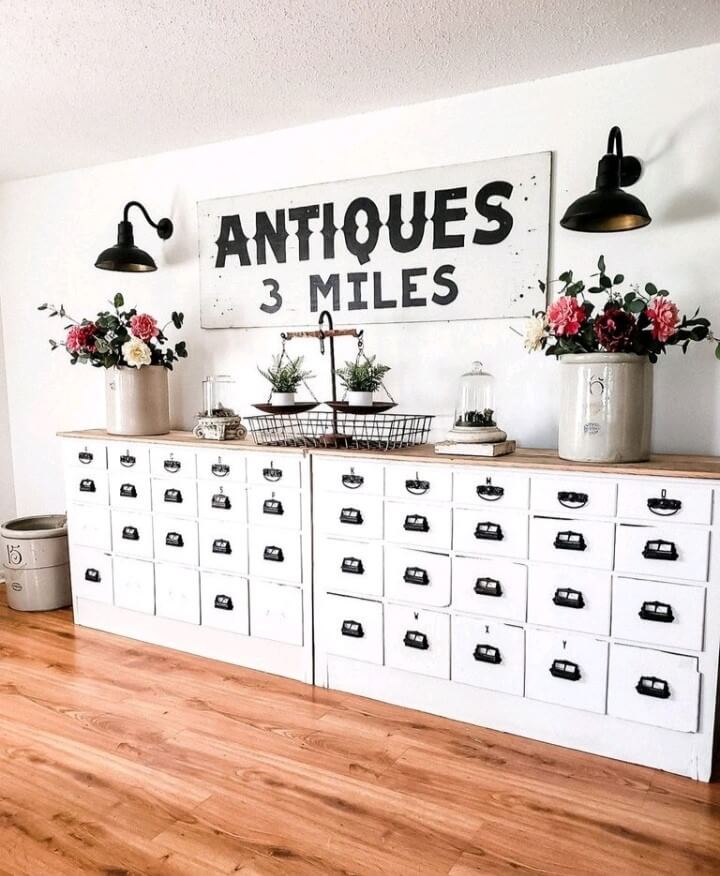 To Start: Where Do Goosenecks Fit In?
Gooseneck barn lights symbolize charm, functionality, and understated appeal.  Due to their old-fashioned and rustic roots, they can add industrial accents to modern design with ease. Where do they fit in the best? If your design style is minimalistic, rustic, industrial, farmhouse or barnhouse, we recommend gooseneck barn lights. Apart from their usefulness, goosenecks can add a sentimental aspect to your home, nodding to the designs of the past and the rustic appeal of farm life.
If you are looking to replicate a vintage ambiance without losing touch with the present, then you need a gooseneck barn light. If you are looking for lighting that doesn't just serve but pleases, then your best bet is a gooseneck fixture. Finally, if you want your home or space to radiate warmth, comfort and extend a pleasant invitation to others, then you must consider a gooseneck light!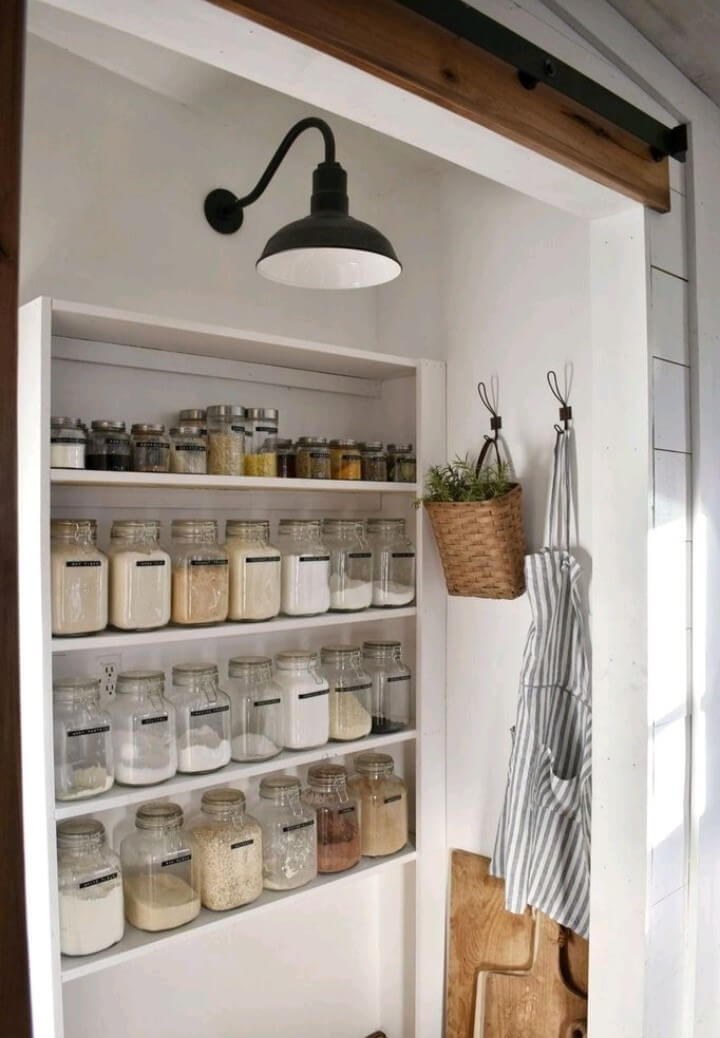 Choosing the Right Gooseneck Size for your Barn Light
Gooseneck barn lights come in different sizes and these variations play distinct roles in lighting application. So, unfortunately, you can't just buy or install a miniature gooseneck light because it looked dainty and cute (that counts too but the application is what matters the most). In the same vein, you can't opt for a mixing-bowl-sized gooseneck light because you like your lighting bold and beautiful. While aesthetics and personal preference play a huge role in light selection, application and functionality play a more important role.
Uses For Different Gooseneck Sizes
Gooseneck barn lights come in different sizes not just for fun but for a good reason. Each size is tailored to serve a specific application, so if you install a certain-sized gooseneck fixture where it shouldn't be, your ambiance, décor, and lighting goals may not crumble completely, but it will fall short! Here are some things that might help make the design dream a reality.
Our Lineup
We offer four distinct gooseneck barn light sizes. We have the 11″, 16″, 23″, and Upward Sloping gooseneck sizes. Each one has its own ideal application and design style. Now that you know which sizes we offer, now let's get into the specifics.
The 11" Gooseneck Barn Light
Our 11″ gooseneck barn lights are handcrafted and add character to specific spaces. It is the ideal choice for porches and interiors that lean towards the minimalist design style. Due to its size, it doesn't harbor a lot of added attention, which makes it great for a simplistic porch light, door light or decor light. Our miniature domes like the Venice, Westchester, and Hawthorne lights in this size are especially compatible with small spaces, where they emit elegance and a warm glow. They blend in with your space without overwhelming or underwhelming your décor. They also come in different finishing and styles for added appeal.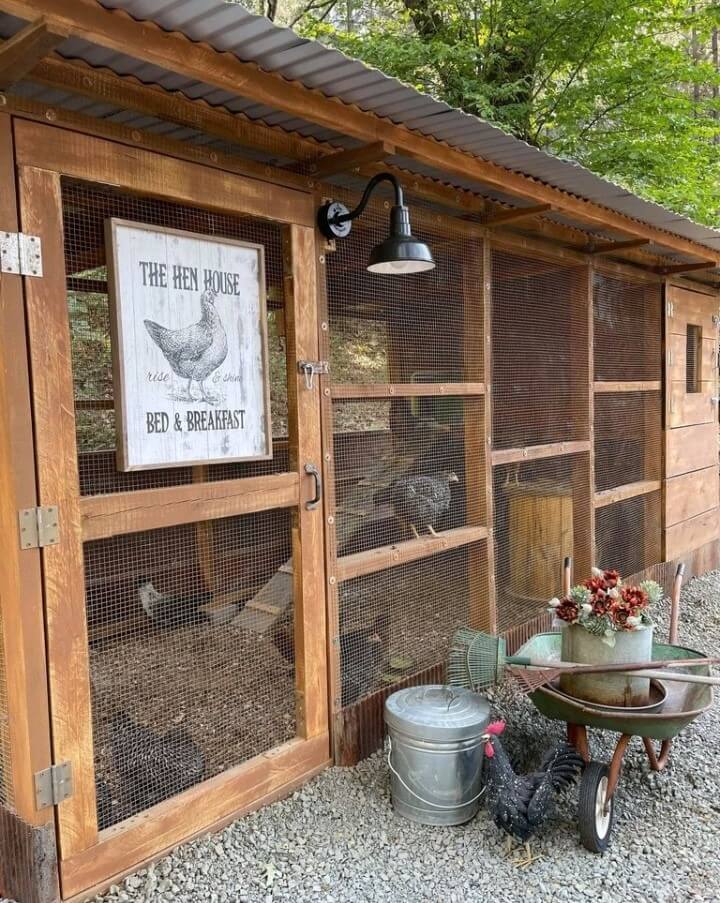 The 16" Gooseneck Barn Light
A bestseller and a crowd-favorite with all domes, our 16" gooseneck barn lights have been getting lots of attention from buyers. The 16″ dome is typically employed in barns, garages, and shops. It stands out as store signage, a side-entry light, and is magical in coffee shops and diners. The beauty of this gooseneck size is its ability to make a statement without crowding your space.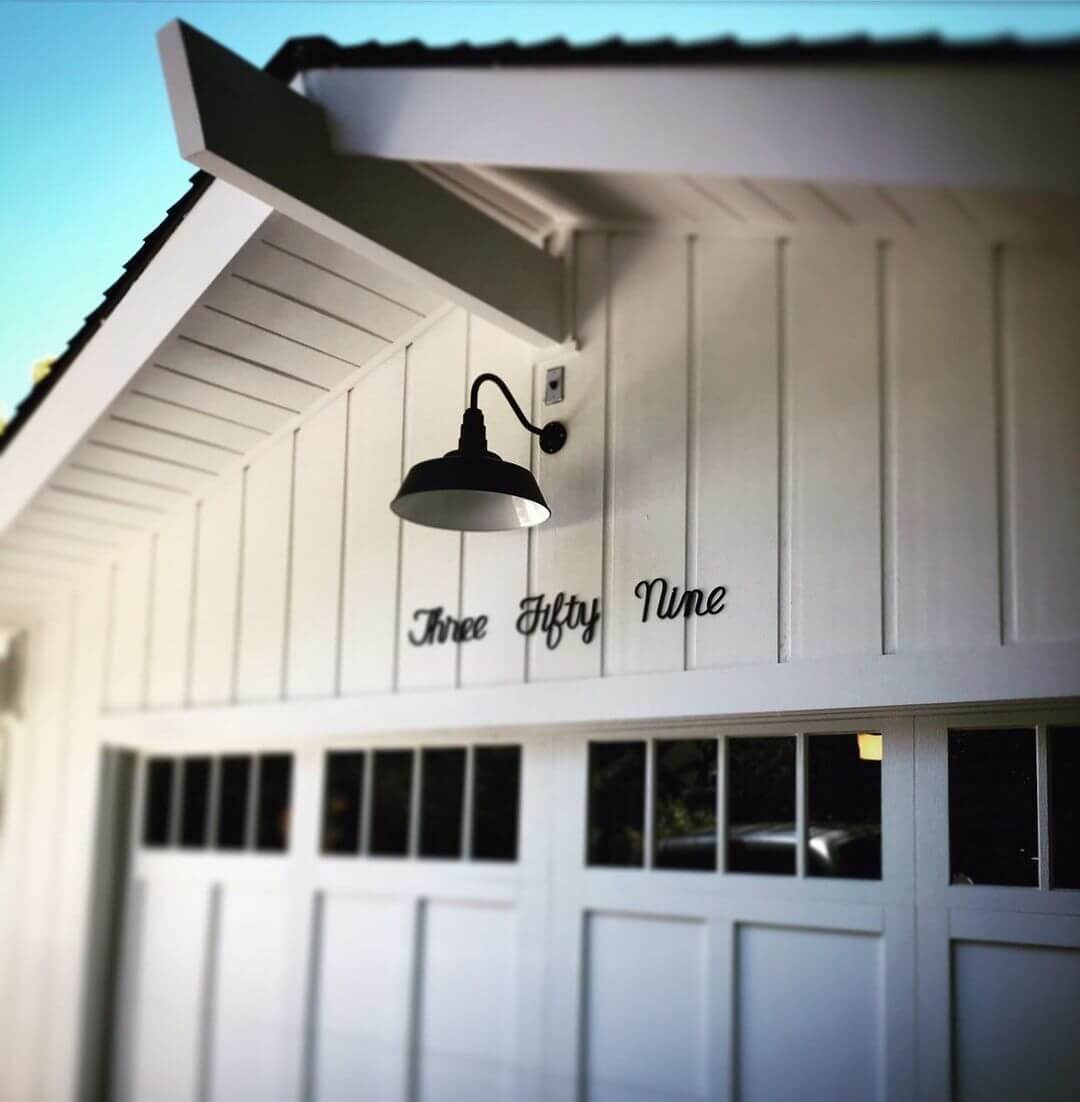 It is large enough to draw the eye, yet small enough to mount indoors without distractions. You can mount this gooseneck indoors or outdoors to add a bold statement to your design. Most commonly, this gooseneck size is used for house or barn peaks as well as on the sides of garage doors. If you need inspiration, I recommend checking out our Outdoor Garage Lighting page, or our Porch Lighting page.
The 23" Gooseneck Light
Here's the size that best serves mounts that are higher than 10 ft off the ground.  The 23″ gooseneck barn light is a hard-to-miss dome that screams bold, beautiful, and generous! It pushes the dome farther from the wall and incorporates a much bigger design statement.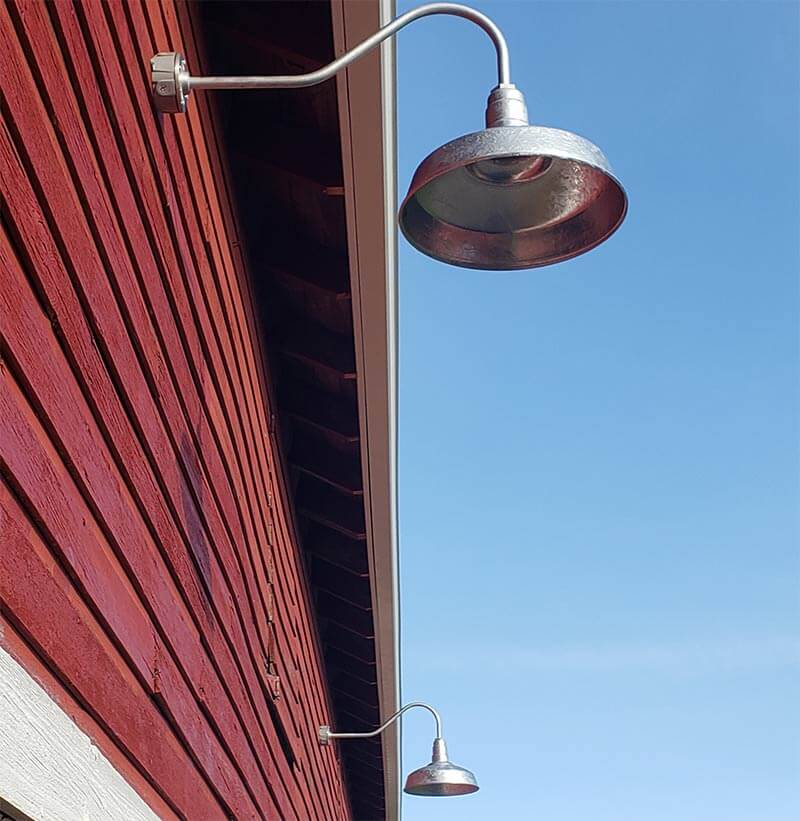 Thus, the lighting level you get from this installation is in one word: explosive! Hence, we almost always recommend this size for illuminating store signage, the sides of a barn, or the peak of a house. And if you dare to be adventurous, you can use this size on a garage, but we recommend mounting it as high up as possible!
Upward Sloping
The upward sloping is one of our most distinct gooseneck sizes with different shades and application to its credit. Though it is mostly used in commercial settings and applications, it is also a great fit for garages. This mount style is as rustic as it gets. Once installed, it induces a pleasant vintage nostalgia that makes you warm on the inside. And like all our gooseneck barn lights, it is part modern and part traditional!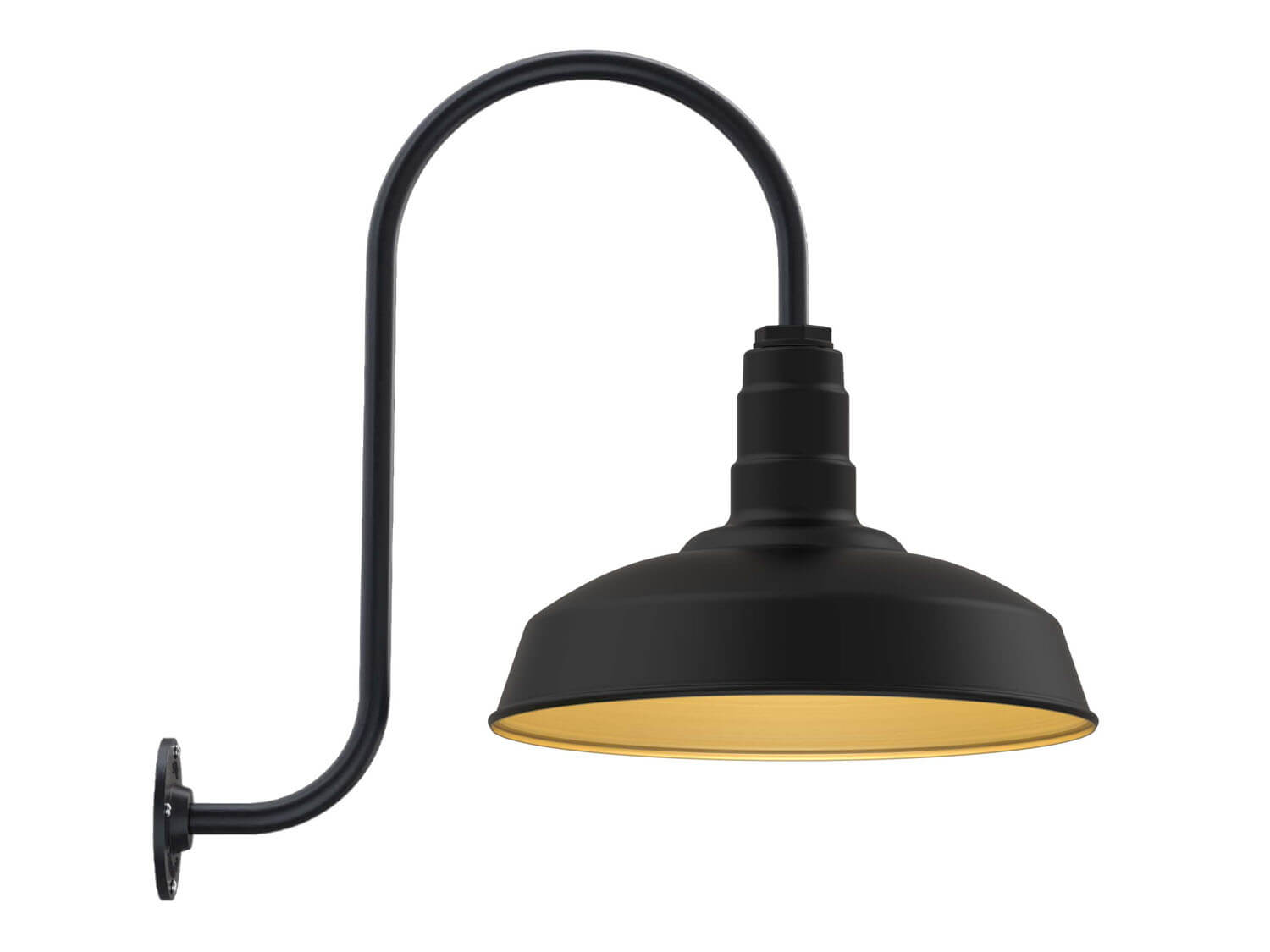 Feel Free to Seek Professional Advice and Recommendations
While this guide covers some of the details on how to choose the appropriate gooseneck barn light size, it wouldn't hurt to seek professional guidance when needed; our team of experts is just an email and message away and are ever-ready to assist. So if you can't decide what size to buy or where to install a particular fixture, kindly send us an email at Hello@SteeLightingCo.com, Leave us a message or give us a call on  310.569.7056. We will always be there for you!