Caffeine Fix: Lighting for Coffee Shops


Coffee is more than just a drink in the US; it's a way of life. From the west coast to the east, coffee is consumed by Americans to such a degree you'd think we were running out. 
In fact, the opposite is true, with coffee in the US growing as an industry year after year. With that has come a culture of coffee consumption that's evolved massively over the years, with coffee drinkers taking their coffee escapades to new heights and embracing a style of consumption from around the world. 
Gone are the days when a cup of coffee was "just a cup of coffee," with Americans enjoying Australian inventions like the Flat White or the much loved Italian classic – the Macchiato, making their way into the mainstream. As a result, coffee shops have become even more popular today than ever before, with cafes and artisanal spots catering even more to the ever-hungry coffee drinkers of today. 
Starting up any business, let alone a coffee shop, has its own set of challenges. However, one thing is universal – you've got to have the proper lighting to make your business function the best way it can. If you're looking to take the plunge and start your own coffee business, then we've created a handy guide to help you make sure you've got the kind of lighting setup that will make customers happy to come back for more!
Prendiamo Un Cafe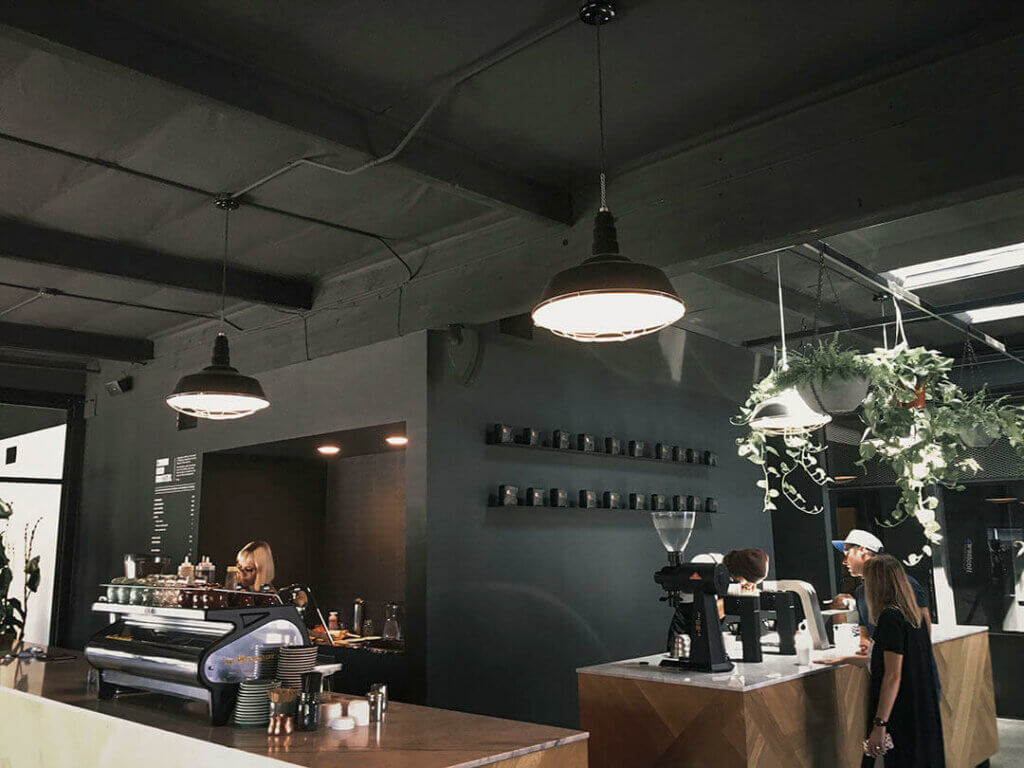 Like any other restaurant, much of what humans enjoy about food is in the visuals. The adage that we "eat with our eyes" is a bit of a cliche for a reason – because it's true. 
Having the proper lighting to help set the mood for your coffee shop is crucial to making sure you've got the right mood set for your customers. Coffee shops live and die by their ability to maintain a good atmosphere. 
So much of the culture of coffee drinking is about making the day, particularly mornings, seem a little bit calmer for a few minutes. That first cup of joe is all-important, and many coffee drinkers would admit that their often not the best version of themselves before they've had their coffee fix. 
As a result, coffee shop lighting is all about maximizing lights' ability to create the kind of welcoming atmosphere that maintains a relaxed vibe, even when the shop is at its absolute busiest. 
Al Blanco
In Italy, coffee is pretty darn important and makes up much of what people do socially. Coffee is usually consumed during three important points in the day: in the morning for breakfast, in the afternoon as a pick-me-up, and after dinner as a social drink. 
To that end, it's best to set up any coffee shop to essentially imitate these three distinct points of the day as best as possible. 
Large windows that allow as much daylight as possible to slip in are always advised and make the morning feel less encroaching for those that aren't morning people. There's no better light than sunlight, and more oversized windows will help bring the outdoors in without making people feel like they're still in the hustle and bustle of the wider world.  
There's also no substitute for sunlight. It's easily the brightest and most cost-effective solution to any lighting issues you might have. 
Caffe d'Orzo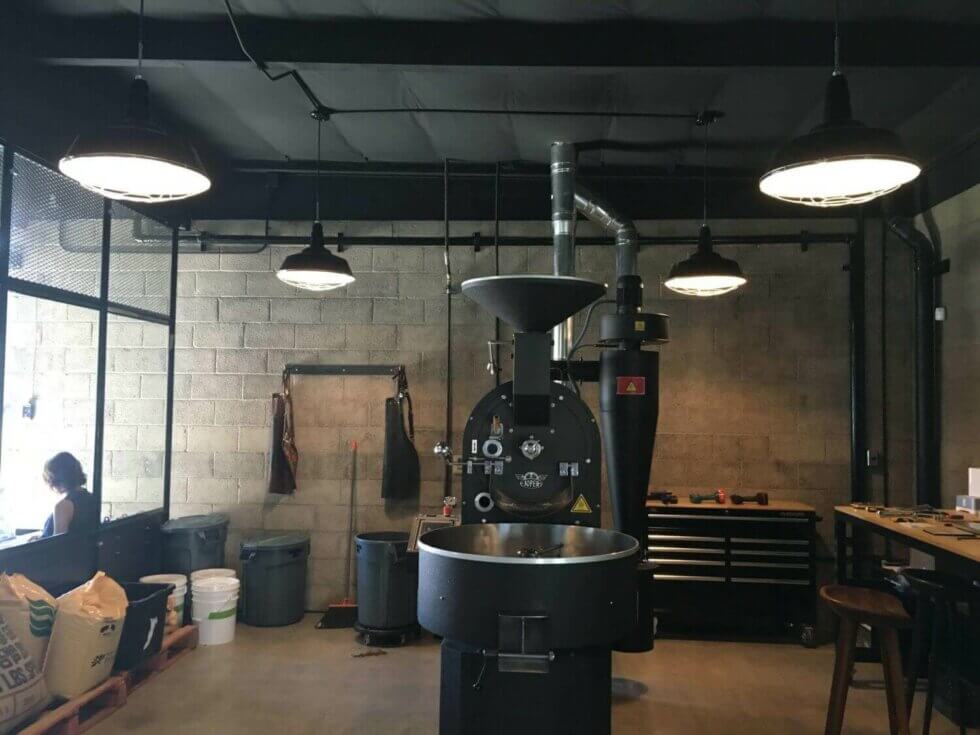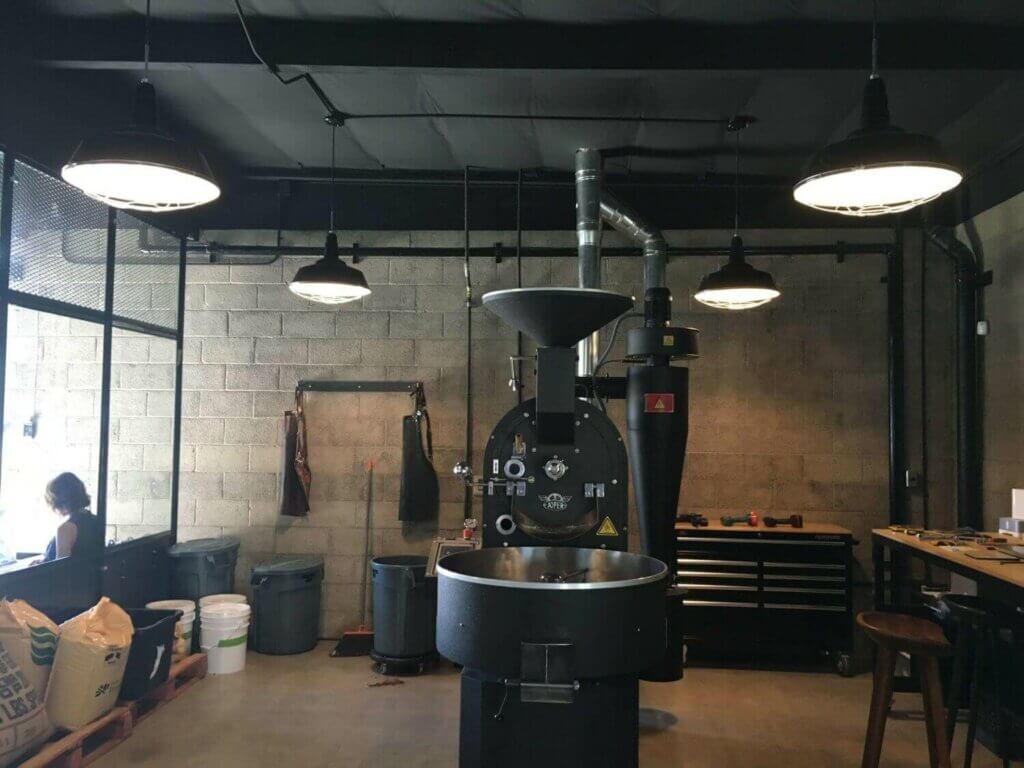 Of course, the only downside to daylight is that you can't use it around the clock. Thankfully, most coffee shops don't have to be open during the night, so most of this problem is circumvented anyway. 
Even better, the issue of daylight can also be dealt with pretty efficiently if you plan to operate past daylight hours. Large barn-style lights answer this question and can quickly fill the gaps where daylight can't. Our Carson ceiling light, as well as the even bigger Manhattan light, can easily fill a space with an impressive amount of light, particularly if your business benefits from an exceptionally high ceiling, allowing the lights to cast even further. 
Similarly, our wall-mounted lights make a great option as well, with the Gardena and Redondo options being especially popular as lighting solutions. 
Ultimately, the goal for evening lighting should always be about creating a cozy atmosphere. When customers enter a coffee shop during the evening, they're usually on the hunt for something comforting. Imitating the comfiness of a good cup of coffee is the goal with evening lighting. 
Low-intensity lighting is vital, with an emphasis on accent lighting and less so on creating something ambient enough to imitate the day. Creating a space that allows customers to unwind and relax with their favorite coffee is crucial while also avoiding creating a space that seems gloomy as a result. 
In this respect, our Hollywood Bowl and Rose Bowl lights are perfect for the job as wall-mounted and ceiling-mounted options, respectively. Both lights allow for a specific style to be dictated in a space with classic mid-century looks while also providing the kind of cozy lighting that coffee shops need during the evening rush. 
Balance of Flavors
Something that isn't spoken about enough in lighting is the idea of balance. Coffee shops, like any other business, benefit most when the lighting of a space is consistent. No one likes sitting in a dark corner or at a table that feels like it's under a spotlight. As a result, maintaining a level of balance across the entire space is key. 
For coffee shops, this is especially true. If you haven't noticed, we've spoken about the importance of atmosphere and tone a fair bit already. The reason for this is because it's absurdly important and will go a massively long way to helping your customers feel comfortable when they stop by. 
Coffee is a drink consumed during times of particular importance in the day, whether it's the start of the day, a pick-me-up, or a social setting. As a result, getting creative with your lighting will always have diminishing returns, whereas consistency will always win in the end. 
If you'd like to know more about how steel lighting can improve your business, then contact our team at Steel Lighting Co., our friendly group of experts would be more than happy to give some advice and recommendations on what kind of steel barn light can best suit your needs.