Spruce Up Your Garage With These Easy-To-Apply Design Tips
If you're a handy homeowner, you know that a garage isn't just a space to keep your car safe. Many people use it to put away repair tools, gardening gear, wood saws, and even seasonal storage. Unfortunately, the design of the garage is often overlooked, turning it into an uninviting (and hard to navigate!) mess.
But since it's part of your home, why not give it the attention it deserves? Design is not all about aesthetics, it's also about finding creative layout solutions and striking a balance between utilitarian and stylish. There are so many ways you can leverage this part of your home and also turn it into a corner that tells a story!
Even by choosing better storage solutions and placing a few steel lights in the right spots you can elevate the look of your garage to a whole new level.
Discover our top tips for a garage makeover that will become the talk of the neighborhood!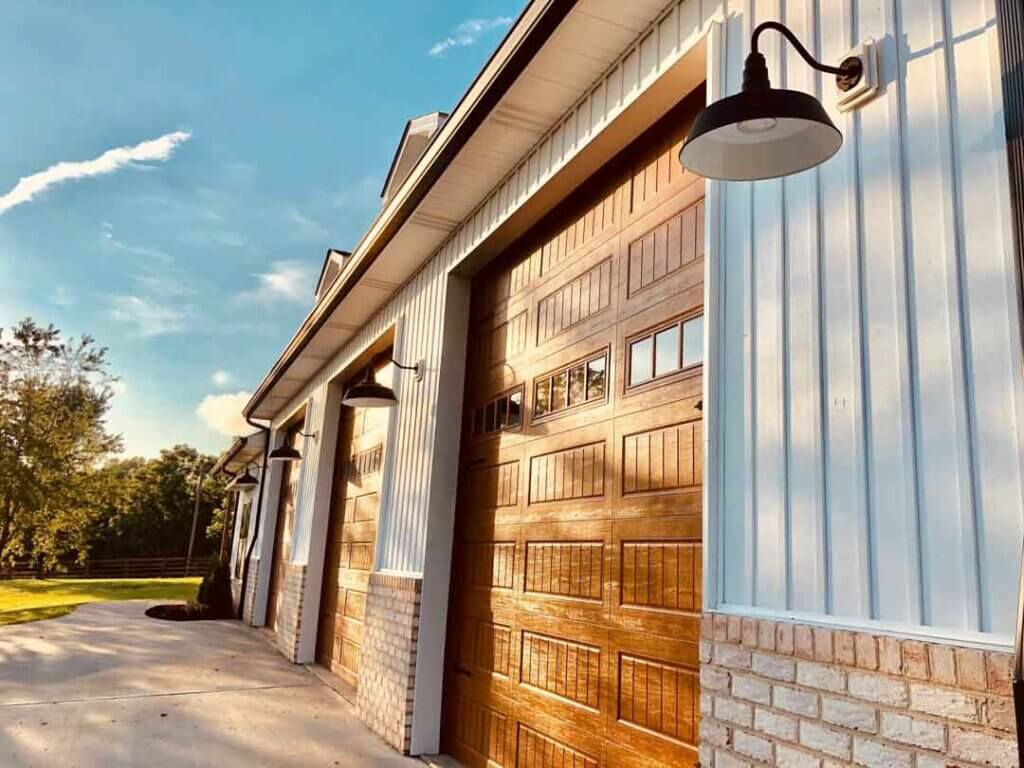 Decide on the layout
Before you delve into any renovations or redecorating, the wise thing to do is to decide exactly how you're going to use the space.
A garage is rarely just a place to park your car in. If you have enough room, you can also include a workstation or a gym area, for example. Each section should have a specific role – keeping the layout organized is a great way to make sure it stays tidy in the long run (which makes your life so much easier).
The more time you spend on the layout, the easier it will be to turn your garage into a space that's both practical and uplifting.
Go all out on the flooring
Have you noticed that most garages have really boring – or just plain ugly – flooring? It's understandable in a way since it's often a strictly functional space. But if you do want to spruce up the design a bit and completely change the vibe of your garage, one easy way to do it is to opt for high-quality flooring that's also stylish.
It's generally agreed that concrete is the best type of flooring for a garage, but that doesn't mean you have to go with a plain look. You'll be surprised to discover how many varieties of textures, colors, and patterns cement comes in. You can even make it glossy simply by applying a special sealer!
Shine a light where it counts
We like to say that beauty is in the finishing touches…and if you have any doubts about that, just compare a garage with "zero-effort" lighting to a garage that makes use of different lighting solutions to create an ambiance.
We can't think of better lights to use for your garage than handcrafted steel lights. They're charming and sturdy, so you won't have to worry about changing them – it's more of a one-time investment!
Our 100% American steel lights are weatherproof, durable, and all finished to withstand heavy wind and rusting, so they are great for both indoors and outdoors. Most of our customers LOVE to install them above the garage door – they're not only useful but also create a gorgeous vintage vibe that instantly elevates the design.
Another great idea is to use steel lights to highlight certain areas in your garage. You can install them above your car(s), workstation or a gym area, shelves, etc. This is a simple change with a massive impact on the look and feel of this space.

Pick the perfect garage door
The garage door doesn't just keep your car and possessions safe – it can also make or break the overall look of your home!
Most garages have either roller doors or sectional doors. But there's always the option of a customized solution. You can choose different styles of panels, colors, and materials to achieve a unique look for the end of your driveway.
One of our favorite styles is the timber look because it complements the natural materials used in most homes. Add some steel lights above this type of door and you've got yourself a match made in designer heaven! See for yourself in the awesome examples we have here on our website.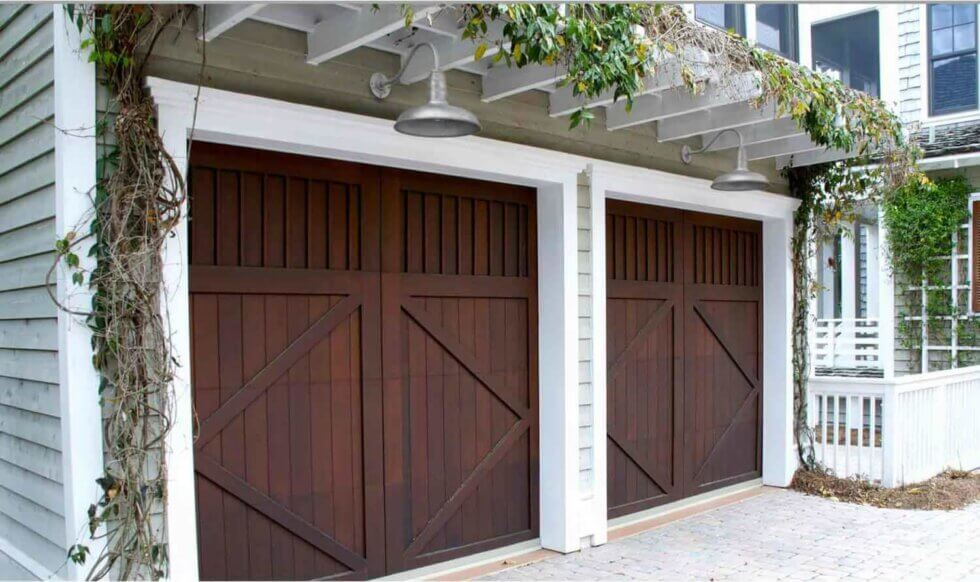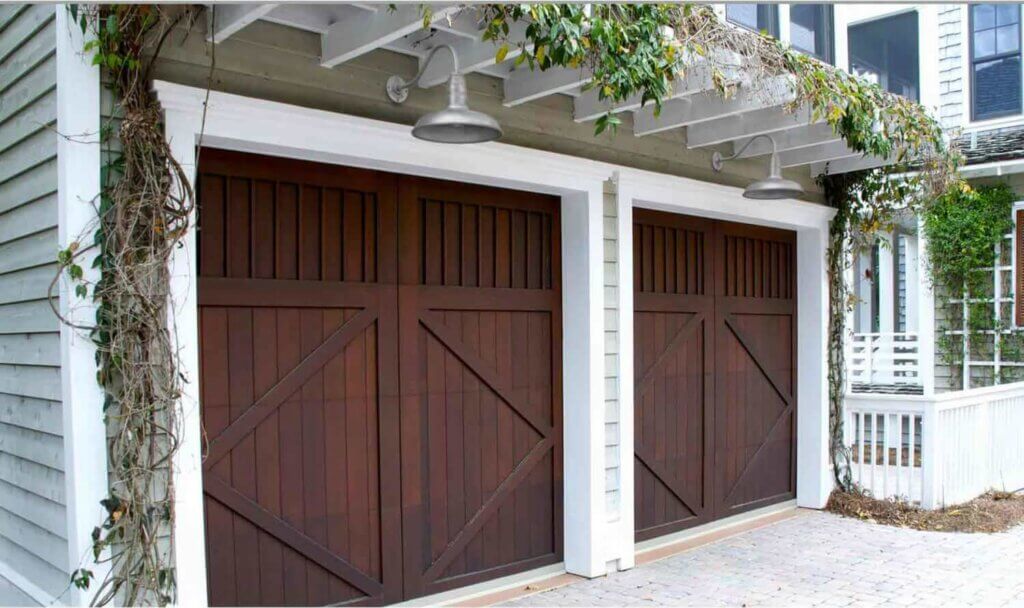 Design your workshop area
Your garage is the ideal place to hide all those tools you've collected over the years (don't worry, no one's judging!). It's also a great place to do all the craftwork and painting, as well and woodwork and repairs.
Why not turn part of your garage into a proper workshop if you have enough space? All you need to do is choose a smart storage solution that will help you organize your "gear" and will also blend well with the rest of the garage.
And, of course, don't forget to install a gooseneck steel light above your workshop – it will look amazing!
Find creative storage solutions
Speaking of storage, there is one solution you don't want to skip: shelves. They are an absolute must-have in any garage – the more the better!
If you're not sure what type of shelves to choose, we recommend going with wooden ones (pine or plywood, for example). They're affordable, sturdy and they look good, so you can't go wrong with them.
But that's just the bare minimum. From bike shelves to sliding storage systems on the ceiling, there are plenty of smart ways to store your household items and declutter!
If you're willing to go down the rabbit hole, just do a Pinterest search on creative garage storage, that should give you some ideas.
From now on, let's say NO to boring garages! Especially since it's so easy to turn things around with a few simple design hacks. If you're on a budget, start out with a few steel lights and basic storage, then work your way up to replacing garage doors and flooring.
When it comes to steel lights, we've got your back. We create sturdy, built-to-last lighting you never have to worry about replacing! Here's the thing about us: we're old school. We take huge pride in our old-fashioned craftsmanship. We never compromise quality and make sure the end product wows our customers.
We actually make 'em like they used to!