The Ultimate Guide to Industrial Farmhouse Style Lighting
As an interior design enthusiast, you probably spend hours upon hours "down the rabbit hole" on Insta, Pinterest, or Houzz, looking for inspiration for your next project. You're also an expert at mixing together textures, colors, and materials in an unconventional way to "spice things up" in your home. And you'd probably choose a trip to IKEA over a trip to the mall on any given day.
If that sounds like you, you're in for a treat. Today we're talking about a bold interior design style that is both charming and modern: Industrial Farmhouse. It's not easy to pull off, but if you play your cards right, you'll get a home that's worthy of being featured in Architectural Digest. Yes, that good!
Read more about how to decorate your home in Industrial Farmhouse style and turn your house into the very definition of "cozy and stylish". All with simple elements like wooden furniture and steel lights!
Industrial Farmhouse: when opposites attract
Something interesting takes place when you take two opposing interior design styles and mix them together. It's either a disaster or a masterpiece! Take, for example, the eclectic approach. Mix the right elements, and you get something completely unique and classy. Mix the wrong ones, however, and all you get is a confusing display of colors and shapes that repel the eye.
Industrial Farmhouse brings two opposing styles together (vintage farmhouse and modern industrial), both of which are deeply etched into our culture – in fact, you could very well call them American styles.
It's not easy to combine sassy New York vibes with countryside charm, so we want to give you some tips to make sure you really hit it out of the park.
Before you can go ahead and play around with Industrial Farmhouse, you need to know the basic concepts behind each style. So let's get into that.
Farmhouse style: charming and cozy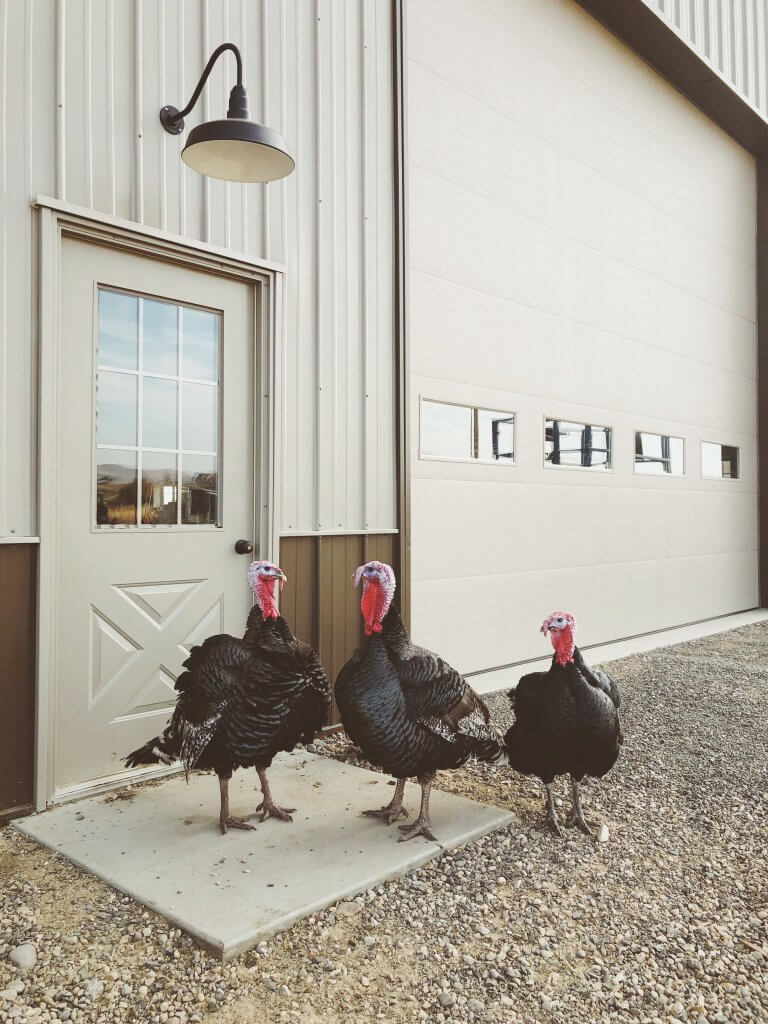 The main concept of a Farmhouse interior design style is raw simplicity. You won't find any intricate shapes or fancy materials. The appeal is precisely this unpolished, effortless look that creates comfort.
Natural and handmade materials are the name of the game – wood, stone, wicker, glass, brick, beadboard, etc. You'll instantly notice and love the play of textures and the neutral colors that add an extra layer of coziness.
Here's an interesting fact you probably didn't know about the farmhouse style: it usually uses 50% or more white and 25% or more natural wood. So you need to be careful to not overuse natural wood if you want to stay true to this style.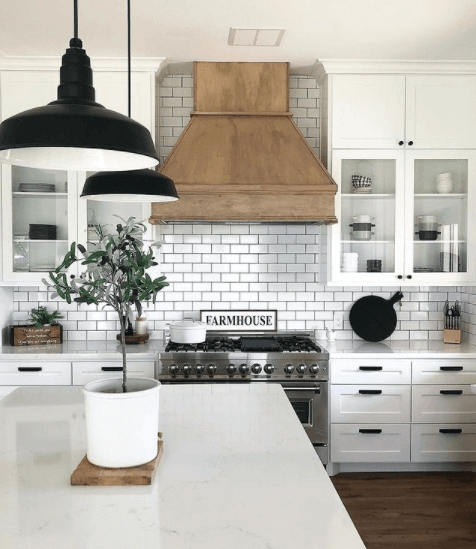 Why Farmhouse and Industrial are a good match
Contrast is at the core of good interior design, everyone can agree with that. However, there needs to be a common ground as well when you combine two opposing styles.
You can't, for example, mix an ultra-modern style with rustic vintage. Those two are too far apart to ever turn into an eye-pleasing combination.
In the case of Farmhouse and Industrial, there are shared elements that make the "union" possible, such as simplicity, neutral colors, and the use of wood as one of the main elements.
One important thing to note is that Farmhouse should be the dominant style for this to work. Industrial elements are tastefully added to the vintage decor to make it more comfortable, modern, and unique.
The easiest way to turn Farmhouse into Industrial Farmhouse
By now you're probably thinking that you won't be able to pull off the Industrial addition to your farmhouse style home. Rest assured that the solution is much simpler than you'd expect.
The easiest way to add an industrial vibe is to decorate with steel lights.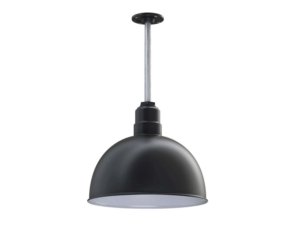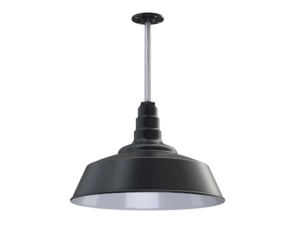 If you're planning to decorate your kitchen in the Industrial farmhouse style, make sure you combine steel ceiling lights with accessories like wooden surfaces, vintage metal signs, subway-style tiles, or a vintage range hood that really kicks it out of the park.
Here's a great example of how you can use steel lights in a farmhouse kitchen decor: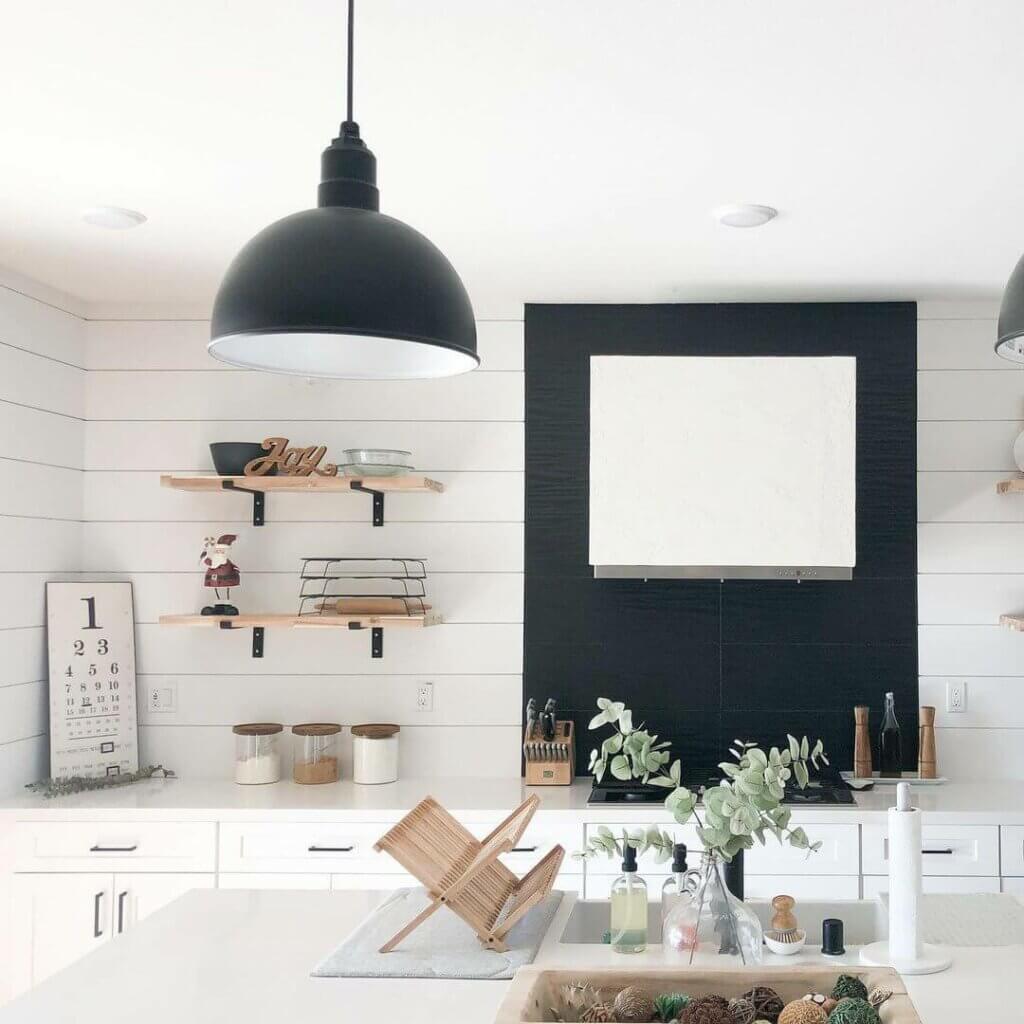 Make sure you choose a warm light for this type of interior design style since it complements the Farmhouse decor perfectly. It might also be a good idea to hide appliances that aren't made of stainless steel since they don't complement either of the styles.
We recommend you start off with small changes, not a complete makeover. Adding a few steel lights to the decor is an easy and inexpensive way to test the waters before you go all out and add more Industrial elements to your home.
In time, you can start including refurbished/recycled pieces of furniture. In the kitchen above, for example, you might attempt to add some recycled bar stools to the decor. You can also consider paying the reclamation yard a visit to do a little scavenger hunt for decor items. Needless to say, yard sales will become your biggest passion if you go down this path.
At Steel Lighting Co., we like to make sure our steel lights fit perfectly into your plan.
One thing that sets us apart is that we like to make things the ol' fashioned way. If you've ever caught yourself saying "They don't make 'em like they used to"… we're here to prove otherwise! Our lights are sturdy and reliable – they'll be in your family for generations to come.
If you're interested in adding some gorgeous steel lights to your decor, have a look at our beautiful collection – you'll be sure to fall in love with our creations.