Planning the Perfect Setup For Your Kitchen Lighting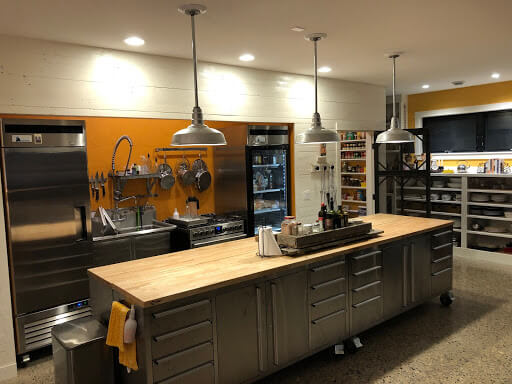 As the old cliche goes: the kitchen is the heart of the household. From quiet weekdays to wild weekends, a kitchen is a place of regular usage 24/7 and the location that every family, housemates, perfect strangers will ultimately find themselves gathering in, no matter the circumstance. 
It's no surprise then that lighting for these spaces is pretty darn important and something worth planning out in detail if you want to get the most out of the many, many gatherings you'll be inevitably hosting throughout the year, no matter how impromptu or casual. 
Kitchen lighting isn't just about lighting for the right mood or aesthetic either. It's about getting technical with your spaces and angles, making sure you can find a balance between the great ambient lighting styles that bring personality to your kitchen while also having the right amount of specific lighting for the key areas were seeing what you're actually doing is crucial to not burning the house down or sending you to the ER. 
It's All in the Floor Plan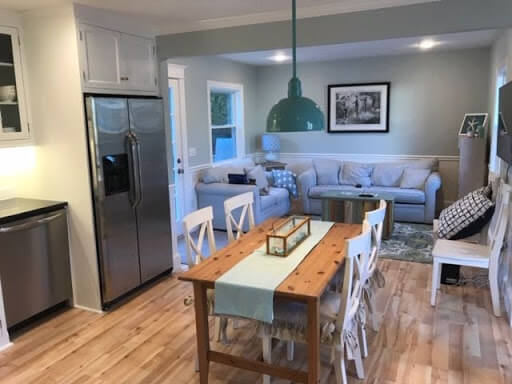 Unsurprisingly, getting technical with your lighting will inevitably lead you to have a good look at your floor plan. 
This is pretty valuable as a step when planning out new lighting for your kitchen as it'll give you a good idea of what function your kitchen will be serving. For those kitchens that have the benefit of a separate dining room, a lot of the pressure is eliminated from the get-go, as you don't need to worry as much about having the sort of lighting setup that will be both enjoyable to eat in a while also maintaining a level of safety for preparation. 
Conversely, when preparing for an eat-in kitchen/dining area, finding a balance between aesthetics and functionality is a major concern. You may find yourself favoring multiple, smaller light sources over a more central fixture. As a result, allowing you to mix and match your lighting to fit the many roles your kitchen will be playing. 
For more open plan style homes, where the kitchen may lead out into a dining room or even a living room, going a bit more adventurous with your lighting is often a pretty good idea, if only because you'll be using light as a tool to hello define spaces more accurately, with softer light sources being used for living spaces. In comparison, bolder light sources and fixtures may be used for the kitchen's more technical needs.
Bring in the Ambience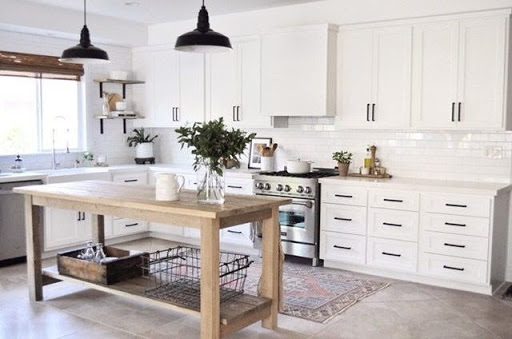 In many cases, ambient lighting can be best described as the "base layer of any good lighting setup. This is your 'one size fits all option and the light source that's going to be doing most of the heavy lifting when it comes to making space usable. 
Unsurprisingly, the most common form of ambient lighting usually comes from the ceiling, with ceiling fixtures like downlights, recessed lights, or our own farmhouse style lights being used most frequently. 
Ultimately, the main function and reason why it's usually from the ceiling, ambient lighting, is to provide the space with as much even lighting as possible. Again, the idea of it being a "base layer" of light is important to remember. 
A good shorthand (or "short foot" in this case) for figuring out what kind of ambient lighting will suit your kitchen needs is to think about what parts of the kitchen your feet will be in and around and then proceed to light those areas. In other words, make sure you're lighting the floor as efficiently as possible and then go from there. 
For that, we always recommend our own large ceiling light – the Manhattan! It's got a massive 20" dome that provides the kind of lighting that'll make anybody happy and is most often used for actual barns/stables as well as commercial spaces. Of course, if you don't have an especially high ceiling, we can also recommend our own Carson ceiling light as well which, while slightly smaller, will give almost as much coverage without going too overboard. 
Lighting for the Task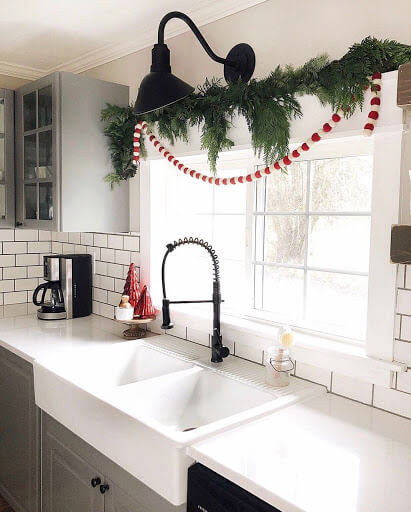 The next layer of good lighting for the kitchen is going to be all about the action areas. In this case, we're going to be talking all about task lighting and how to put together the lights that'll keep the crucial stuff visible at all times. 
Ultimately, your kitchen will be a palace of work and preparation, so making sure everything is well lit and not in the shadows is going to be a good way to cut down on potential medical bills and accidents. 
The principal area where all of that work is going to take place will be your kitchen countertops. And this is where all lighting is going to be your friend. No matter how big or small, wall lights are going to be a difference-maker for any piece of task lighting the kitchen may require. While it's nice to have plenty of ceiling lighting, the inevitability of shadows is much greater when the light in a space only comes from one location. 
Our own Venice light is an awesome option for this set up and allows a massive amount of light to fit into a neat package that won't look out of place or come across as invasive in busy workspaces. 
Accent Lighting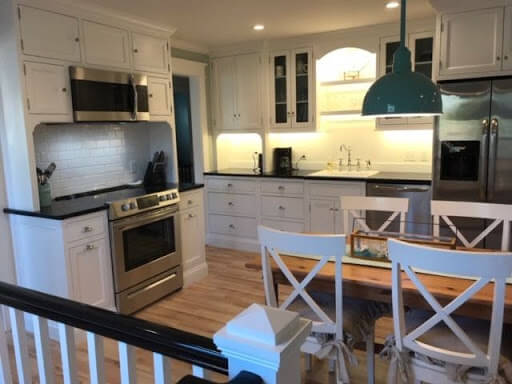 Having the right lighting setup is, in many cases, not just about putting together something functional and leaving it there. Getting that ultimate lighting setup together is about turning an otherwise boring workspace into something that feels like a home. 
While we talk a lot about how the kitchen is ultimately a workspace with a lot of foot traffic, the truth is that for every kitchen, there's a home that surrounds it, and it's the finishing touches and details that make that space feel part of the wider whole. 
That's where accent lighting comes in. Accent lighting is about putting the final pieces of the lighting puzzle together and making space feel more like humans inhabit it than robots. 
Accent lighting is also less about having the right measurements or requirements and more about what kind of mood you're trying to create in the space. Smaller pieces, such as lamps or smaller ceiling fixtures, are the key to this layer and come most into play when light single island countertops or other areas of focus. 
A great example of that can be found in our own Rose Bowl lighting fixture, which provides a great piece of personality and style to a straightforward lighting fixture while also infusing the space with a generous amount of usable light. 
If you have any questions about how barn-style lights can help achieve the perfect kitchen lighting setup, then be sure to give our helpful team of experts a call!